I'm starting a NEW SERIES TODAY – I really hope you enjoy it! It's called Favorite Things Friday and it'll be all about the random things that captured my attention and stole my heart over the past week! From decor to DIY, fashion, makeup, recipes you name it! I hope it gives you some inspiration for the weekend ahead!
So let's go!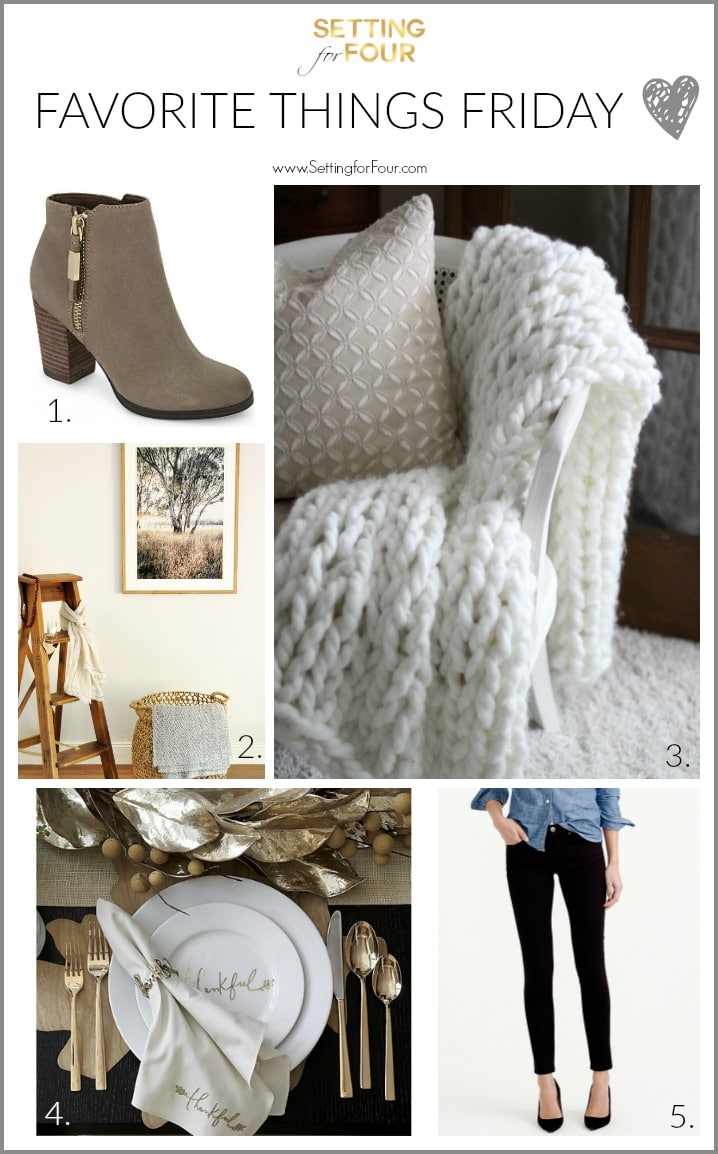 Favorite Things Friday – Fashion, Decor and DIY
This post may contain affiliate links.
1 – I just bought these gorgeous gray leather ankle boots – and let me tell you they are so comfy and be-you-tiful!
Perfect with denim and black jeans (see my go to black jeans below!)! I love this gorgeous goes-with-everything taupey-gray color, the detail of the side zip and striking polished metal hardware.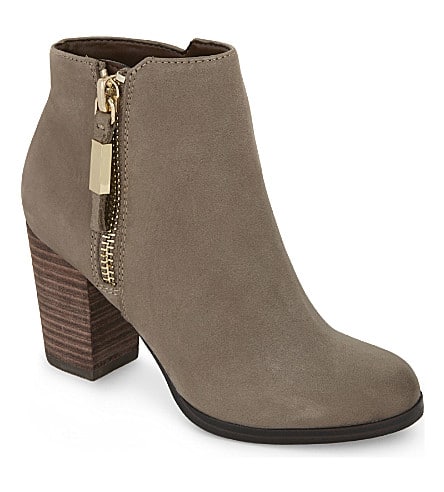 2 – You all know I love to decorate with nature in my home! Wildflowers, foliage, feathers, branches …..you've seen them in my home tours, on my tables scapes and mantels!
There's lots of great decorating tips in this article on Houzz called Decorating with Nature in Fall and Winter. I love this tip: Head outside and take a picture of a field or a tree and frame it for your home!
Follow me on Houzz to see all of my decorating idea books!
3 – I LOVE LOVE LOVE this cozy DIY Arm knit throw using chunky yarn from my sweet friend Susan at Love of Home! Have you tried arm knitting yet? I haven't….and this will be my first project! I can't wait to start it!
Please pin from the source here!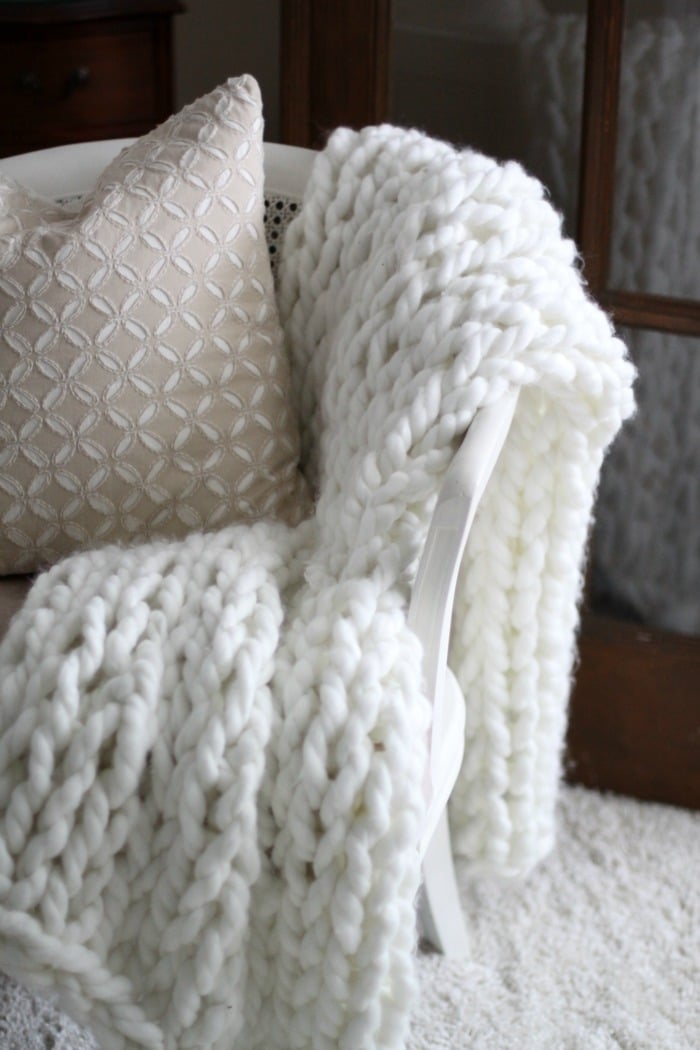 4 – I was smitten from the first moment I laid eyes on this gorgeous Thankful dinnerware (I'm crazy about the metallic gold handwriting) when I spied it at the Crate and Barrel private shopping event I attended last Friday in Soho, New York City!
This is perfect for the upcoming Thanksgiving holiday- your family and guests will love it!
They also have napkins, napkin rings, glassware and a serving platter in this pattern too!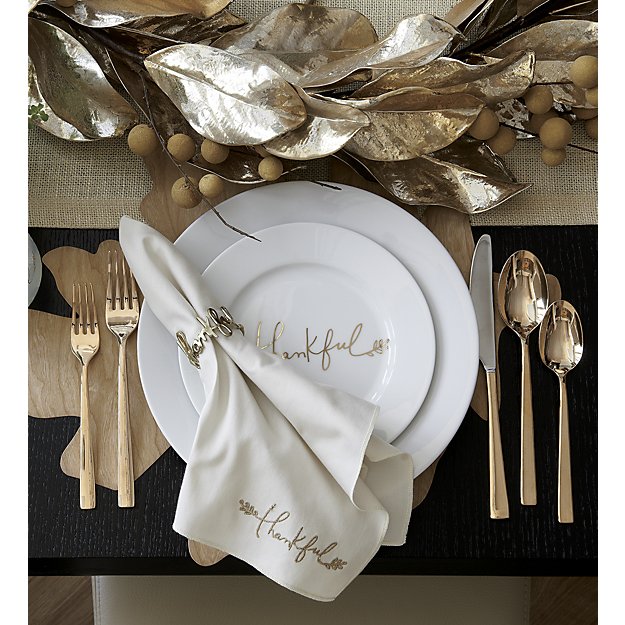 5 – I wear these black toothpick jeans all the time – they are really super comfortable (they are cotton with stretch!) and are great with riding boots, ankle boots, heels and sandals in the summer! They instantly make you look thinner too! 🙂
They sit at your hip so they don't dig into your tummy – love that! They are fitted in the thigh and taper at the ankle which is a gorgeous slimming silhouette – my thighs are definitely not a size zero and these jeans fit so great for a real woman's body!
They can be easily dressed up or down.
I wore these on the flight last week to the Better Homes and Gardens Stylemaker Event in New York City – they are are my go-to travel jeans!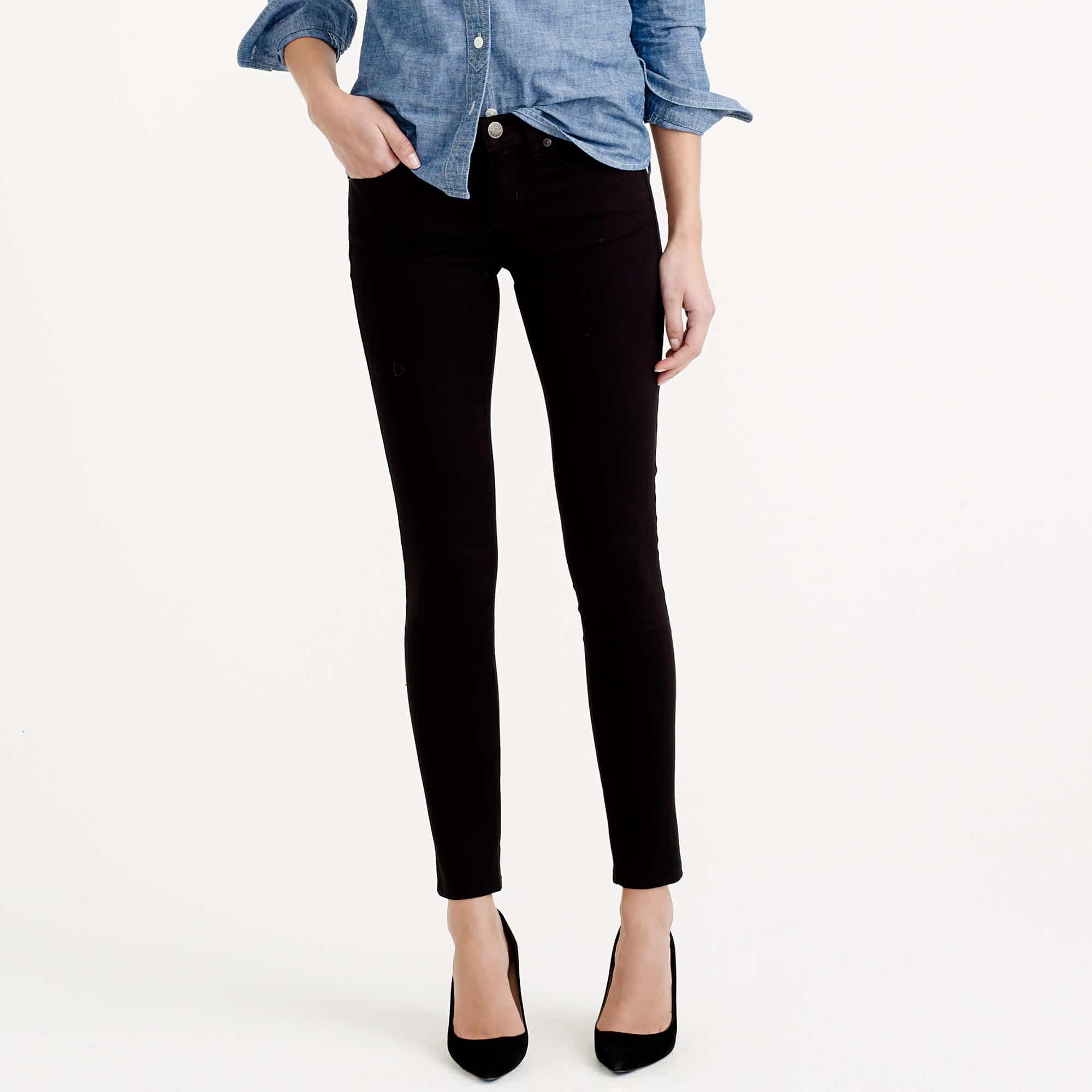 I hope you enjoyed my Favorite Things Friday post! Did you pick up some inspiration?
Have a great weekend everyone!