In today's post I'm sharing Walmart New Year's Eve Dinner Party Decor!
Fun and chic New Year's Eve centerpiece and tabletop ideas to ring in the new year.
Plus you HAVE to see these gorgeous party favors, NYE decor, dining room furniture and dinnerware I found at Walmart – perfect to update your dining room for NYE!
Create an inviting and stylish  NYE dinner party with these gorgeous furniture and decor finds from Walmart Home – so affordable and available online now!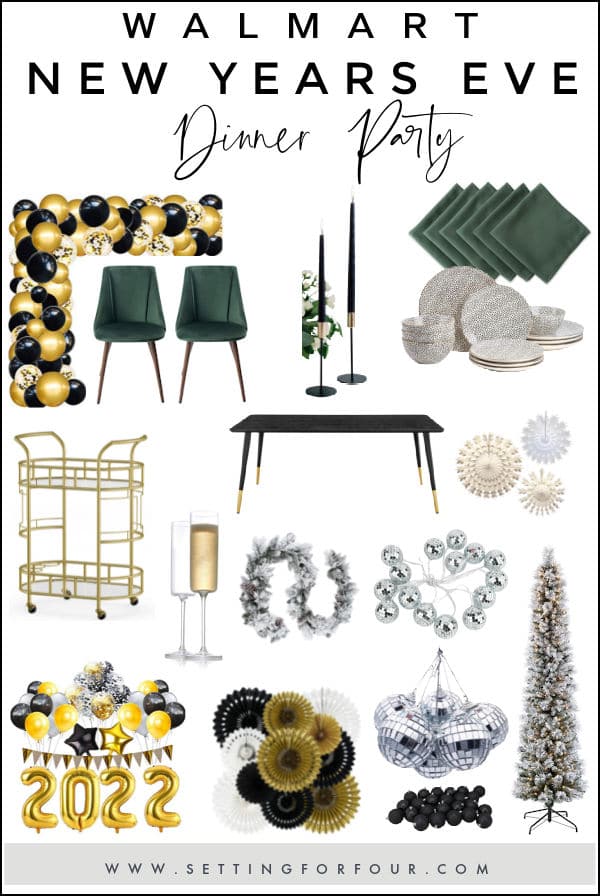 This post is sponsored by  Walmart and contains affiliate links for your shopping convenience. Click here to read my full disclosure policy.
Stylish & Chic Holiday Dining Room Decorating Ideas
This chic NYE design board that I created, shows you how you can create an affordable, magical and fun dinner party celebration!
---
Need help with furniture layout, choosing paint colors, kitchen/bathroom design, selecting furniture & decor or updating your home? I can help!
See my online design & paint color services!  Plus my client reviews!
Email me at [email protected] for more info!

---
Here are the 5 steps to create a cohesive, stylish & updated dining room with festive Christmas style:
1. Furniture
Get your dining room ready for your NYE dinner party with these gorgeous dark green velvet dining chairs – dark green is on trend right now!
These velvet chairs are so tasteful and refined…and will add gorgeous color to your dining space!
This stunning rectangular dining table is so stunning – I love the  black top and black legs with gold caps. This table design is on trend too!

2. Chic Washable Area Rug
Let's talk about this breathtaking washable area rug that I'm obsessed with!
The charcoal gray-black & ivory colors, and pattern are so stunning!
Plus it's easy to clean! It's washable!
So convenient!
3. Bar Cart and Champagne Glasses
A NYE dinner party isn't complete without a stocked bar cart!
This gold bar cart is so affordable and has lots of space for champagne glasses and decor!

NYE Punch idea: Christmas Sherbet Punch Recipe Nonalcoholic & Alcohol Versions
4. New Year's Eve Centerpiece
Take this beautiful flocked pine garland and lay it on the middle of your dining tableNew Year's Eve party decor
Add a string or 2 of disco ball lights for a beautiful twinkle! Disco balls are essential for New Year's Eve party decorating!
Add 2 sets (total of 4) of these chic black and gold tiered candle holders to the table, spacing them out along the table.
Add black tapered candles to them to repeat the black accent color – a must have color for NYE!
Next add this black and gold vase to the center of the table and fill it with NYE party blowouts and horns!

5. Dinnerware and Flatware
This stunning black and white dot dinnerware set is breathtaking and will make the NYE party look pop!
This chic black flatware set completes the look!
Add the final touch with these beautiful dark green cloth napkins to tie in the green of the chairs.
Black, white and green look so gorgeous together!

6. Slim Pencil Christmas Tree
This beautiful pencil Christmas tree is perfect for a dining room because it won't take up much space!
Display it in the corner of your dining room and enjoy the twinkle and festive look!
I have this tree and it's stunning and very full looking for a slim tree.
( A slim tree is fabulous for a bedroom too!)
Another idea is to add this gorgeous slim black pencil Christmas tree to your dining area!
What a fun look a black tree would be for NYE! (it ca also be used for Halloween!)

7. New Year's Eve Tree Decor
Create a New Year's Eve tree!
Add these gorgeous disco ball ornaments,  black ball ornaments and stunning paper party fans to the tree – to create a gorgeous NYE tree!

8. Balloon Garland and Party Favors
A fun and beautiful balloon garland and party favors will add festive flair to your NYE dinner party!

I hope you enjoyed these a fun and chic Walmart New Year's Eve Dinner Party Decor ideas!
Happy New Year!
Follow me on Instagram for more Holiday decor ideas, design trends and more!
You may also like these Design ideas: