Come see my Rustic Glam living room makeover and new Moroccan shag area rug! I'm also sharing Do's and Dont's, decor tips and tricks for choosing an area rug!
I took a bit of break with my Winter Woodland Glam holiday decorating last week to give my living room a bit of an rustic glam update with a new chic area rug! Area rugs are a fabulous way to ground a room, give it presence, add texture, pattern and make it cozy!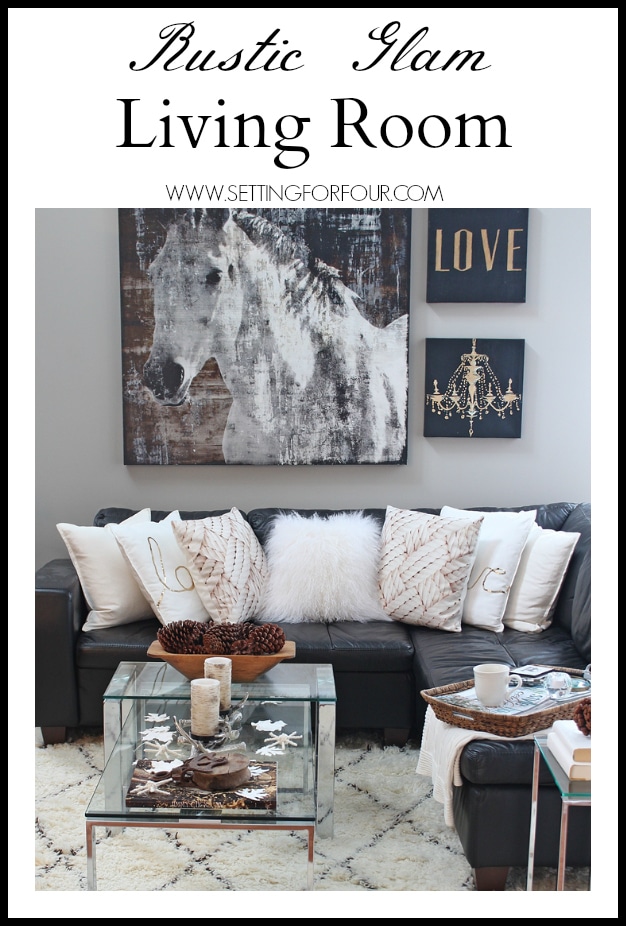 Let's see how!
Rustic Glam Living Room + New Rug
I removed the area rug that my husband had brought back from Afghanistan from one of his previous deployments and delegated it to another room. It's a gorgeous handmade rug but it was too small for the room.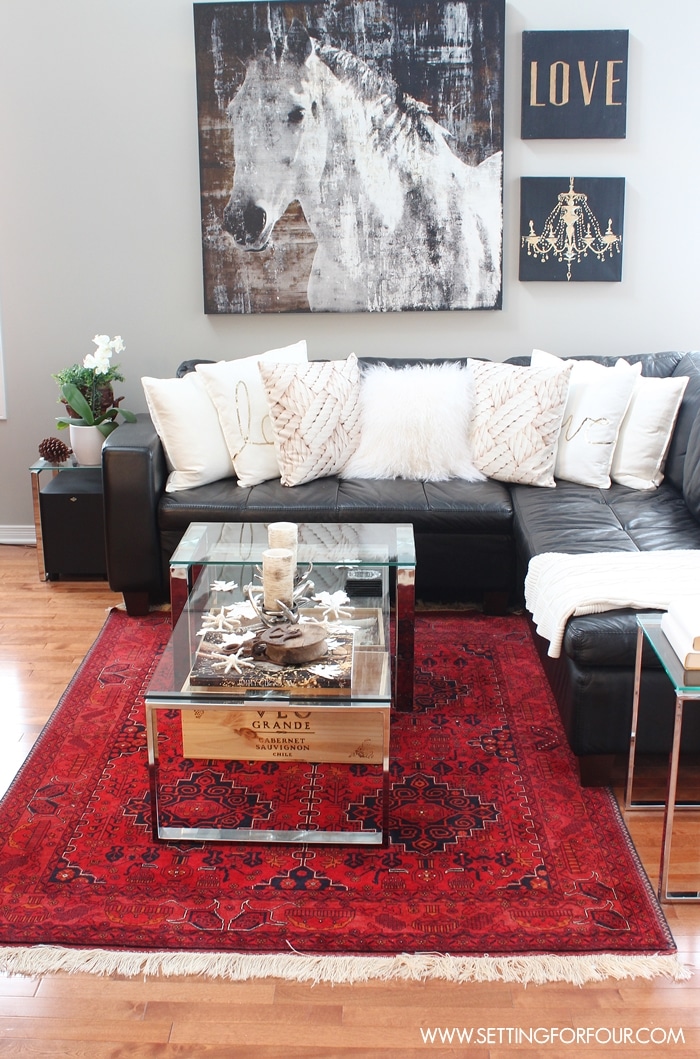 Decor tip!: The size of an area carpet should be large enough that the front legs of the furniture sit on it.
By letting the rug run beneath the furniture, your mind's eye interprets that the rug continues indefinitely, and therefore your space feels larger!
Our living room is open concept and flows into the dining room, is near our staircase and near our front foyer so it's important to define this space and create a functional 'zone'.
Adding this large 8′ x 10′ Moroccan Shag Rug in ivory does that perfectly and unifies our living room! This beautiful rug also comes in a version with gorgeous tassels – see it here!
This diamond pattern Moroccan style are area rug is one that's been featured in many design and decor magazines.
It simply rocks from a designer and decorator's point of view because of it's simple geometric motif and global feel that coordinates with any style and ups the 'hip' factor of any room!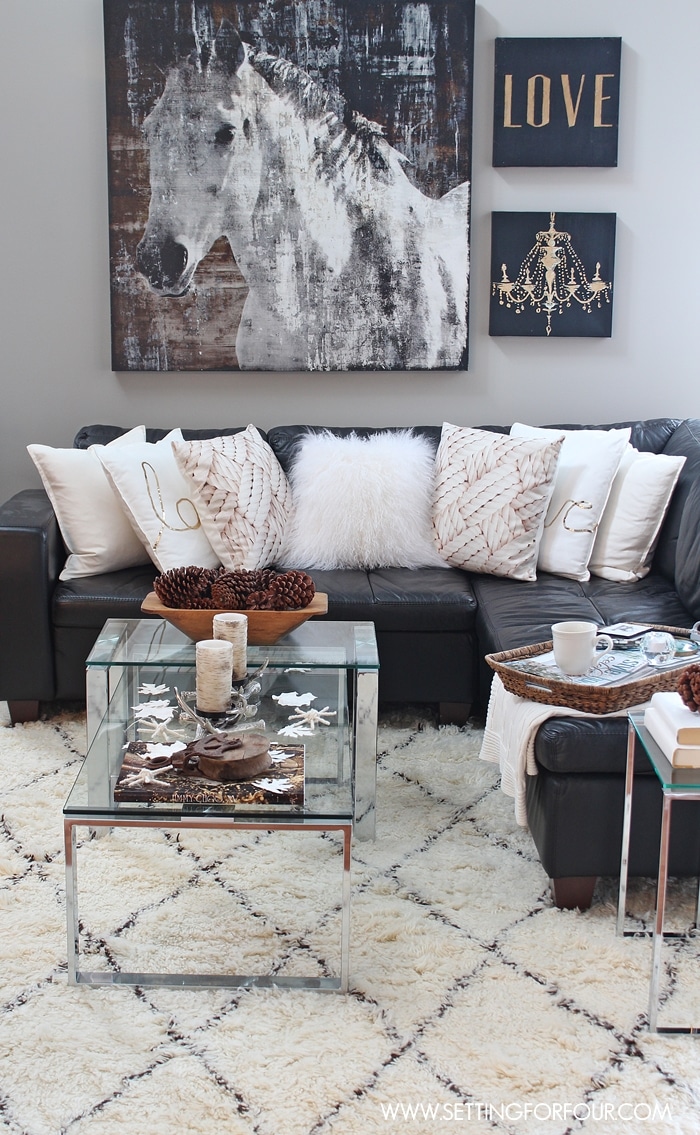 Wall color is SW Mindful Gray – see all of my paint colors here!
Let's talk about the color and pattern of this gorgeous Moroccan style rug: The ivory color fits right into my love of neutrals and the diamond pattern adds a chic graphic look to the room!
Decor tip: repeating the colors in a room will give it a cohesive 'designer' look and create flow and harmony.
The ivory rug color repeats the ivory whites in my sofa pillows and the black of the diamond pattern repeats the black of our comfy button-less tufted leather sectional and the black in our artwork!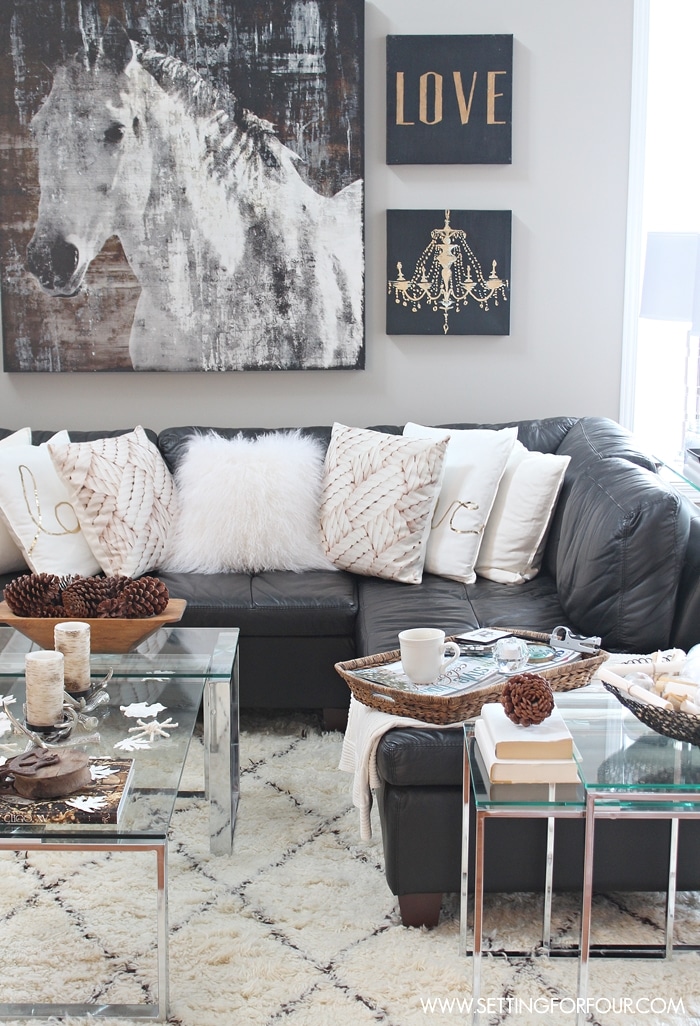 This ivory and black area rug is so sumptuous and glam! Made from 100% wool, it's so warm and soft on the tootsies too! I love the fluffy look of it- perfect for winter to add texture and 'visual warmth' to our hardwood floors!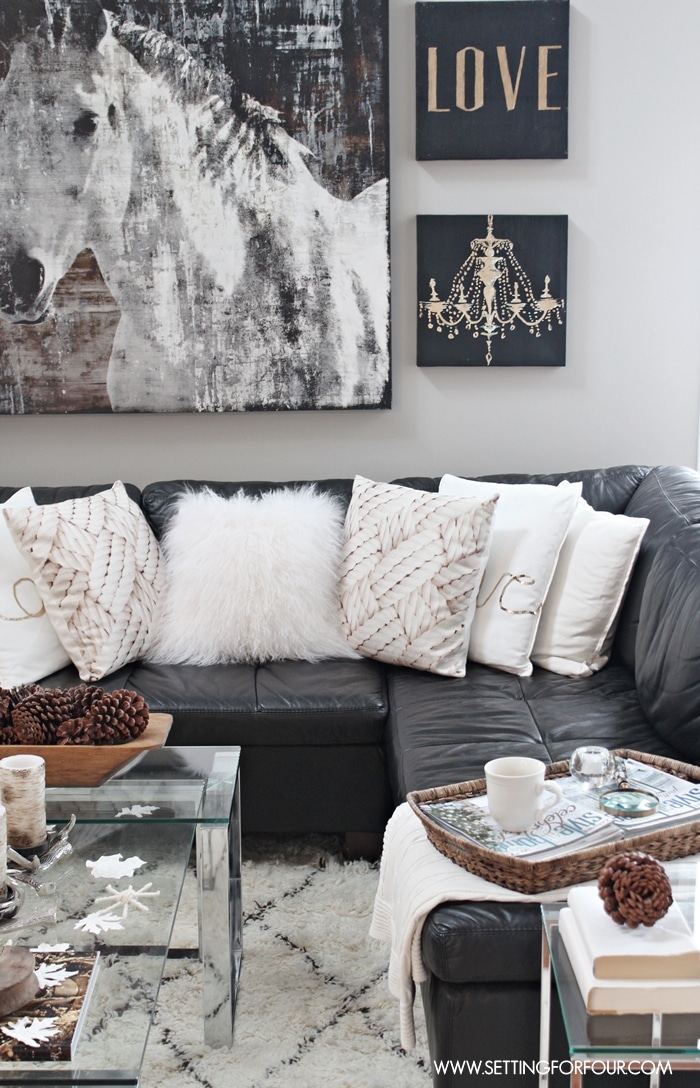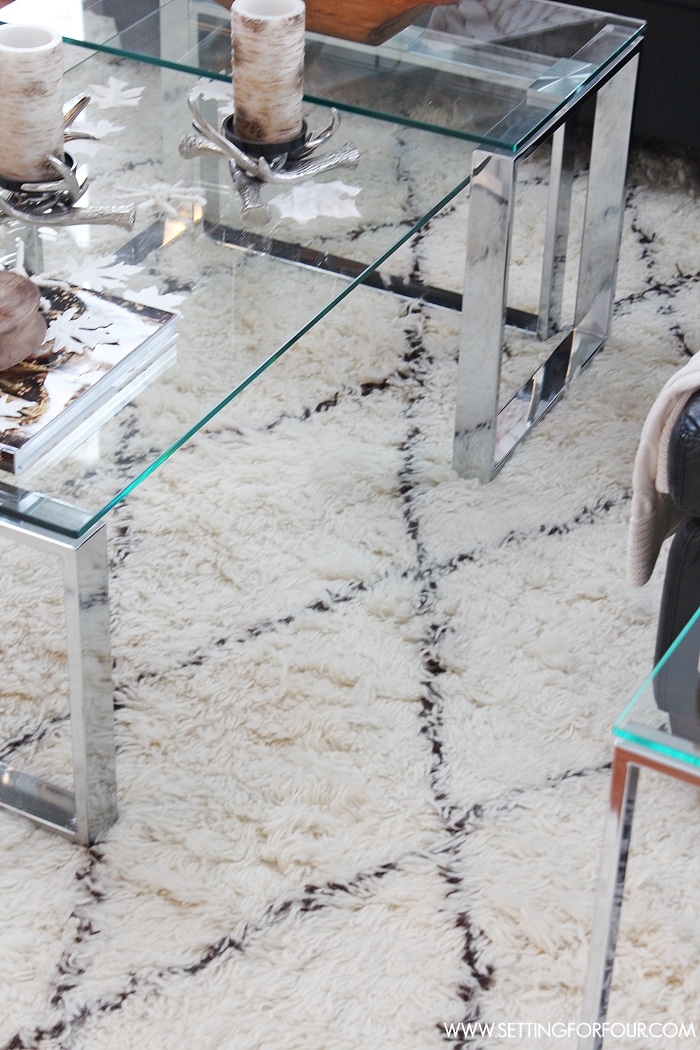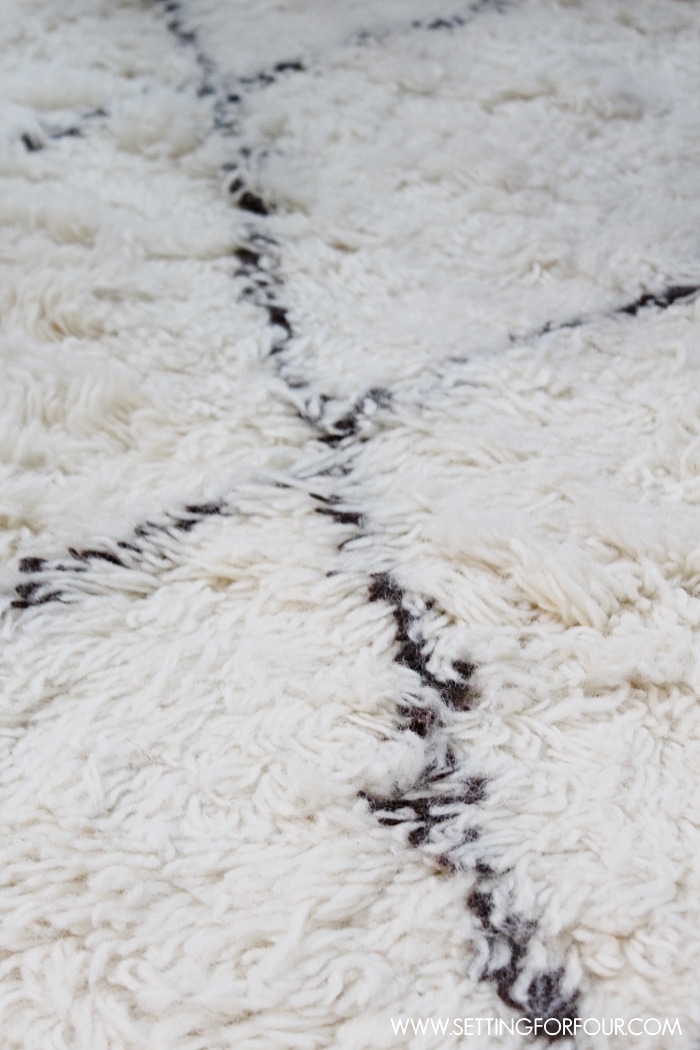 Decor tip: Mixing styles creates interest in a room.
The Moroccan style of this area rug with it's diamond pattern looks amazing with our contemporary tuxedo style sectional, rustic decor and modern glass and chrome coffee table. All of these styles are different in a way that makes each one sing and makes this room interesting!
I absolutely love my refreshed rustic glam living room and new rug!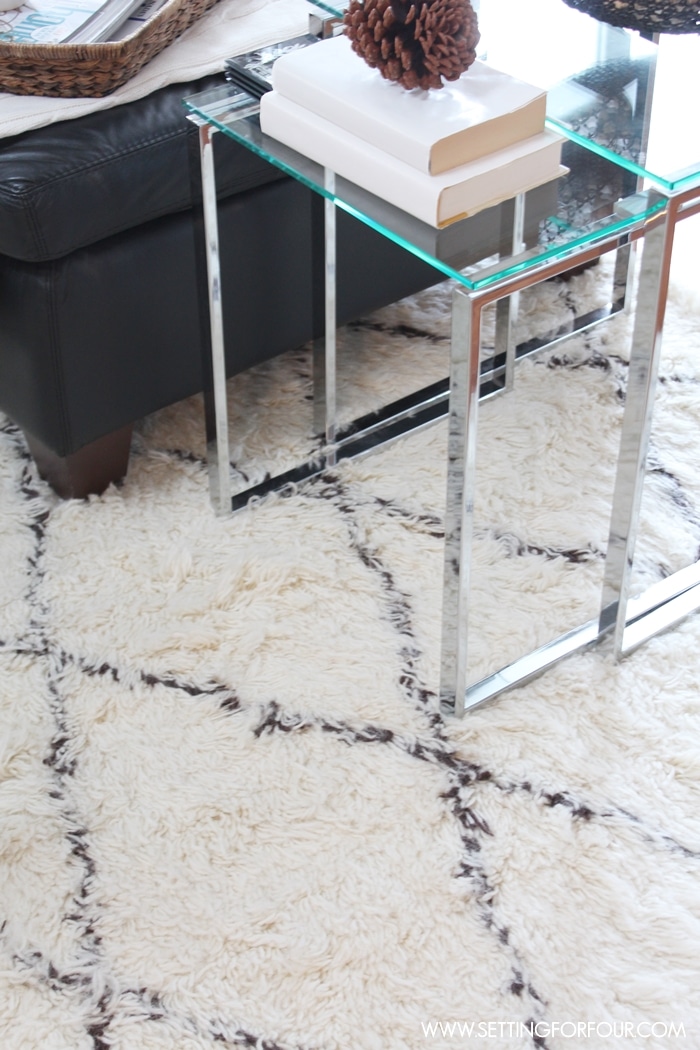 I love the fresh chic update this area rug has given this room! I can't wait to cuddle up on the sectional with a warm throw, a cup of marshmallow laden hot chocolate, watch a movie and warm my toes in this gorgeous Moroccan rug!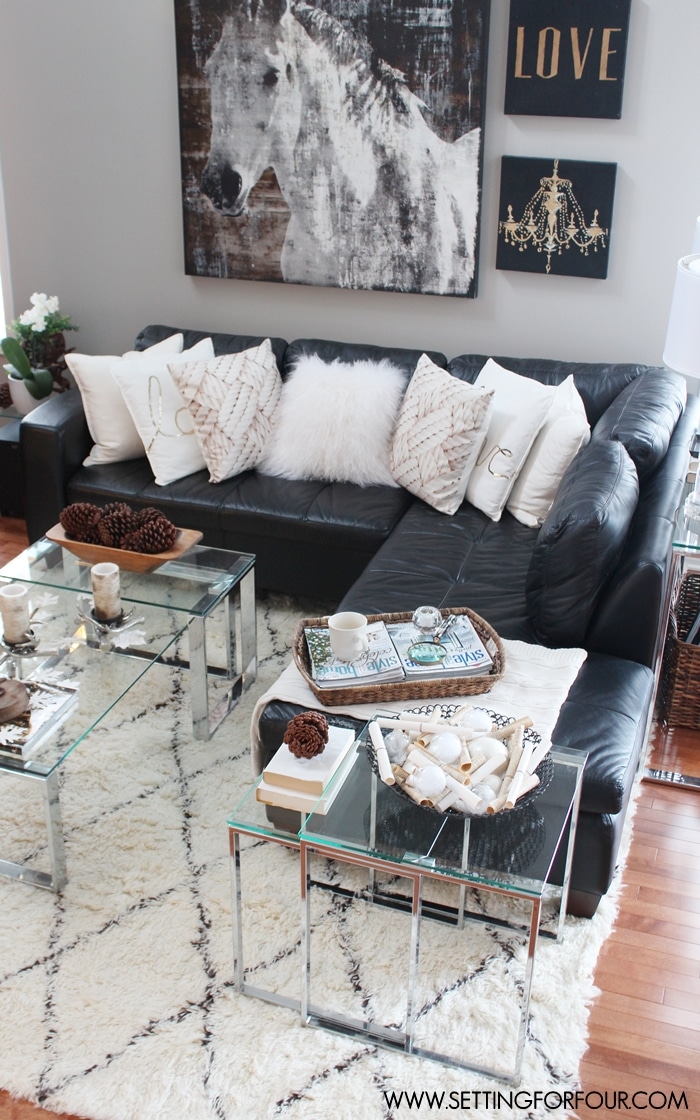 Sources:
Moroccan Shag Rug with Tassels
Horse Art Decor – 20 Stunning Looks!
Click on the bottom of each photo below to see more about each item! Scroll with the arrows to see all of the items in our family room!

You may also like: