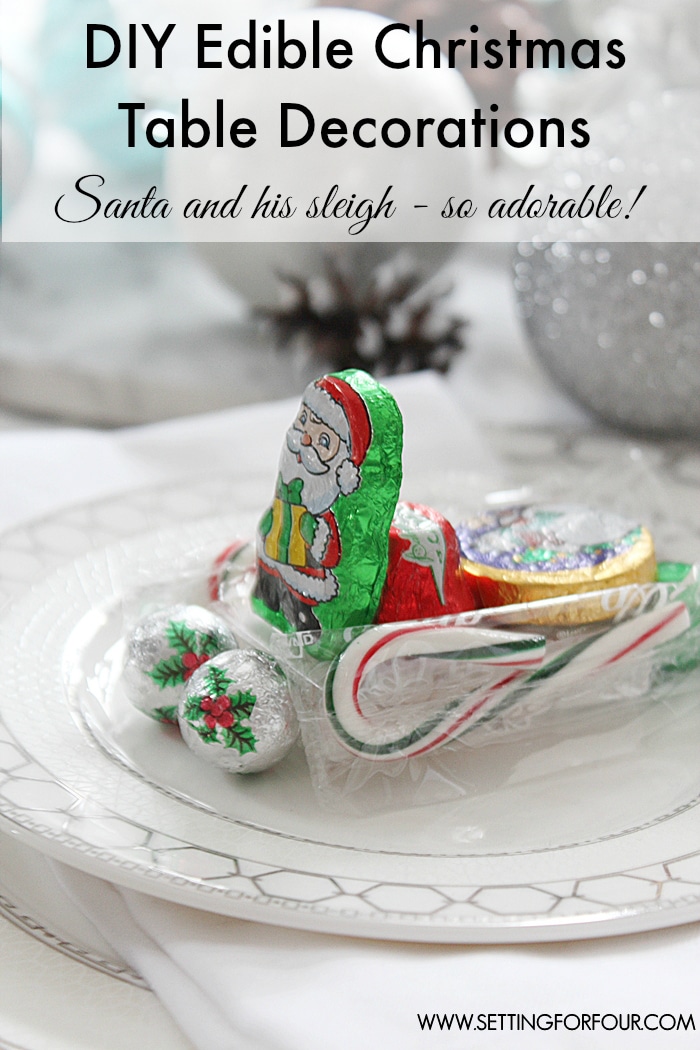 Look what I'm setting my Christmas table with today! This is a fun and festive decoration to add to your Holiday Table that will bring smiles to adults and kids alike! I make these every year for our Christmas Table – it's a tradition that our boys love! They are a fun way to embrace the holiday spirit and will satisfy your sweet tooth too.
Edible DIY Christmas Table Decorations – Santa's sleigh:
These Christmas Holiday decorations are an adorable way to add some fun to your table! Everyone get's one! Add one to each place setting – your guests can take them home or eat them after dinner! At our home they get eaten right away!
You can also easily turn these into personalized place cards by adding a name tag to the sleigh!
It looks like Santa has arrived for Christmas on his sleigh full of packages and toys!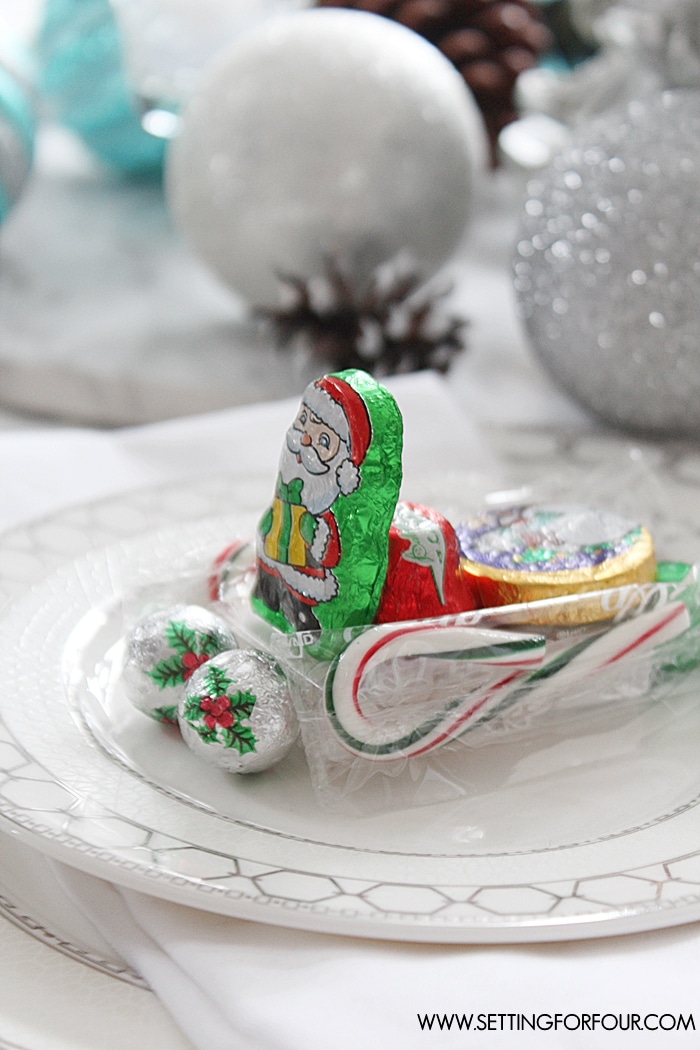 This post contains some affiliate links for your convenience. Click here to read my full disclosure policy.
Supplies:
Holiday Candy with cellophane, plastic or foil wrappers – Mini Candy Canes, Mini Santa and Snowmen chocolates, Tic Tacs, chocolate coins, chocolate bells, balls and other assorted Christmas wrapped candy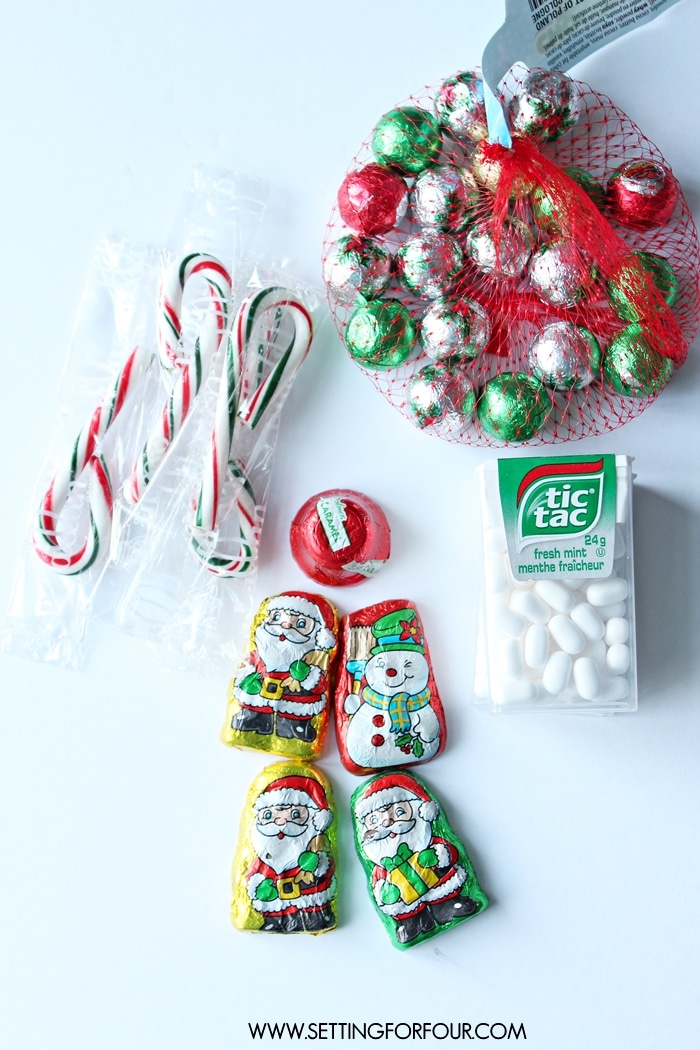 Tutorial:
Make the sleigh – Using low temperature hot glue gun start or adhesive dots attach a mini candy cane to one long side of a package of Tic Tacs. Don't worry- the low temperature glue won't go thru the packaging – just use a little bit! The adhesive dots are quick and easy to attach the candy too.
Repeat on other side of the Tic Tac package to make the sleigh. The candy canes are the sleigh runners!
Attach a Chocolate Mini Santa to the front of the sleigh as in the photo.
Add other Christmas Candy as you like (Chocolate bells, balls and coins) to load up Santa's sleigh with presents!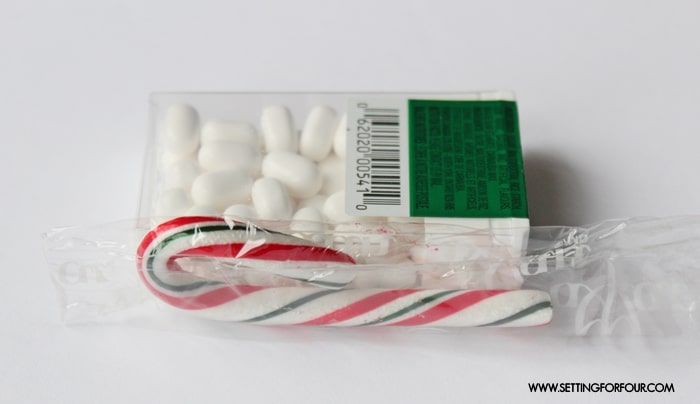 This is what your DIY Edible Santa's Sleigh looks like when it's finished! So cute! I put one on everyone's plate at our holiday table at Christmas.
Just pull off the candy's one by one to eat!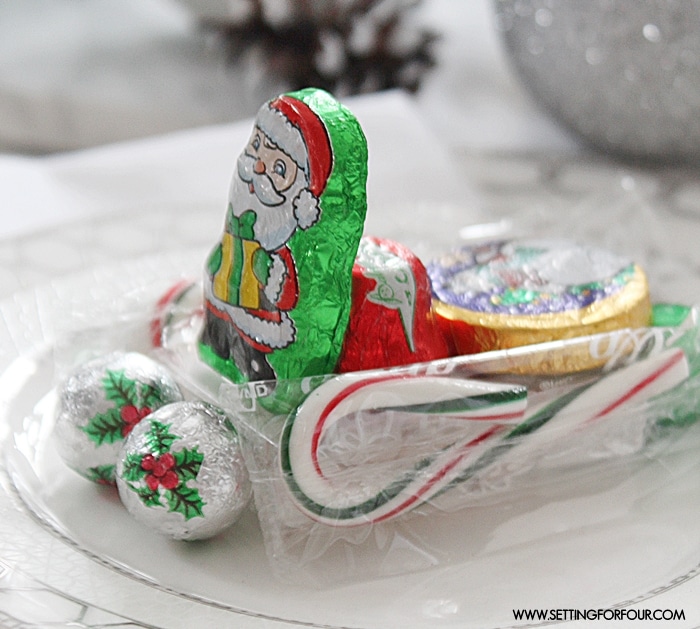 Happy Holidays everyone – I hope you have a wonderful day and loads of fun at your Holiday Table today!