July 4th Sales Have Arrived! See the sale info & July 4th Promo Codes! Don't wait to save! See the furniture, decor, fashion and sales for the 4th of July!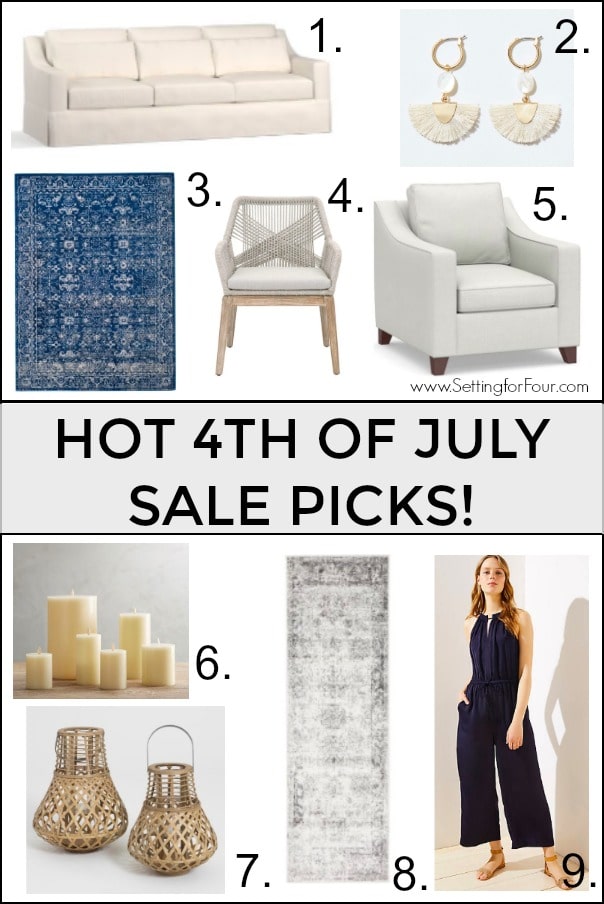 Happy July! I can't believe that we are half way through the year!!! May and June just flew by for me….. we had such rainy, cloudy weather so I'm glad they did!
We finally have some gorgeous sunny weather and it feels like summer has finally arrived!
It's time to celebrate the season now that it's here and take advantage of the amazing 4th of July sales that have kicked off!
I've rounded up some of the best sales and my favorite sales picks so you can get your shopping done and then relax and enjoy the long July 4th weekend ahead!
If you need something for your home or want to get an early start on holiday gift shopping (do it on sale and save $$$!) take advantage of these amazing blowout sales!
Be sure to follow me on Instagram this week – I'll be sharing more sales updates there!
July 4th Sales Have Arrived! Sale Info & Promo Codes!
Wayfair: July 4th Blowout Sale

Pottery Barn: Up to 30% Off with Code: SAVEMORE

Target: 15% off with code AMERICA

West Elm: 20% Off with Code: JULY4TH

World Market: 20% Off with Code: WMJULY4

Loft: 50% off tops and dresses. 40% off almost everything else!

You may also like:
12 Delicious Summer Drinks for Kids and Adults
Elegant Living Room Decorating Tips for Summer
Summer Kitchen Decor Ideas & Summer Home Tours