Love hand knit projects? Make this quick and easy DIY Extra Soft Knitted Cup Cozy! This is a beautiful gift idea and fun yarn craft to make! See the knitting tutorial and supply list!
Every fall I get the urge to pull out my knitting needles!
There is nothing like the feel of soft lustrous yarn in my hands! I love to create all types of knitted scarves and throws…but my favorite thing to knit is a quick and easy pretty Cup Cozy!
I drink a LOT of coffee and this is the perfect way to cover up those boring coffee cup containers.
I found the perfect shade of gray yarn last week and made this DIY Extra Soft Cup Cozy embellished with my grandmother's vintage brooch for a bit of bling!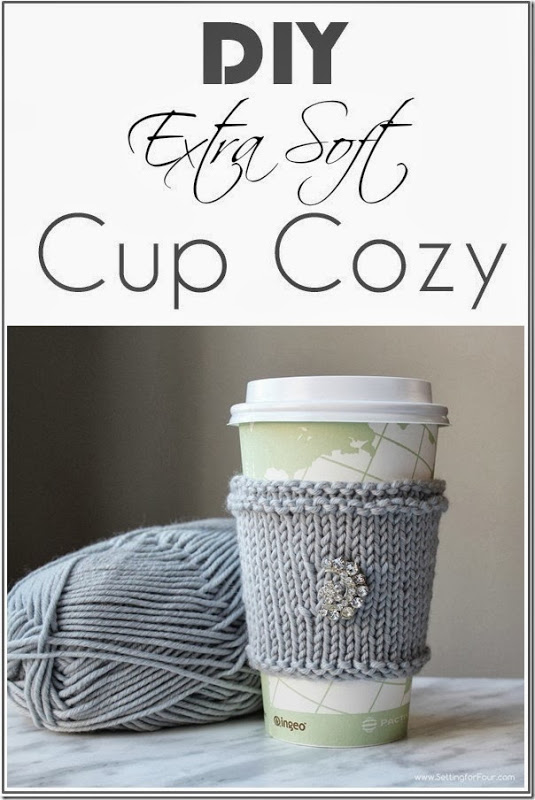 DIY Extra Soft Knitted Cup Cozy – Great Gift Idea!
This is a great project to use inexpensive vintage or thrifted jewelry that you can find at estate sales, antique stores or thrift shops. There are so many different looks you can give this sweet cup cozy!
Supplies:
2 balls (total 100 grams) of this yarn
Double Pointed Knitting Needles Size US 6 (4.0mm)
Scissors
Ruler
Knitting Tutorial:
See the full knitting tutorial with lots of great step by step pictures here.
1. Cast on 36 stitches.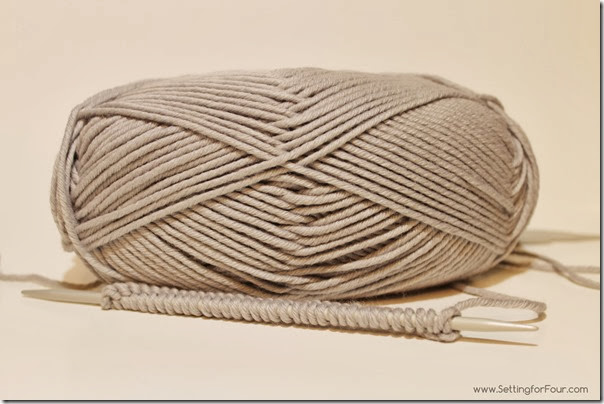 Place the 36 stitches on the 4 double pointed needles so that each needle has an equal number of stitches on it.
2. Being careful not to twist stitches, join ends to work 'in the round'.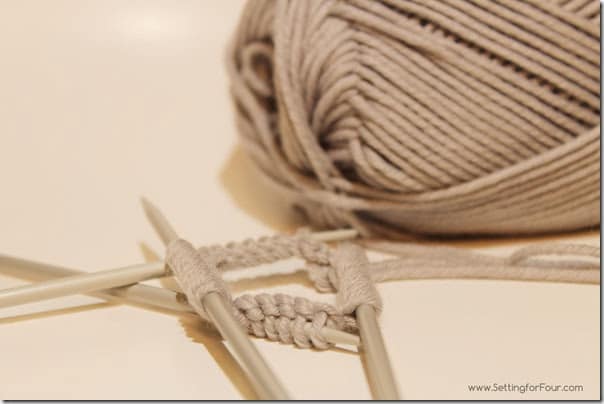 3. Next, knit 1 round and purl 1 round.
4. Change to stocking stitch (knit every round) and knit until Cup Cozy sleeve measure 1 1/4 inches from the beginning.
5. Shape Sleeve: Knit 1, Make 1 [knit 9, Make 1] 3 times, knit 8 for 40 stitches.
6. Work even until sleeve measures 2 1/4 inches from the beginning.
7. Increase Round: Knit 1, Make 1 [knit 10, Make 1] 3 times, knit 9 for 44 stitches.
8. Knit until sleeve measures 3 inches from the beginning.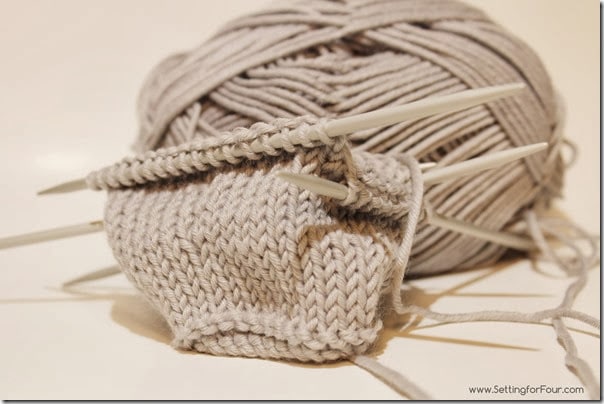 9. Purl 1 round.
10. Bind off all stitches loosely knit wise.
11. Cut end of yarn. Using embroidery needle weave yarn ends into back of cup cozy.
12. Add a favorite new or heirloom brooch to your cup cozy to give it some beautiful bling!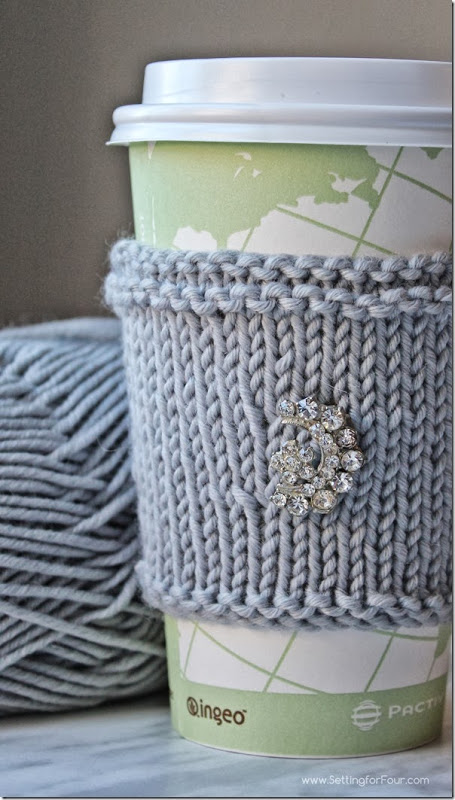 I love, love, love wrapping my fingers around this extra soft cup cozy!
….and to be honest, this darling vintage rhinestone brooch adds a little bit of glam style to my day!
~ ~ What girl doesn't love that? ~ ~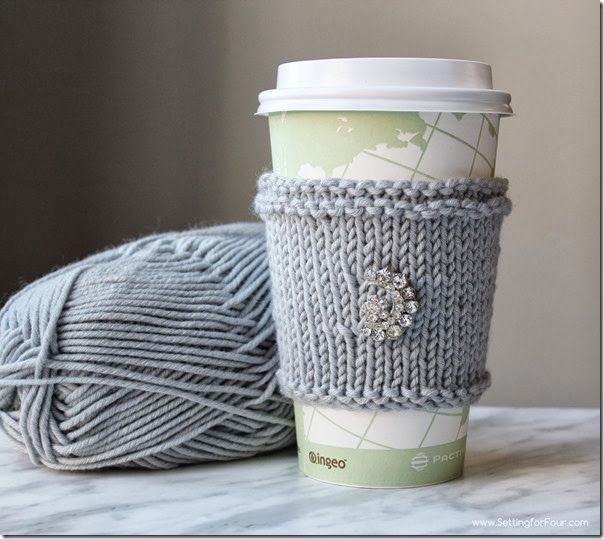 See my other DIY Knitted Cup Cozy Projects!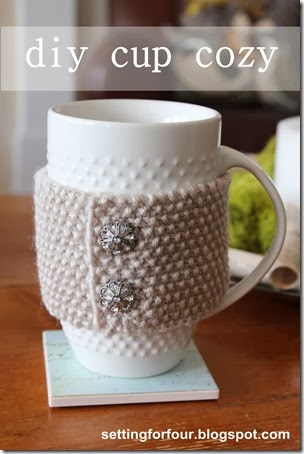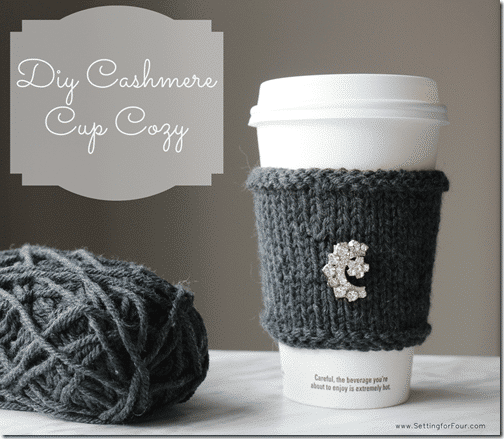 Knitted Mug Cozy with Embroidered Heart and xo message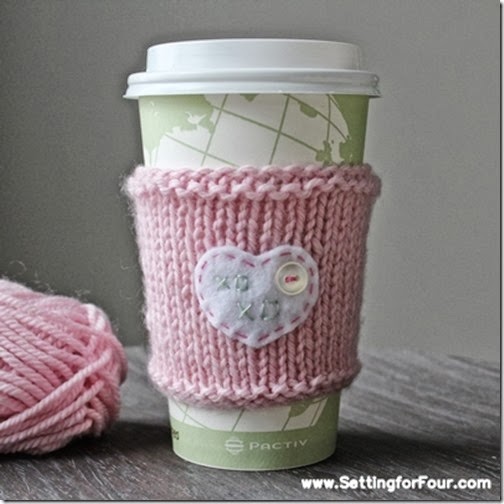 I hope you enjoyed my DIY Cup Cozy tutorials!