Coconut and Chia Overnight Oats In A Jar: Make this quick & yummy overnight oats recipe for a healthy breakfast or snack that's loaded with muscle-building protein and energy-boosting complex carbs. Grab and go – it's made in a mason jar! Naturally sweetened with organic coconut sugar that has a delicious brown sugar-like taste.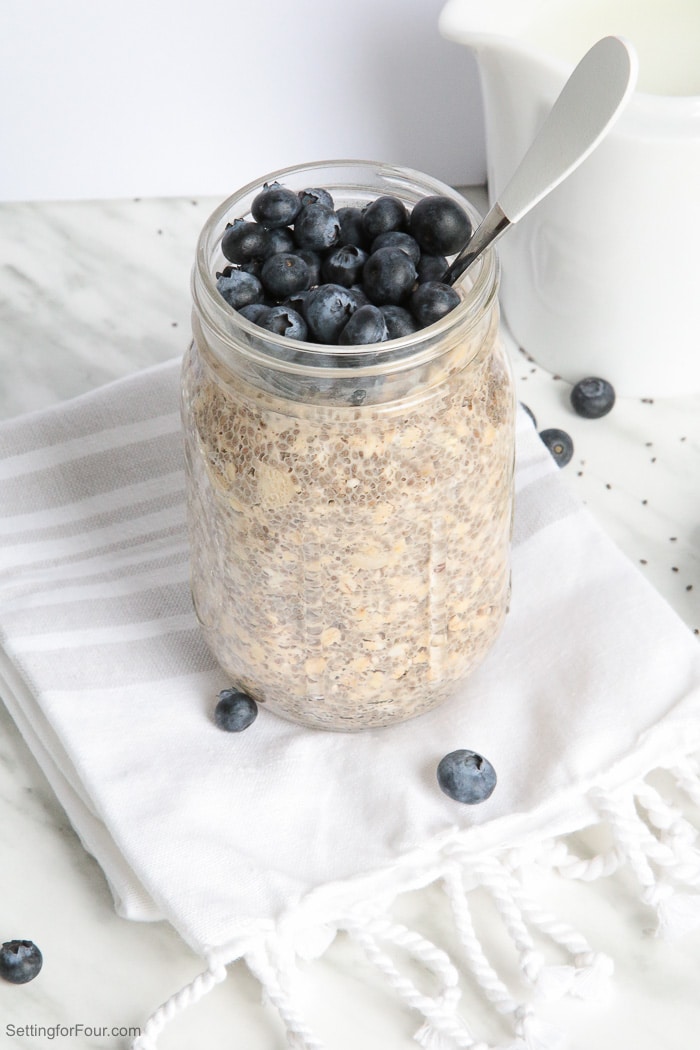 This post contains affiliate links. See my disclosure policy here.
When I was a little girl I ate hot oatmeal every morning for breakfast – 7 days a week! I truly loved oatmeal then and I still do!
But making it can be messy – I've had it boil over a time or two! – and time consuming to make. So now I make quick and easy overnight oats!
Add to this my love of sweet coconut flavor and healthy chia seeds and I just had to share this recipe for Chia and Coconut Overnight Oats!
This recipe is so EASY to make!
Measure out the ingredients: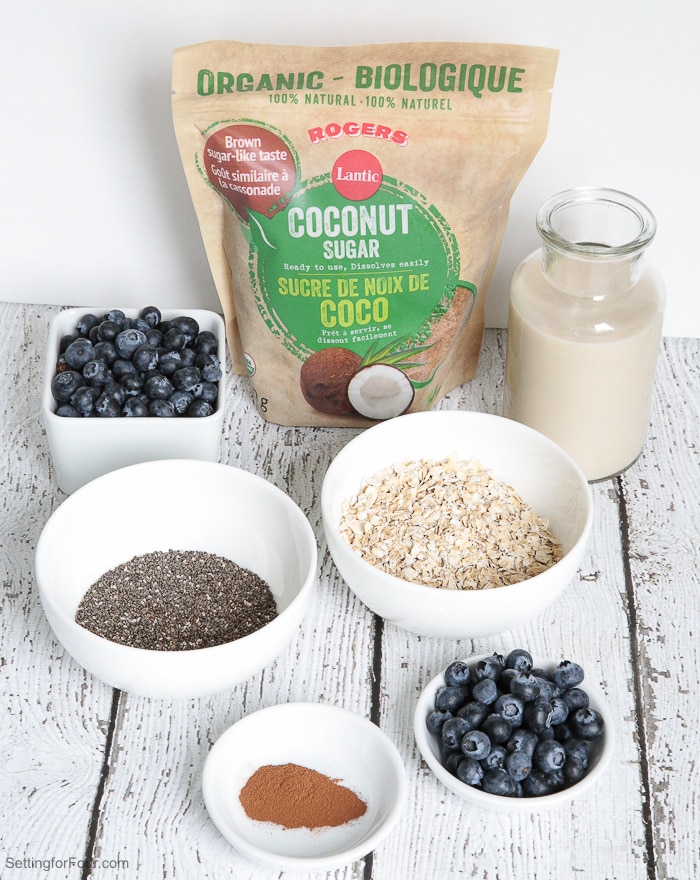 Mix together in a mason jar: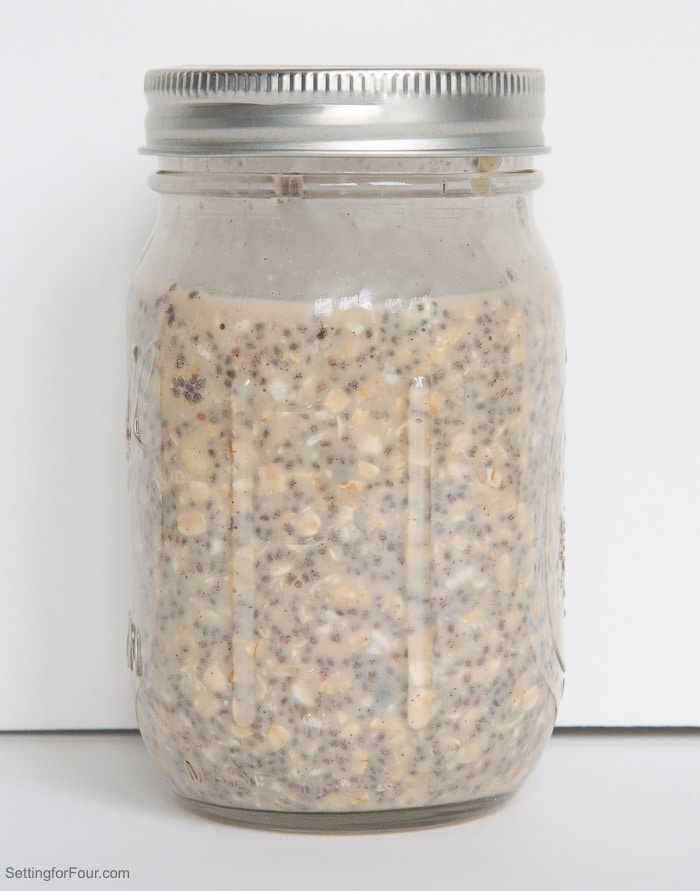 Refrigerate and add my topping ideas!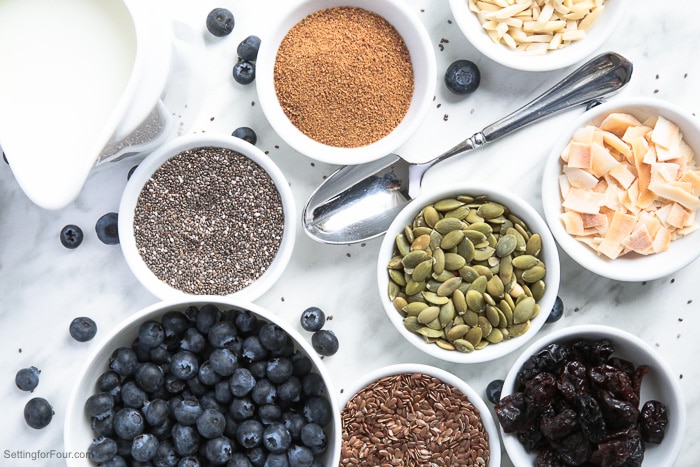 Yum! Yum!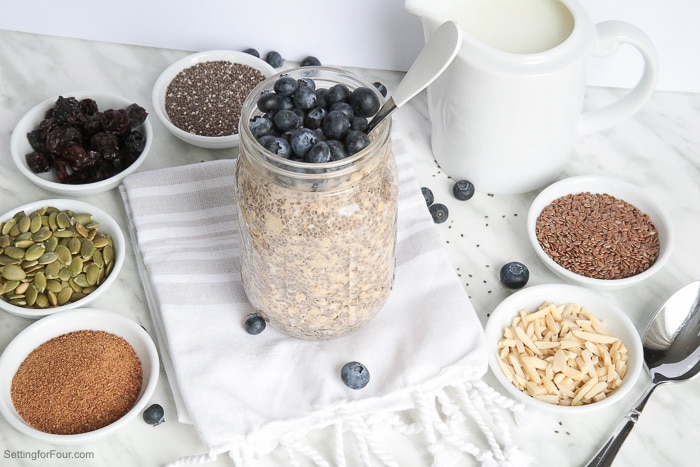 This make ahead recipe is perfect for busy mornings and a grab and go snack loaded with healthy chia seeds and naturally sweet coconut flavor!
I'm also sharing 10 delicious, healthy topping ideas – so get creative!
Coconut and Chia Overnight Oats In A Jar Recipe
Ingredients
Topping Ideas – Get Creative!
Organic coconut sugar, flax seed, chia seeds, pine nuts, pumpkin seeds, pecans, dried coconut chips, dried cherries, dried apple rings
Supplies:
Directions
Combine all ingredients except for blueberries and mix well. Pour into an air tight container – I use a half pint mason jar – cover with a lid and refrigerate overnight.

Serve cold with blueberries (or other fruit) and your choice of toppings.
TIP: This recipe can be stored refrigerated for up to one week in a covered air tight container.
PLEASE PIN IT AND SHARE IT WITH YOUR FRIENDS!

I hope you like my COCONUT AND CHIA OVERNIGHT OATS IN A JAR RECIPE!
You may also like!
10 Plus Delicious Blueberry Recipes
Almond Banana Coconut Smoothie Recipe with Shaved Coconut Topping