Take the stress out of your crazy schedule, get organized and STAY SANE with this Boss Babe Printable Planner Pack that includes 106 Printable Pages to plan your ENTIRE YEAR!
You'll love the CHIC gold, white and black sparkly design! Includes printable checklists, tracking sheets, to do lists, places to be and calendars too!
The Boss Babe Printable Planner Pack – 106 Pages to Plan and Organize Your Year!
This stylish daily planner is made to help YOU plan every detail of your life and help you get organized with all things job, home and family related! So you won't forget a thing!
And it's so beautiful – you'll love using it!
 This is a planner perfect for Moms, Bloggers, to use as an agenda for your job and more!
This is also perfect for students and teens to use as a planner for their school homework, activity, volunteer hours and part time job schedule.
Trying to stay on track with places to be, planning meals, your budget and paying bills can be overwhelming!
This daily planner will give you the most planned and organized year EVER with 106 pages chocked full of helpful printables including:
• Year at a glance (2018 & 2019)
• Yearly planning (2018)
• 2018 goals
• Bucket list 2018
• Monthly calendars (Jan – Dec 2018)
• Monthly planning (goals, priorities, important dates, etc)
• Monthly budget
• Monthly bill pay check list
• Monthly habit tracker
• Month in review journal
• Weekly planner
• Weekly goal setting
• Weekly meal planner
• Weekly journal
• Daily planner
• Morning routine
• Activities schedule / planner
• Shopping list
• To do list
• Read Me
• Watch Me
• Try Me
• Blank list page
• Things that make me happy
• Reasons I am awesome
• Things I am good at
• Things I could be better at
• Notes page
• Journal page
• Doodles
• Brain dump
• Misc positivity and quote pages
Wow – this planner cover's everything!
Here's how the Planner looks – I love the chic gold sparkle design!
Isn't it gorgeous?
Here are some pictures of the planner pages to show you some of what's included!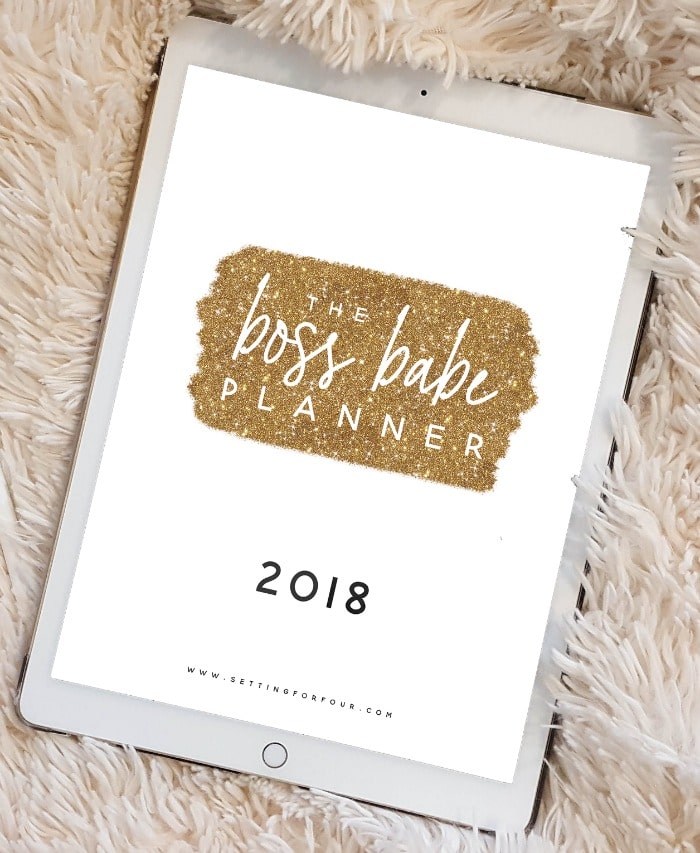 Wondering how to store and organize your planner once you receive it?  Here's how I store and assemble mine:
Supply List:
Assembling your Planner Binder:
1. Print your Planner Pack in color. You can print in black and white if you'd like to save ink but you won't get the pretty sparkle look. Print additional copies of any pages you want multiples of.
2. Punch holes in all pages with the hole punch.
3. Add the Planner Pack pages to the binder in whichever order you'd like.
4. Optional – Place pages in sheet protectors if your worried about spills.
5. Optional –  separate your planner sheets with tab dividers.  You can keep the menu plans, recipes and grocery list in one section, the calendars and places to be list in another section.
6. Enjoy your planner!
~ ~
PLEASE PIN THIS AND SHARE WITH YOUR FRIENDS!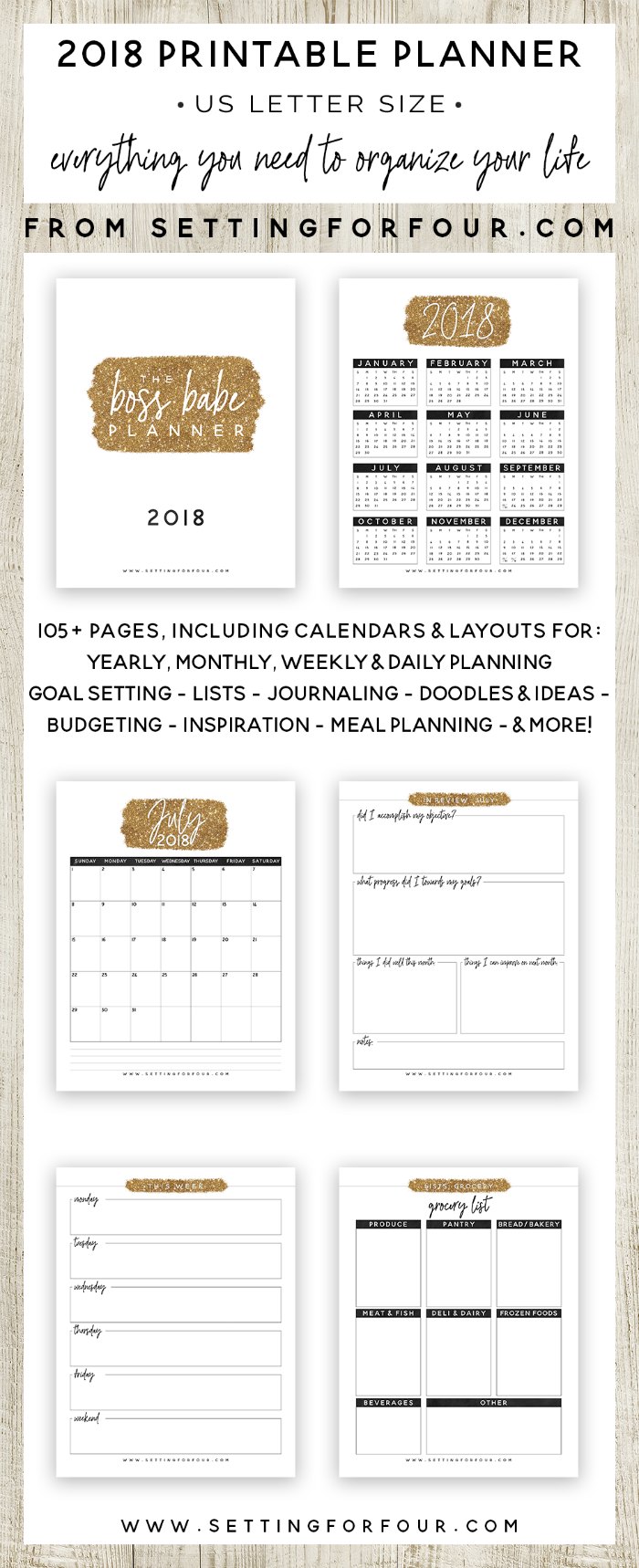 I hope you love this gorgeous 106 page Boss Babe Printable Planner Pack as much as I do!
You may also like:
15-Minute Bathroom Organization Tips
10 Brilliant Closet Organization Ideas To Obsess Over
70 Plus Organization and Storage Ideas to Declutter Your Life