Make this quick and easy Cinnamon Pecan Pear Tartlets recipe with delicious maple syrup, ready to bake in just 20 minutes! Add yummy maple cream to these miniature pies as a topping. NO handmade pie crust required: This recipe turns store bought pie crust into these beautiful ruffled tartlets for easy baking!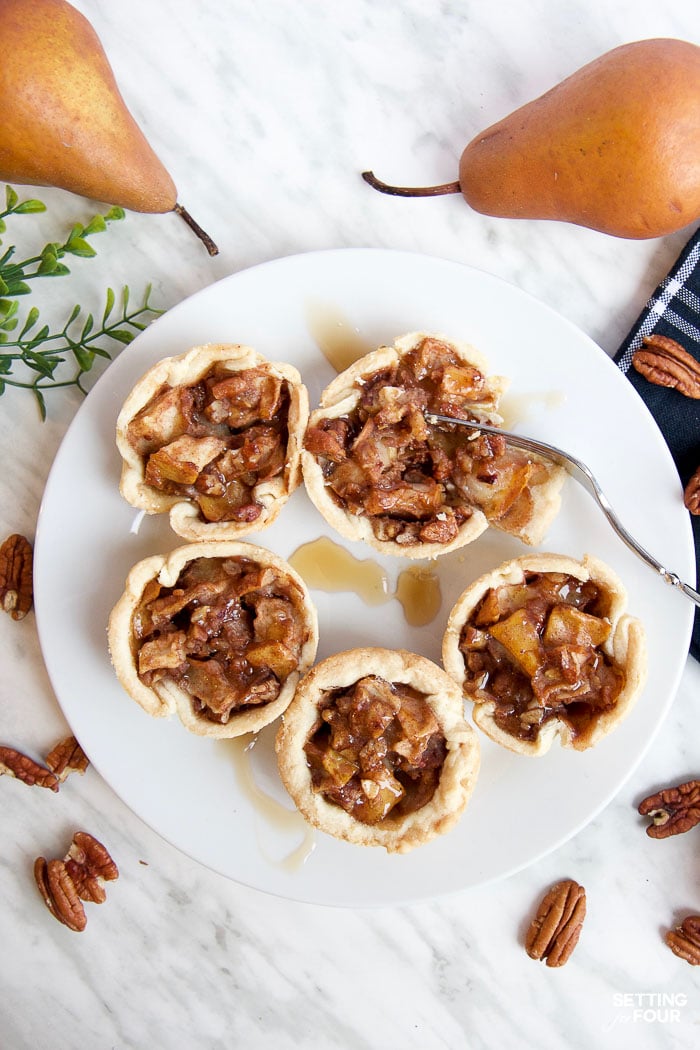 This post contains some affiliate links for your shopping convenience (which means if you make a purchase after clicking a link I will earn a small commission which helps keep my blog up and running but it won't cost you a penny more)! Click here to read my full disclosure policy.
One of my favorite things to make is pie! These tartlets are basically miniature pies – and aren't miniature desserts just so fun and extra yummy?
I find pies to be less complex to make than other desserts – and always delicious! Pies are extra easy to make when you don't have to make the pie crust by hand: these scrumptious Pecan Pear Tartlets use a store bought pie crust that you cut into circles with a small bowl.
I'll show you how here to make these here:
Cinnamon Pecan Pear Tartlets Dessert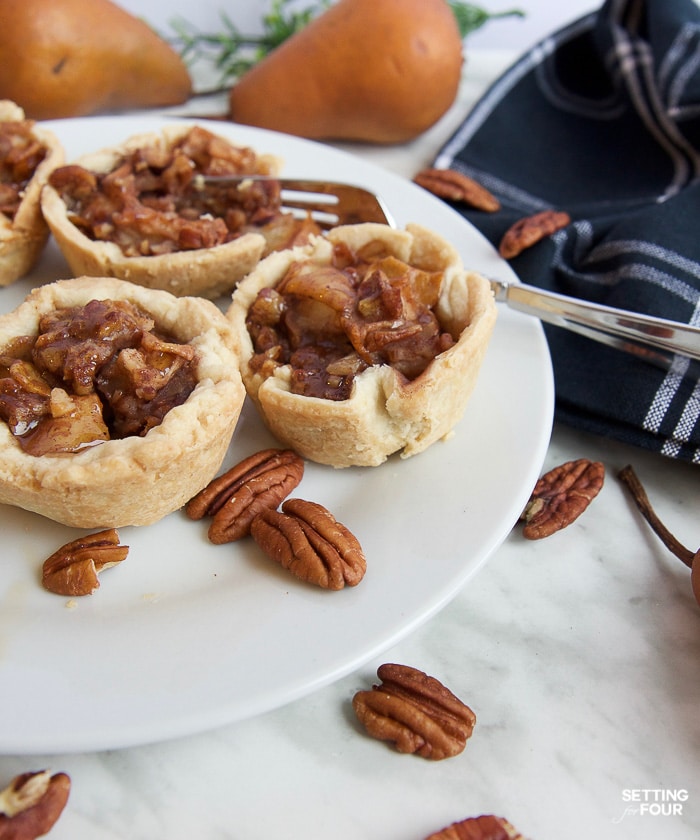 Supplies:
Recipe:
For Tartlets
1 deep dish pie shell
1 tbsp maple syrup
butter
1 tsp vanilla
1 tsp cinnamon
1/8 tsp nutmeg
1/2 cup chopped pecans
3 1/2 cups chopped peeled pears (about 3). Use Bosc or Bartlett pears that are ripe but firm.
2 tbsp sugar
2 tbsp cornstarch
For Maple Cream
1/2 cup whipping cream
2 tbsp maple syrup
pinch cinnamon
Instructions:
For Tartlets
Unthaw frozen pie shell according to directions.
Once pie shell is unthawed cut out tartlet circles using a small bowl to make the shapes. I used a small glass bowl that is inches across.
Place each tartlet pie shell into a greased muffin tin. Gently lay the tartlet pie shell onto the muffin cup and gently press with fingers to press the tartlet shell into the muffin cup. The edges will fold into ruffles on the sides.
In small bowl, whisk 3 tbsp maple syrup, butter, vanilla, cinnamon, nutmeg. Stir in pecans and toss to coat.
Set aside.
Place chopped pears in large bowl.
Sprinkle with sugar and cornstarch and toss to coat.
Stir in pecan mixture and divide amoung shells.
Bake at 400 F oven until pears are tender and pasty is lightly golden brown, 25 minutes.
Cool on a wire rack
For Maple Cream:
In a medium bowl use mixer on high speed and whip cream until soft peaks form.
Add maple syrup and beat until firm peaks form.
Add a dollop of cream and pinch of cinnamon to each tartlet.
Drizzle with maple syrup if desired.
These pear tartlets are delicious for an afternoon sweet snack with a cup of coffee or tea, for brunch or as a dessert after supper!
They are also perfect for potlucks (minus the maple cream topping).
I've also frozen these and they freeze well too!
PLEASE PIN THIS AND SHARE IT WITH YOUR FRIENDS!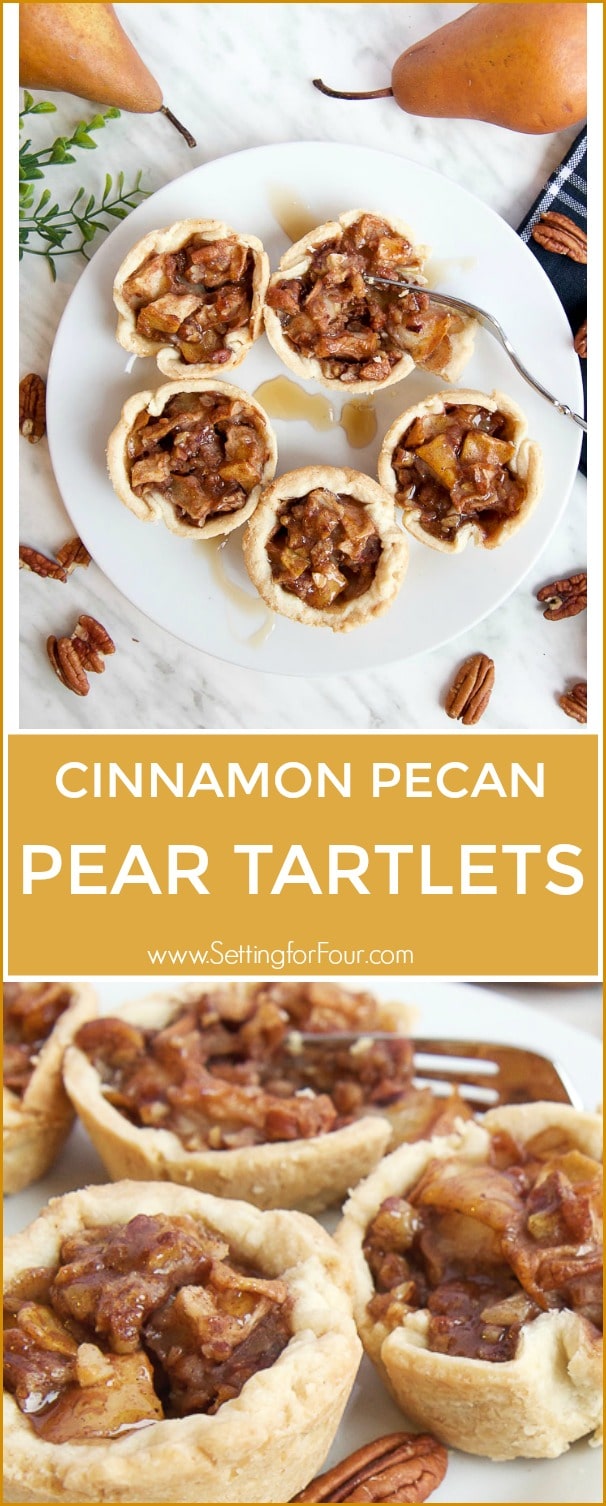 I hope you like this Cinnamon Pecan Pear Tartlets Dessert recipe!
You may also like:
Extra Easy Apple Spice Cake Recipe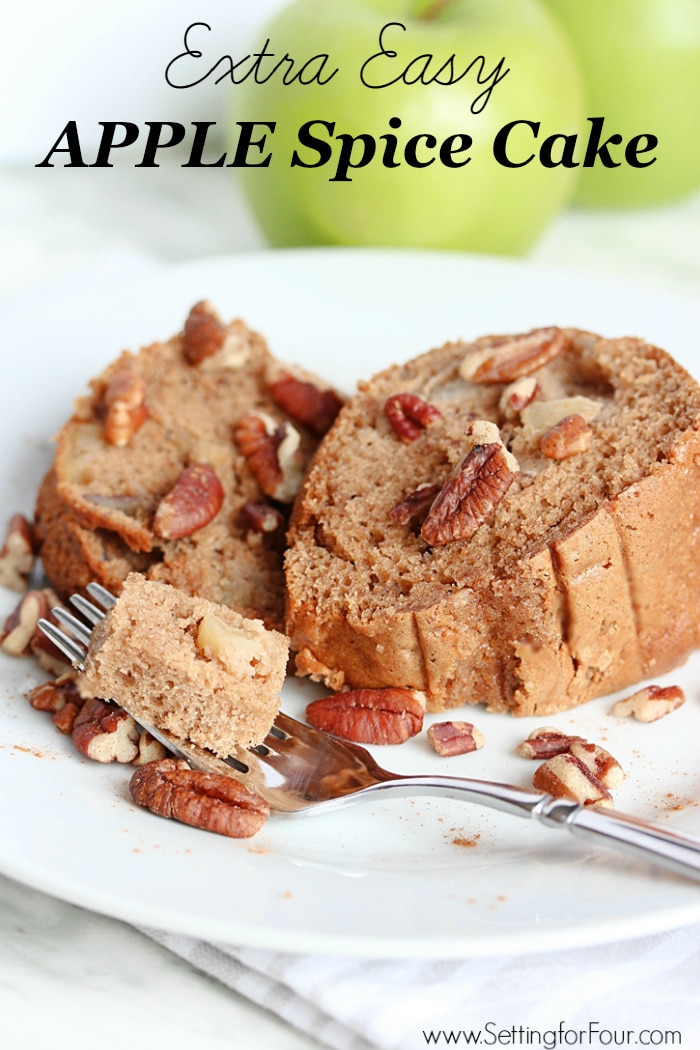 Healthy Apple Cranberry Make-Ahead Icebox Cookies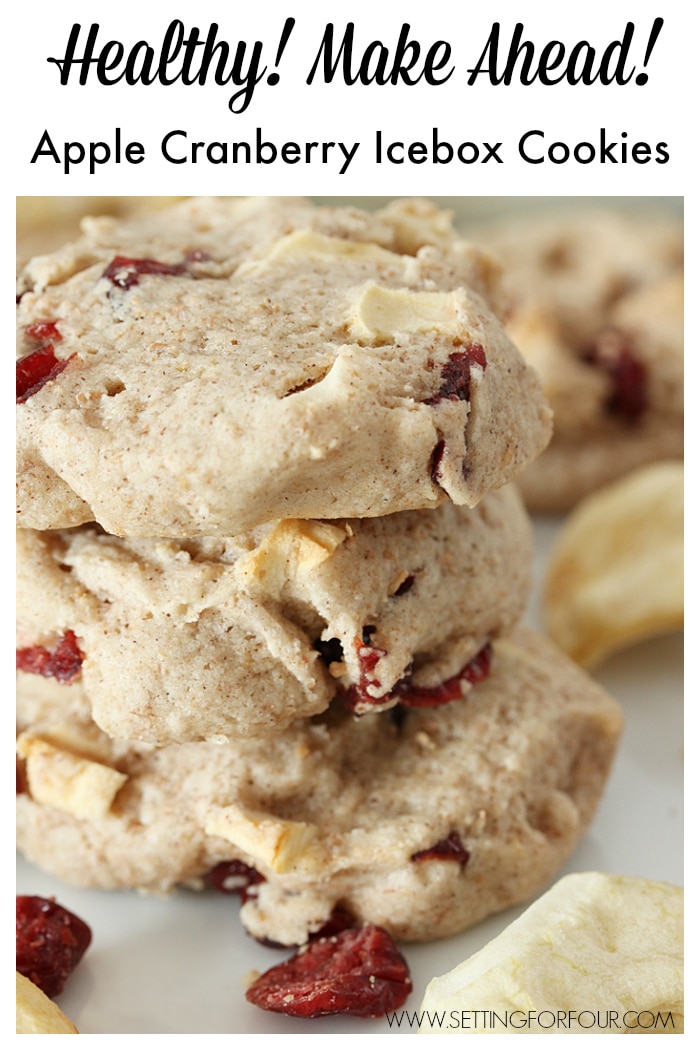 15 Plus Easy Chocolate Dessert Recipes