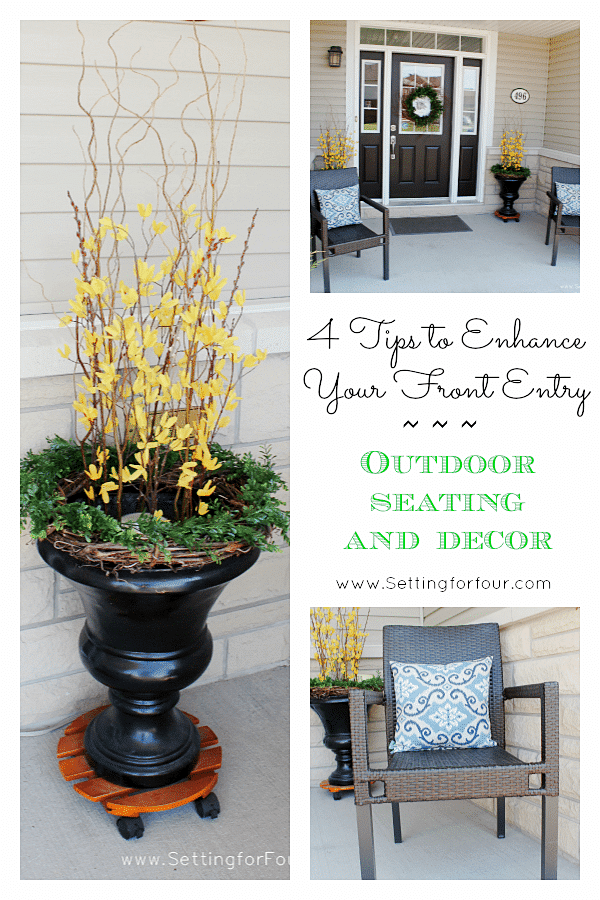 I love to decorate the front entry of our home for the seasons! Do you too?
Do you like to have pretty greenery and a seating area at the front of your home? Me too!
I love to create a warm and welcoming front entry to not only greet our guests but also for my family's enjoyment too! It's so important for our homes to have great 'curb appeal' for those reasons – and it doesn't have to break the bank to do it!
Here are 4 tips to enhance your front entry:
Tip No. 1: Add urns to either side of your front door.
I've had these black resin urns forever! (Resin urns are much more budget friendly than clay urns). Every couple of years I spray paint them with a topcoat of Rustoleum Painter's Touch Spray Paint in Gloss Black to clean up any paint chips or wear. This spray paint makes them look fresh and new every time!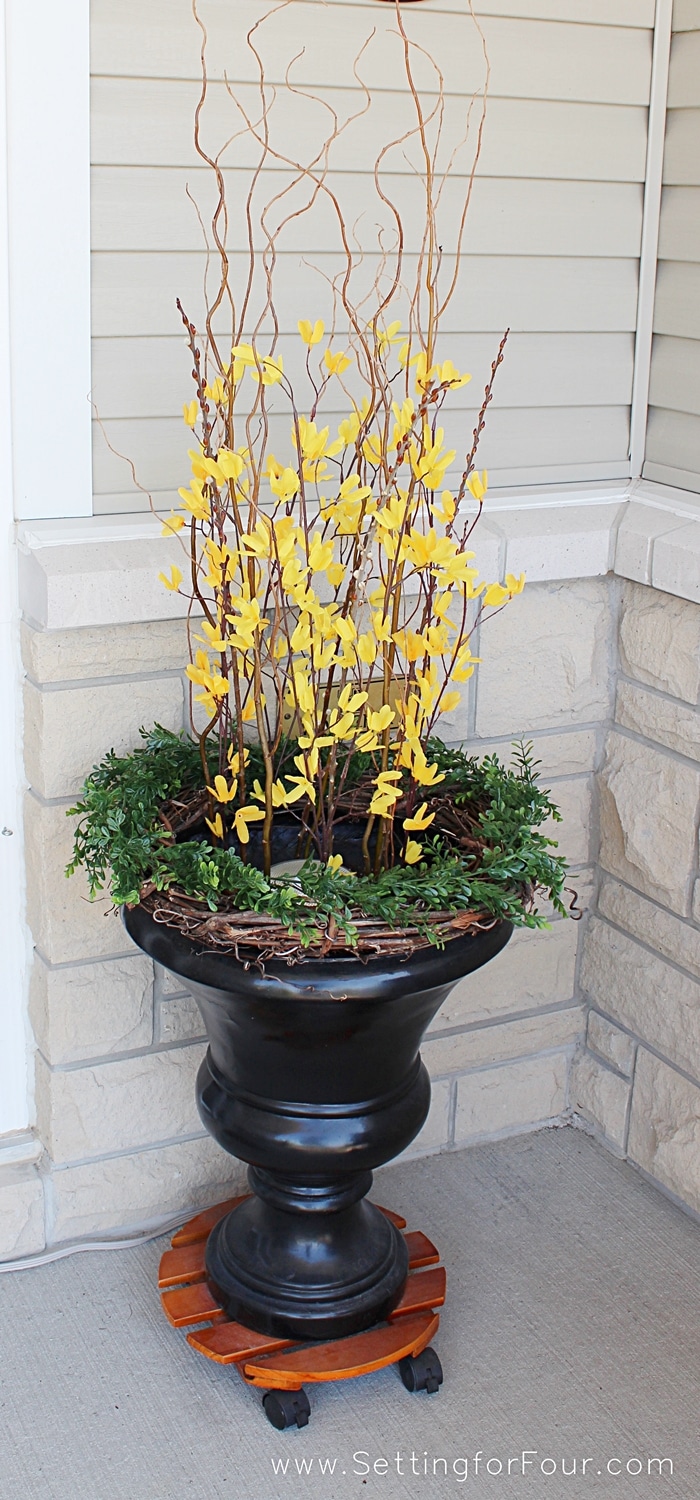 I tuck a white spotlight in each urn which we turn on at night – it gives such a pretty glow! Of course I don't have photos of them at night – oops!.. but you can see how pretty they look at night when I decorated our front entry last winter!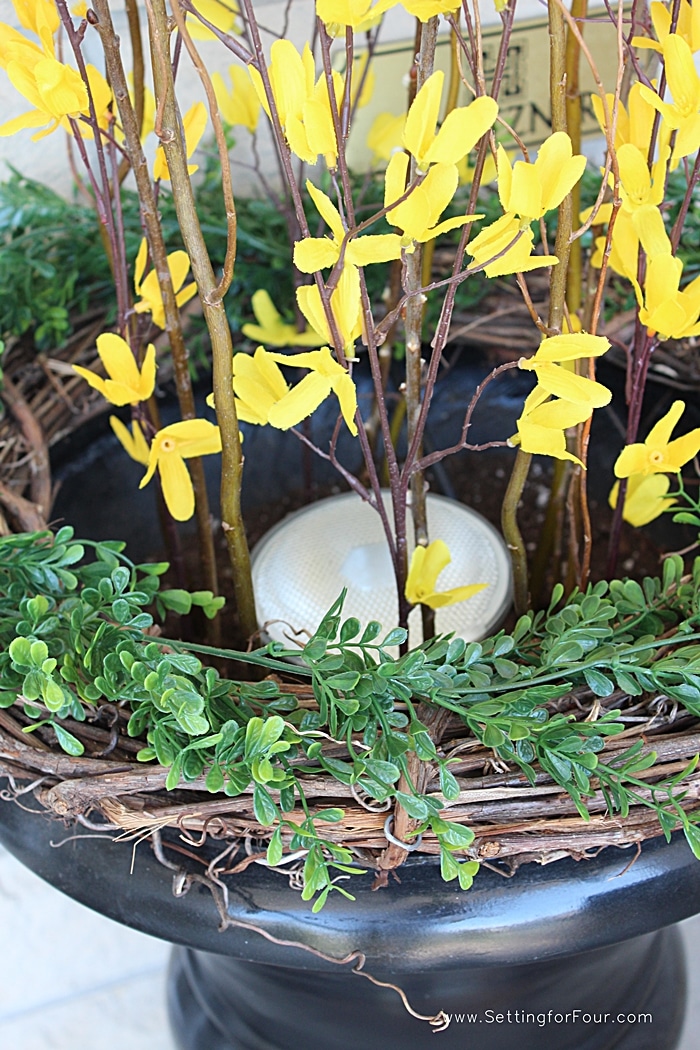 Around the spotlight I added 4 faux forsythia branches (purchased at the Dollar Store)
….and some curly willow
…..and a few pussy willow branches too!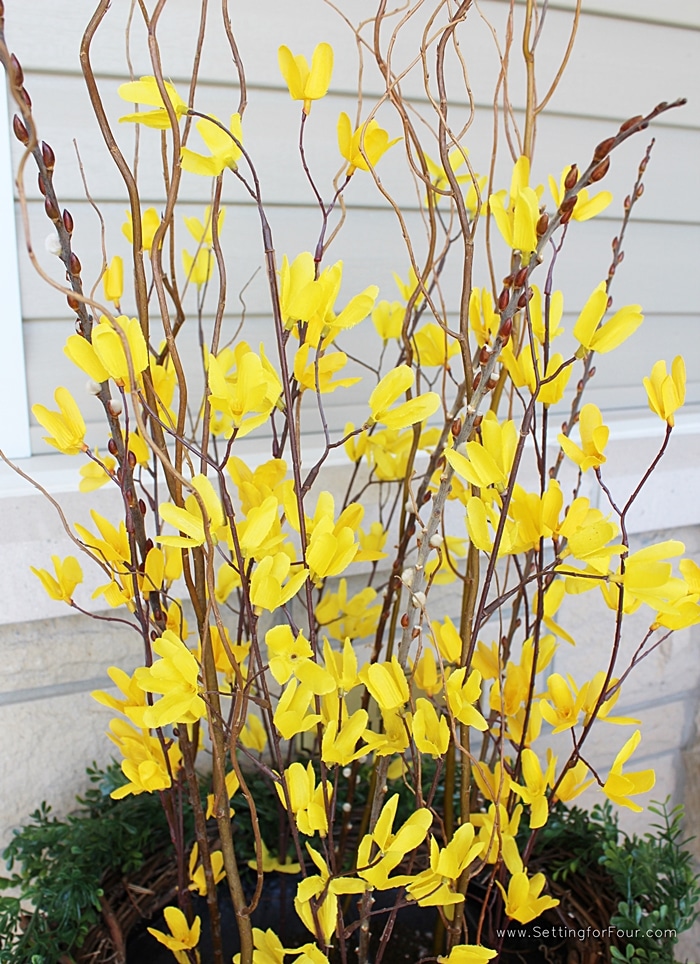 Next, I tied on 2 faux boxwood garlands onto a grapevine wreath.
…then I finished each urn off by setting a grapevine wreath just on the top rim of each urn!! (You can find the grapevine wreaths here* and buy the boxwood garlands from the Dollar Store!)
Tip No. 2: Create a focal point to your entryway and add a large wreath to your front door.
Here's a birch twig wreath with faux boxwood garland I added to our front door. I love the impact it gives with it's big scale! I hung it over with a picture of a vintage graphic of a bird's nest framed with a a dollar store white frame.
I love this wreath's pop of green and simple style.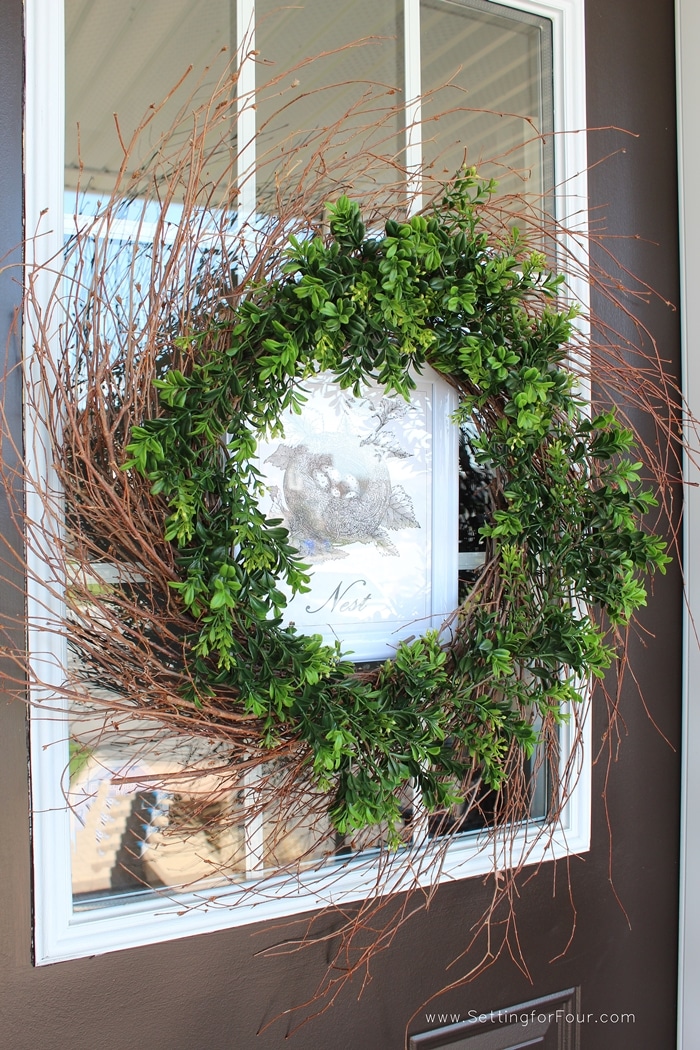 Tip No. 3: Add outdoor seating.
Sometimes after supper we like to chillax on our chairs and watch the sunset.
I love these espresso faux resin wicker chairs – they hold up so well to the sun and rain and look like real wicker!
Tip No. 4: Add a pop of color with pillows in outdoor fabrics.
Ikat blue and white outdoor pillows add a touch of color and comfiness to the chairs.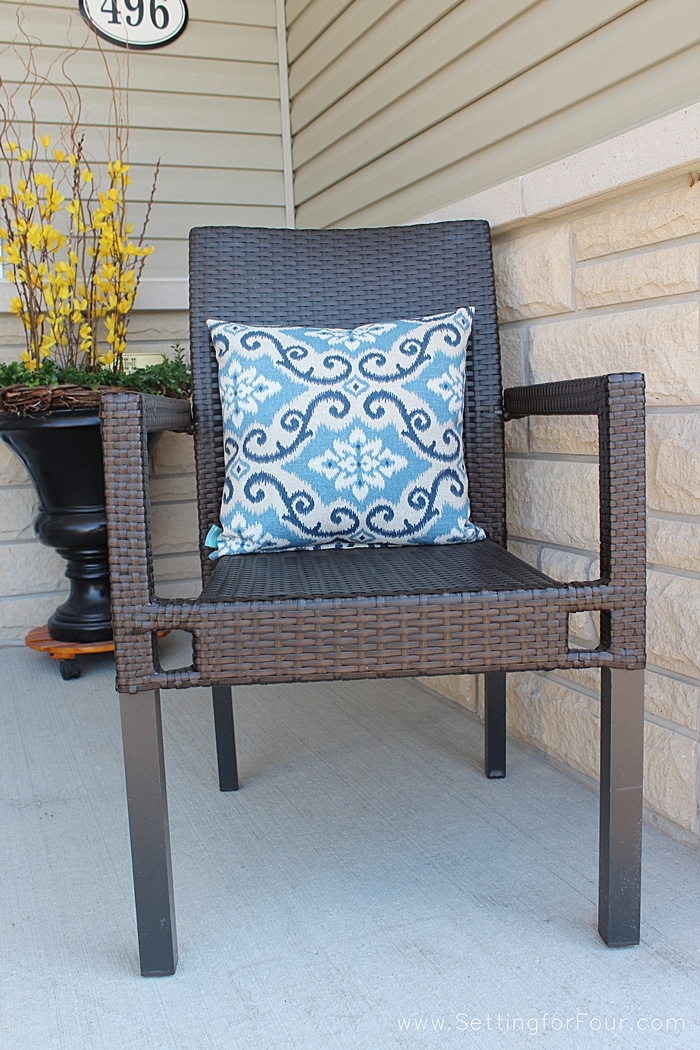 I can't wait for our front garden shrubs and flowers to bloom – there are daylilies, purple coneflower and ornamental grasses waiting to pop up any day now!
So do you like my outdoor seating and decor? Have you decorated your front entry for spring?
*These are affiliate links, so if you click through them and purchase, you'll be supporting SFF and I'll send you virtual xoxo's. Thank you!
~ ~ ~ ~
Giveaway is over ** Don't miss the big $300 Visa Gift card giveaway on now! Enter to win just in time for Mother's Day! **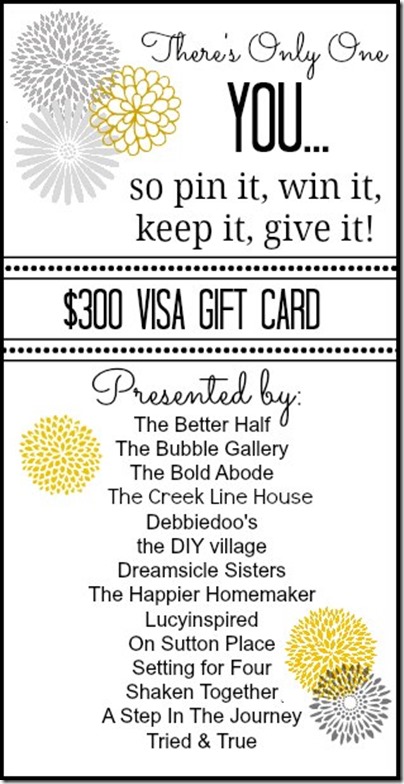 Old Photos: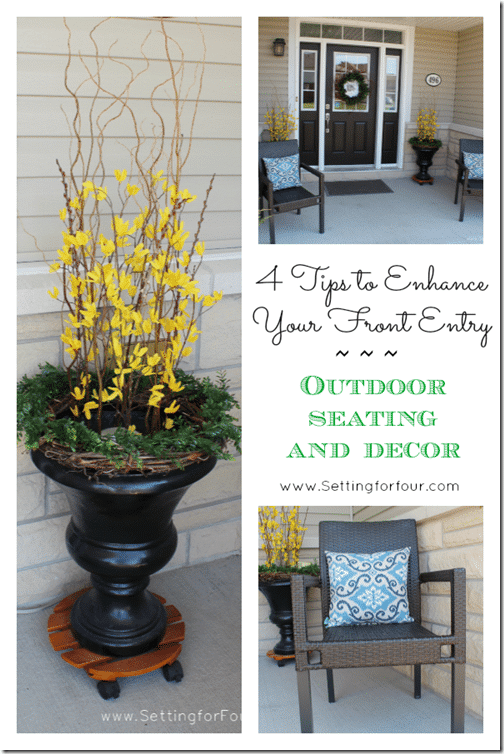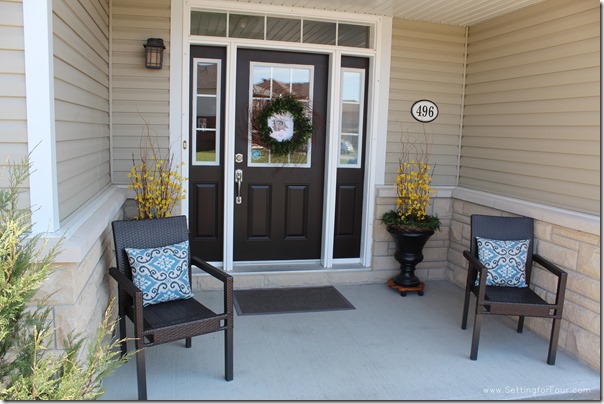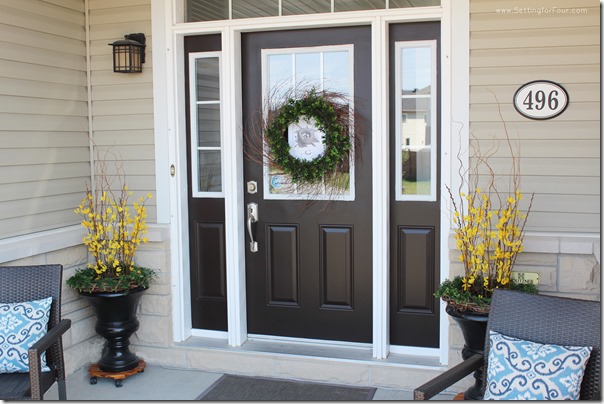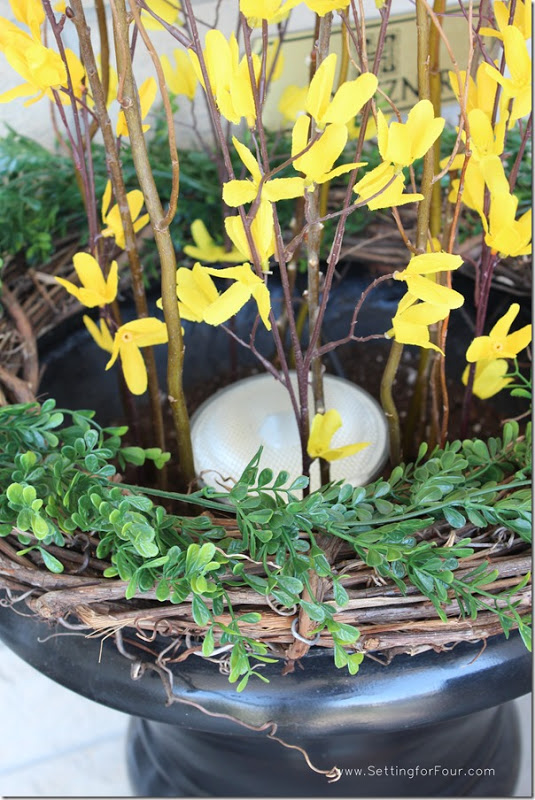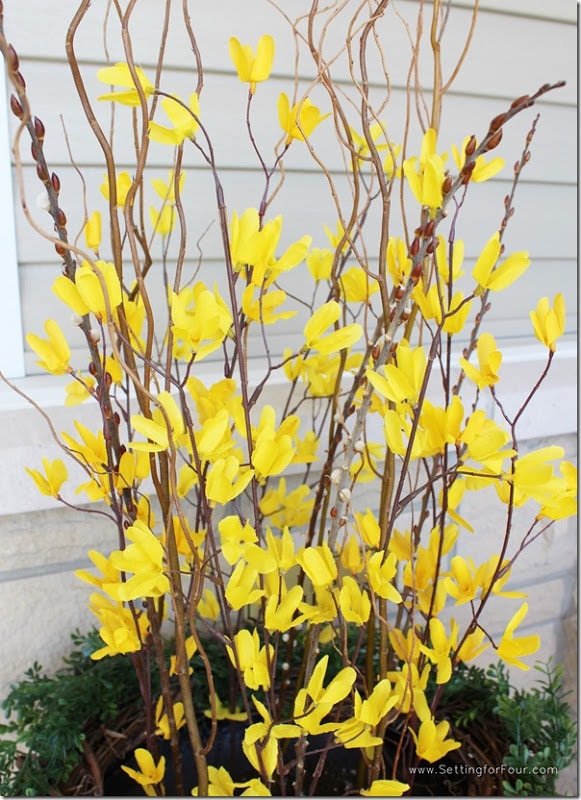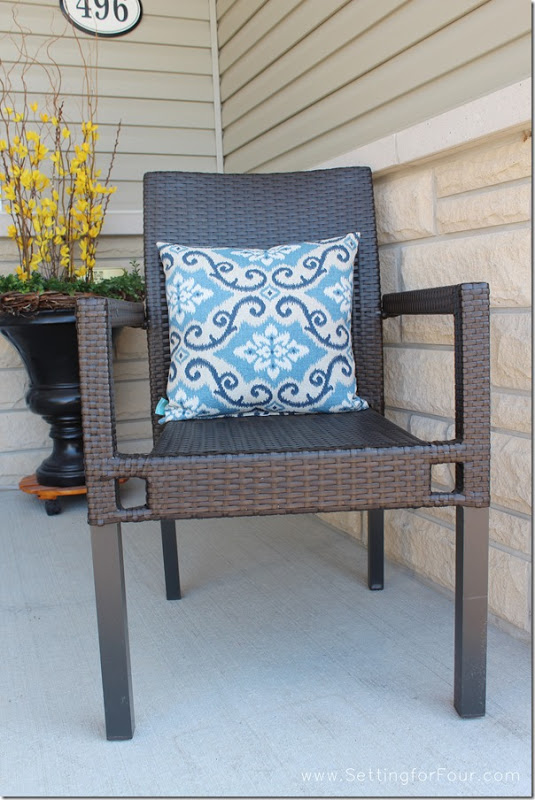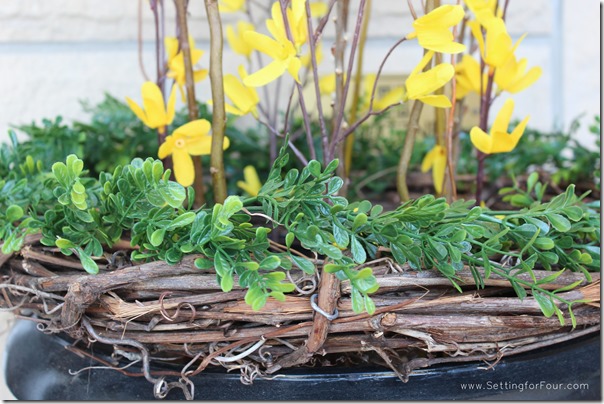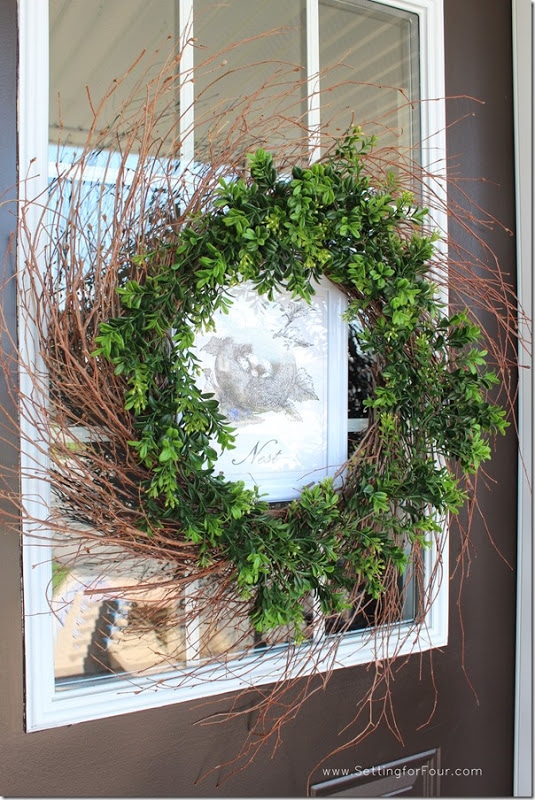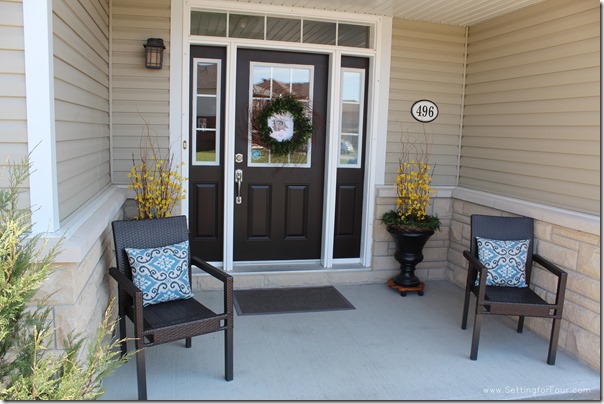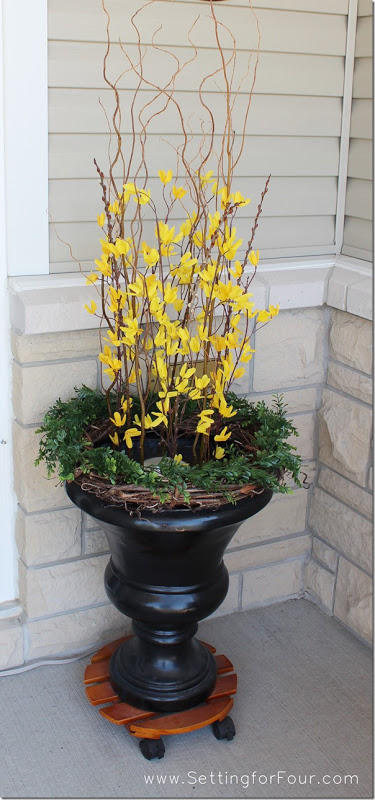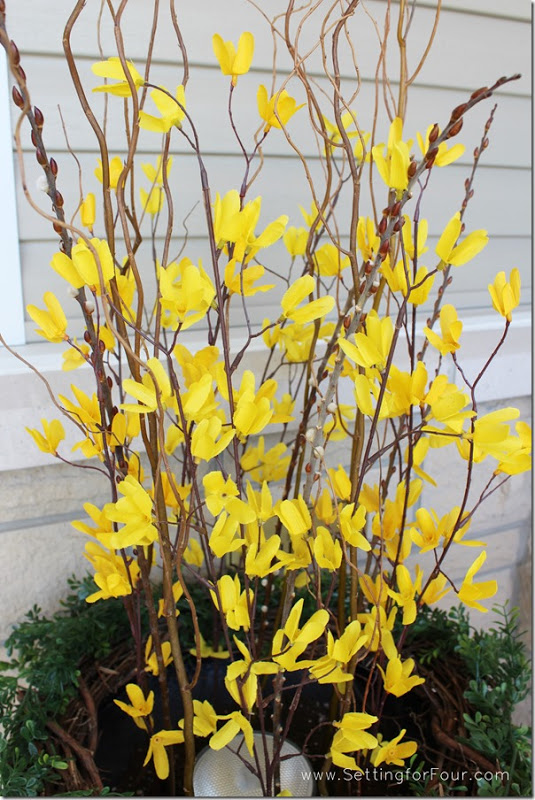 Sharing at: