How to Get Organized at the beginning of the year! See the January Cure – easy storage and organization ideas and tips for the whole month!
Hello everyone! Did you all have a fabulous Christmas Holiday? Get to relax a bit and spend time with loved ones? I hope so!
We had a great holiday! Lots of movie marathons with hot chocolate and the fireplace on, hot tubs, baking cookies, fabulous Christmas and New Year's Day dinners and lots of hanging out in pyjama time! It was super relaxing!
So now that the new year has begun and to beat the January blahs I wanted to share a fun 'January Cure' with you that I found over at Apartment Therapy!
Have you heard of it?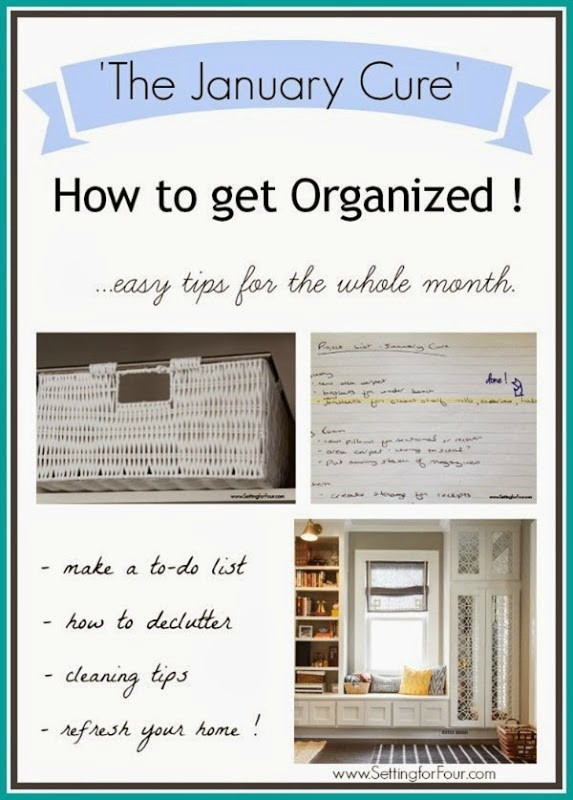 The January Cure is a set of organizing exercises you do all month to get your home clean, freshly decorated and organized for 2014! Sounds like fun right? When you sign up, Apartment Therapy sends you emails all month with simple to-do exercises and ways to keep you motivated.
Image Source: Apartment Therapy
At the end of the month they'll share plans on how to celebrate your clean and organized home with a gathering of your friends! Woot!
There's even comment threads in each post to share your own tips and help motivate each other. Also a team of Apartment Therapy contributors is taking on the challenge too and they'll be live blogging in real time to show their progress in homes from coast to coast. I love that!
The first exercise is to make a list of projects for your home of the things that need decluttering or improved storage. By walking through each room in your home with a pad of paper in your hand make a list to tackle this month. This isn't meant to take hours to do – just do a quick walkthrough of your home and write down a few things you know you can tackle easily and quickly, then cross them off as you complete them! Here's my list so far:
I've crossed one thing off so far! On the weekend I bought two beautiful big white storage baskets (on sale!) with chrome handles to store winter mitts, hats and scarves. I'm organizing my front closet and I'll fill you in on the details on how I'm doing that, later this week!
The second exercise is 'Flowers, Floors and Green Cleaners': adding fresh flowers to your home is a fabulous way to start the year after all the Christmas decor has been put away! As Apartment Therapy put's it, having fresh flowers to enjoy is a commitment to caring for your home! Cleaning your floors will make your home look sparkling clean in a chemical free way (consider green cleaners…which Apartment Therapy has resources for that you can even make yourself!).
It's not too late to sign up for this fun challenge – hop over to their website like I did and join in!
I'll let you know of my progress through the month and if 'The January Cure' is working for me!
So far, I love all of the ideas. The fact that I've made a list that I know I can actually tackle (at least parts of it) makes me feel like I'm actually getting organized and simplifying life! I love that these mini exercises each have small goals that'll have huge impact for my family for 2014!
What do you think about the 'January Cure' idea? Are you going to join in on it too!
I hope so – let me know if you sign up and how your progress is going!
We can do this together!!!!!
You may also like:
7 Ways To Make A Small Room Feel Larger Instantly!
Easy, Low-Cost Closet Storage and Organization Ideas