There is nothing better to quench your thirst than a tall glass of refreshing iced tea! This easy ice tea recipe ( made from scratch by steeping the tea) is full of antioxidants and three delicious fruit flavours: blueberry, lemon and pomegranate!
Lemon Blueberry Pomegranate Iced Tea Recipe: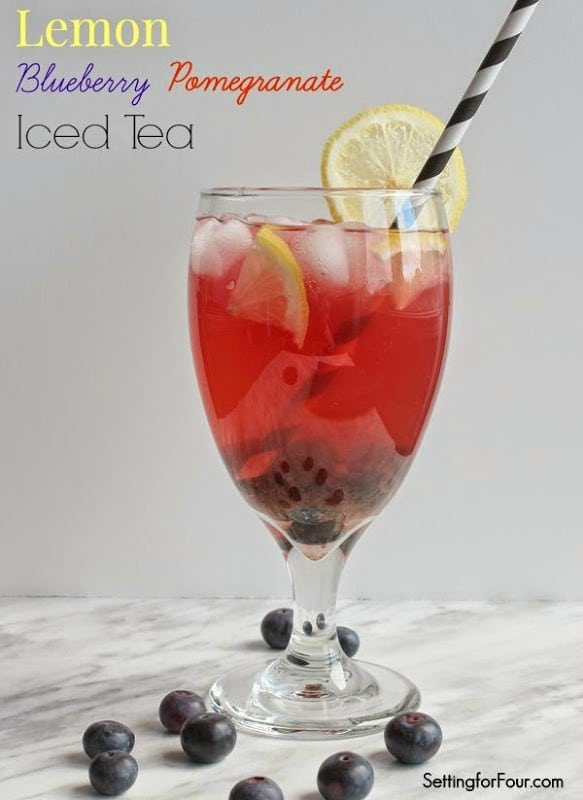 The fresh blueberries and tang of lemon are the perfect pairing with the delicious blueberry-pomegranate flavours in this white tea!
Ingredients:
Directions:
1. Pour boiling water over Tea Bags in teapot. Cover and brew 3 minutes. Remove Tea Bags and squeeze. Stir in sugar and cool.
2. Add fresh Blueberries.
3. Pour into glasses, add ice and garnish with lemon slices. Enjoy!
Make a big batch up and fill a beverage drink dispenser with spigot!
This is the first time I've made iced tea from scratch, by steeping the tea – it's so incredibly easy to make! Best part? You can adjust the amount of sugar you'd like in it!
Try other tea flavors too!
Once we start getting some warmer weather here, we will be making lots of pitchers of this ice tea to enjoy on our deck for some Summer-time relaxing!
Have you ever made iced tea from scratch, by boiling and steeping?
If you've never made it this way – try it!! You'll be surprised at how easy and delicious it is!
You may also like:
DIY Restoration Hardware X Based Table – Less than $200 to make!
Our Summer Deck Conversation Zone