If you been following along with my blog for a while then you know that I love interior design and interior decor. It truly is my passion. I love helping my friends and family  decorate their homes as well as my own!
One of the many fun things about blogging is that not only do I get to talk about interior decor, and show you my home as I tackle makeovers and decorate, but I also get to meet and make friends with some very talented decorators and designers too!
…like my friend Jackie at Teal and Lime!
I met Jackie at Teal and Lime last summer at Haven blogging conference and immediately was blown away with her warmth and her huge smile!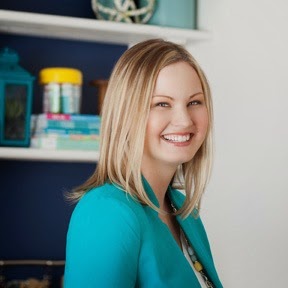 Jackie is a talented Interior Decorator with an amazing  eye for all things decor and design.
At Teal and Lime, Jackie shares her own decorating addiction, her stylish DIY Modern decor style, decor tips and tricks and also offers Decor E-Courses!
Teal and Lime is offering an exciting 'Be Your Own Decorator' E-Course which begins later this spring.  It covers everything you need to know on how to bring out your inner decorator and create mood boards like these!:
In the course you will learn:
how to create actionable mood boards for your home, that include resources for each and every item in the mood board

the skills to plan rooms, decor budgets, create source lists and create mood boards for any budget in 15 lessons

how to create a mood board for your own space! You will choose a room in your home, create a mood board for it and submit it to Jackie for her personalized feedback! How cool is that?
I've been studying Jackie's  E Course the past few weeks and this is what I've loved so far:
The detailed explanation of every concept that is included in each lesson: for example –  how to choose a color scheme, how to use undertones and how to choose metal finishes and wood tones.
2.  Worksheets to complete as exercises to reinforce each lesson.
3.  Receiving additional resources like the BONUS Online Source List for lamps, furniture, rugs, accessories ect.  This is Jackie's personal source list that she uses for herself and all of her clients!  Other resources she includes are height and space guidelines to help plan your room.
4.  Jackie answers each student's questions after every lesson. Unsure about the wall color or feeling you want the room to be? Unsure that a piece of furniture is going to work? Ask Jackie after each lesson and she will help you figure it out!
5.  Jackie personally guides you through your creation of your room's mood board. I find that so incredibly helpful!  It's like having an interior decorator overseeing the makeover of your own room – but at the same time you are learning how to do it for yourself!
6. The reward and satisfaction of learning a skill that I can use to decorate my own home and the homes of friends and family!
More amazing design ideas: