**Don't miss the Decor Steals Giveaway – 5 winners! – at the end of this post!**
Hello friends! Today I'm so excited to share with you my Fall Mantel Decor and also a special treat! This year I've decorated my fireplace mantel using Fall flowers and foliage that are blooming right now. Gorgeous wild asters, greenery with berries and all kinds of fall leafy branches. Best part? This stunning decor is all FREE courtesy of Mother Nature!

While fall is exploding in bright shades or orange, yellow and red I picked fall flowers and greenery in the neutral colors I so adore – shades of cream, white and green. This neutral loving girl just loves to swath her home in muted colors!
Painted Fireplace Tile: How to Paint tile in 3 easy steps!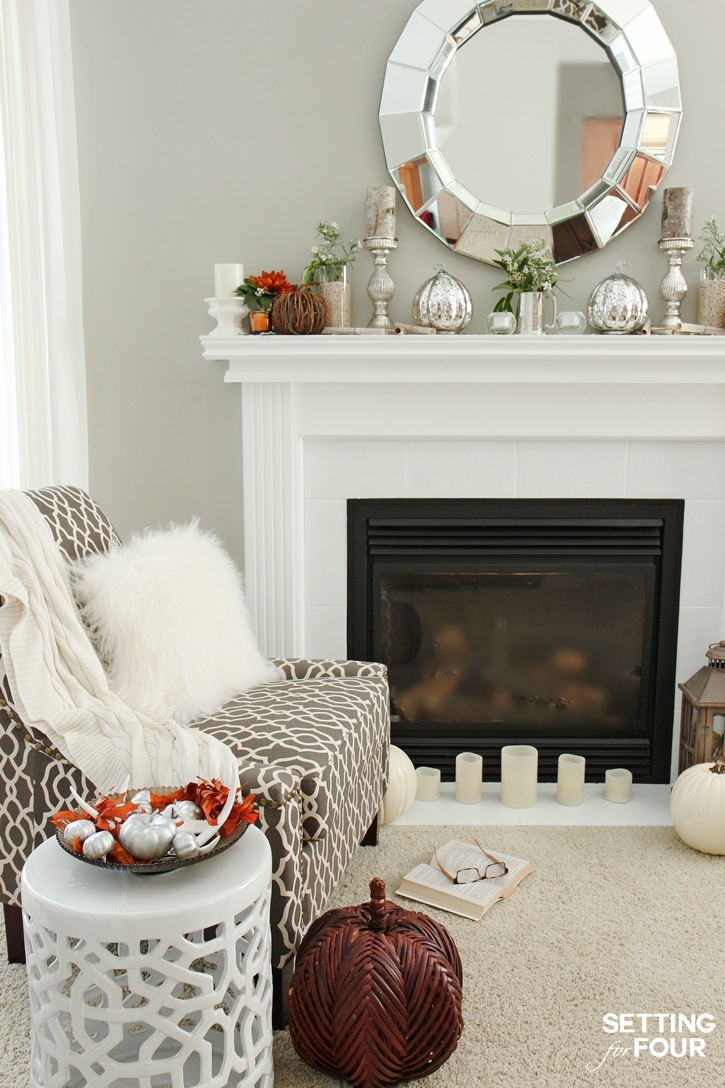 I love these white wild asters. Aren't the flowers so delicate and just perfect? I found these near the bike trail near my home. I also spyed these bushes loaded with lush green leaves and cream berries. I snipped several different tree branches to add more green color. I think my fall bouquets look so beautiful next to the sparkle of my mercury glass pumpkins.
Easy DIY Pottery Barn Knockoff Page Scrolls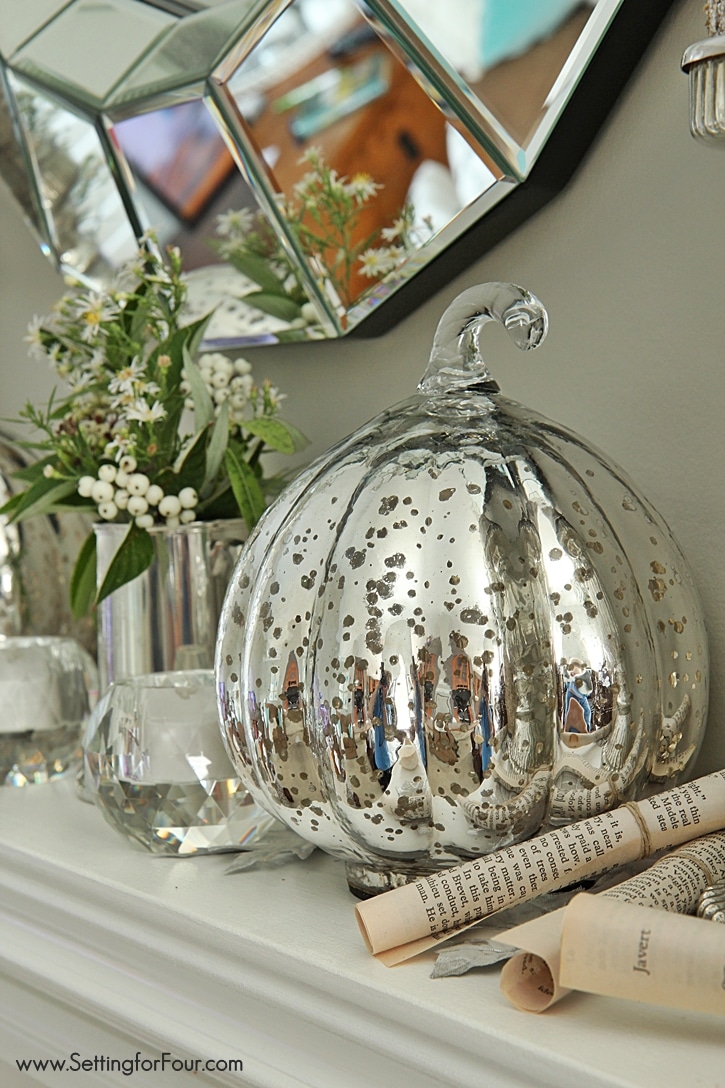 I added these fall florals and foliage to my hubbies military pewter mug – you've seen this on my mantel many times!
I LOVE using natural elements to decorate my home.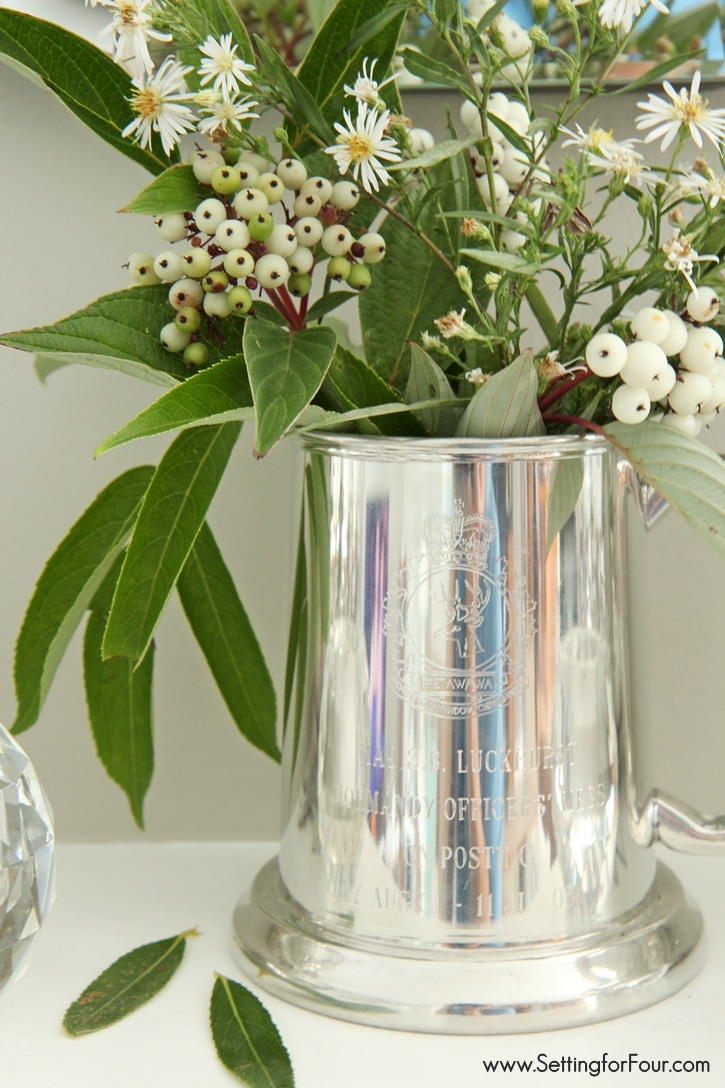 I'm still smitten with the beautiful grey and white trellis pattern on this arm chair. I'm a sucker for trellis patterns!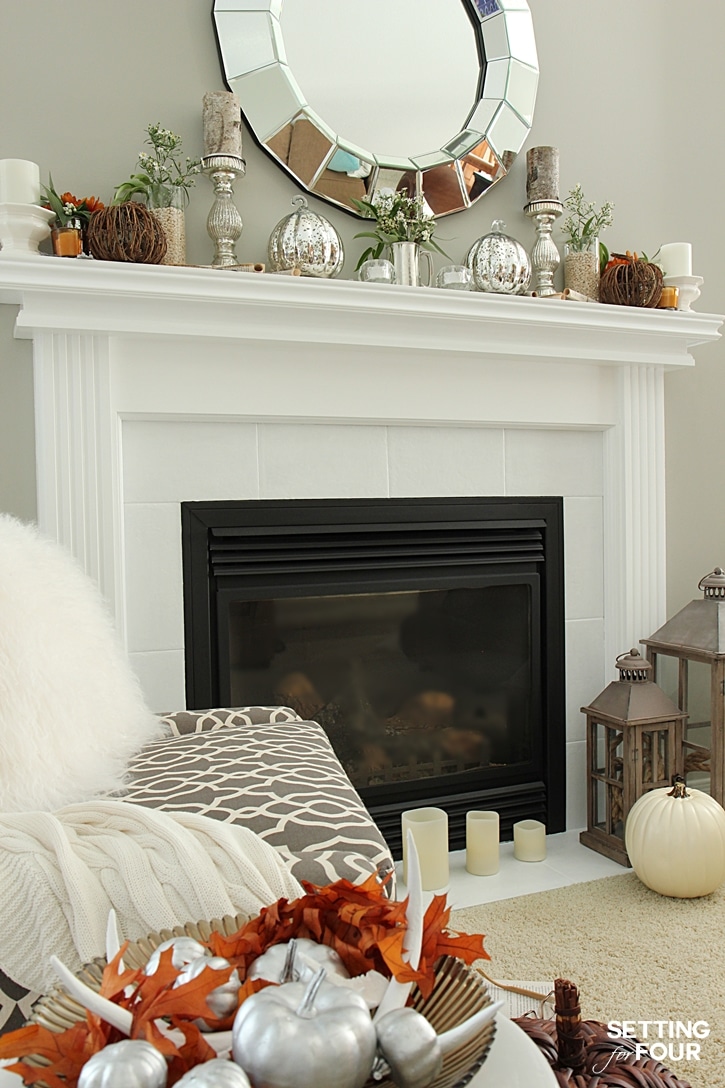 This post contains some affiliate links for your convenience. Click here to read my full disclosure policy.
I added a couple of grapevine pumpkins (adorbs!), mercury glass pumpkins (love their sparkle!)…and also glittered birch candles and mercury glass candle holders. This is my signature style – I love mixing rustic with sparkle and shine!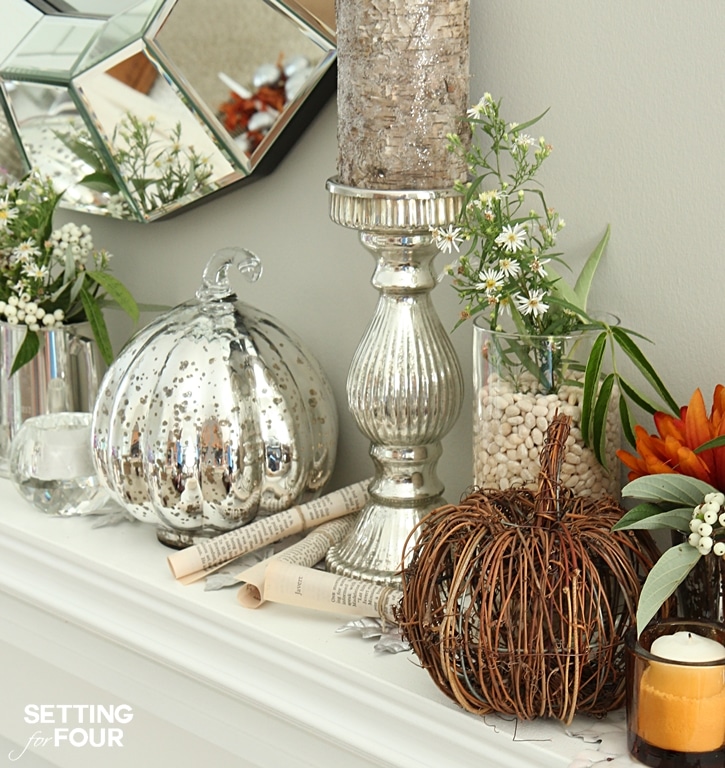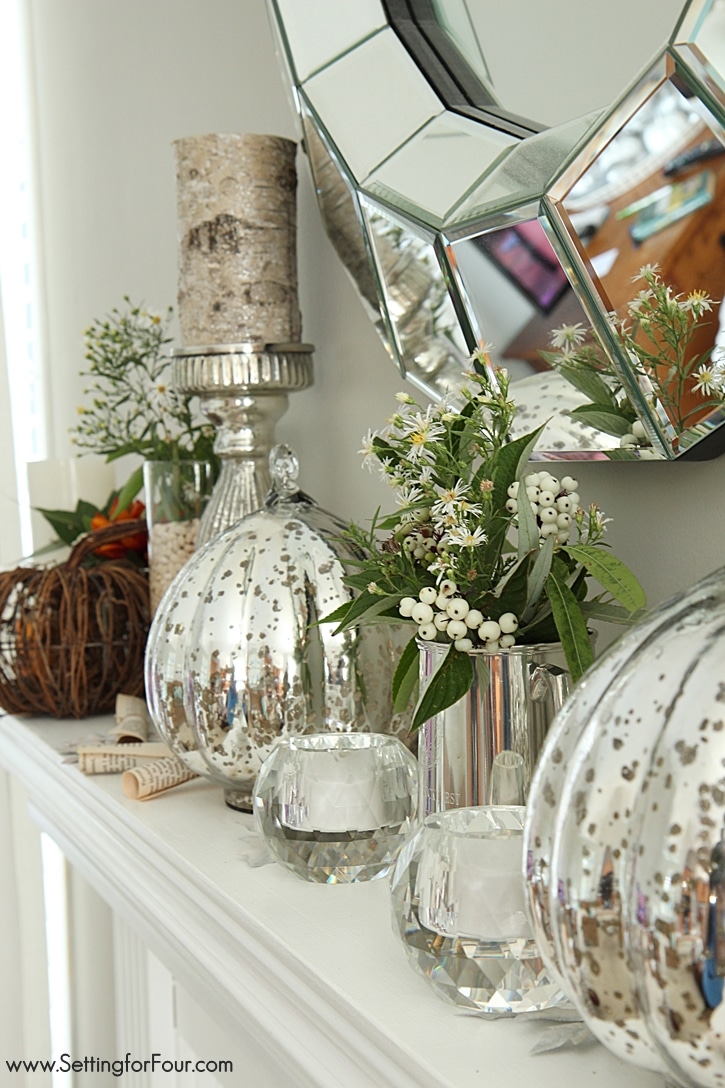 I hope you enjoyed my Fall mantel decor ideas using Fall flowers and foliage! Happy Fall decorating!
– – –
…and now for the special treat I mentioned! A Fall Giveaway!
bHome is pleased and honored to have Decor Steals sponsor this event. We will be giving away five (5) coupon codes each good for $100 at Decor Steals. There will be 5 winners! Winners will be contacted on or about 9/19.
How to enter: Download bHome at www.bHome.us and favorite Decor Steals – to do this TAP their star. Once favorited you will receive a message with the link to enter. One TAP of that link and you are entered! If Decor Steals is already a favorite of yours on bHome just look out for the message and TAP to enter. Good luck! And don't forget to follow me on bHome too!
Open only to the 48 contiguous states USA.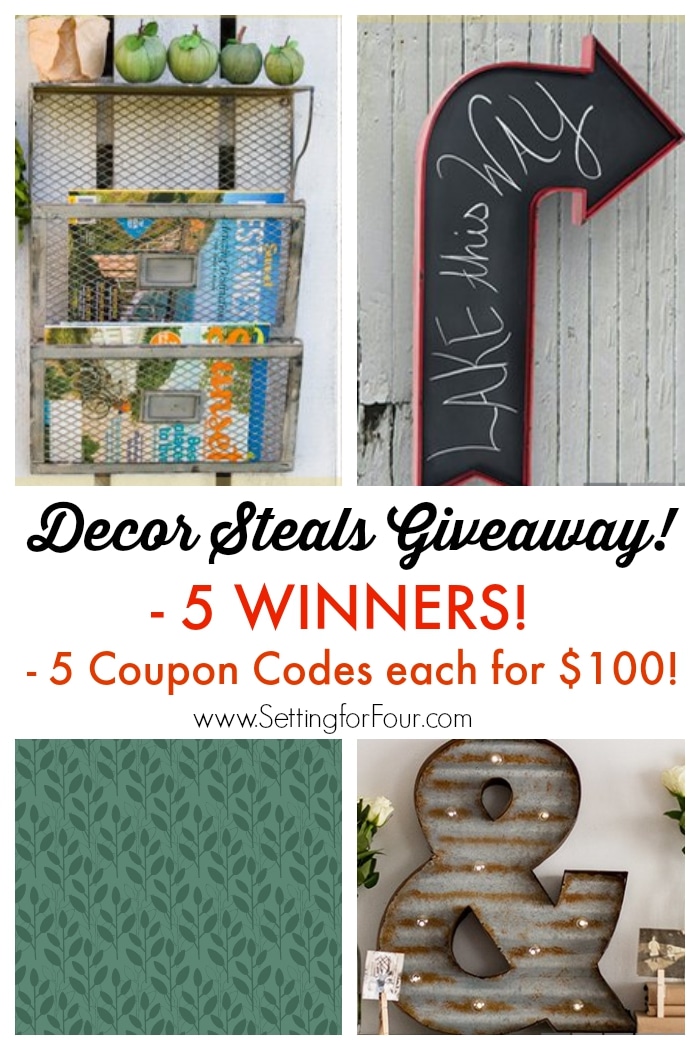 Make sure and come back tomorrow when the bHome bloggers will be featuring a new Fall project. I will be sharing more than 30 amazing decor ideas , crafts and recipes right in one place! See you tomorrow!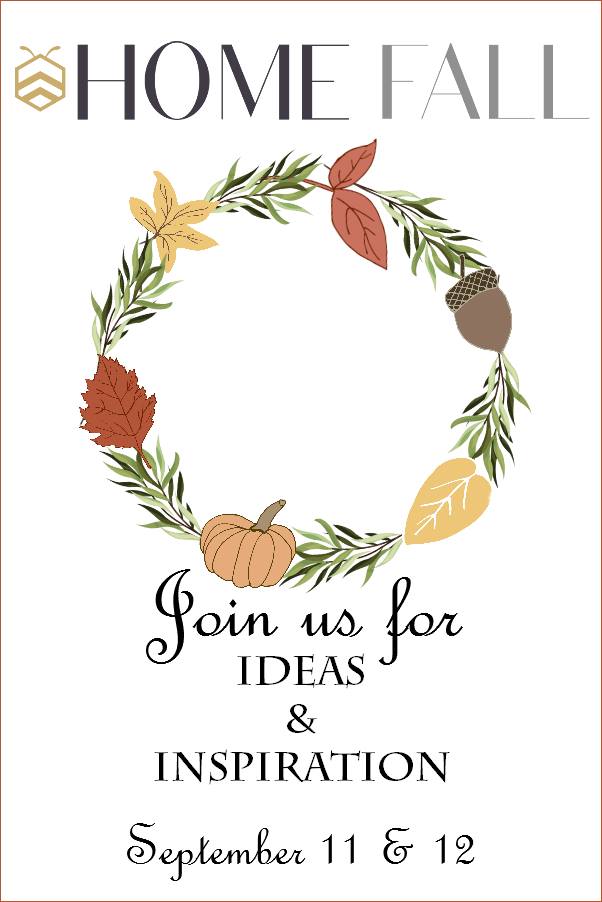 Don't miss the Kindle Fire Giveaway I have on now too – I'm giving away 4 Kindle Fires! 4 Lucky winners!
Open to USA and Canada!!!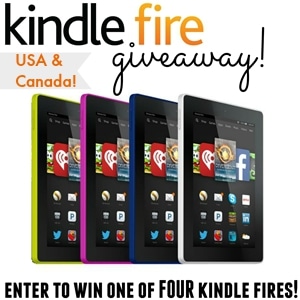 You may also like:
10 Sensational Fall Decorating Ideas