See these 15 Cozy and Neutral Fall Decorating Ideas that will bring a warm and inviting look to your house without a lot of effort. See how you can bring the softer side of fall to your home with these non-orange decor ideas.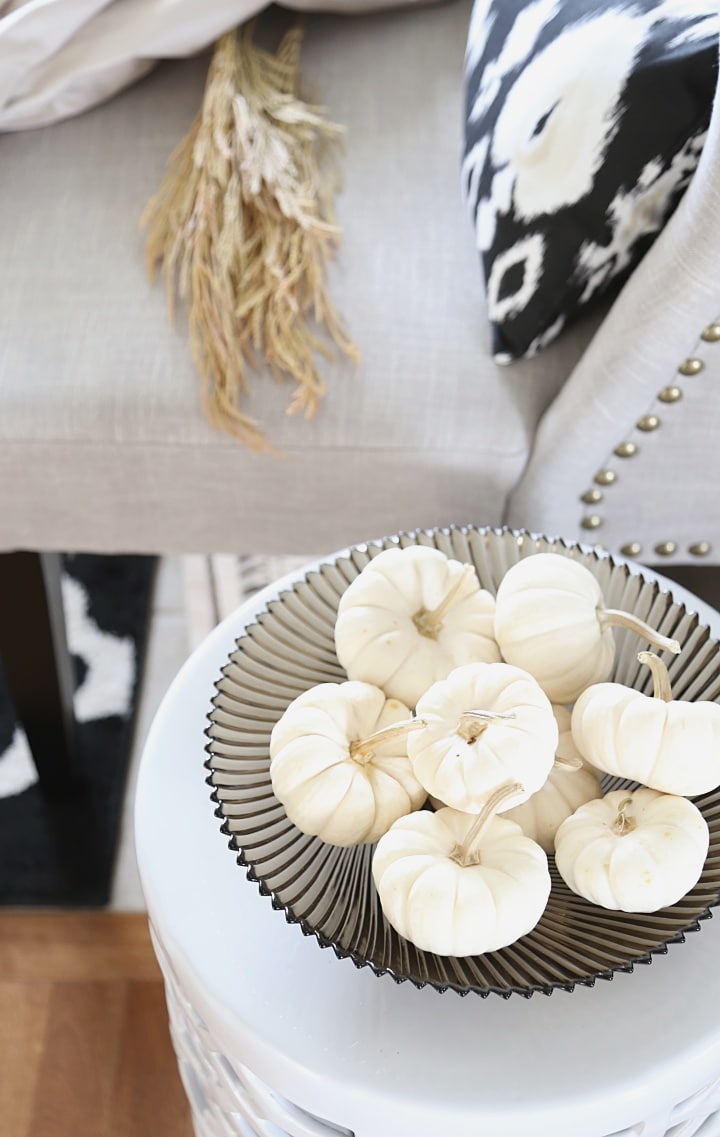 Fall has begun to make an appearance in our area, the days are shorter and the leaves are starting to turn shades of russet red and merlot. With the entrance of autumn I love to transition our home decor to more neutral and natural colors and add cozy elements with textiles!
I love decorating my home for Fall – it gives me the opportunity to add more metallics and richer colors to my neutral casual-glam decorating style. Decor resources listed at the end of the post.
Although I used to LOVE decorating my home in the traditional bright colors of fall – reds, oranges and yellows – my decorating tastes have turned to more neutral and subtle accent colors for autumn.
Now I decorate with touches of copper colored decor – a rich color with patina that looks gorgeous with the black and white color palette I so love!
I add in layers of cream and wheat colors and also layers of texture to get an overall cozy feeling in our home.
To get that fall 'harvest' look, I add white pumpkins and metallic leaves to our home. This gives our rooms the simple feel and look of autumn without looking overdone.
I also LOVE to decorate with gorgeous fall botanicals to our home: small bouquets and big vases filled with fall wildflowers that are in bloom right now, berries from shrubs, big leafy oak tree and maple tree branches.
This post contains some affiliate links for your convenience. Click here to read my full disclosure policy.
Here are 15 Cozy and Neutral Fall Decorating Ideas:
1. Baby boo pumpkins displayed in a bowl. You can use any bowl you have at home or even an apothecary jar or a bread bowl! I used a vintage french glass bowl that I had found at an antique market ages ago.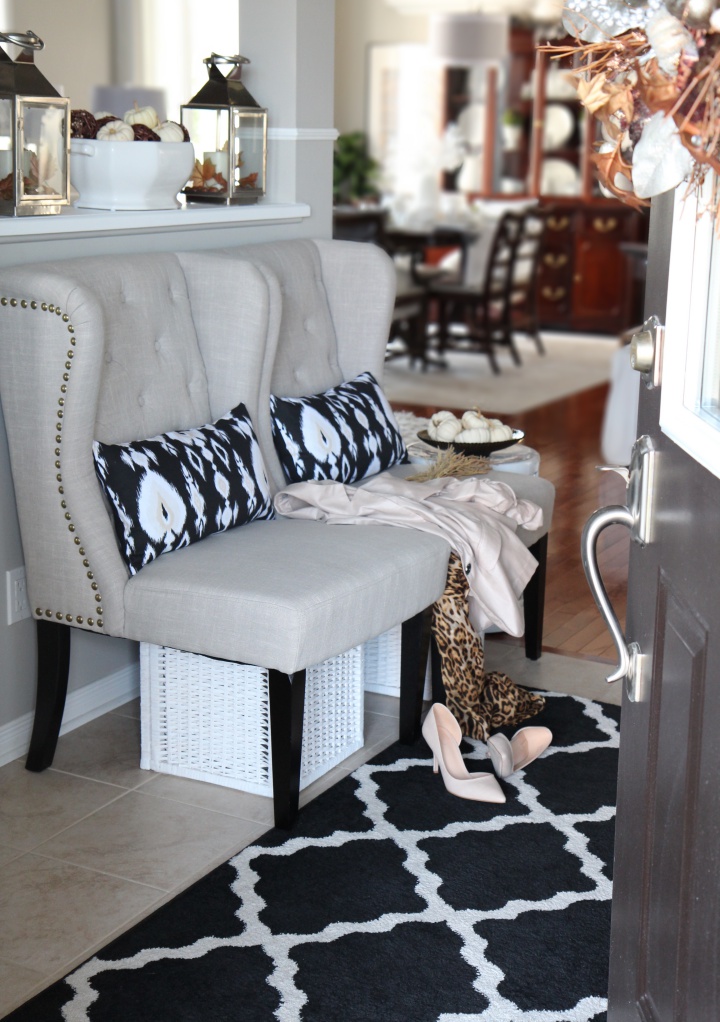 2. White birch poles – I decorated our neutral foyer for fall with some tall white birch logs in glass vases. This is very quick and easy fall decorating!
3. Acorns and Fall Leaves: See the silver lanterns on the shelf? They are filled with battery operated flameless candles on timers (I love flickering candles at night!), acorns and copper colored fall leaves.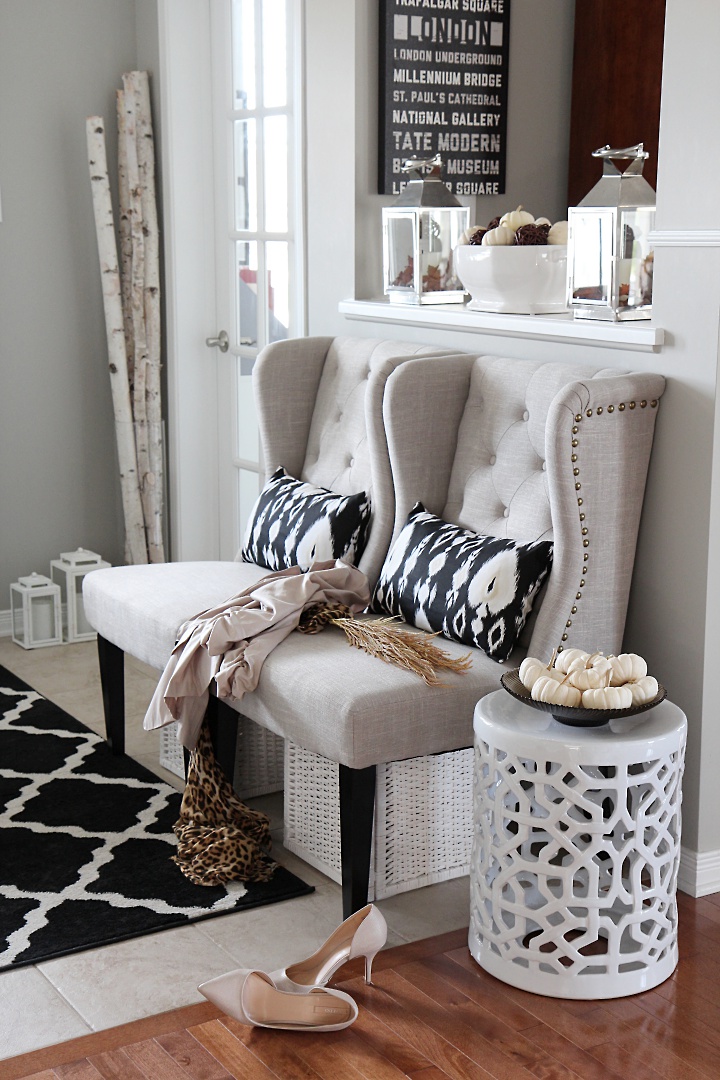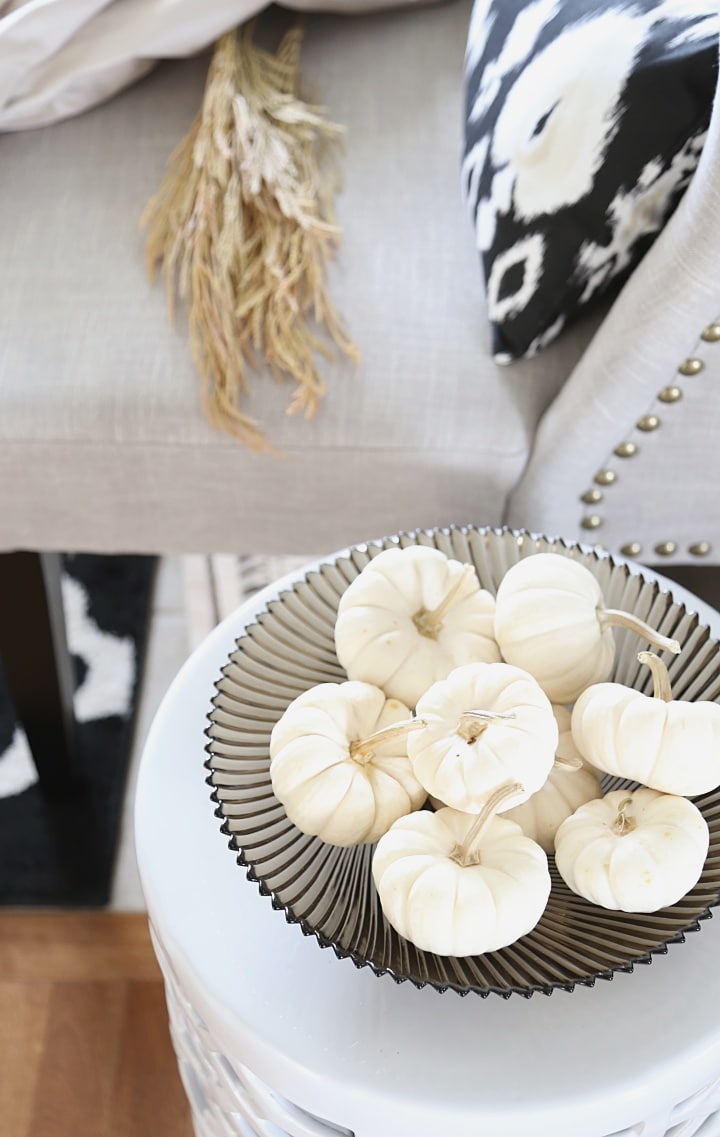 4. Another simple decor idea: Baby boo pumpkins mixed with coffee colored rattan spheres displayed in an ironstone bowl. Copper colored fall leaves on the shelf add a touch of rich autumn color.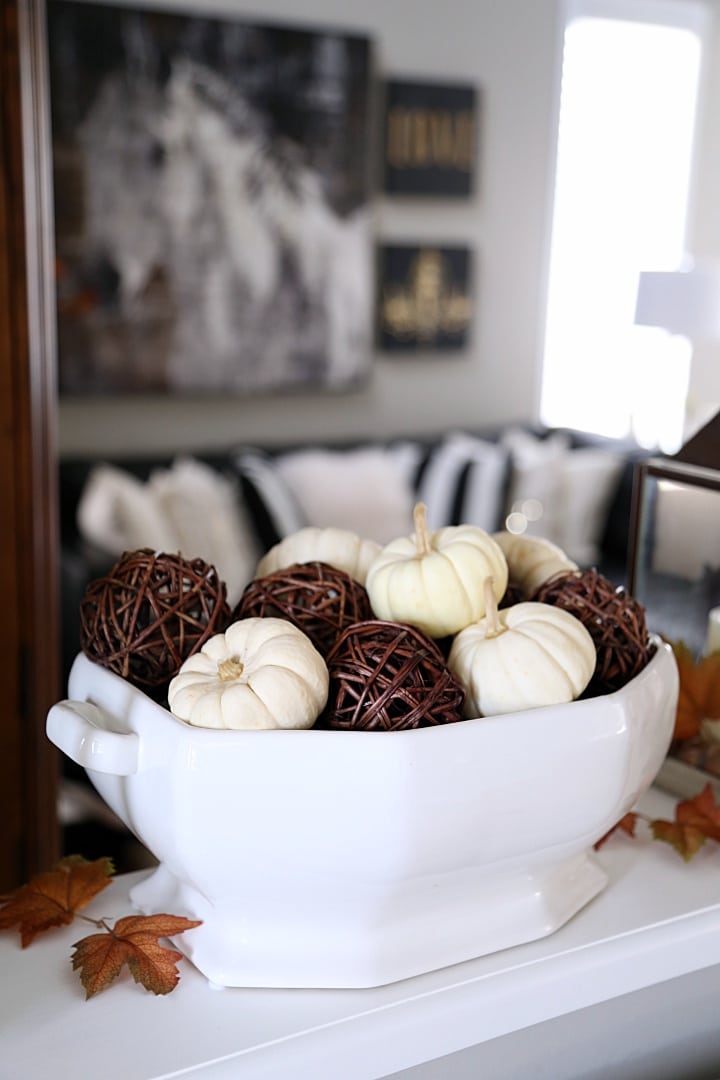 5. Flickering Flames: Whether it's flames at the outdoor fire pit, a fire in the living room fireplace or faux flames on the fireplace channel!, 'decorating' with flickering flames goes hand and hand with fall! If you don't have a fireplace use these stunning flickering flameless candles – they are so realistic!
Here's our family room and our media unit where we catch up on our favorite movies!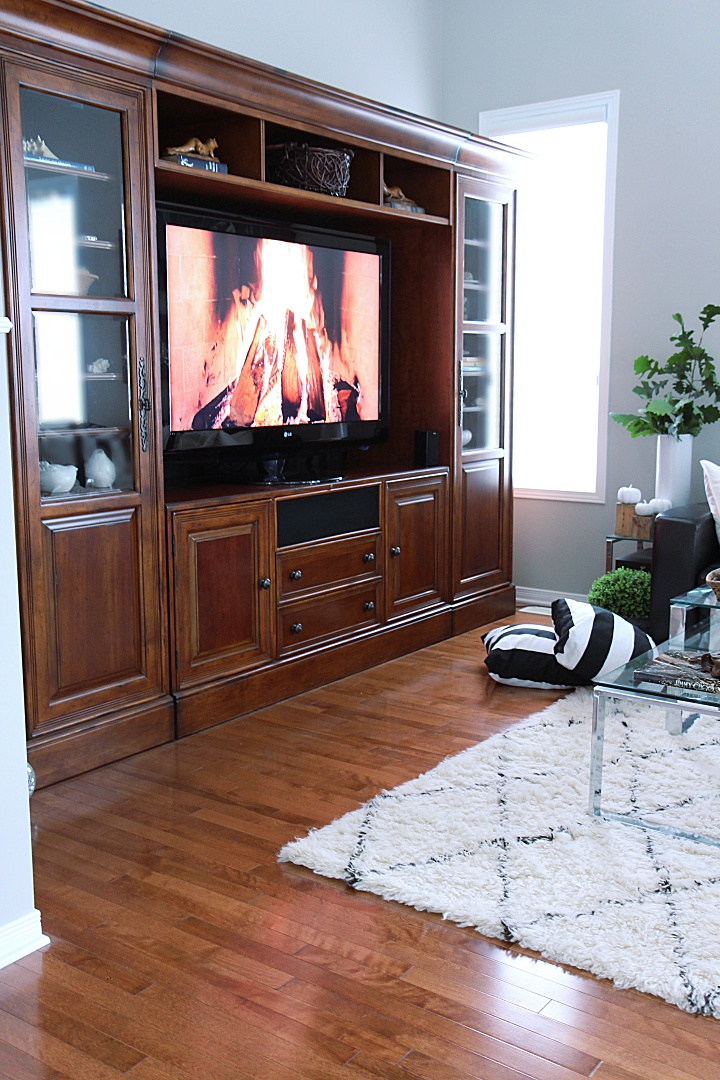 6. Pillows with texture: I layer Mongolian fur pillows onto our sofas this time of year to add softness and texture. Velvet and faux fur pillows are another great option!
7. Shag rugs: I am obsessed with our beautiful Moroccan shag rug! It's my all time favorite rug that we have in our home! It's a stunning rug for all seasons and especially for fall and winter since it adds such a cozy look to the room!
8. Soft knit throw blankets – our cream tasseled throw blanket adds lots of cozy texture and warmth to our family room for fall.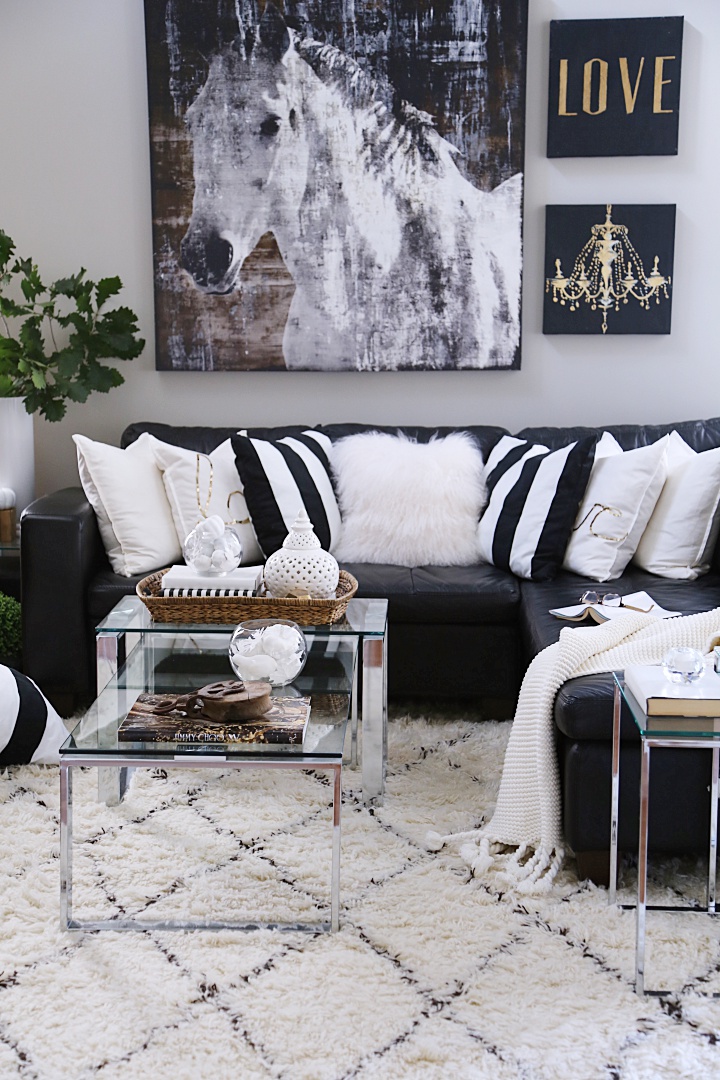 Shop the look! Click on the images below to see more about each item!

9. Glass Bowls of White Pumpkins: Glass bowls of white gourds and pumpkins on the coffee table is a simple monochromatic look.
This is a super quick and easy DIY decor idea: I spray painted orange faux pumpkins, leaves and gourds with this white spray paint which has a stain blocker in it so it covers the orange color really well! Then I tossed them in clear bubble glass vases. Mike drop and Done!
(You could also paint pumpkins soft blue, sage green, cream or any color that you really love!)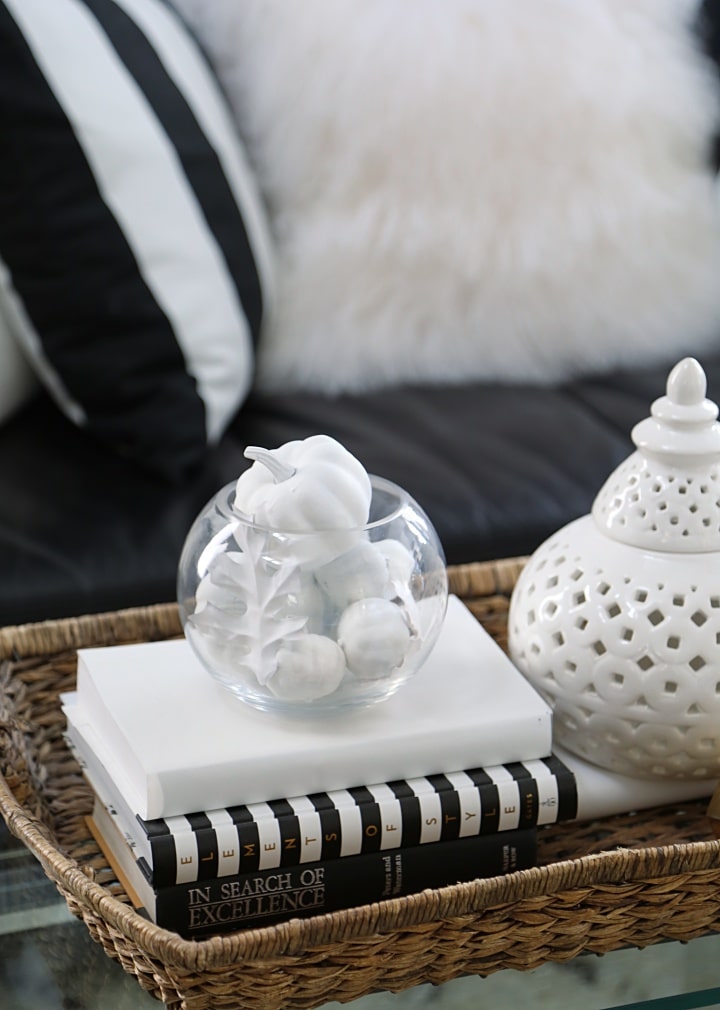 10. A vase of oak branches on the end table is simple to put together and inexpensive. I placed these stunning oak branches my DIY Painted Gloss White Vase (so easy to make!)
11. Display some white pumpkins onto wood blocks – these are just pieces of old fence posts we removed from our yard last summer.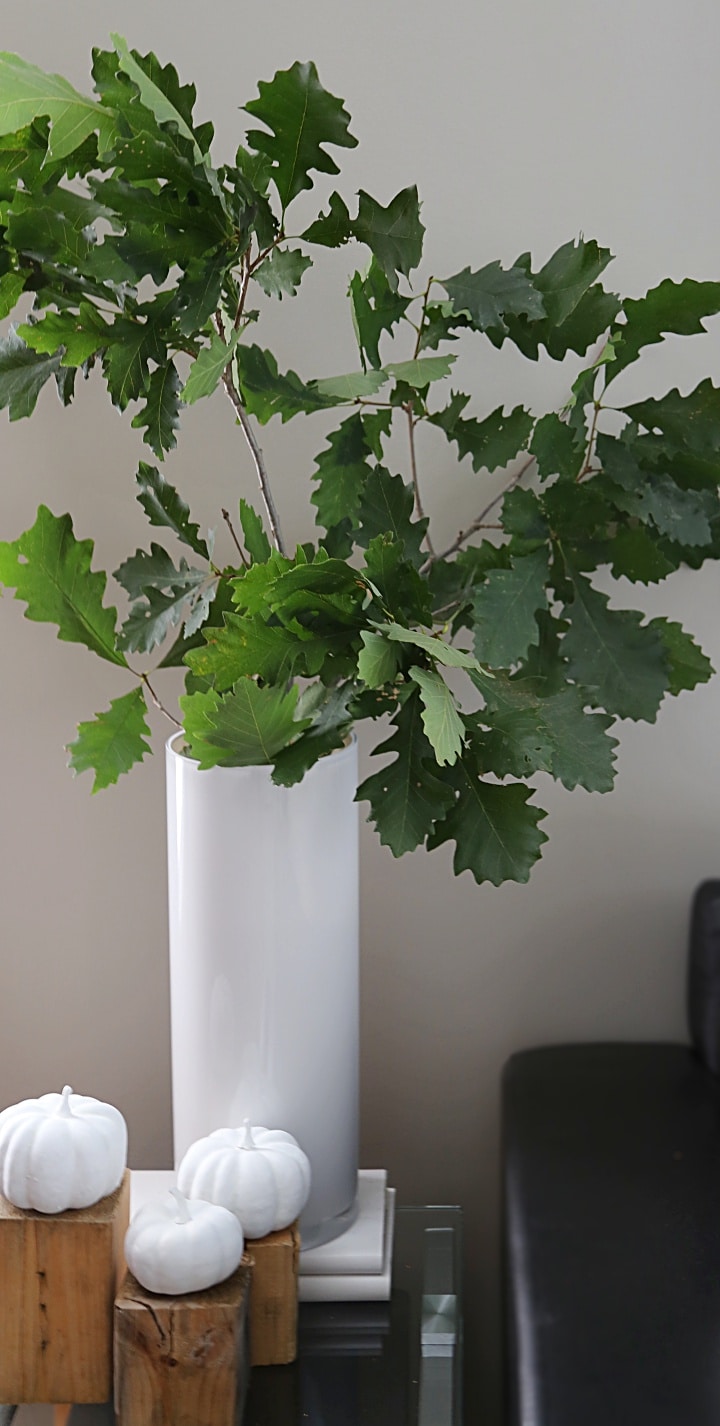 Did you see my 10 minute Fall tray decor idea? Decorating your home for Fall doesn't have to be time consuming, expensive or complicated! See my fall tray styling tips to decorate your coffee table like a pro!
I created a fall tray in just 10 minutes filled with the following Cozy and Neutral Fall Decorating Ideas:
12. Make these easy jeweled DIY Glam Pumpkins and display them on your dining table, on a mantle, a bookshelf or in a tray!
13. Display pumpkins on pillar candle holders and give them a whole new look! These GORGEOUS baluster pillar candlesticks would look amazing!
14. Fall Scented Candles – a great way to add fall to your home is with scent! I always love to add a fall scented candle to our living room. See beautiful Fall Scented Candles here.
15. Fall flower bouquets – I found these gorgeous wild asters by our local trail. Add some oak leave branches for a simple, natural flower arrangement!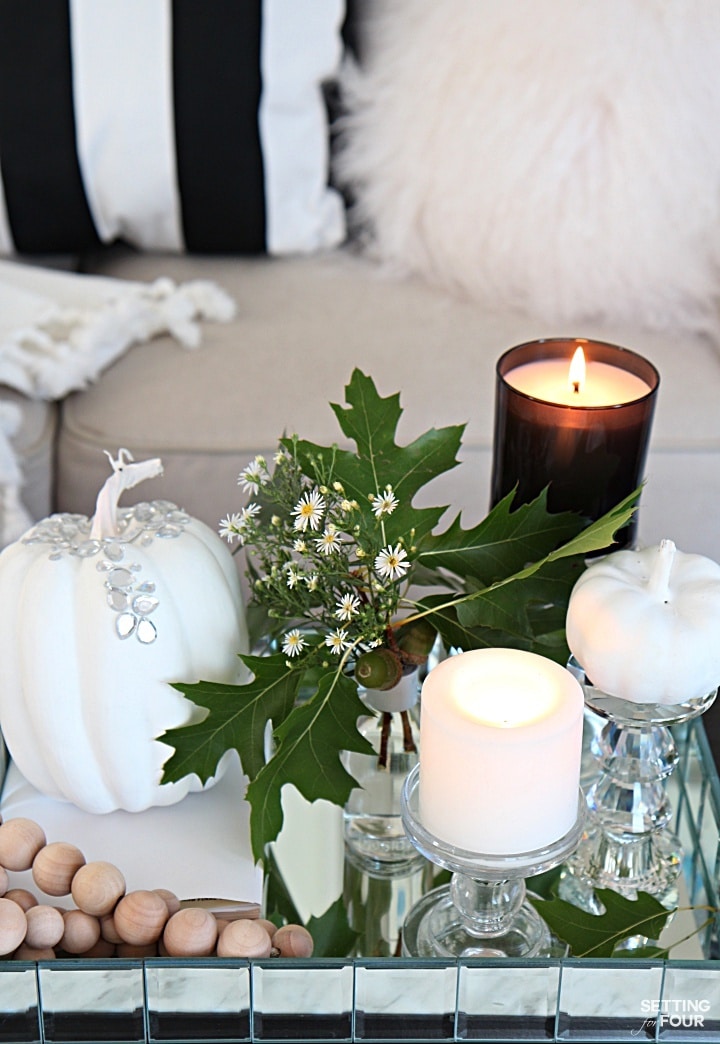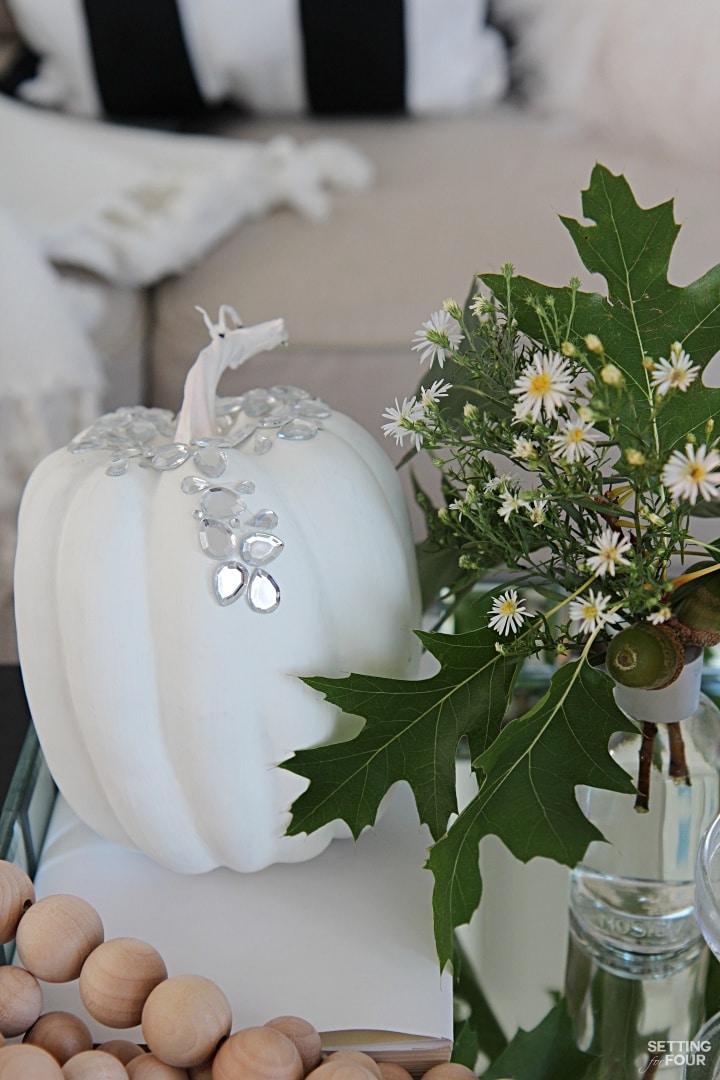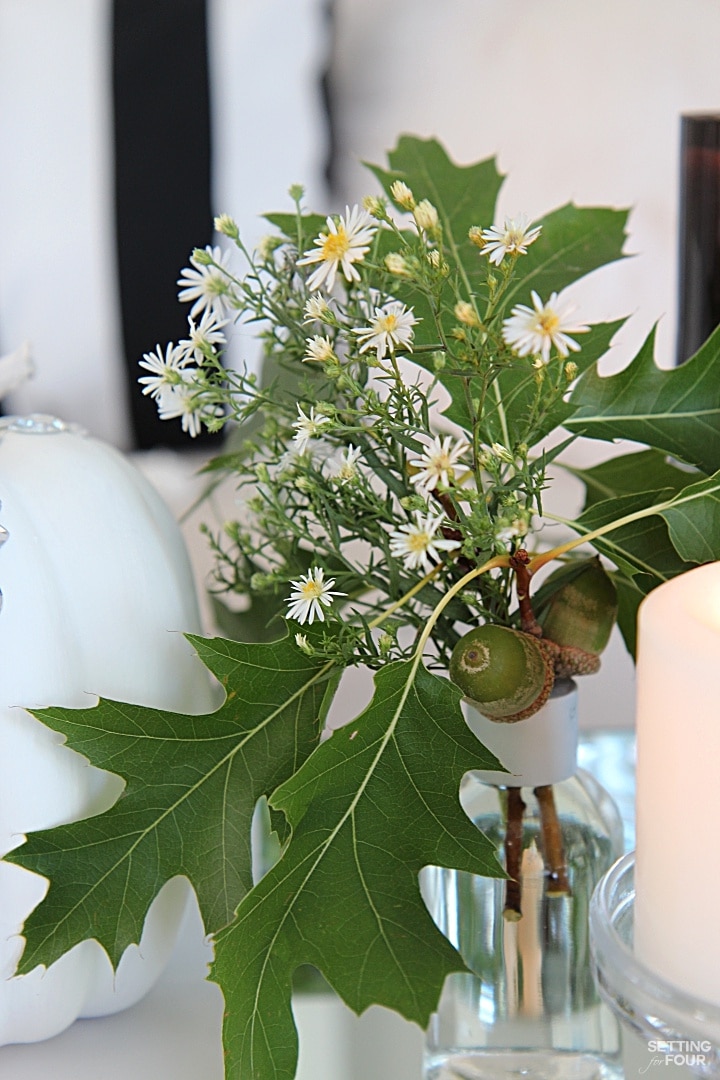 I hope you enjoyed these 15 Cozy and Neutral Fall Decorating Ideas!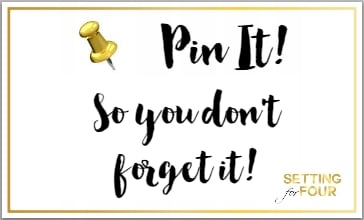 See all of my paint colors here.
DIY Projects:
5 Minute Pillow Cover Tutorial
DIY glossy white vase
The abstract horse art I bought at HomeGoods/HomeSense a few years ago but take a look at these: Horse Art Decor: 20 Stunning Looks!
Get the look of these fall decorating ideas! Click on the pictures below to see more about each item. Scroll using the arrows to see them all!
Foyer:

Family Room:

Fall Tray Decor


Happy fall decorating everyone!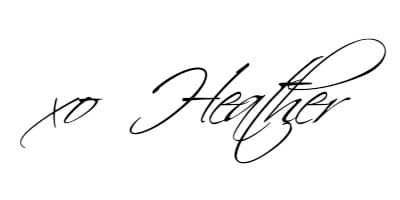 Need help with your home decor? I offer online decorating services! See the information here!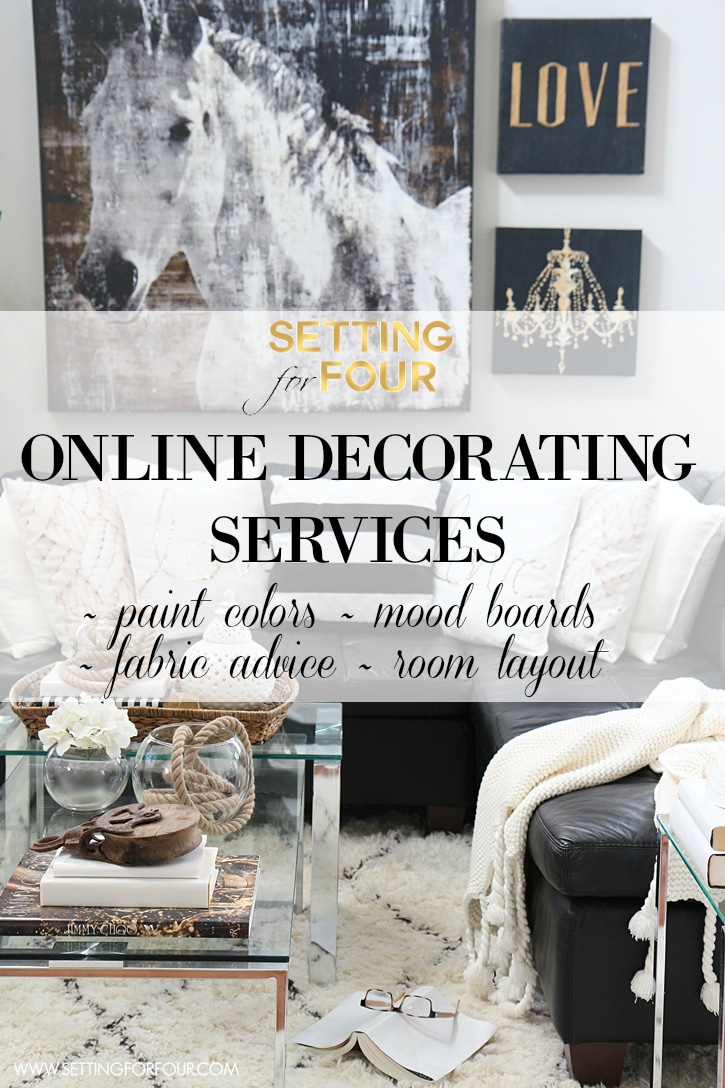 You may also like:
An Elegant Kitchen Coffee Bar Idea for Fall