Take a nature walk outside and gather some wildflowers, branches and leaves for an easy fall tablescape! These fall wildflower tabletop decorating ideas will give your basic white dishes a show stopping look for Autumn. Adding these charming pumpkin place cards to each place setting also adds festive fall style to your table. See how you can create this look!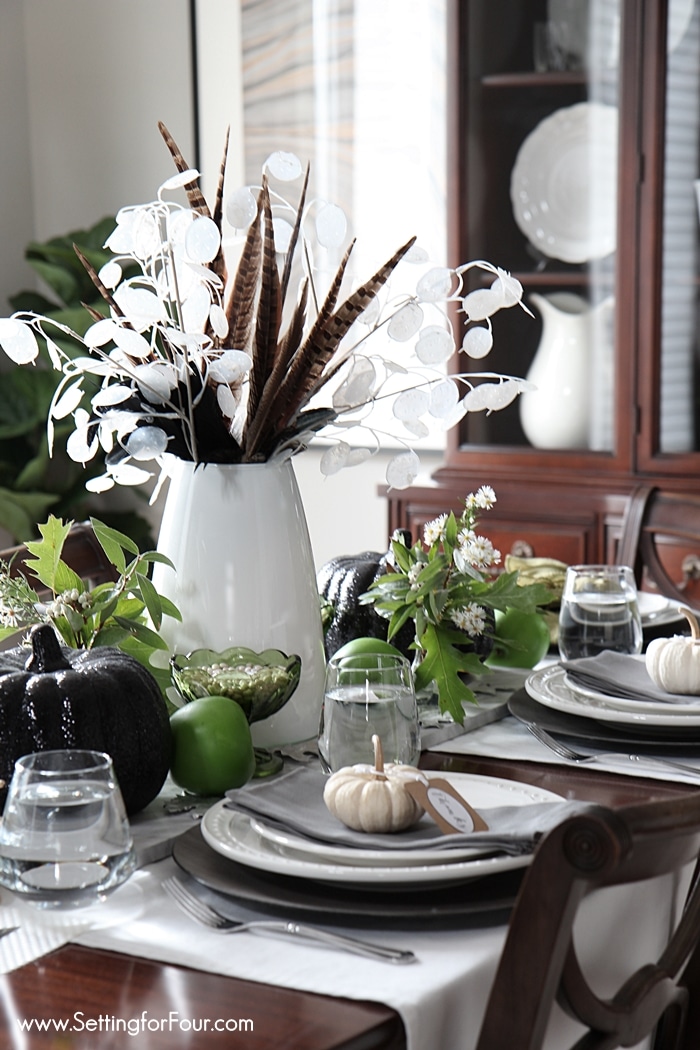 This post contains affiliate links for your shopping convenience. Click here to read my full disclosure policy.
Fall Wildflower Tabletop Decorating Ideas
Let's take a nature walk outside! It can be along a country road, an outdoor trail or a park! Let's collect some branches, leaves and wildflowers and create a fall wildflower tablescape filled with the simple beauty of nature!
Today's natural tablescape is inspired by all the treasures you can find outdoors on a beautiful fall day.
I love fall walks in the brisk air and the smell of fallen leaves – do you?
And isn't it fun to set a table with a beautiful presentation to make our autumn and Thanksgiving meals extra special?
This post has been updated with new information and shares decorating tips on how to turn simple white dishes into a Fall fabulous tablescape.
Add your own style and decorating twists to my table setting ideas to personalize your dining area for your home!
I love to combine natural elements like oak leaves, snips of berry branches and fall wildflowers with vintage ironstone, glossy white ceramic, vintage green glass and grey linen. It's all about the contrast of simple rustic accents and luxe shine!
There are some DIY projects here too – I'll list those below!
The centerpiece is a super easy one to make – I just added 2 pheasant feather clusters into a white vase (I love the modern shape of this vase!) and then I added 3 everlasting silver dollar sprays ….honestly that's it! It's quick, easy and I'm smitten with the textures and neutral colors!
L-O-V-E my black glitter pumpkins! SWOON!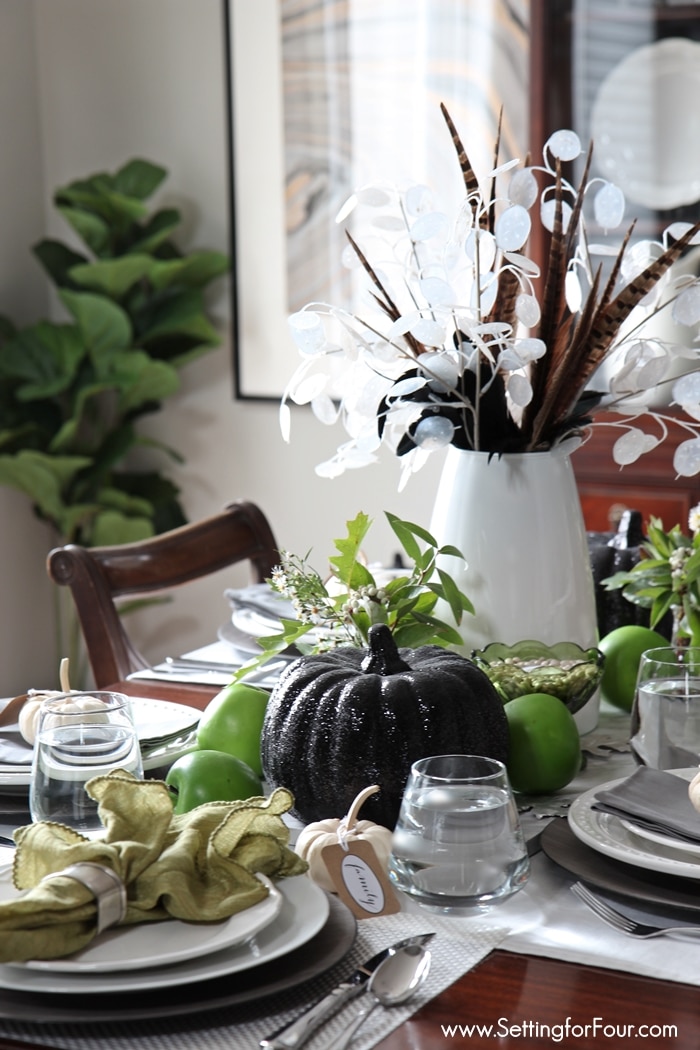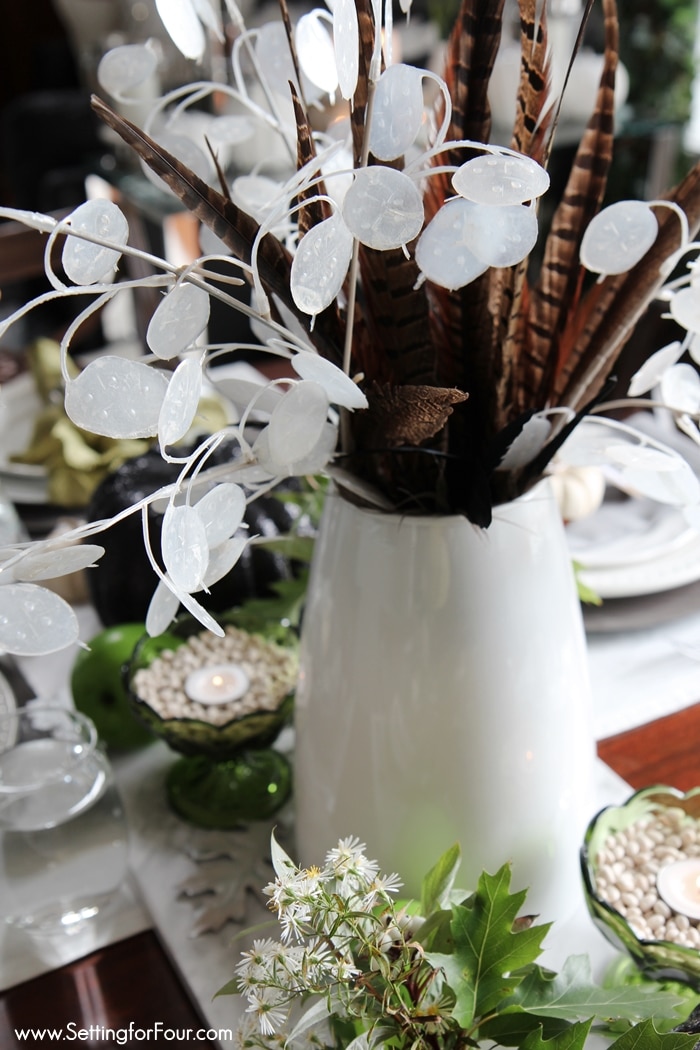 I went for a walk the other day and gathered these gorgeous oak leaves, white berry stems and wild aster wildflowers…..so pretty!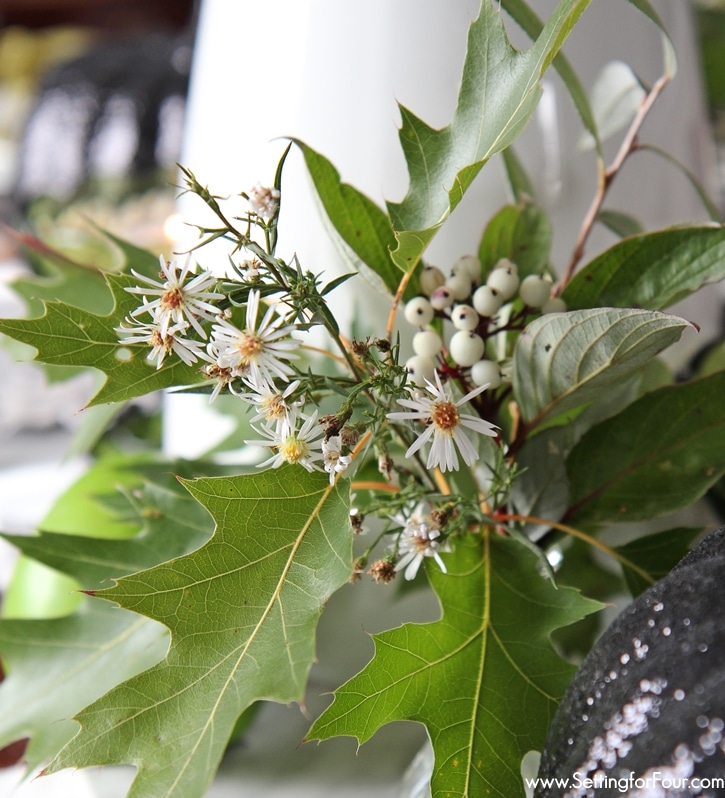 I placed a mini white baby boo pumpkin tied with this pretty fall tag to each table setting for a festive harvest look. Get your FREE 'Thankful' tags here.
Layer white dishes with white table runners for a simple white on white look. Your dishes don't have to match! I used two different patterns for this look.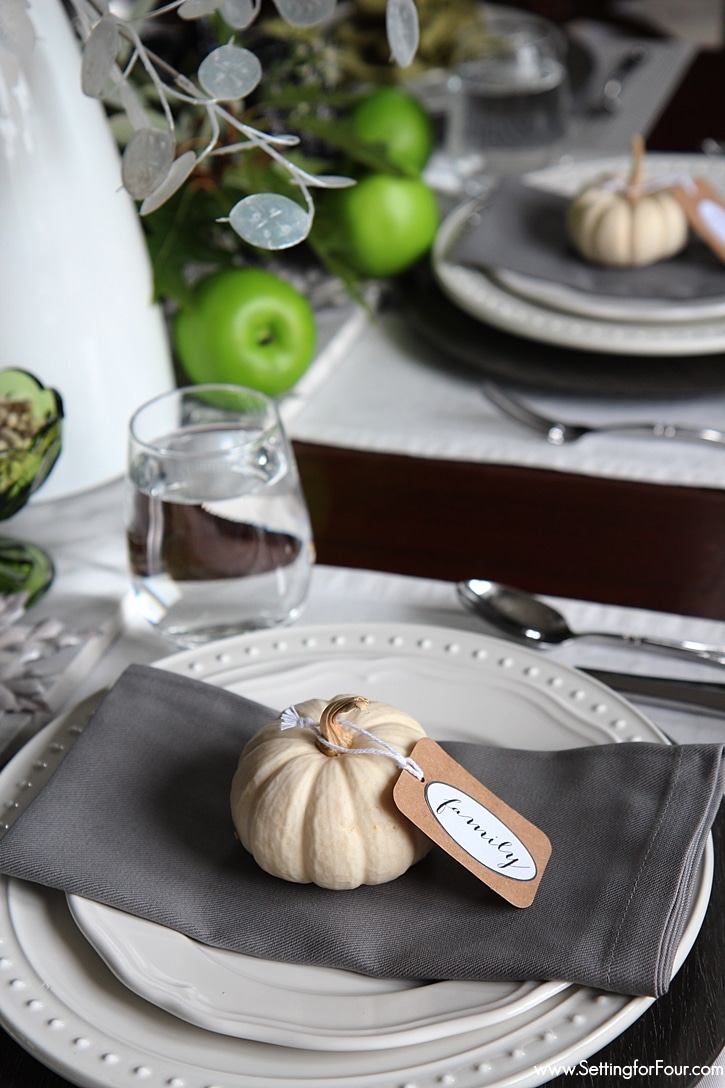 These gray napkins look so gorgeous against my white dishes… they also pop off of the green foliage, green napkins at the table ends and green granny smith apples running down the table.
I love mixing my napkins too. I usually use one color on the table ends that pick up a color in the tablescape (here I used green napkins to pick up the green in the leaves and apples) and a neutral color (like these gray napkins) on the side table settings.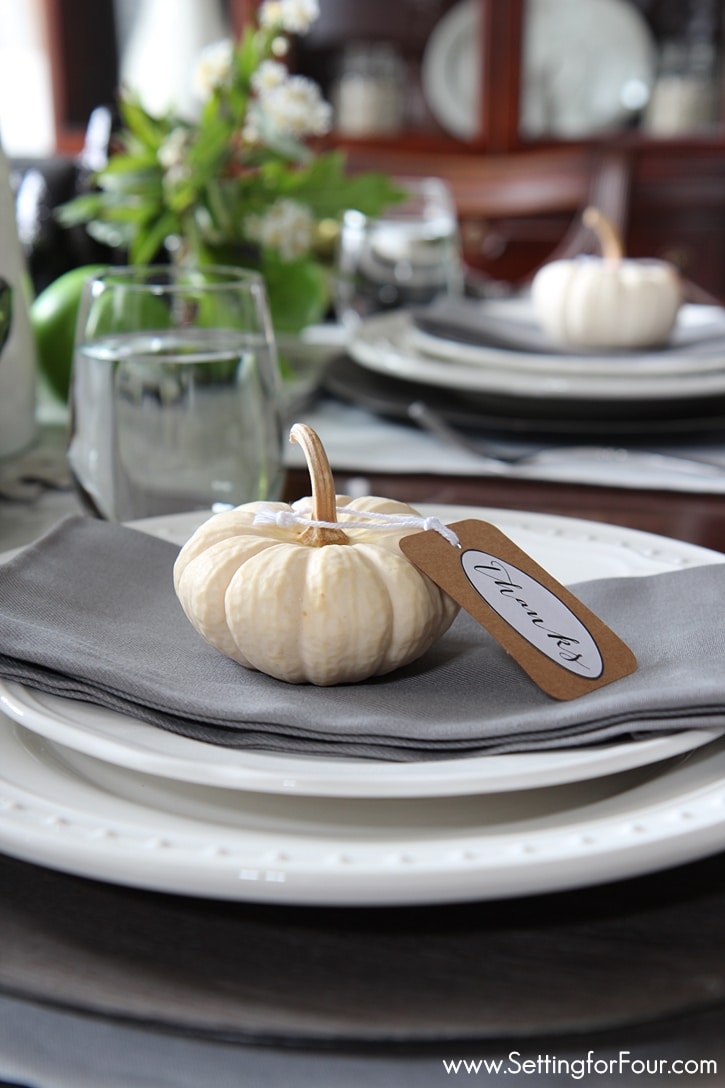 These vintage green glass dessert cups are a thrift store find from years ago….I added dried white navy beans (another fall harvest touch) and a votive to each….love the shimmery candlelight!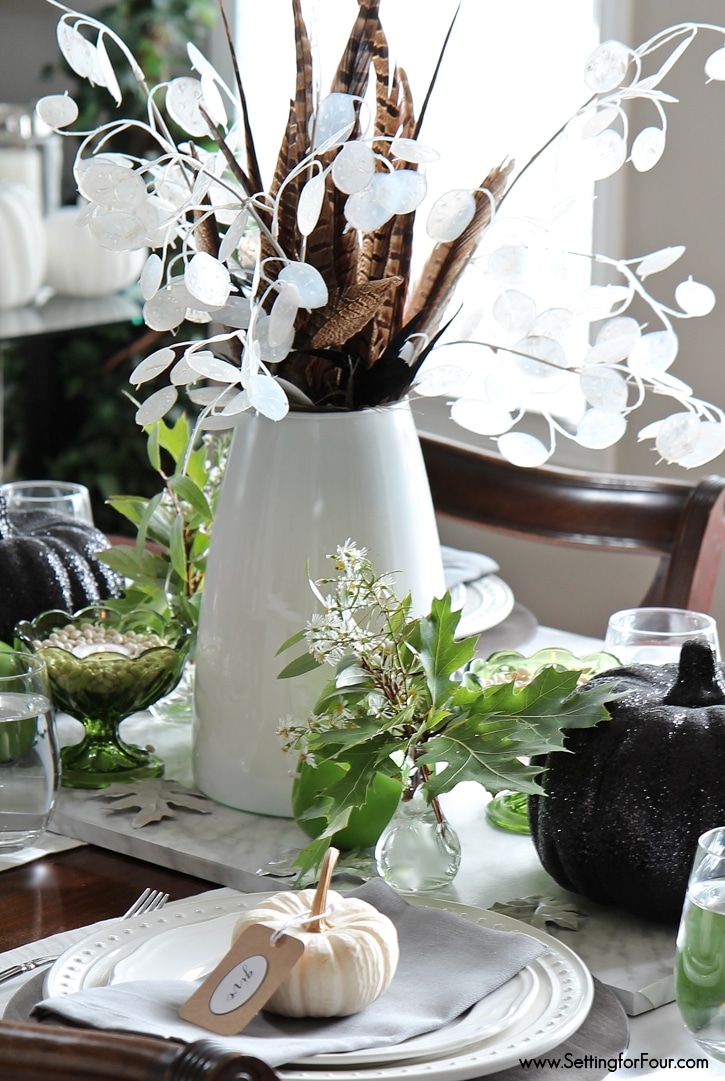 I hope you enjoyed my Fall Wildflower Tabletop Decorating Ideas! You can make this tablescape as simple or ornate as you like!
DIY Projects:
Pumpkin Place Cards with Printable 'Give Thanks' Tags
Table Decor Sources: Click on each image to see more about each item!


Pin this to your Fall or Thanksgiving Board…or Decor Board!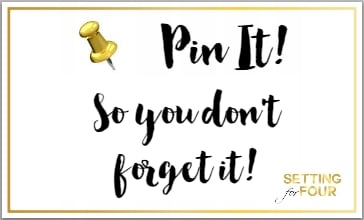 You may also like:
7 Stunning Fall Centerpiece Ideas
15 Cozy and Neutral Fall Decorating Ideas