Quick and Easy!! My favorite way to decorate! 😉 Today I'm sharing how to make a quick and easy fall centerpiece and decorating tips to make this centerpiece with what you already have at home!
I made this rustic fall centerpiece for my living room. It sits on a garden stool in a corner by my trellis patterned chair, but you can put it on a coffee table, end table, dining table, kitchen island….on a bookshelf too!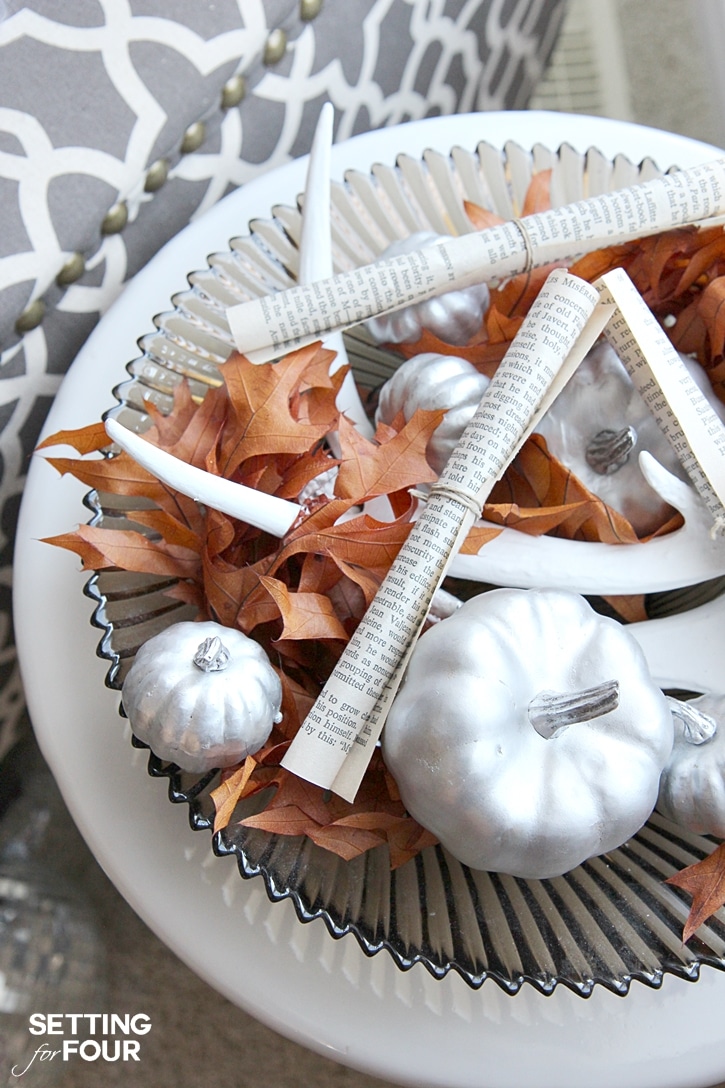 To make this Fall Centerpiece:
Select a shallow container. I used a pretty vintage gray glass bowl that I picked up at at thrift store a few years ago, but you could use any bowl that you have at home that you love…. or use a serving platter or basket! After I brought this thrifted bowl home I discovered it was made in France…I have no idea if it's valuable or not…but I love the scalloped edge and the gorgeous dove gray color! It also has a beautiful shape – it's not flat on the bottom, it has lots of curves!
Add a few fall leaves. I used these dried everlasting rusty colored oak leaf branches – I love the rich fall rusty orange color! These leaves came on big stalks and I just cut them into pieces to make them fit my bowl. If you don't have everlasting leaves – use fresh fall leaves from your backyard! In whatever color of leaves you love! To make preserve fresh leaves: press them between wax paper and put some books on them and let them sit for a few days….that's how I've preserved fresh oak leaves myself – it works!
Add antlers. I used two white ceramic antlers I purchased last year…if you own naturally shed antlers lucky you! Don't have antlers? Use a couple of small bare tree branches instead….they will give you that organic shape and look!
Add some mini faux pumpkins like these. I changed them from orange to silver using this metallic silver Rub'n Buff – luv this stuff!
Top it off: Next I added 3 Pottery Barn Knockoff book page scrolls – these are super easy and quick to make too! I saw these in a Pottery Barn catalog… and since you can't buy them (they were used as a styling prop for their catalogs) I made my own! See the tutorial I shared here – make them from any spare book you have at home that you have finished reading! I also used these DIY book page scrolls on my Fall Mantel.
Once all of these are in your bowl you can tweak and 'fluff' as I call it!
That's it – done!! It really is a fast and easy centerpiece! I love the muted metallic silver mixed with the shiny grey glass and the rich rusty orange color! These are the neutral fall colors I love to decorate with for fall.
I hope you make one of these centerpieces for your own home. Happy Fall decorating everyone!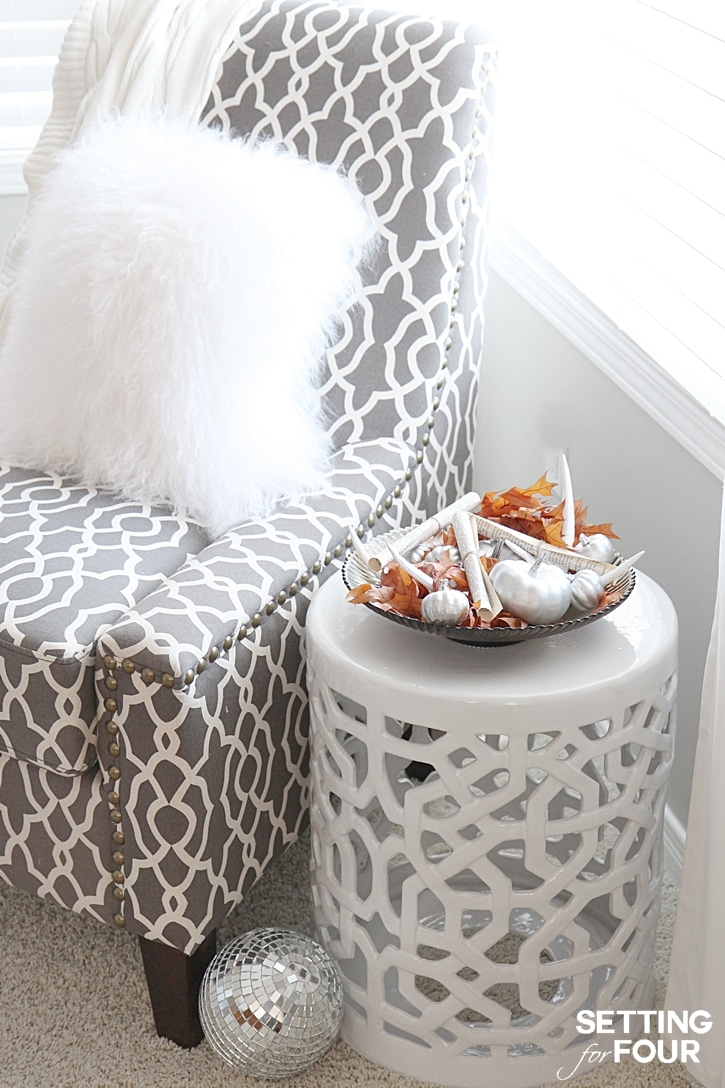 I love the scalloped edge and graceful curves of this vintage glass bowl!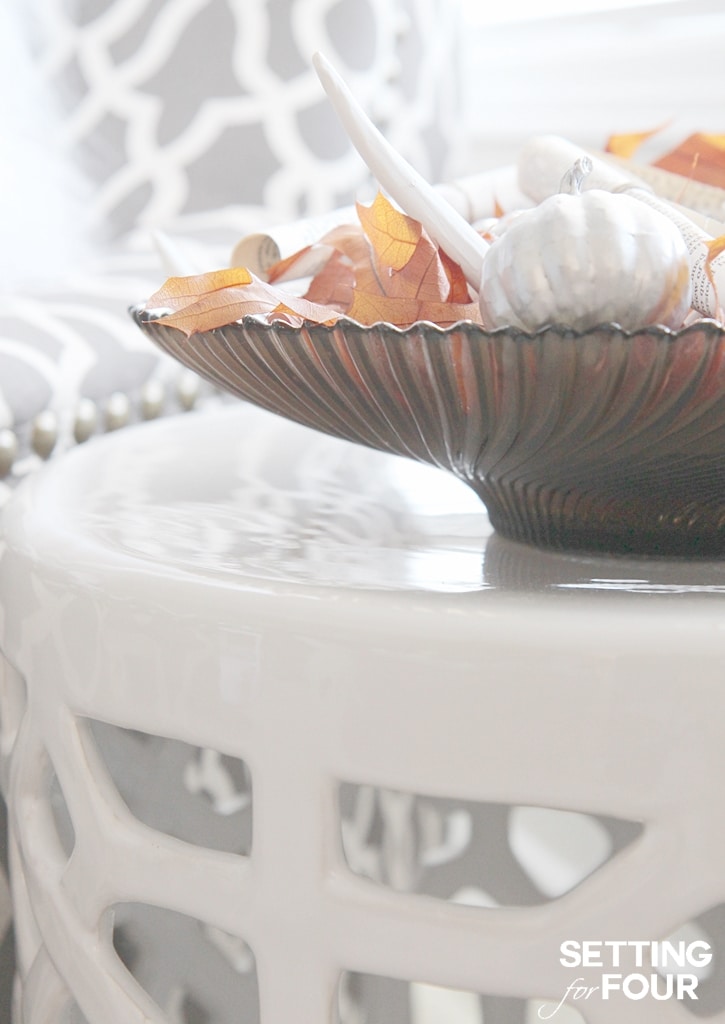 Neutral colors for Fall: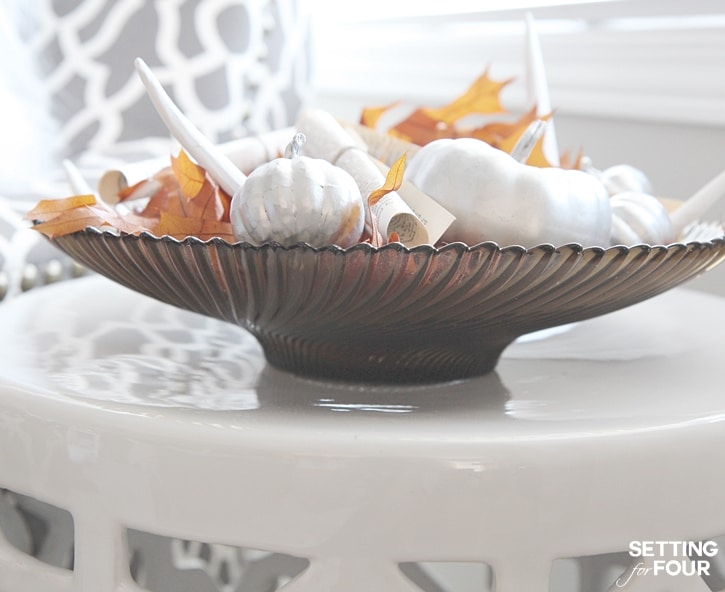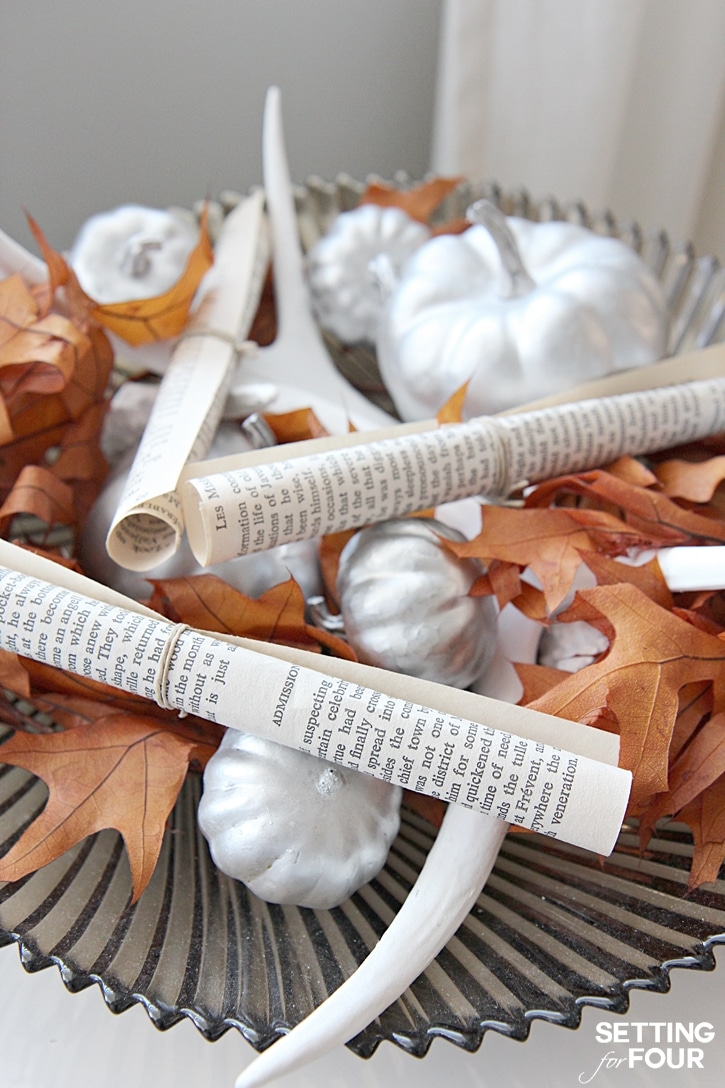 See 6 other beautiful Fall Centerpiece ideas here as part of the Hospitality Filled Homes series! Follow along with me on Instagram with #hospitalityfilledhomes to see all of our Fall Decorating ideas!
Setting for Four that's me!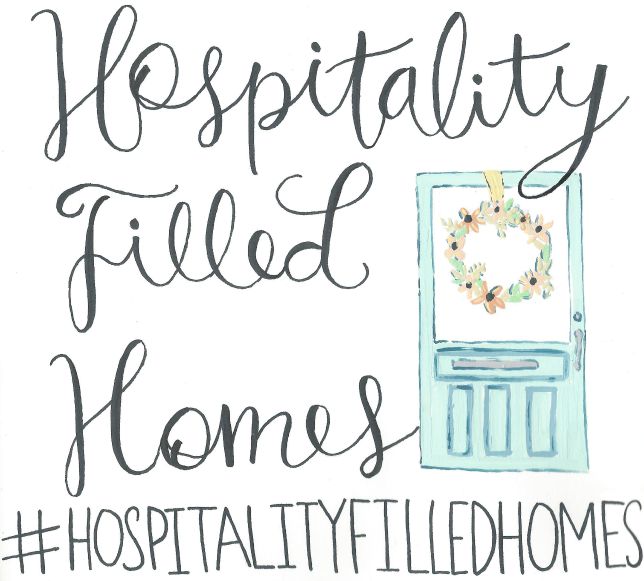 (you can also see the Hospitality Filled Home Fall Wreath collection here! 7 Beautiful Fall Wreaths to make for your home.)
You may also like:
5 Quick, Easy and Chic Halloween Decorating Ideas: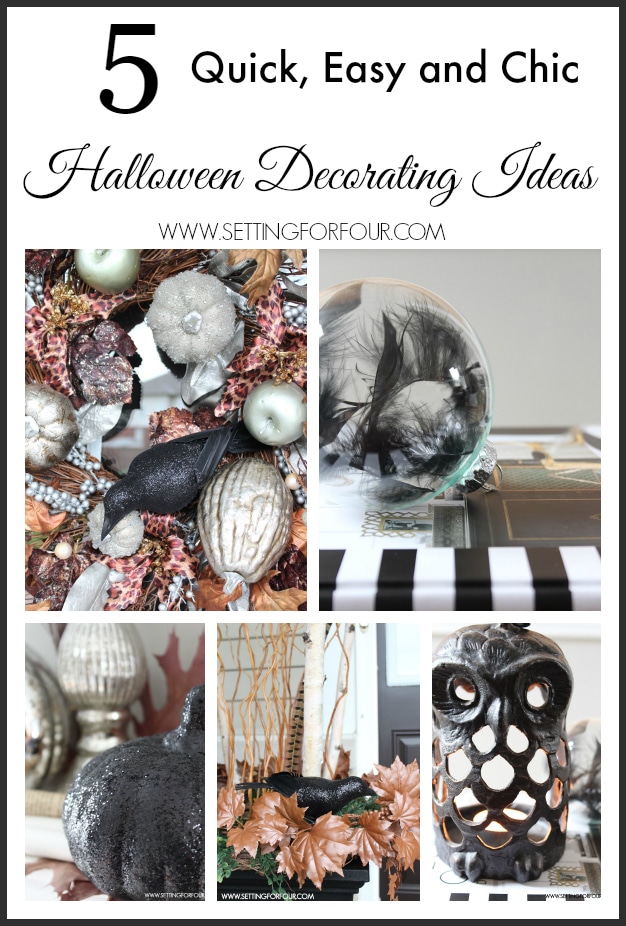 Fall and Halloween Apothecary Filler Ideas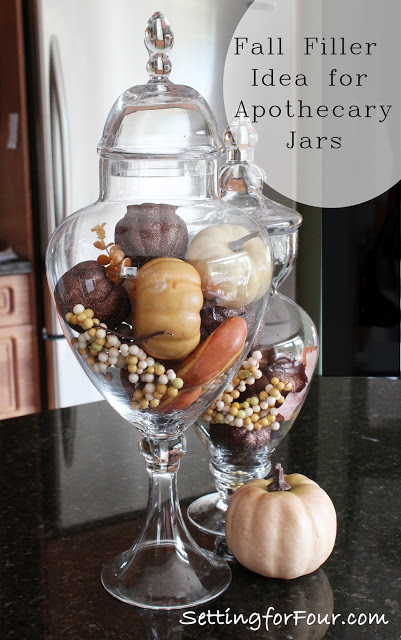 Easy DIY Glam Pumpkins: