Home Storage and Decor Idea: 3 Ways to Use a Bookcase for storage and organization – in a kitchen, office, craft room to declutter and organize your life!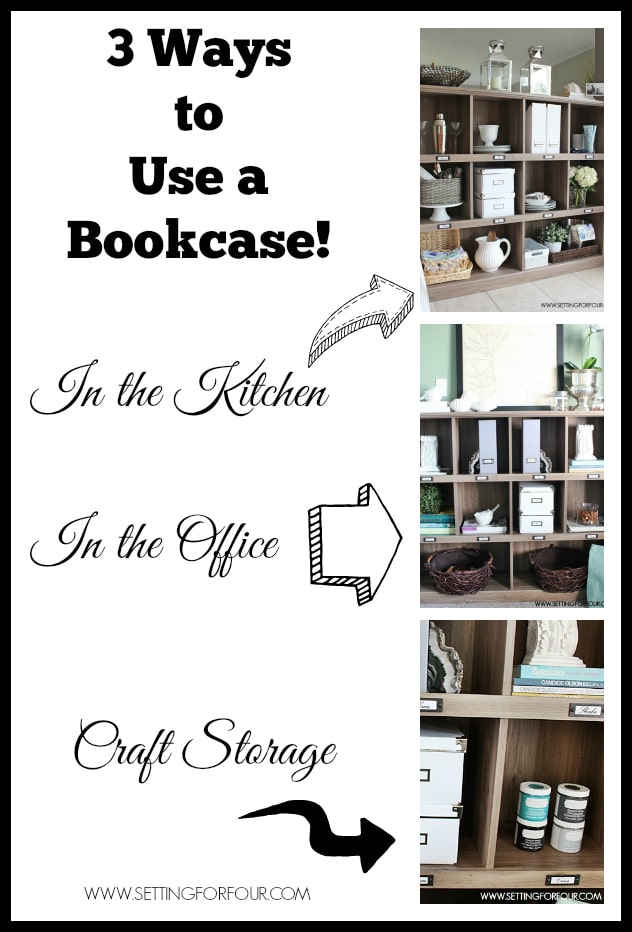 Have you ever repurposed a piece of furniture and used it in a new unique way? Had a piece you had to move and been stuck with how to use it… and how to make it look stylish? When our families grow, we move or our needs change it's often necessary to be creative and change the function of our furniture – here's some tips on how you can do it!
Today I want to show you how easy it is to give one bookcase three different looks and uses!
I have a lot of experience getting creative with furniture as a military wife who moves a lot!! A number of years ago I repurposed a bookcase into a Family Organizer to organize my recipe books and the kiddo's textbooks all in one handy place!
Three Ways to Use a Bookcase for Storage and Organization
1. Kitchen Storage: This summer I added this gorgeous Salt Oak Finish

bookcase to my kitchen to hide an unsightly half railing that separates the kitchen from the living room and to provide lots of extra storage for entertaining supplies.

This bookcase was the perfect size and shape to hold napkins, trays and party supplies.

I even added these fun DIY labels that say 'Cheers' in 8 languages to add to the entertaining theme!

Salt Oak Finish Barrister Lane bookcase

Lots of space for dishes, martini glasses, jugs, cutlery and party supplies!

2. Office Storage: Recently I moved the bookcase to my office to organize and store my office supplies, Design and Decor books and samples I use as an Interior Decorator.

These shelves are the perfect size for large baskets – which I use to hold my flooring samples:

There is lots of room for holding my decorating and gardening books as well as my magazines:

3. Craft Storage: I love the idea of using this bookcase for craft storage too!

My paint supplies and brushes stack neatly in the cubbies, easy to find and view!

I love open storage for my craft supplies – no guessing what is behind a cabinet door or what's in a drawer!

It's all in plain sight! For my craft storage bookcase, I even made some adorable labels which say 'Create' in 8 different languages.

I hope you liked my post: Three Ways to Use a Bookcase for Storage and Organization!!

You may also like:

7 Ways To Make A Small Room Feel Larger Instantly!

10 + Helpful Home Office Storage and Organizing Ideas

6 Handy and Clever Outdoor Storage Solutions