How to make an easy Kate Spade inspired Confetti Patterned Bowl DIY ideal! See this easy DIY decor project to organize and store keys, jewelry, odds and ends!
I don't know about you, but I love beautiful bowls and plates to decorate my home with.
Today I have an easy Decorated Bowl DIY, Kate Spade inspired, using a painted confetti pattern to share with you!
Here's the background on my confetti pattern love:
I've been crushing over designer Kate Spade for many years. Her handbags, clothing, shoes and home goods all have such a gorgeous classic and on trend style! She brings a sophisticated yet playful approach to all of her designs that I absolutely love.
One of the designs I've admired is her tabletop Confetti collection. I created my own DIY version of this pretty pattern, in just one day, to hold my jewelry on my nightstand.
How to make an Easy Confetti Patterned Bowl DIY to add to your home decor!
Here's the Kate Spade version of the gold Confetti 'Ticker Tape' pattern: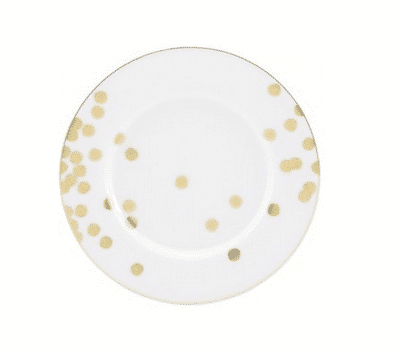 Here is my version in pink!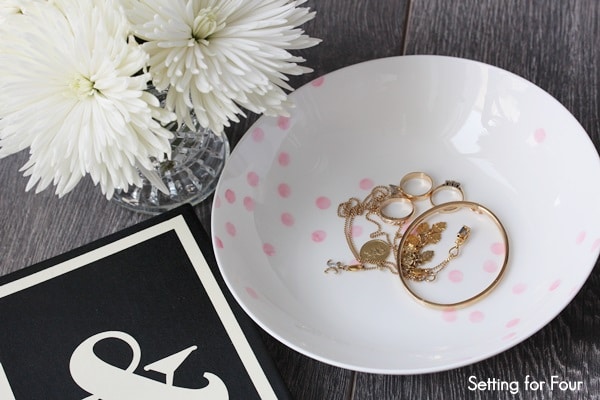 With Valentine's Day around the corner this DIY confetti bowl is a great way to decorate your home with a touch of pink to celebrate 'the day of love'!
Supplies :
– a white bowl
– Nail polish in this pretty shell pink color
– Self-Adhesive Reinforcement Labels
First make sure your bowl is clean and dry.
Using the picture as a guide, randomly place the reinforcements on the bowl and rub down hard to make sure all the edges are sealed. Leave some to hang off the edge too.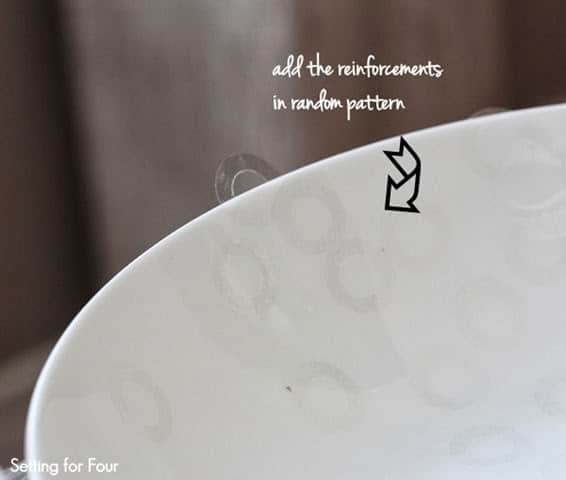 Add one coat of nail polish, and let dry completely.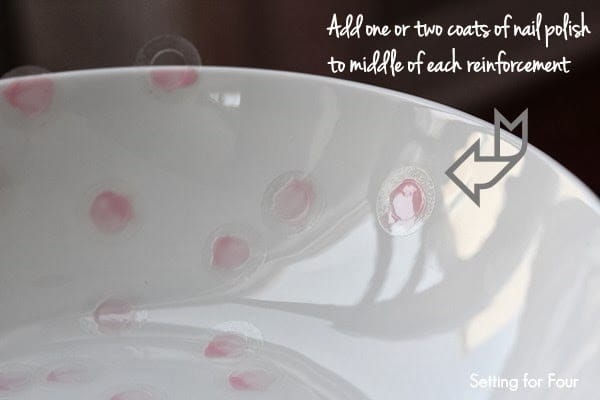 You can stop with one coat but I wanted it a bit darker so I added a second coat.
Peel off the reinforcements.
Isn't it pretty? I love it!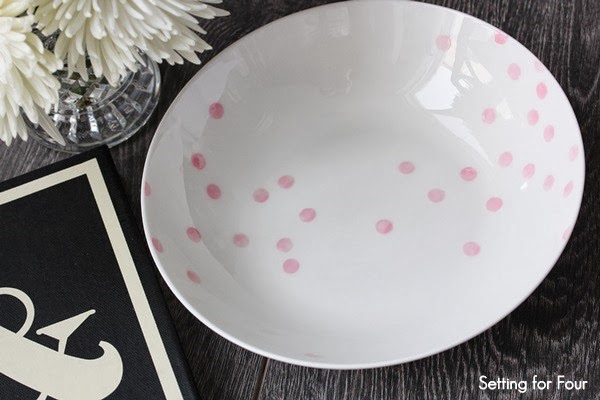 Now I have a place to put my rings, watch and jewelry beside my bed – it's so handy and pretty to look at!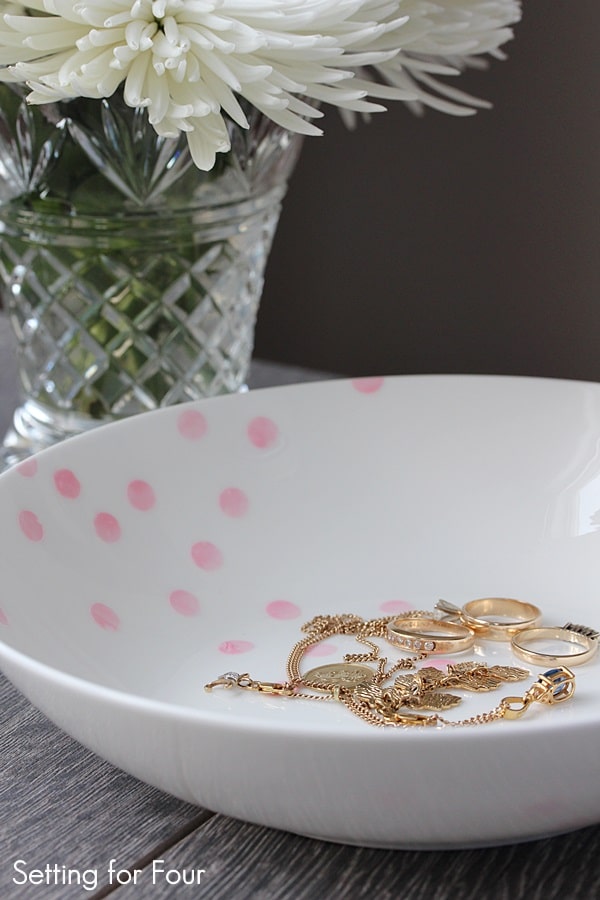 This decorative bowl is a great accessory to make for your home!
You can dress up a plain inexpensive bowl or plate that can be used for these storage and decor ideas:
– store your keys and sunglasses in your mudroom/front entry
-put on a coffee table to hold decorative spheres like my DIY moss balls
– hang in a plate gallery wall
– office: store and organize rubber bands, paper clips, you name it!
I hope you enjoyed my Kate Spade inspired Confetti Pattern Bowl tutorial!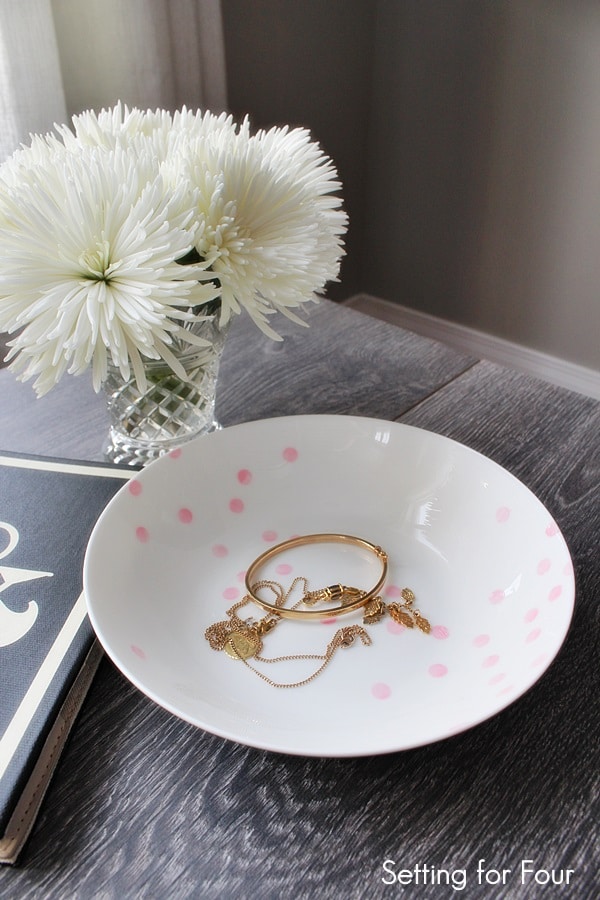 This post contains some affiliate links for your convenience. Click here to read my full disclosure policy.
~
Today's post is part of a fun blog hop 'Share the Love' Valentine's Showcase:
…with 20 Amazing Valentine's projects…
Today I'm joining some of my favorite blogger's in this fun Valentine's showcase of DIY's, Decor, Crafts, Recipes and more!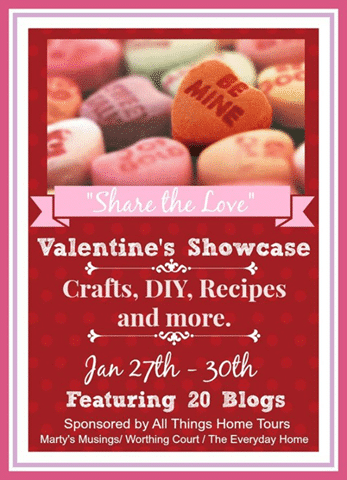 20 DIY tutorials and recipes to inspire you for Valentine's Day!
Monday, January 27:
Cedar Hill Farmhouse Setting for Four
Tuesday January 28:
White Lace Cottage So Much Better with Age
Wednesday January 29:
Stone Gable Confessions of a Plate Addict Cupcakes and Crinolines
Thursday January 30:
Worthing Court Celebrating Everyday Life Our Southern Home
You may also like:
Quick and Easy 10 Minute DIY Easter Decor Ideas