Today, I am sharing with you a easy and beautiful Pottery Barn inspired DIY just in time for Valentine's Day:
How to make Pottery Barn Knock Off Love Votive Candles.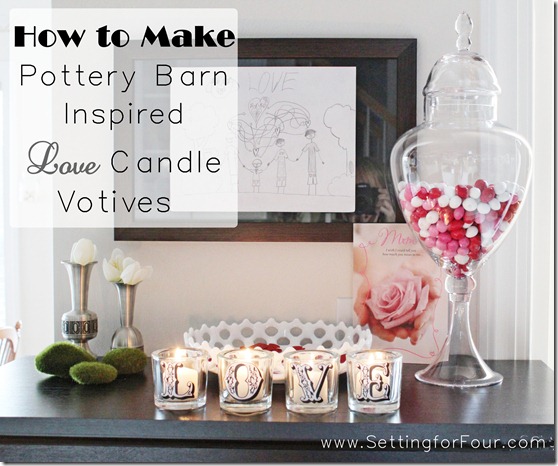 Pottery Barn Version:
Easy Fast and Fabulous!!
Not only are these adorable for your own home but they a great gift idea!
They are such an easy craft to make and very inexpensive. And I love the typography!
If you want to create your own version of these votive candles, here's the step-by-step DIY:
Supplies to make
1 sheet of white printer paper to print off the L,O,V, E letters. I used a Victorian font called JFAutumnFair size 10 in a Word document . You can upload this free font and others from Fontsy. You could also choose a different colour of printer paper (beige, pink) or a different font.
Tutorial:
Step two: With the small paint brush apply Mod Podge to the back of each letter and place it on the votive, centering it as best as possible.
Step three: Apply Mod Podge to the top of each letter. Let dry.
Step four: There will be excess Mod Podge on the glass around the letters; you can see it in the pic below. Using the straight pin, scrape this excess Mod Podge off the votive holder to give it a cleaner look. The Mod Podge will just flake off.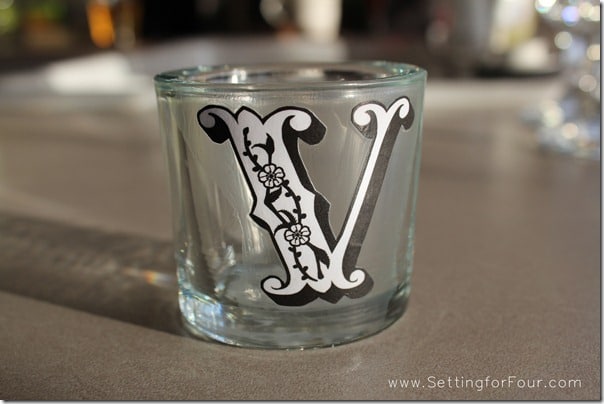 Don't they look fabulous?
You may also like: