Coconut Lemon-Lime Bars with Shortbread Crust – delicious dessert and sweet snack recipe!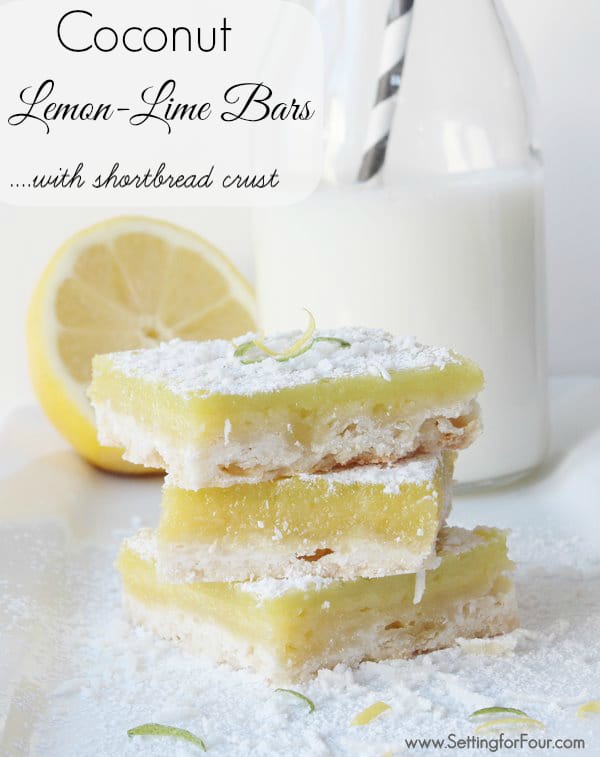 When you buy eggs do you ever wonder what types of farms they come from? The conditions the animals are raised in?
I do and my kids do too.
Why should we care? What does it matter what sort of conditions that egg-laying hens live in?
For one thing it's a matter of food safety: cramped cages are breeding grounds for bacterial outbreaks such as Salmonella which can be transferred to us….to our kids.
Most importantly, it does matter how every living thing spends it's life. Did you know that the vast majority of egg laying hens live their entire lives in small cages the size of an iPad? We can choose to support farmers that produce cage-free eggs and we can choose to support animals raised in a humane way.
Today I'm sharing a yummy lemony dessert that your whole family will love and it's a perfect way to bake with cage-free eggs!
Coconut Lemon-Lime Bars with Shortbread Crust :
The perfect combination of tart lemon-lime paired with sweet flaked coconut!
Ingredients
1/2 cup granulated sugar
2 tbsp cornstarch
2 cups all-purpose flour
3/4 cup cold butter cut up into 1/2 pieces
1 1/4 cups powdered sugar
4 cage free eggs, beaten
1/3 cup 35% cream
2 tbsp all-purpose flour
2 tbsp sweetened coconut
1 teaspoon shredded fresh lime zest
1/3 cup lime juice
1 teaspoon shredded fresh lemon zest
1/3 cup lemon juice
Strips of lemon and lime peel for topping
Sweetened shredded coconut for topping
Powdered sugar (optional)
Instructions:
1. Preheat oven to 350 degrees F and grease 9 x 13 x 2 inch baking pan.
2. In bowl combine the 1/2 cup sugar, cornstarch and 2 cups flour.
3. Cut in butter until mixture looks like coarse crumbs.
4. Press into bottom of pan.
5. Bake 15 minutes.
6. Whisk together 35% cream, eggs, sugar and 3 tbsp flour.
7. Add lemon and lime zest, coconut, lemon and lime juice.
8. Pour coconut lemon-lime filling over hot crust.
9. Bake 20 minutes or more until filling is set.
10.Cool completely in pan then refrigerate for 2 hours to set.
11. Cut into squares or bars.
12. Top with lemon and lime strips, more coconut and powdered sugar.
13. Store in refrigerator.
These dessert bars have such a flaky crust!
You may also like:
Easy Chocolate Lasagna – No Bake Dessert