I'm back today talking about my amazing French Door refrigerator that I'm totally ga-ga in love with! You know the one where showed you all of it's smart fridge organization and storage tips and all of it's fantastic functions and features? Today I'll show you that smudge proof stainless steel is not an urban myth like the Yeti, Bigfoot or the Abominable Snowman…. it really does exist! Really!
Frigidaire has come to our rescue to save the sanity of Moms everywhere and have developed a high-tech Smudge Proof stainless steel technology to combat those dreaded fingerprint marks and hours of polishing and cleaning! Hurray!
Are you skeptical about this smudge-proof technology? I was too at first! Let's put this technology to the test…the mustard test!
We all know how mustard can stain and smear – let's have a look to see if this smudge-proof technology actually works!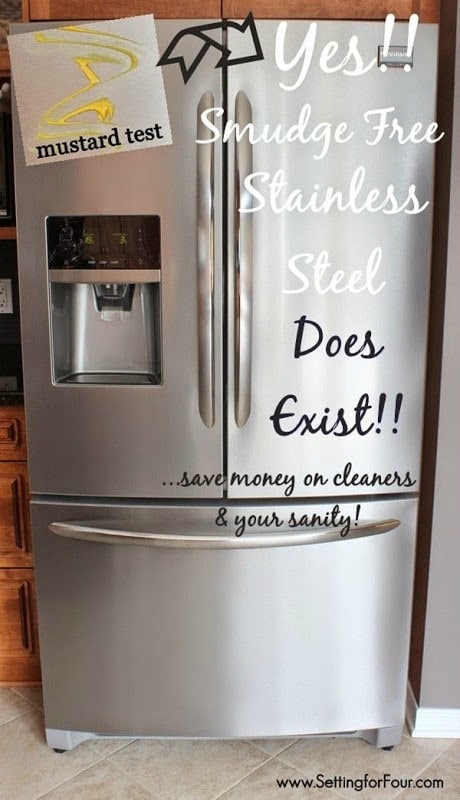 Disclosure: I am part of the Frigidaire Canada Ambassador program with Mom Central Canada and am thrilled that they helped make this post possible today. The opinions on this post are 100% mine.
First I spread on some regular mustard all over my fridge…ooohh this looks nasty!
Then I took a damp paper towel and wiped. Wow – I can't believe how easily the mustard came off! A couple of wipes and my fridge was clean again!
I dried it with a towel, giving it a couple of wipes.
No streaks! No stains! Look at the shine! This smudge-proof technology really does work!
Mustard loses – smudge proof technology wins!
The extra benefit? I'm saving lots of money too because I now get to skip the cleaning product aisle for stainless steel wipes and sprays while shopping!
So try it and see how your stainless steel fridge compares! Do your own mustard test and compare these smudge-proof results!
You may also like:
10 Things to Never Put In a Dishwasher