Do you have a console table, coffee table or end table that needs a little decorating style? Not sure how to give your tables a cohesive look? Clear off the clutter and decorate your accent tables like a pro! Inject a heavy dose of style into your rooms with these easy, chic looks and my 5 decorating tips!
Hello friends! Today I'm sharing with you 5 tips to decorate accent tables like a pro and give you a little tour of our family room!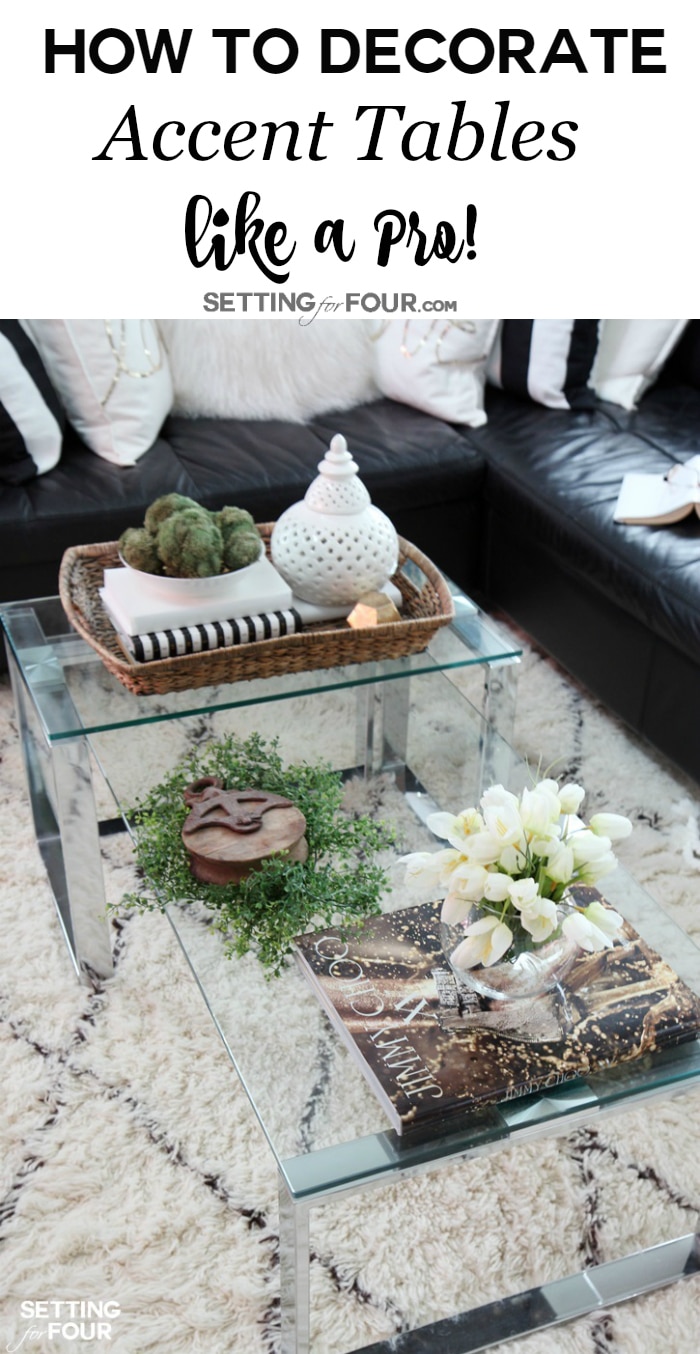 Decorating accent tables can be a little tricky. It's all about using baskets to corral loose items and repeating accent colors in your room to make your tables look styled with purpose!
Let's take a look at my 5 tips to decorate accent tables like a Pro:
Here's our family room coffee table – well actually it's two nesting tables!
Tip No 1: Add a shallow basket to your coffee table to corral tv remotes, organize your decor accents and add texture and color to your room. Here I've used a rattan basket that repeats the color of our hardwood flooring ( remember to repeat the colors in a room to give it a 'designer' look!). I placed a couple of my decorating books that I love to flip through on a regular basis in the basket and topped my books with a white bowl filled with moss spheres. The moss adds a pop of gorgeous green (I love this shade of emerald green!). I also added a ceramic jar and a gold octagon shaped paperweight.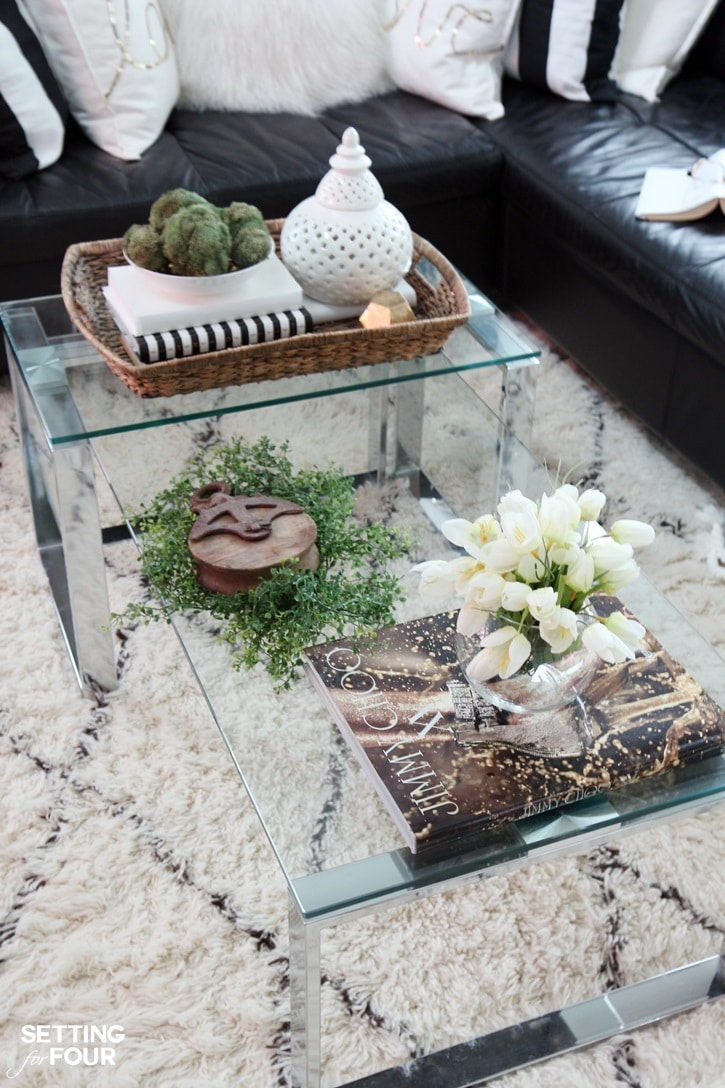 Tip No 2: Add flowers – fresh or faux! Adding flowers to your tables is a beautiful way to decorate them, adds softness and 'life' to your room! This vase of tulips is a faux arrangement (I usually use fresh tulips but my local stores were out of them at the time I shot this!). It's completely okay to use faux flowers as long as they are real looking – and a lot of today's faux blossoms are very realistic! I always love to sit my vases on a book or two – this makes it look cohesive with the table.
Tip No. 3: Add two table lamps to a console table to add task lighting to a room and add height to create a separate zone in an open concept home. Our family room and dining room are open concept. I've created two separate zones and separated the rooms to create a cozy look by adding this console table to the back of our sectional sofa. The two crystal lamps add lighting here (there is no overhead lighting) and help to separate the sofa and family room from the dining room space.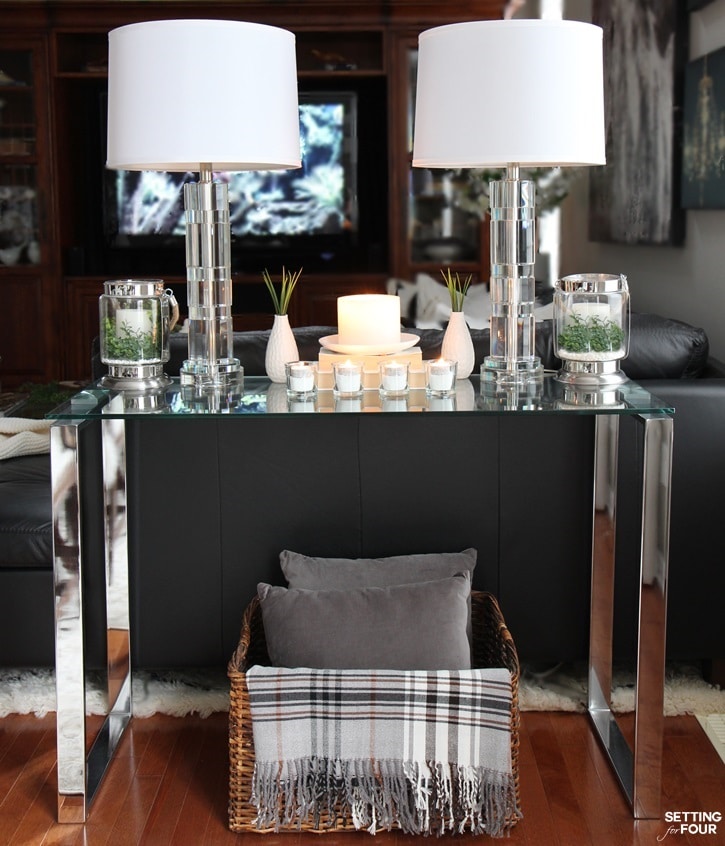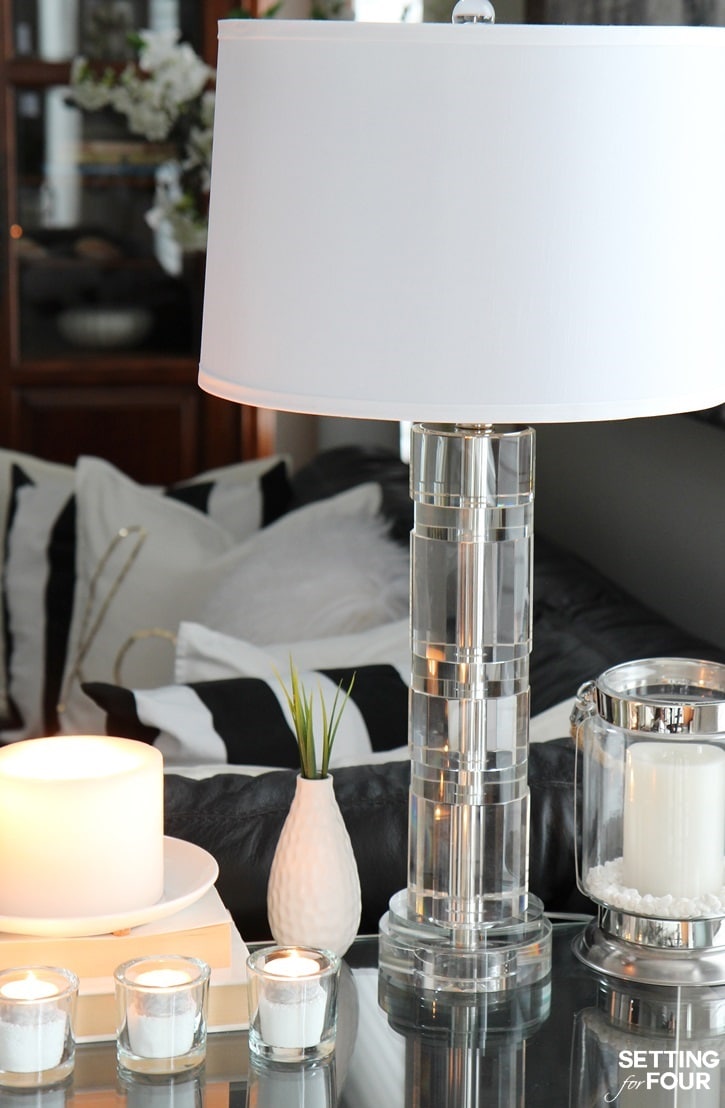 Tip No 4: Decorate an end table that sits beside a wall with tall objects like this tall vase of dogwood blossoms. Adding a tall vase will soften that corner of the sofa and draws the wall art into a grouping that's cozy and welcoming. If you have a tall table lamp that will also work too!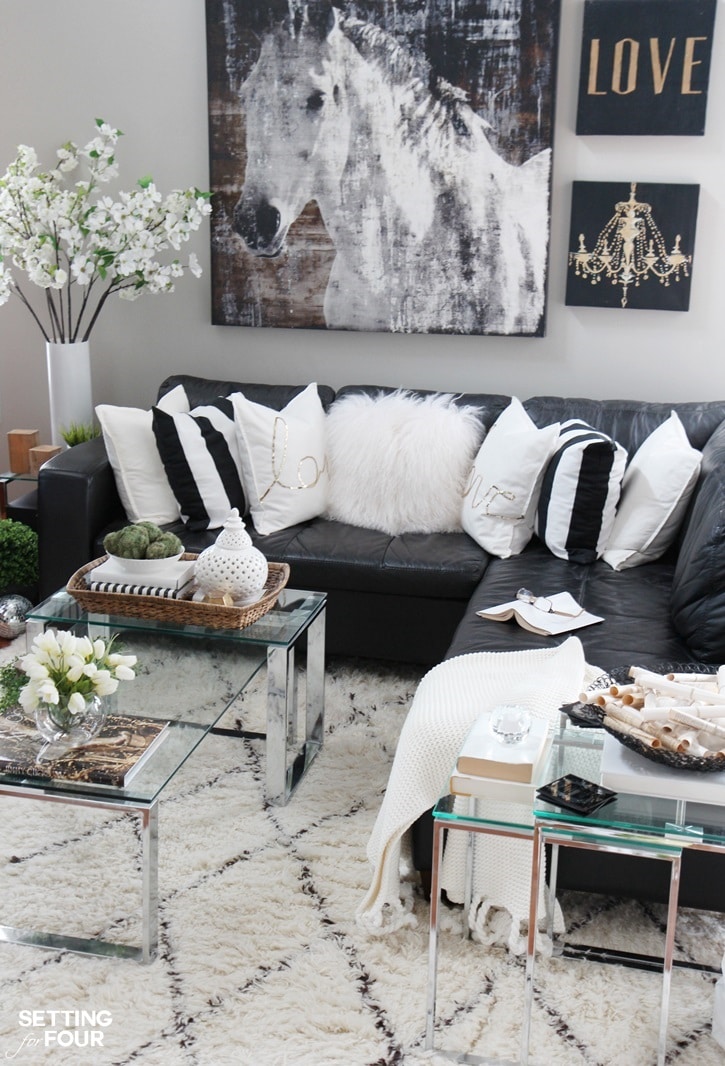 Here's a shot of our TV unit in our family room – I'll show you how to decorate TV units another time!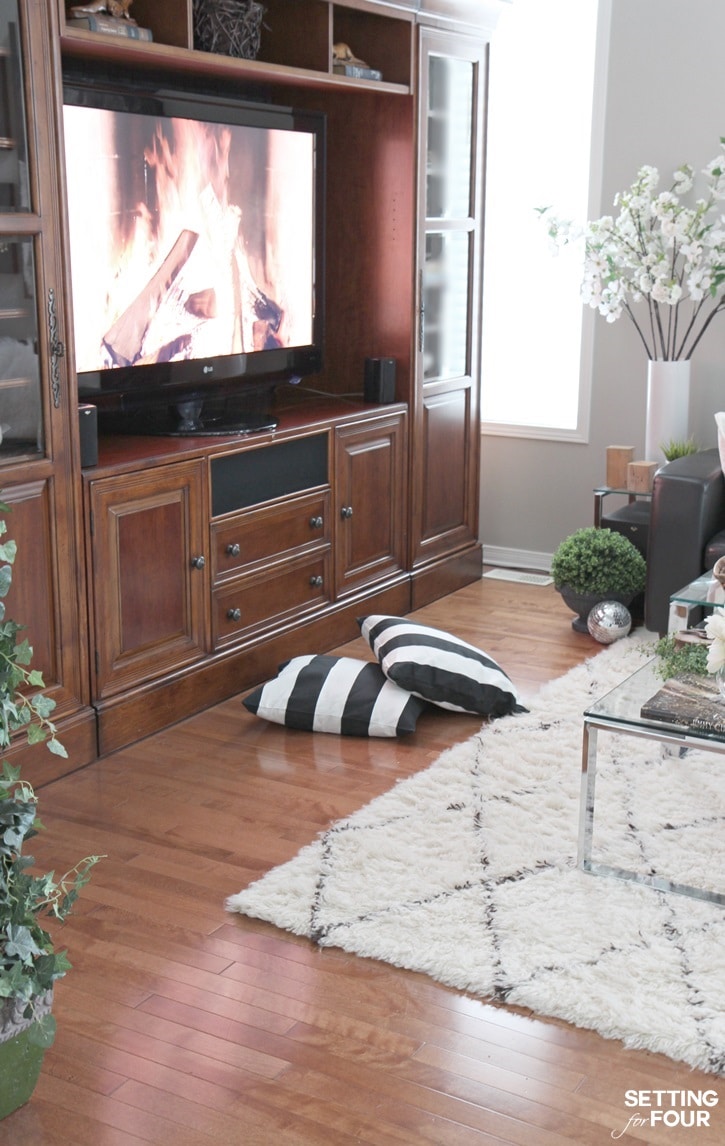 Tip No. 5: Adding a decorated console table to a stair wall is a great way to decorate that awkward space! When decorating your console table make sure that nothing is sticking into the stair itself or it will get knocked over! Add a vase of blooming branches or flowers, prop up a piece of art and add a basket or two on the console lower shelf to store pillows and throws! Make sure you use two smaller baskets or one longer one to fill up the shelf space.
I added a slip covered parsons chair (with a pillow and throw) and a garden stool to our stair area to create a cozy nook- the chair and garden stool can be pulled out when we need extra seating and an extra side table for company!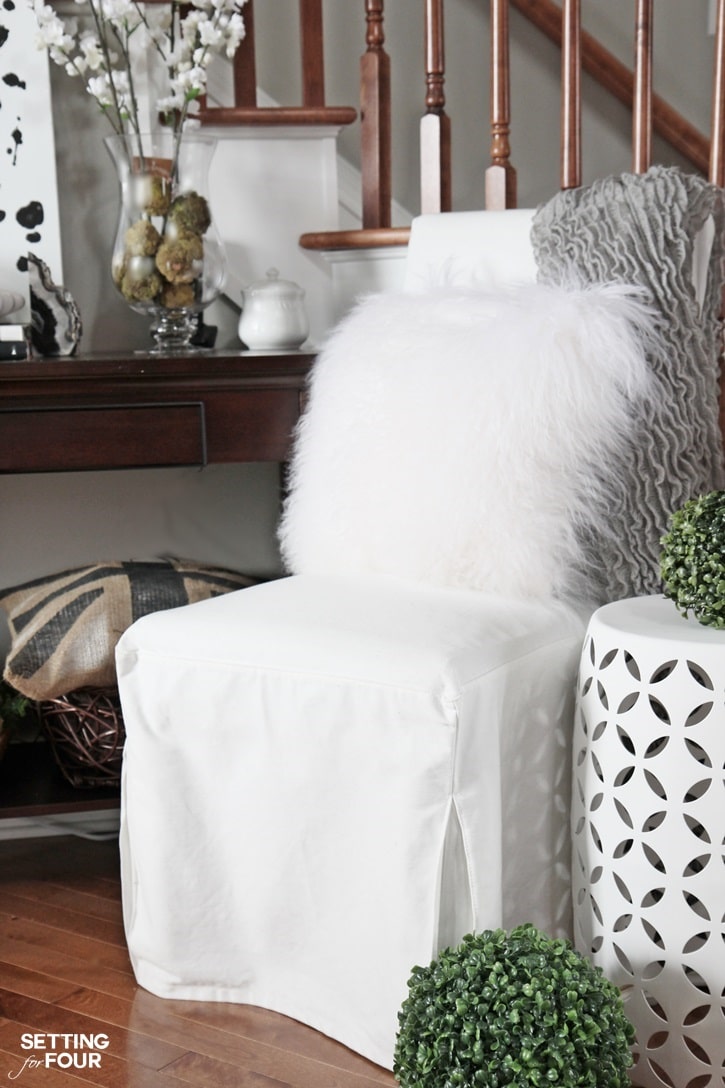 Did you enjoy my 5 tips to decorate your accent tables with style? Share in the comments below what you think!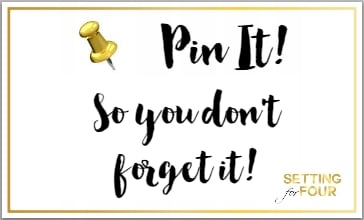 This post contains some affiliate links for your convenience. Click here to read my full disclosure policy.
See what you like? Shop the look – just click on the images to see each item!


If you have decorating questions and are stuck decorating your home – shoot me an email! I offer online style coaching and decorating services – see all the details here!
Have a beautiful day everyone!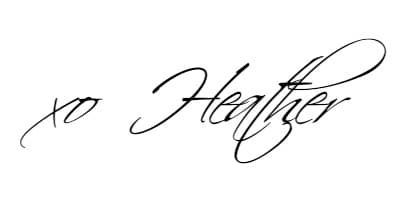 You may also like:
Dining Room and Beautiful Natural Tablescape