Here's a yummy and healthy salad to make any time of year.
My family loves this recipe for Strawberry Spinach Salad!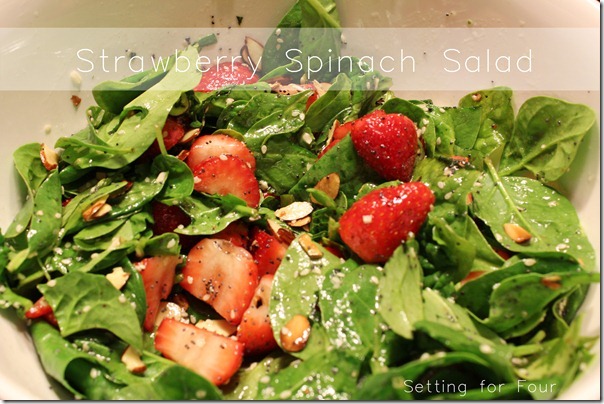 Ingredients:
1 bag spinach
1 pint strawberries-sliced
1/2 cup sliced toasted almonds.
Dressing:
1/4 cup sugar
2 tbsp sesame seeds
1 tbsp poppy seeds
1 1/2 tsp minced onion flakes
1/4 tsp worcestershire sauce
1/4 tsp paprika
1/2 cup oil
1/4 cup cider vinegar
Prepare:
Toss spinach, strawberries and toasted almonds in a bowl.
Add all dressing ingredients together and blend.
Add dressing just prior to serving.
Toss and serve.
This is a great recipe to make for company too! We serve it often when we have friends over and everyone always loves it! Enjoy!
~ ~ ~ ~
Don't want to miss a post? It's easy to stay in touch with me!:
~ ~ ~ ~
* Thank you SO much for coming by for a visit! I love to hear all of your comments! *
Heather
Written by Heather at Setting for Four
Setting for Four is a DIY, lifestyle blog where you will find craft and DIY tutorials, recipes, and family friendly design and decorating ideas that won't break the bank or sacrifice style.

You can find Setting for Four on Google+