Hi everyone!
Well after much nervousness I now have completed my first Google Plus Hangout which is now live on Youtube and imbedded here on my blog!
Today, I demonstrated my DIY Ombre Christmas Ornament at the Holiday Hangout on Google Plus!
#holidayhangout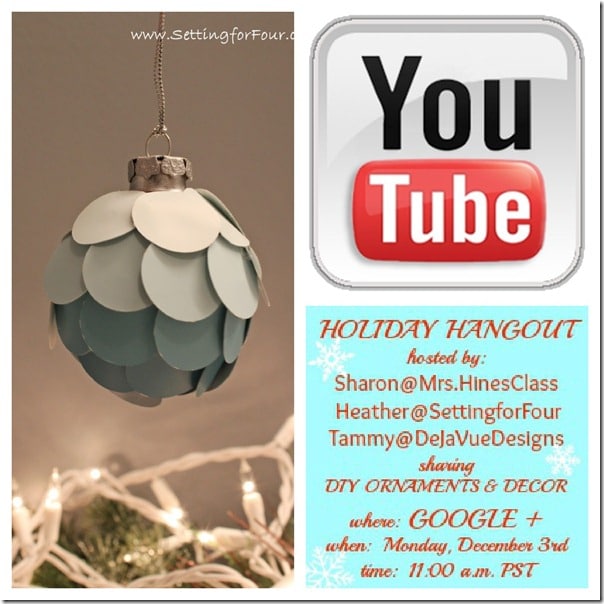 It was so much fun to hang with these lovely ladies as they demonstrated their holiday crafts too!: Sharon Hines from Mrs Hines Class and Tammy from DejaVu Designs !
Here is the video, click play and enjoy!
The interesting part was when I lost connection for a few minutes, but thankfully my cohosts Sharon and Tammy were complete 'grace under pressure' and flexible enough to roll with it and cover for me until I was able to return on air!
I hope Google plus didn't yank me off air because I was that bad!!!


But really it was a lot of fun and a great way to get to know my super fun and talented cohosts too! Thank you Sharon and Tammy for being so supportive and great to 'hang' with!!
After all, blogging is about friendships and community, and luckily I get to be a part of that!
Luckily I get to hang with incredibly talented and savvy bloggers who encourage me to spread my wings, leave my comfort zone and try new things such as making a video like this one!
Thank you everyone that watched it on Google plus today and left such sweet comments…your support means so much to me!
And all I can say now is…..
"When can I do another Hangout?????"
So, are you in with me?????????

~ ~ ~ ~
Pssst!!!……Join in and get some more Holiday Inspiration! This week over 22 crafty bloggers will be sharing holiday décor ideas, ornaments, crafts, party tips and festive recipes in a series of Google+ Hangouts on Air.
So check out the Holiday Hangout schedule below! Jingle and Ho-ho-ho all through the week with these amazing tutes, diys and holiday ideas! Just follow the links to their Google + profiles at the time of their hangout!
NOTE: The schedule below is in Pacific Standard Time!
December 3rd
9 am PST Creative Kristi Handmade Gift Ideas for Adults with guest Sawdust and Paper Scraps
2 pm PST My Very Educated Mother Three Quick and Easy Ornaments with guest Creative Cynchronicity
December 4th
9 am PST Uncommon Designs Team Simple Neighbor Gifts for Christmas
10 am PST Sugar Bee Crafts Easy Christmas Crafts with guest A Girl and A Glue Gun
12 pm PST Fox Hollow Cottage Holiday Crafts
6 pm PST Just Paint It Three Easy Ways to Guild Fruit
December 5th
9 am PST Atta Girl Says Stress Free Holiday Hosting Tips
10 am PST Hometalk, C.R.A.F.T Outdoor Decor — How to Make Clay Pot Soldiers
1 pm PST Creative Cynchronicity Holiday Table Favors with guest My Very Educated Mother
3 pm PST Jader Bomb, Graphics Fairy, Shabby Creek Cottage Handmade Ornaments
December 6th
9 am PST The Bold Abode DIY Glitter Candles and Madlibs with guest Mom 4 Real, Creekline House
10 am PST Creekline House Working with Fresh Cedar with guest Mom 4 Real
11 am PST Simply Designing Snowman Candy Dish
2 pm PST The Everyday Home The Everyday Home Show
6 pm PST Dukes and Duchesses Hosting a Themed Cocoa Party
December 7th
9 am PST Mom 4 Real Easy Teacher Gift
10 am PST It's Overflowing Holiday Craft
11 am PST The Everyday Home Creating a Christmas Wreath and Bow Making
1 pm PST 52 Mantels Holiday Craft with guest My Sister's Suitcase
4 pm PST 30 Minute Crafts, Country Chic Cottage10 minutes Christmas Crafts with Madigan Made
Hope you can join us for the fun!!
Linking to:
~ ~ ~ ~
Don't want to miss a post? It's easy to stay in touch with me!:
~ ~ ~ ~
* Thank you SO much for coming by for a visit! I love to hear all of your comments! *
Heather
Written by Heather at Setting for Four
Setting for Four is a DIY, lifestyle blog where you will find craft and DIY tutorials, recipes, and family friendly design and decorating ideas that won't break the bank or sacrifice style.

You can find Setting for Four on Google+