Do you love corn muffins as much as me? Are you short on time but love to have them with your meals?
Here is a shortcut 5 ingredient recipe for Corn Muffins, which only takes 5-10 minutes to prepare!
Instructions:
Preheat Oven to 400 Degrees Fahrenheit.
Blend Muffin mix, egg, milk and poppy seeds together. Batter will be slightly lumpy.
Fill lined muffin cups 1/2 full.
Sprinkle tops with Pumpkin Seeds
Bake 15-20 minutes.
Makes 6-8 muffins.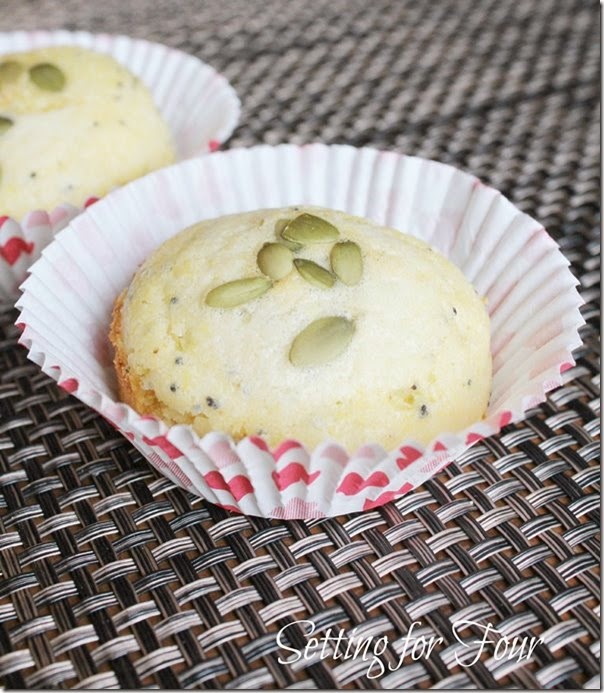 Don't they look yummy? Subtly sweet and crunchy with seeds…mmmmm!
I hope you enjoyed my Easy, Yummy Corn Muffin Recipe today!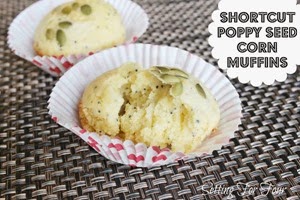 ~ ~ ~ ~
Have you just discovered Setting for Four?
If so, I'd love for you to follow me by email so you never miss an update! Click below!
Or follow along with me here !:
* Thank you SO much for coming by for a visit! I love to hear all of your comments! *
Heather
Written by Heather at Setting for Four
Setting for Four is a home design, décor and lifestyle blog. Focus is on home renovations, crafts, DIYs, tutorials, recipes, as well as family friendly design and decorating ideas that won't break the bank or sacrifice style.

You can find Setting for Four on Google+