This year I changed my Christmas colors…
…I traded in the red and white traditional color palette I've had for many years
and this year I decided to decorate with blue!
Of course I'm still focusing on the Rustic Glam decor style that I so love!
So this year we have a Rustic Glam & Blue Christmas Tree!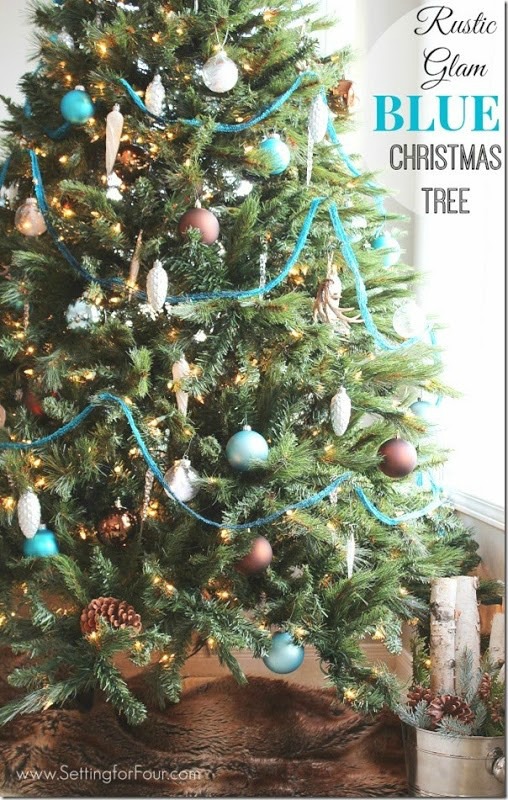 But I did keep one tradition and that's my forest green faux Christmas tree!
While white flocked trees are the growing trend and I do really love them (and I'm thinking of adding one to my kitchen at some point!), our traditional green Christmas tree is here to stay!
We've had this prelit green pine tree for 3 years now –  it's completely filled with twinkle lights and the branches are super lush, it's one of the un-fakest (is that a word?) Christmas trees I've seen!
The first thing I added to our tree were these fun silver and blue sparkle bobble holiday picks! 3 of each color are placed on top of the tree instead of the traditional tree topper.
I love how easy they are to add to the tree – no more fighting to get the star topper to stand straight! Just poke these in on an angle and you're done! Easy!
Rustic Glam Christmas tree topper:
Next I took one ball of a sparkly blue yarn and starting at the top I wound it diagonally around and down the tree.
Next I added these gorgeous blue and brown ornaments in both matte and shiny finish.
I love these silver pine cone ornaments!
Next I added these faux antlers for a rustic touch.
Glass and sparkly icicles complete the winter wonderland look.
The last thing I added were my easy 15 mintue DIY Jewel and Feather Ornaments! The jewel on top adds another pop of blue to the tree! So pretty I think!
Check out my other DIY Christmas Ornaments:
Last but not least, I added a faux fur throw as a tree skirt to carry on the rustic theme!
I have to say I was a bit nervous that my family might pitch a fit protest that I may have turned Christmas completely on it's head by the changes I made…but they completely love it…and so do I!
I hope you enjoyed taking a peek at my Rustic Glam Christmas tree!  Happy Holidays everyone!
Are you excited about decorating your tree? What theme or color palette are you using this year?
~ ~
See all of my Holiday Home Tours here!
Home for the Holidays Christmas Home Tour 2013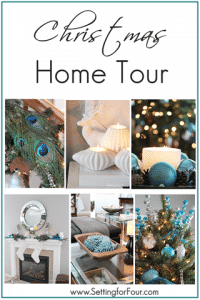 2011 and 2012 Holiday Home Tours