Well, I've been a busy little bee over the past few weeks! We've had our stair carpeting removed and hardwood lain and wow it looks so gorgeous! Pictures and post coming soon!
After we tackled that little renovation we headed to our main floor bathroom and installed a new faucet!
Chrome, shine, a beautiful handle and spout…sigh!!! Here it is: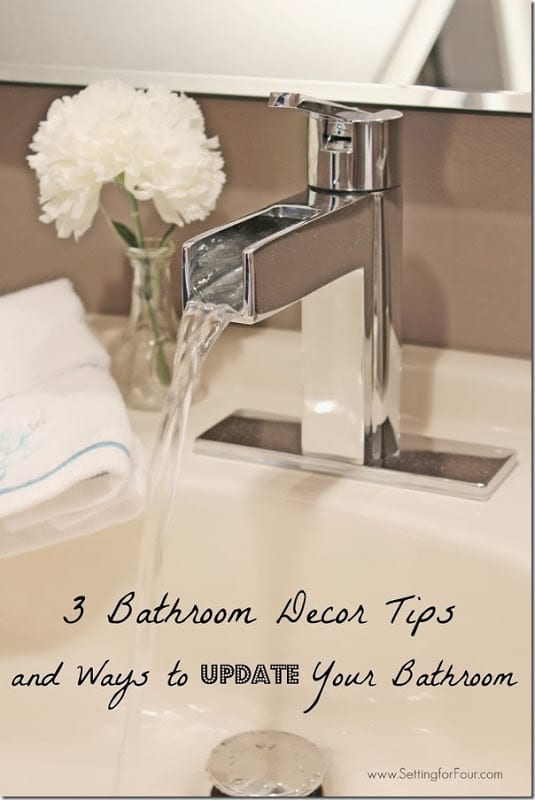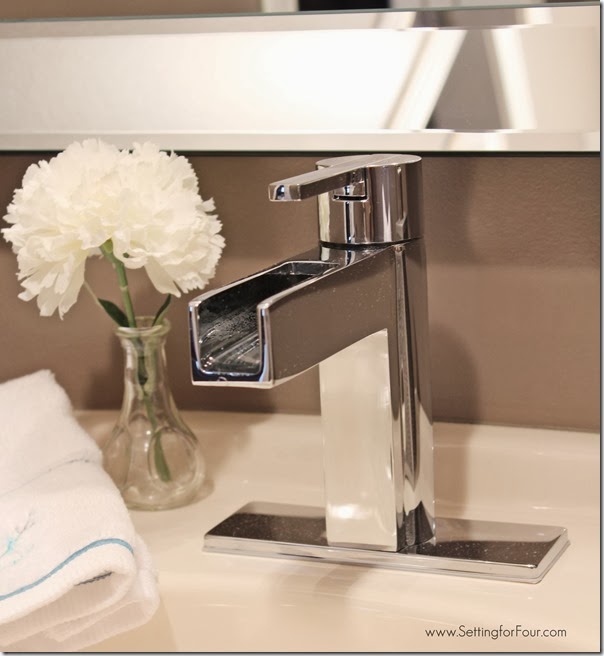 This is our old faucet…it leaked, it was really hard to keep clean, there were always fingerprints on the finish.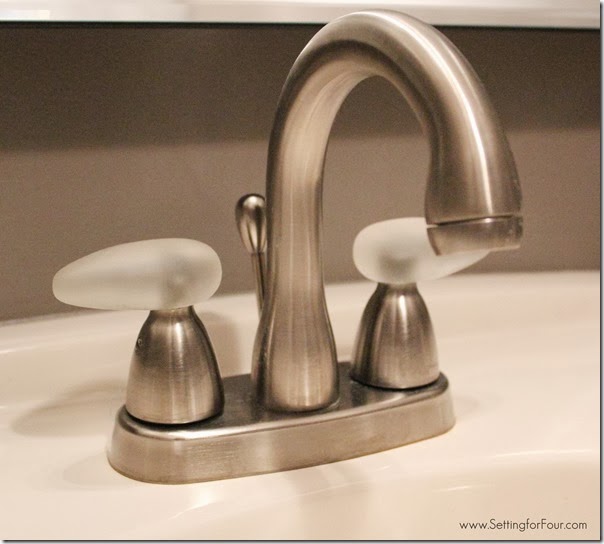 What a difference a new tap makes! The Vega faucet is so easy to clean and just looks so stylish!
I love the clean design and the unique 'waterfall' spout!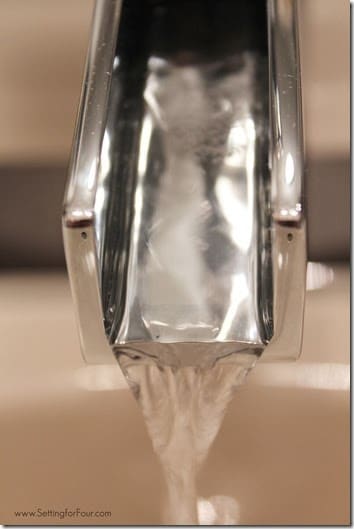 It really does look like a waterfall! This feature is one of the main reason's I chose this style…it delivers a gentle cascade and displays the natural beauty of flowing water!
Ahhhhh – so serene!
I love the center set single handle too – contemporary and so functional! Just lift up and turn right or left to use – so easy to clean too!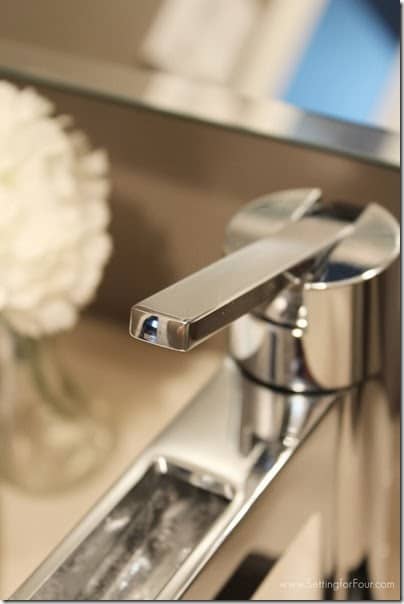 Isn't it pretty?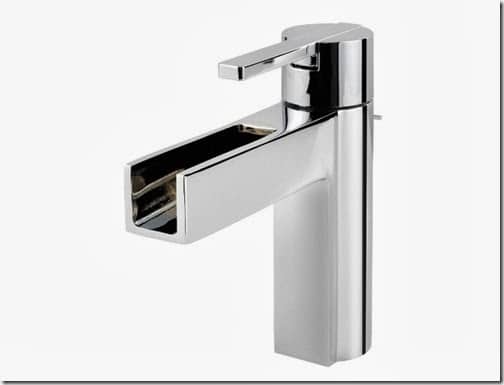 If you are looking to update your bathroom here are 3 bathroom decor tips to keep in mind:
1. When decorating a bathroom with low lighting…use reflective finishes whenever you can! Reflective surfaces help bounce light around a room.
Our main floor bathroom is not very big and with no windows it doesn't get much light. The chrome finish of this faucet really adds a gorgeous sparkle and lightens up the whole room.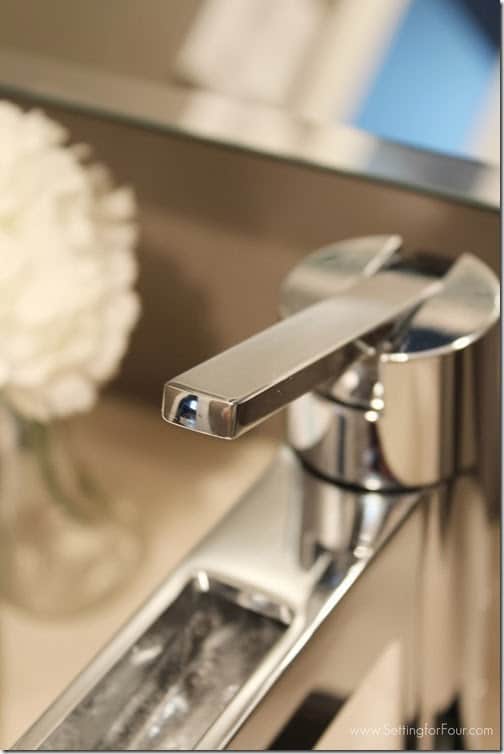 2. Create a spa like environment: Add a vase of flowers.
I added a simple white carnation in a bud vase to give my bathroom a spa-ah like feel.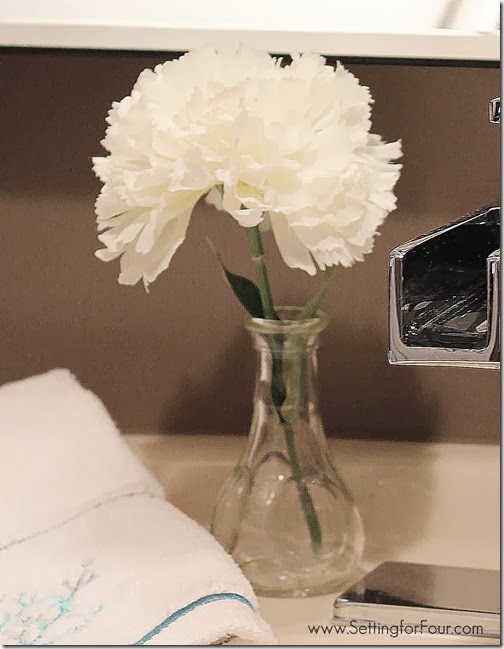 3. Hang pretty decorative hand towels. They aren't expensive but really add a touch of luxury to a bathroom!
Here I added a small hand towel with a beautiful embroidered coral design to add a touch of coastal decor and pop of blue to my bathroom!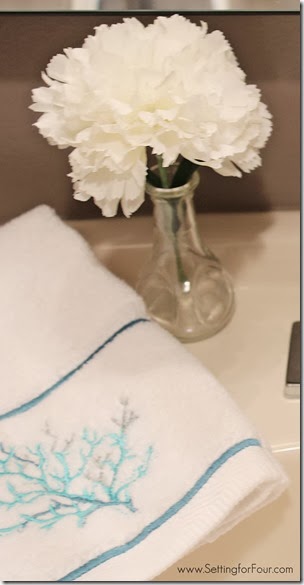 I also added a glam silver faux 'shagreen' finish soap dispenser. The colors go so well with my bathroom walls and my new faucet!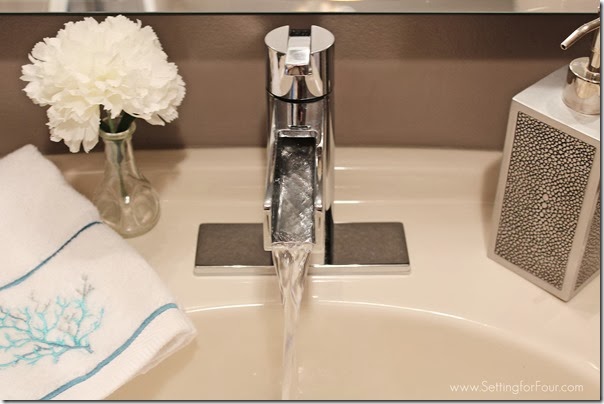 I hope you enjoyed my bathroom decor and update tips!
Update: Pfister faucet giveaway is over.