Fast, Fun and Fabulous! Make beautiful, quick and easy DIY Glamorous Crystal Rhinestone Champagne glasses for your next party! Dress up plain glasses with some pretty sparkle and shine. You won't believe how fun and easy this tutorial is!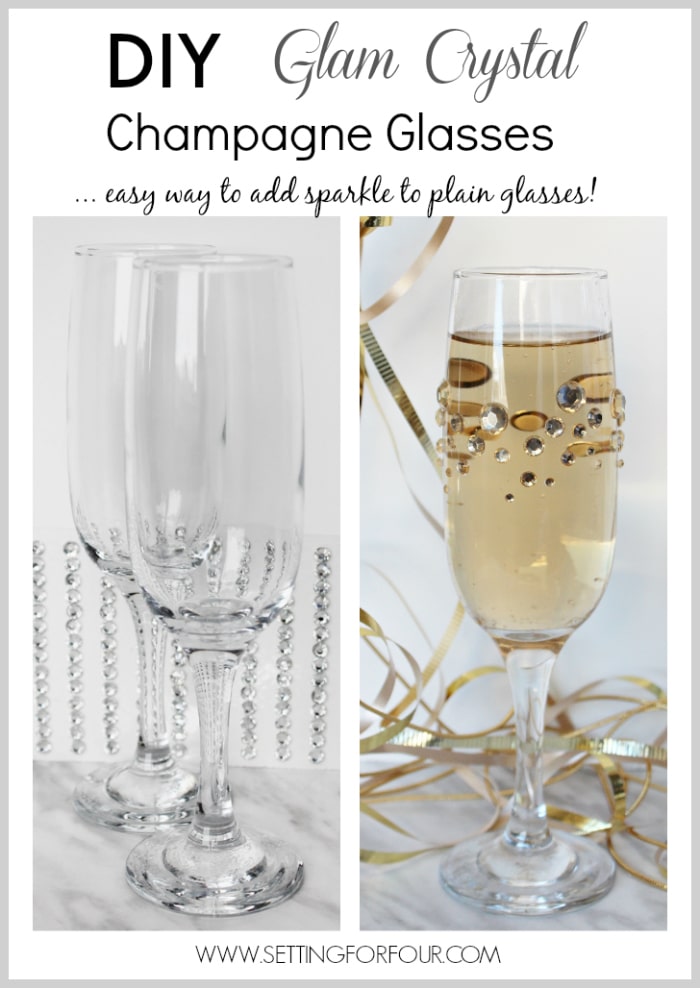 Are you throwing a party and in need of some budget friendly DIY entertaining decorations? Would you like to dress up your boring champagne glasses with fast, fun and fabulous DIY sparkle? You won't believe how easy these DIY Glam Rhinestone Champagne Glasses are to make… they are so amazing aren't they?
Tonight is New Year's Eve! I'm so excited are you? Are you hosting a big party? Going to one? This year we are going to keep things quiet and relaxed with just the four of us- we are having a New Year's Eve party-night-in!!! We have a big meal planned with lots of yummy appetizers and nibblies after, some party hats, horns and sparklers! To add some festivity, bling and shine to the party – hey, you know I'm all about sparkle and glam!!!! – I love to make these fun DIY embellished champagne glasses (champagne for hubby and I and soda for our boys!).
This post contains some affiliate links for your convenience. Click here to read my full disclosure policy.
Quick and Easy DIY Rhinestone Champagne Glasses
Supplies: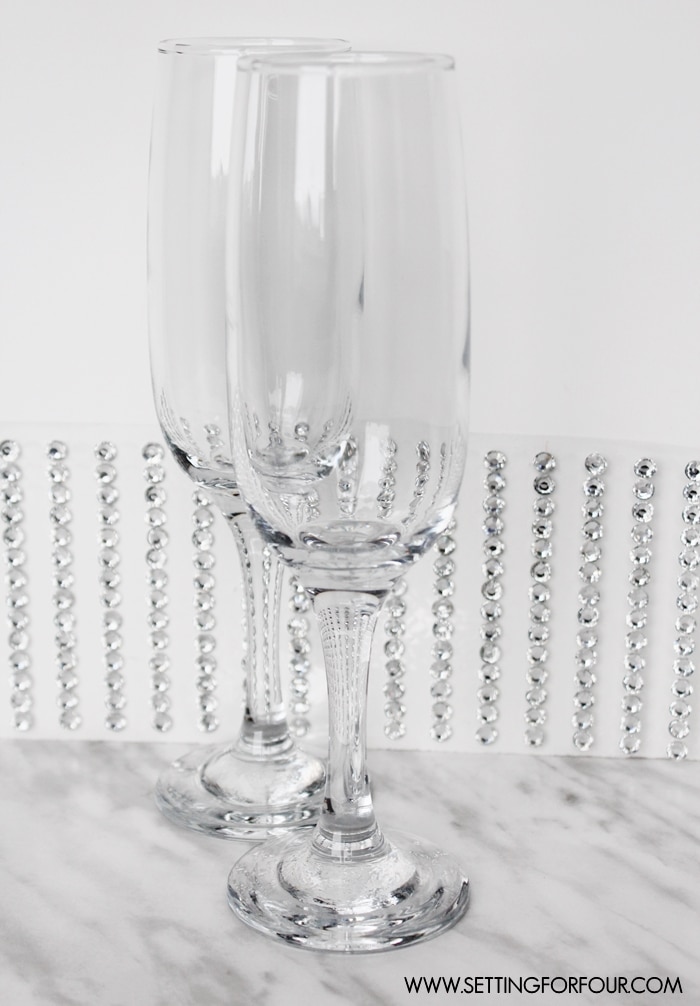 How to make DIY Rhinestone Champagne Glasses – Tutorial
Peel rhinestones off of sheet
Stick them onto plain champagne glasses in any pattern you'd like – I used two patterns here.
Press each rhinestone firmly.
Enjoy!
Note – these rhinestone glasses are not washable – the rhinestones will fall off if washed. I just peel them off before washing them. These glasses are meant to be used for some temporary party fun!
On one set of glasses I added rhinestones of the same size in 4 rows.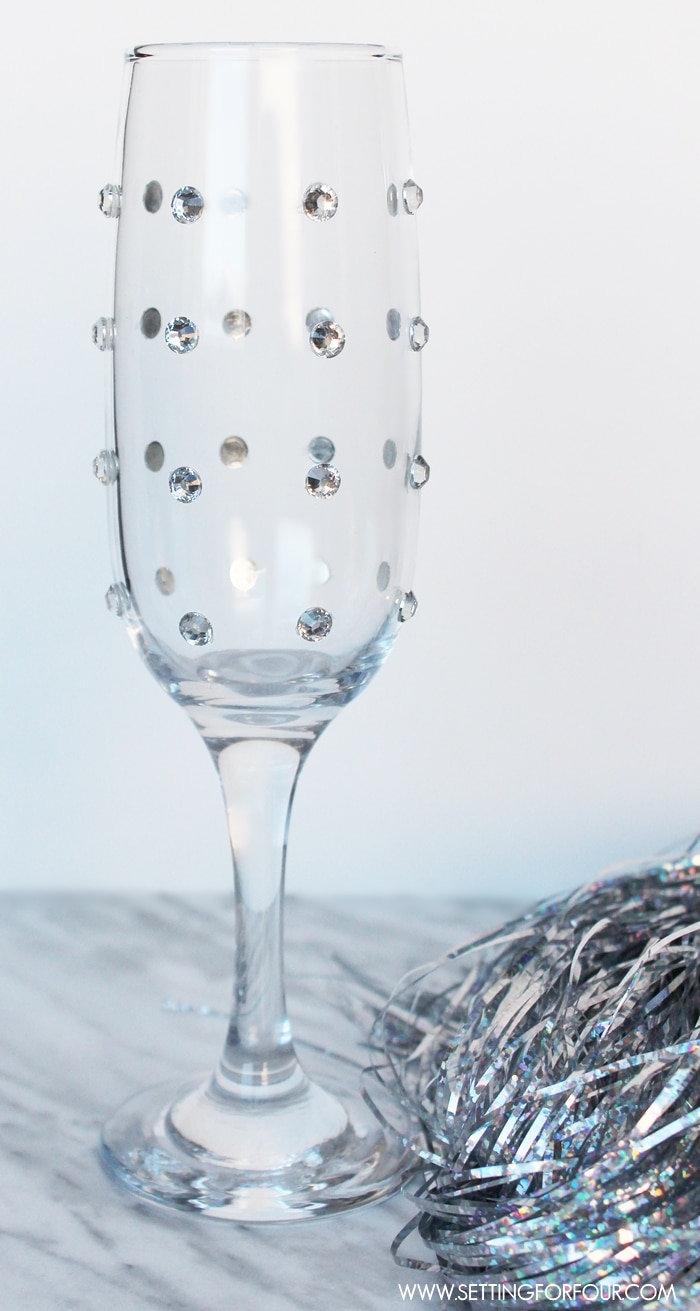 On another set I added a band of different sized rhinestones.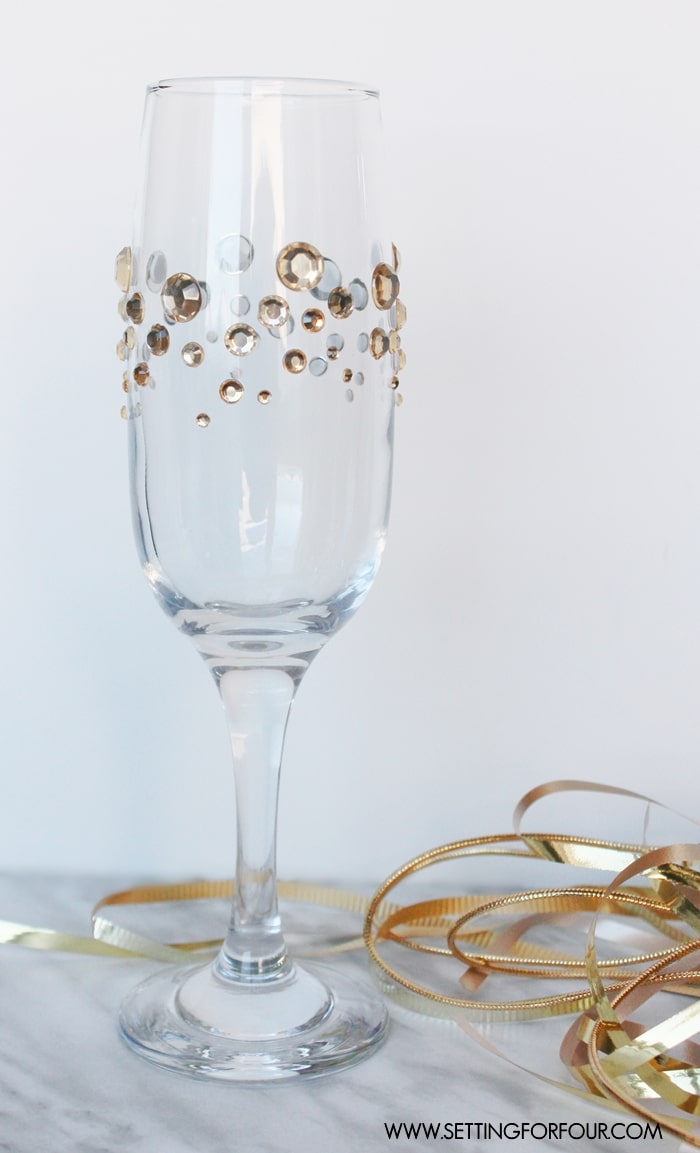 Here they are filled up with some bubbly champagne!
Cheers!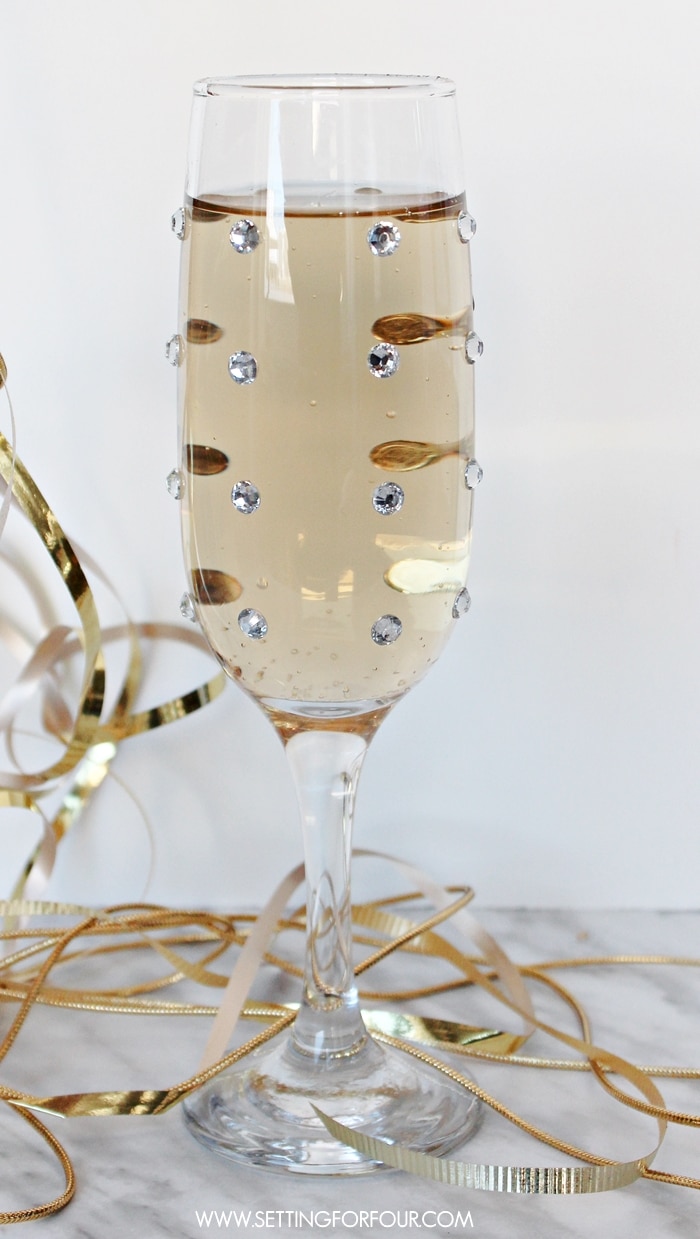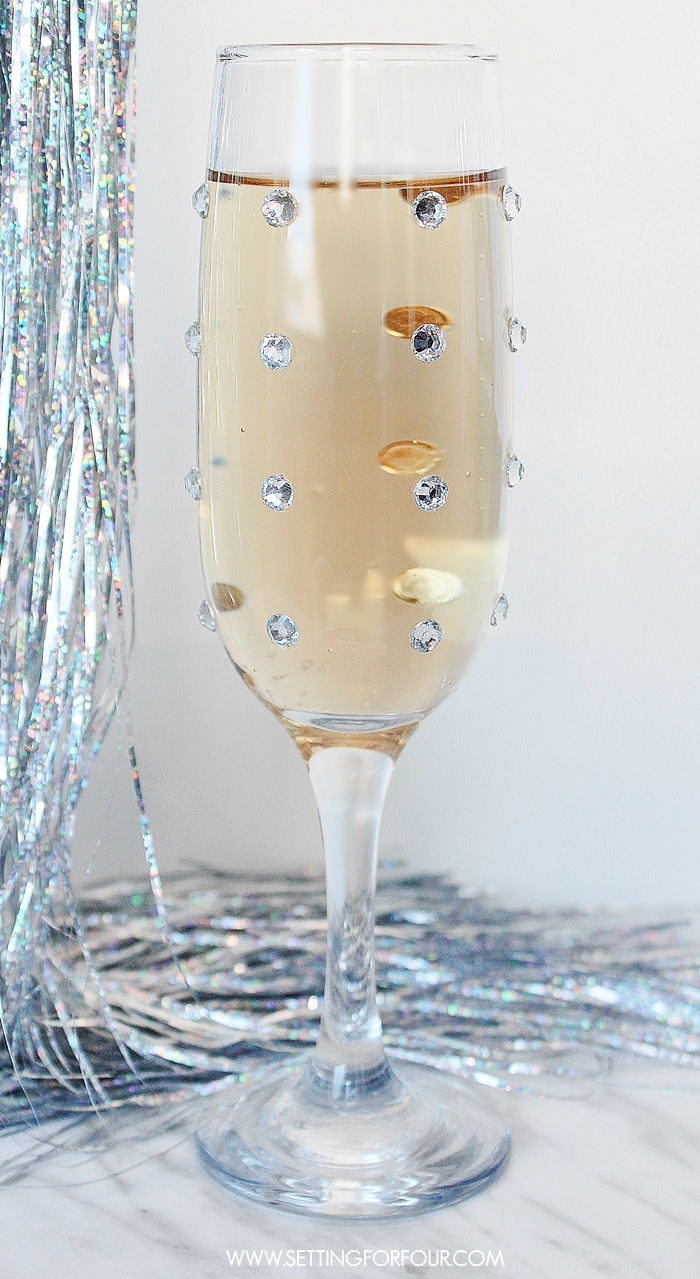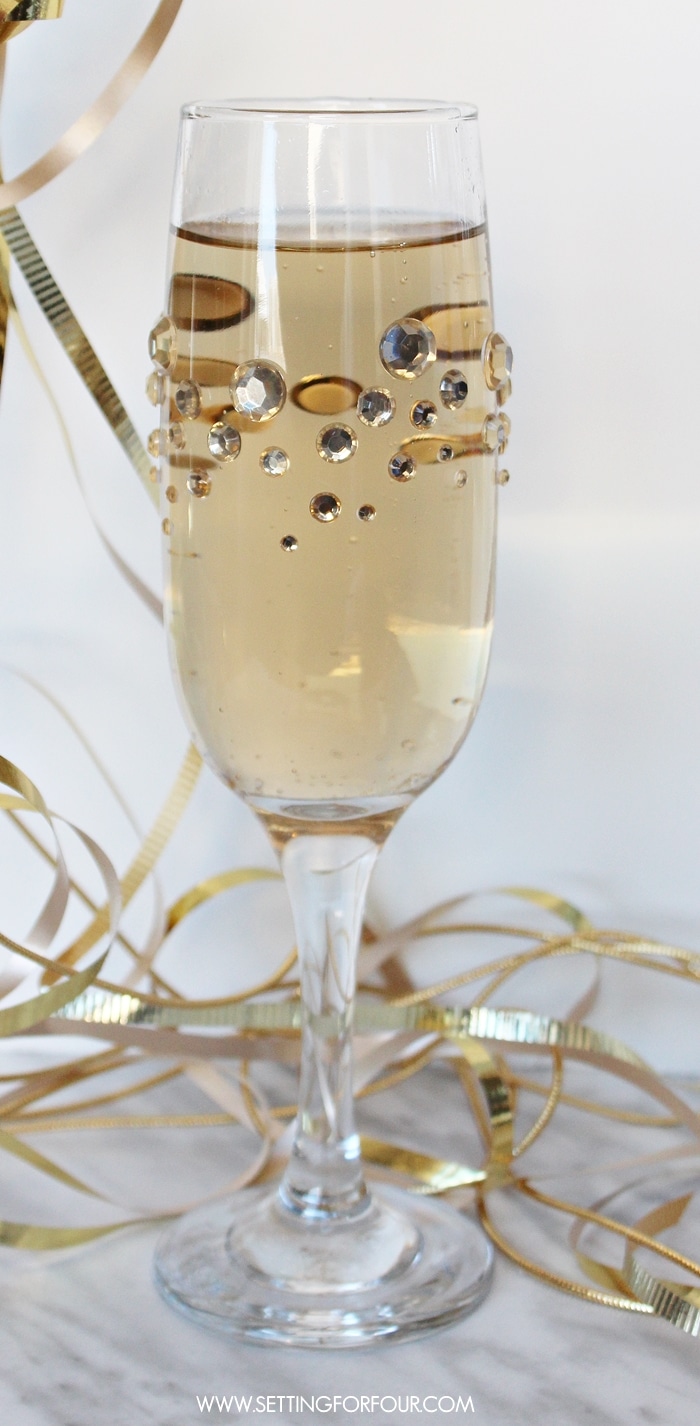 I hope you enjoyed my tutorial to make these glamourous, sparkly Rhinestone Champagne Glasses! I hope they add some fun bling to your next party!

I hope you enjoyed my Quick and Easy DIY Rhinestone Champagne Glasses tutorial!
Happy New Year everyone!
Are you going to be watching fireworks this New Year's Eve? Make sure you check out my 10 Tips – How to Photograph Fireworks!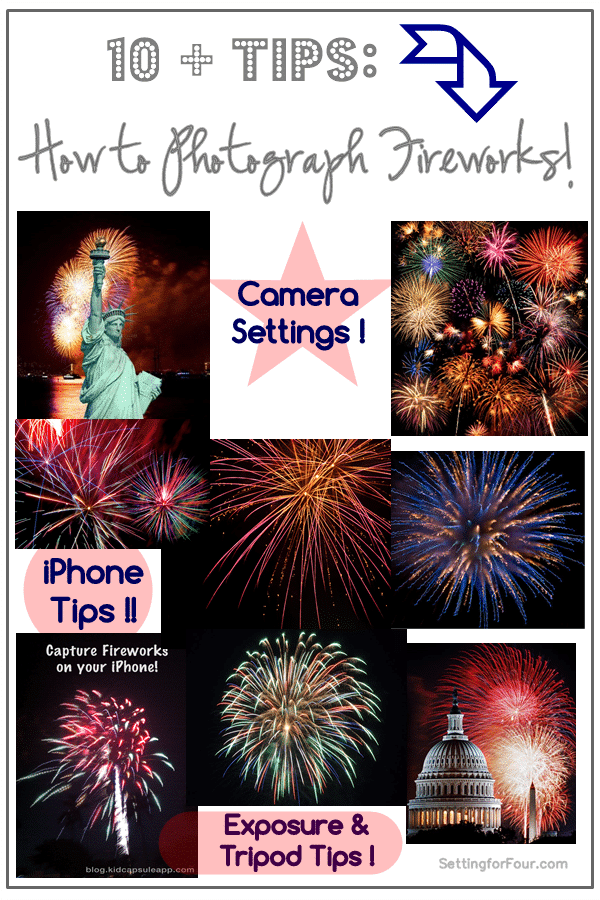 Easy Drinks and Appetizer Ideas for New Year's Eve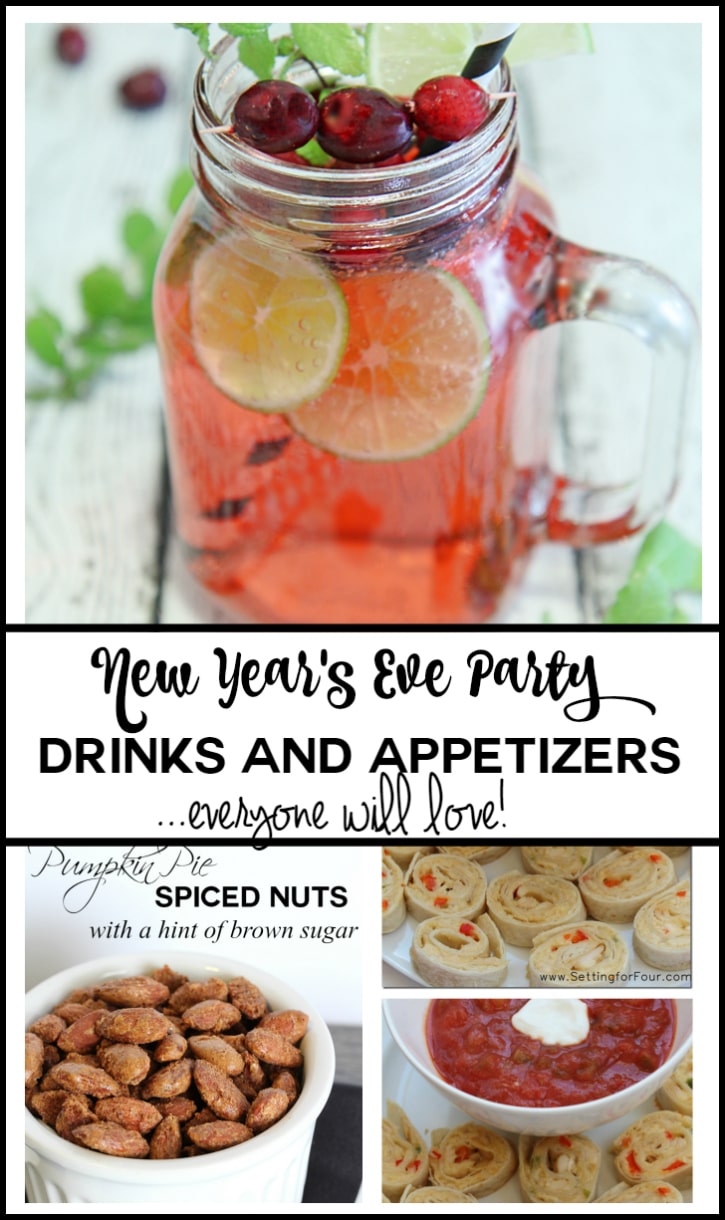 New Years Eve Bash Party Inspiration: