Come see our 'New to Us' Home! It's been a busy 2 weeks of moving and unpacking but we are officially moved in!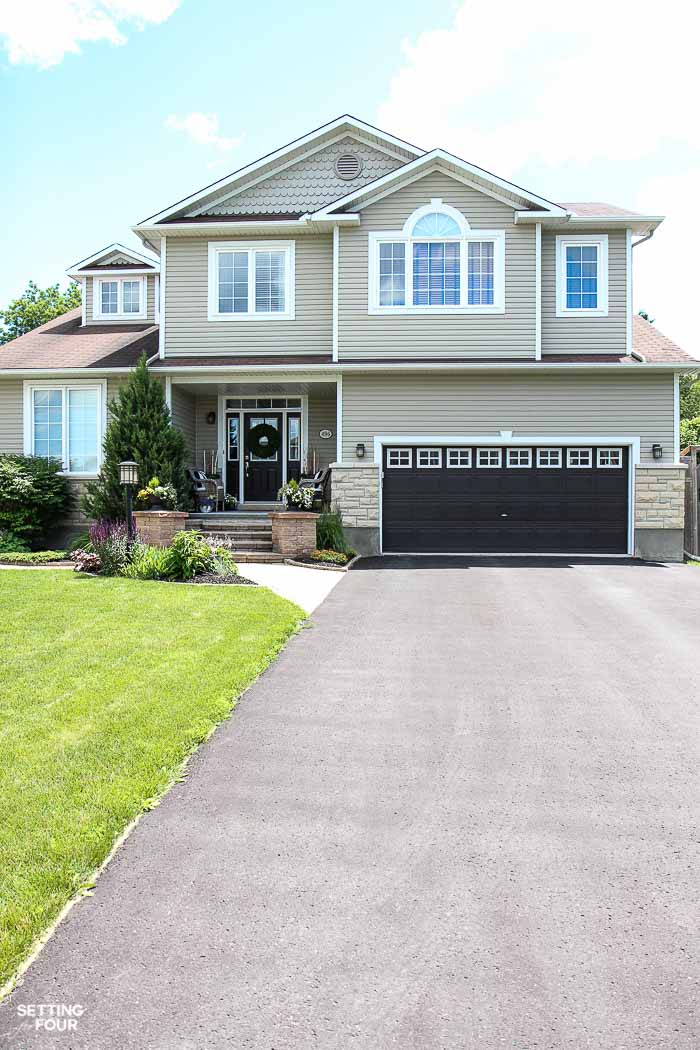 Our 'New To Us Home':
We are thrilled that we were able to find this gem in 3 days of house hunting!
We really love it and the potential that it has.
Right off the bat, we were instantly attracted to its curb appeal.
I love the landscaping in the front: some ornamental grasses, purple coneflowers and lilies.
The front walkway to the door is interlocking stone. I can't wait to decorate the front doorway with a couple of urns, maybe a chair……
Our home has lots of windows as you can see so it's very bright inside.
To the left of the front door is a window….that's our office where I am sitting right now typing this!
The upper windows above the garage are in my youngest boy's bedroom. He has two big windows so there is lots of light in his room too!
The window above the doorway is in our guest bedroom and the dormer window to the far left opens onto our living room below.
If you look to the right of the garage you can see a fence with a door in it that leads to our backyard.
See those pine trees above the fence? Those go all the way across our backyard, so we are very lucky to have a beautiful view of lush green forest. This forest is government 'protected' land so it will never be developed.
I'll post more pictures of the exterior and interior through the upcoming days and weeks, so stay tuned! I can't wait to get completely unpacked so I can start the fun stuff of painting and decorating!
So what do you think of our new home so far? I think we are going to make many happy memories here!
Thank you SO much for coming by for a visit! I love to hear all of your comments!
You may also like:
7 Ways To Make A Small Living Room Feel Larger Instantly!