Make these pretty DIY Ribbon Trimmed Tea Towels to decorate your kitchen – so quick and easy to make. These gorgeous kitchen towels are a great gift idea too!
Today I'm sharing a tutorial on my latest DIY project for the kitchen – Ribbon Trimmed Kitchen Towels!

I used a gorgeous French Gray ribbon but you can use any color you want that goes with your kitchen colors!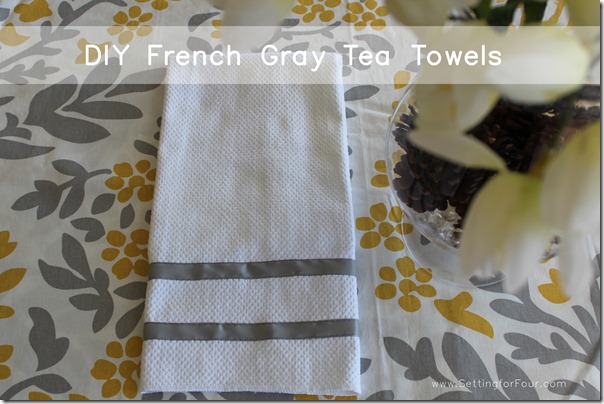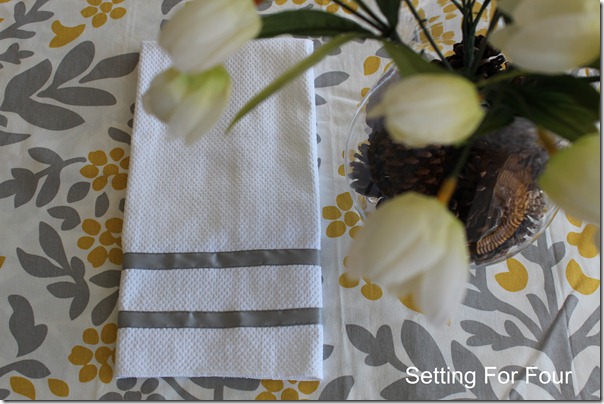 These towels fit in so beautifully with my white kitchen and love of gray: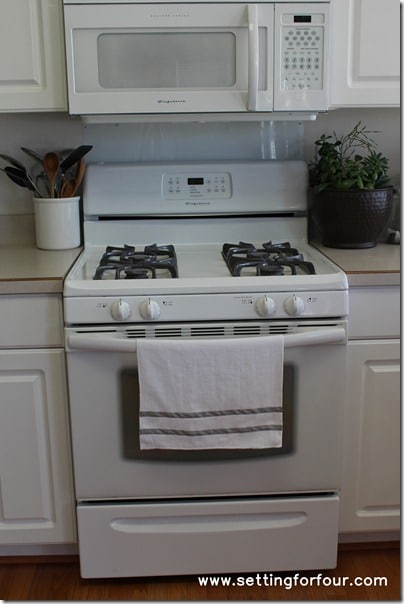 affiliate links are used in this post for your shopping convenience
I just love how the stripes turned out!
Don't worry if you're not an experienced sewer! This tutorial is very easy!!!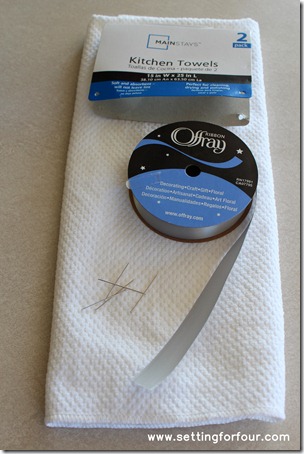 Supplies:
– white kitchen towels
– roll of satin ribbon (I used a Gray color but you can use whatever color you like).
– thread to match the ribbon color
Easy Sew Tutorial for Beginners:
Wash and dry towels according to instructions on package.
Cut the end of the ribbon straight across. The ribbon has a shiny side and a matte side. I sewed the ribbon onto the towel so that the matte side faces out.
Fold 1/4 inch of the ribbon's raw edge under so that the matte side faces out.
Lay the ribbon 2 inches from one end of the towel. Place the pressed-under edge so that it meets one long edge of the towel like this: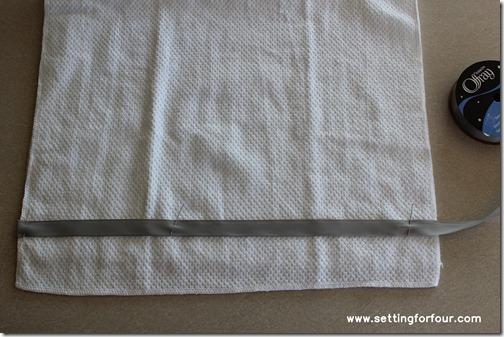 Cut the other end of the ribbon about 1.5 inches longer than the width of the towel. The ribbon will tend to 'shorten' as you sew so if you cut the ribbon exactly to the width of the towel, the ribbon will be too short.
Starting at the end of the ribbon that is folded under, begin to sew close to the edge of the ribbon. (Ignore the green painters tape. I put it there for a previous sewing project as a 2 inch marking guide).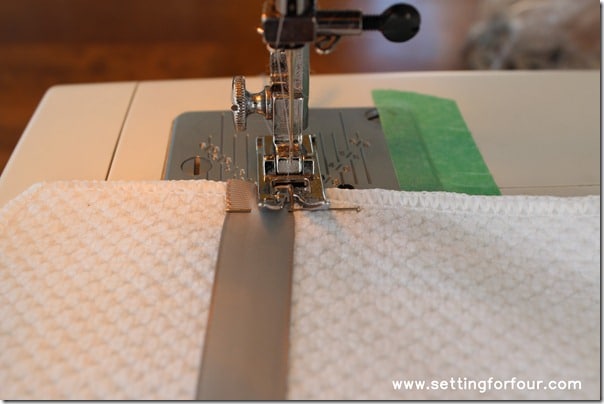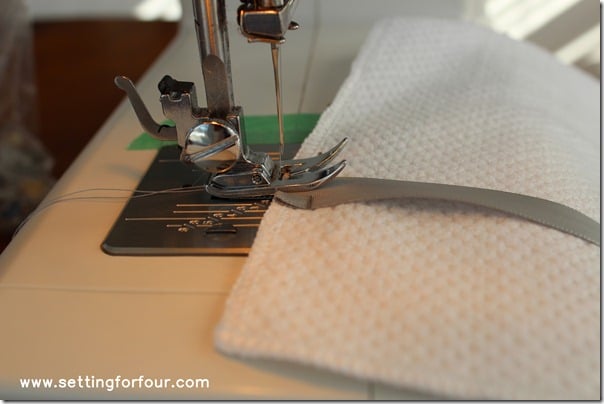 Remove pins as you sew. Once the other end of the ribbon is 1/2 inch from the needle, fold the edge under. This will make sure you have the exact length of ribbon needed.
Continue to sew the other 3 sides of the ribbon so that you end up where you began sewing.
Sew a second row of ribbon 2 inches higher than the last row.
Voila, you are done!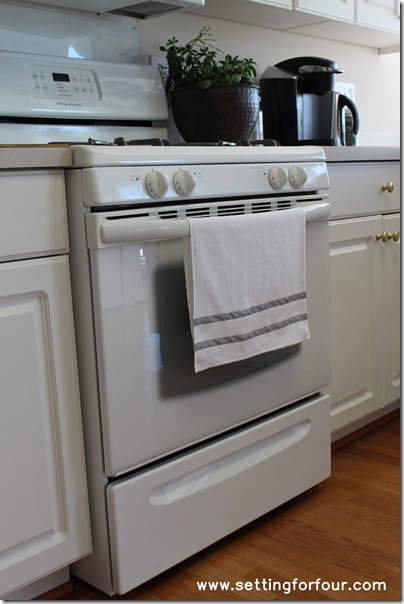 I really love how these towels turned out. I was surprised how quick and easy they were to make! And so inexpensive too!! (Must make some more for hostess gifts!)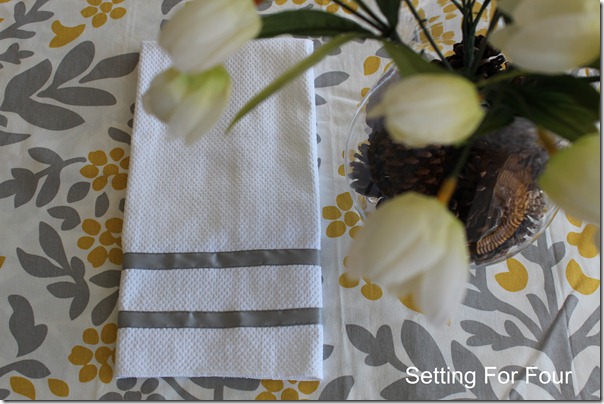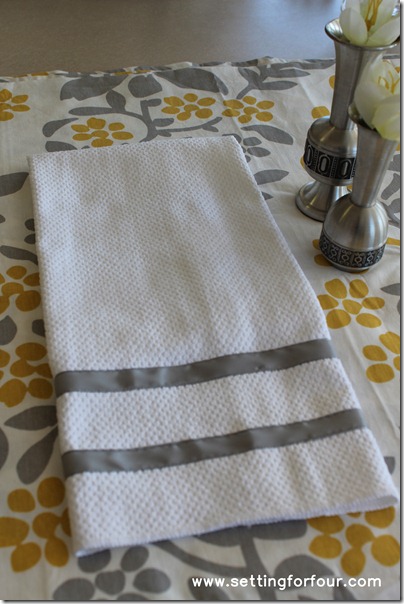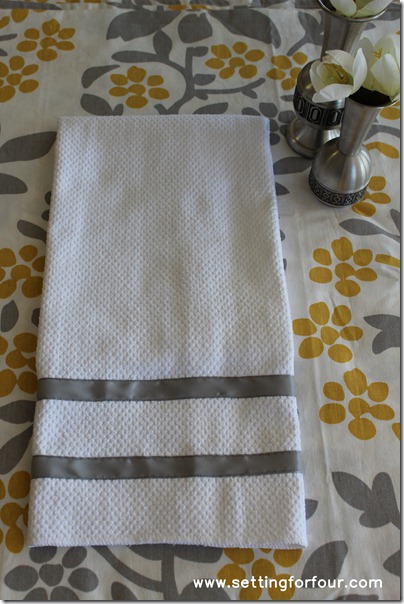 French Gray trimmed kitchen towels – a quick and inexpensive DIY to perk up your kitchen.
You may also like:
10 Minute Decor Ideas to Transition Your Home for Springtime