How to Create and Decorate a Fall Vignette! 5 decor tips to help you create a gorgeous vignette anywhere in your home this autumn!
I've been super busy decorating my home for fall since September and shared lots of posts on how I've added a touch of autumn to my home! ( I've listed them at the end of this post)
Before I start to pack away my fall accessories and begin decorating for the Christmas holiday, I thought I'd show you one more Fall Decorating Tip.
Here are some tips I use as an Interior Decorator on How to Create a Fall Vignette!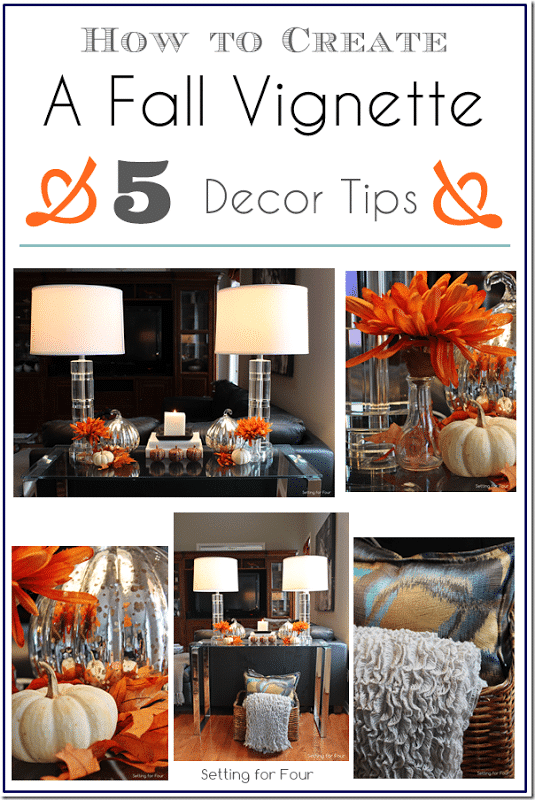 We purchased this beautiful contemporary glass and chrome console table when we moved to our new home last year. We love the sparkle and shine of the chrome and the clear glass!
I wanted a console table that not only made a style statement but also had little 'visual weight', since our open concept living and dining room already has lots of furniture pieces and I didn't want the rooms to look heavy and overdone!
A table made from wood or other solid material didn't fit the bill (we already have an antique mahogany wood dining table and cabinet nearby in the dining room) but the glass is perfect for creating the clean lined look and the 'visual lightness' that I was going for!
The contemporary style contrasts beautifully with the traditional features of our antique dining room furniture. Mixing contemporary pieces with antiques and traditional furniture pieces adds interest and variety to a room and keeps the look fresh and current, not ho-hum!
The console table's scale is proportional to our sectional sofa and it's the perfect place to add extra lighting (two Ralph Lauren crystal table lamps from HomeSense!).
The beauty of having a console table is that its the perfect place to create vignettes and decorate for the seasons!
This is the scoop on how to create a Fall Vignette:
1. Give your vignette balance – (balance is one of the principles of interior design…the other principles are unity, variety, space and emphasis!)
Decide on whether you want symmetrical balance or asymmetrical balance.
Myself, I love symmetry and having an even number of items placed on each side of my table!
2. Stagger the heights of your decor. Also, collect some accessories together in a group and place some items forward and stagger some behind for a layered and dimensional look!
(The white baby boo pumpkin is in front with the vase and mercury pumpkin behind and the lamp placed at the back!)
Pick some items that are tall and some that are shorter for variety. My table lamps are tall and all the other elements are shorter. Create a triangular effect:
Stacking my books and adding a pillar candle on top adds a 'massing effect' for interest. Just like a collection of pictures looks more interesting when they are hung as a gallery wall rather than randomly placed all over on a wall, by stacking the books and candle on top of each other it gives more emphasis to each item!
3. Pick some accessories with a punch of color: I featured copper and orange in my vignette! Large orange mums and copper colored dried fall leaves.
4. Add some neutral colors: White books, white baby boo pumpkins, a large white pillar candle and chocolate colored sparkly pumpkins round out the color palette for my vignette.
Don't you love these adorable mercury glass pumpkins?
5. The last step is to add texture!
I filled this large wicker basket (great storage idea too) with peacock colored pillows and a fluffy grey throw! Cushy!!!
There I'm done! I love how my console table looks all decked out for fall. I think I'll leave the candle burning and grab a cup of hot chocolate to admire it all!
I hope you enjoyed my Fall Vignette decorating tips and tricks!!
Today's post is part of a fabulous blog hop "The Scoop on Creating Fall Vignettes"!
25 talented Bloggers over 5 days are showing you the most wonderful autumn vignettes. There will be tons of inspiration you don't want to miss!
What an talented group of bloggers! I am sure you will find tons of inspiration and helpful tips from these savvy ladies on how to create your own fall vignettes!
* * *
Check out my decor tip filled post on How to Style a Sofa Table as well!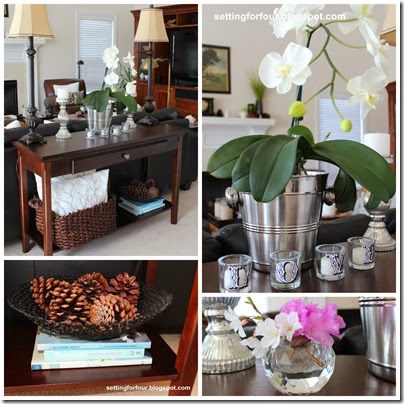 For more Decorating Tips visit my Decor & Design Ideas and Tips Page!
…More decor how-to's: Tips and Tricks to Decorate Your Home for Fall – Inside and Out…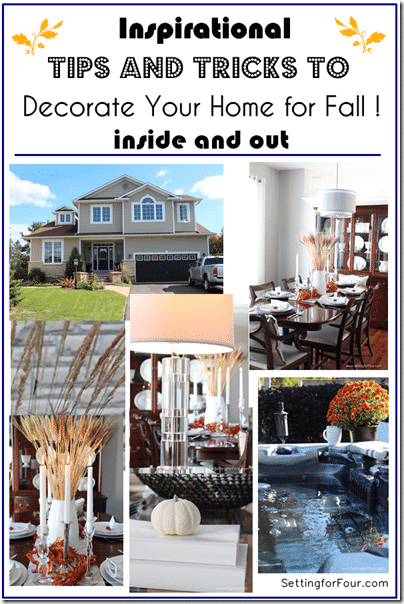 ….and Five Fall Porch Decorating Tips to Add Curb Appeal….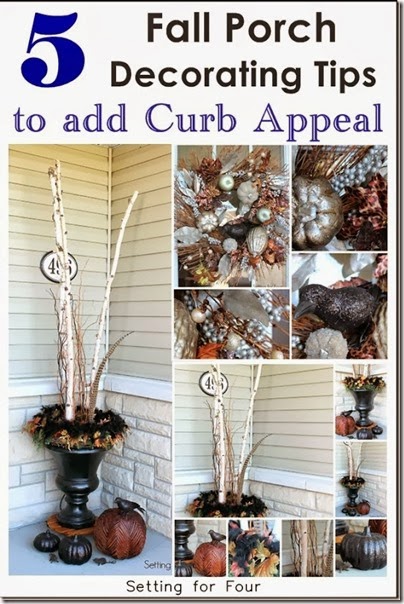 …and my recent decorating post How to Create a Thanksgiving Tablescape!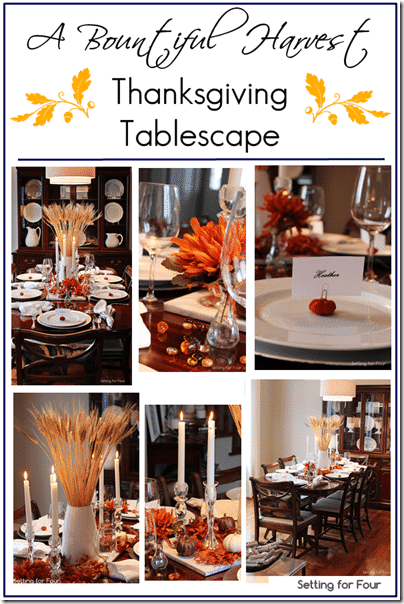 I hope you enjoyed all of these decor and design tips!