Creating a cozy reading nook is so important to me as a busy mom and blogger. Sometimes all I need is a few moments alone snuggled in a cozy chair with a good book or my iPad to surf my favorite decor sites to unwind and get me thru the crazy-busy day!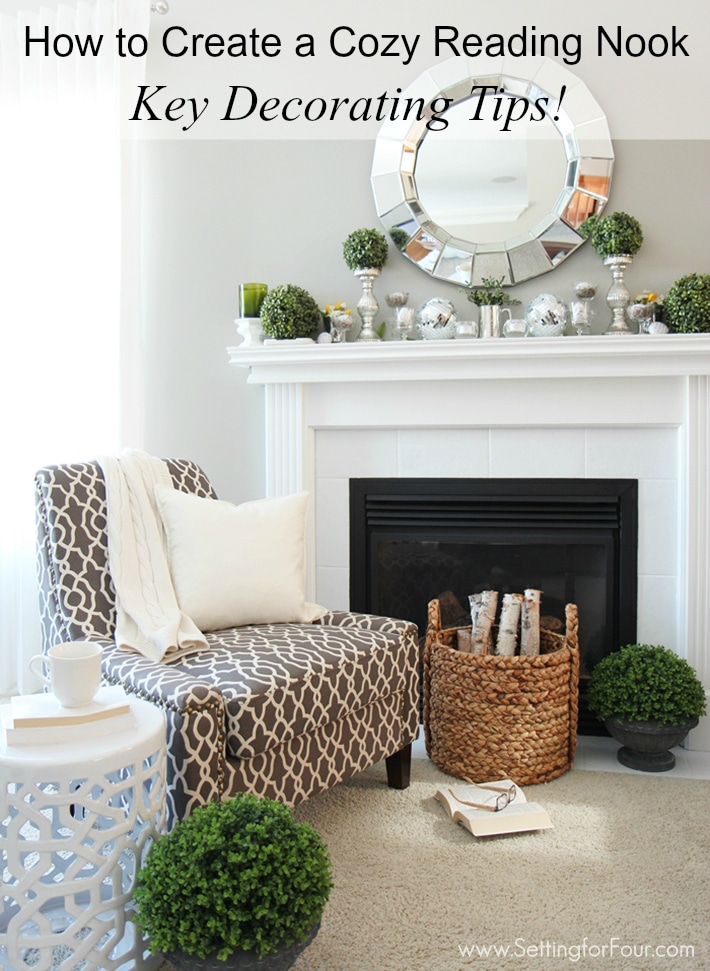 A few weeks ago I created this little reading nook in our family room by our fireplace and I love it! It's got all the essentials of a good reading nook – a comfy, pretty chair, a spot to hold my tea cup and coffee mug (I used a garden stool), a comfy pillow and throw blanket to cuddle up to!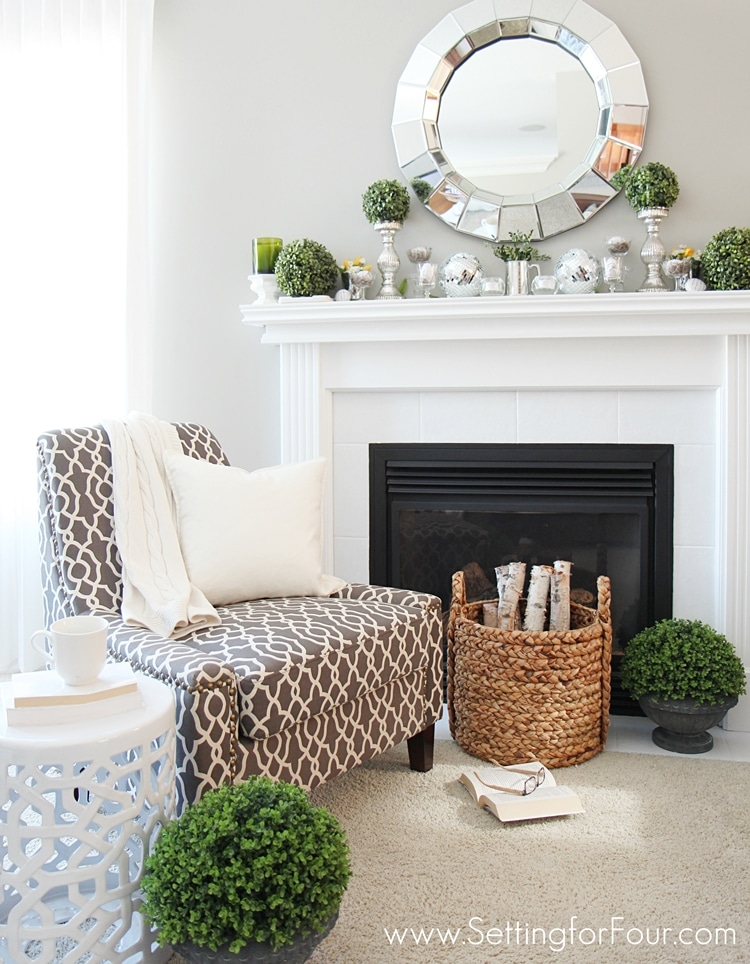 My decor philosophy has always been that your home should tell your story and be filled with the things you love. Decorating doesn't have to break the bank and your home doesn't have to be filled with the trends of the moment. You home should reflect what you find joy in, your collections, what brings you and your family comfort and happiness.
When it comes to home décor and design, I also don't want to just copy my neighbors or friends. It's all about styling a space that's my own and putting my own unique look together.
I've mentioned many times before that my decor style is rustic glam, casual elegance. Sparkle and shine, metallics mixed with rustic touches and lots of neutral black, white and grey. This is my unique style, it's what I find joy in and brings a smile everytime I look around my home.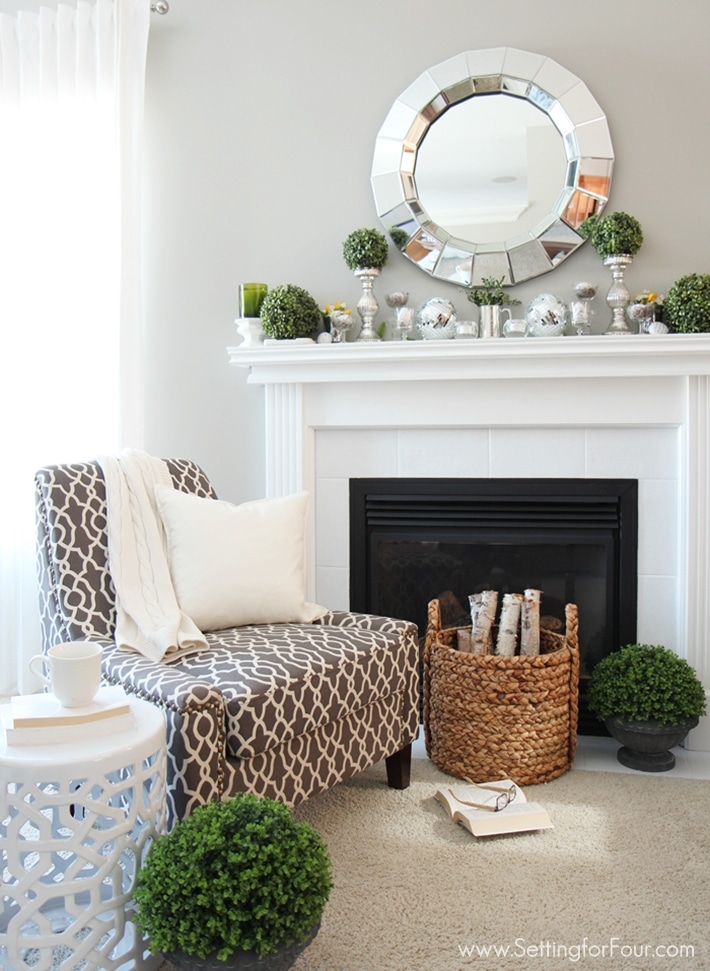 As an interior decorator and nester who loves to change up my decor once in a while and decorate every corner of her home, I have to do it affordably – I don't have an unlimited decorating budget so I love to personalize my home with affordable, stylish furniture.
My cozy reading nook started with this Nico accent chair I instantly fell in love. Hello white, grey and trellis patterned beauty!! The metallic nailhead trim and slightly sloped arm is pure elegance! It has a transitional style which I love too. The other reasons that I fell in love with this chair, other than it's good looks of course, is it's size (big enough to curl up in but not monstrous) and quality (durable linen upholstery and solid wood legs).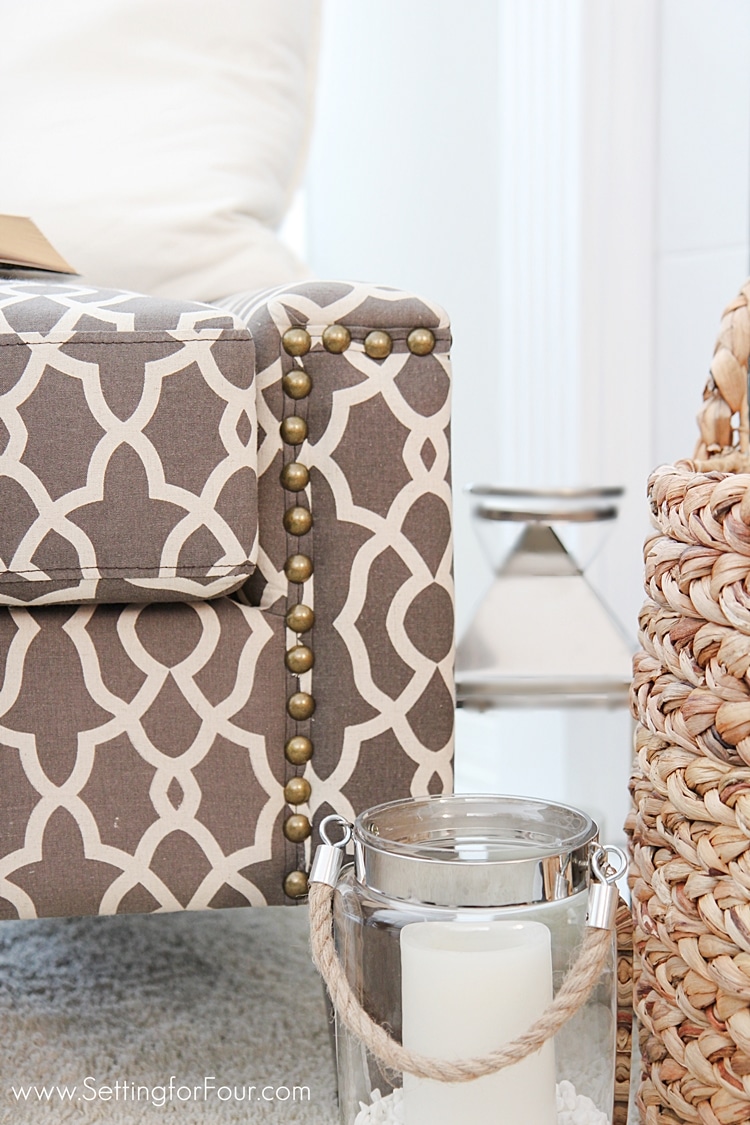 How to create a cozy reading nook:
When creating a reading nook here are a few of my own unique design elements that make it function, flow with the entire room and add my unique style to our living room space.
1. Add a small table or stool: The trellis patterned white garden stool is not only the perfect size to hold a few books and a mug but it can double as extra seating for parties.
2. A cozy cabled cream colored throw blanket. On those cool mornings and evenings it's nice to have a warm comfy throw blanket to tuck around my legs.
3. A white linen pillow. A pillow adds a bit of extra comfort and of course style too!
4. Lighting: I have an obsession with lanterns! I love to use them and battery operated lights and candles to create soft glowing light when I'm in my reading chair browsing on my iPad. When I'm reading a book at night there's overhead lighting.
5. Collections: I collect boxwood decor – I love boxwood so much! I added mini elegant boxwood urns for a pop of rich green color.
6. Decor: Adding other decorative accents set's the mood for a relaxed ambiance. A casual rustic reed basket filled with birch branches I collected from our backyard adds texture. Mercury glass, forest green candles and vintage crystal on my glam mantel decor adds more color and sparkle to my reading nook.
These style components that make up my reading nook were all created around the star of the show…my nail head, grey and cream trellis patterned chair!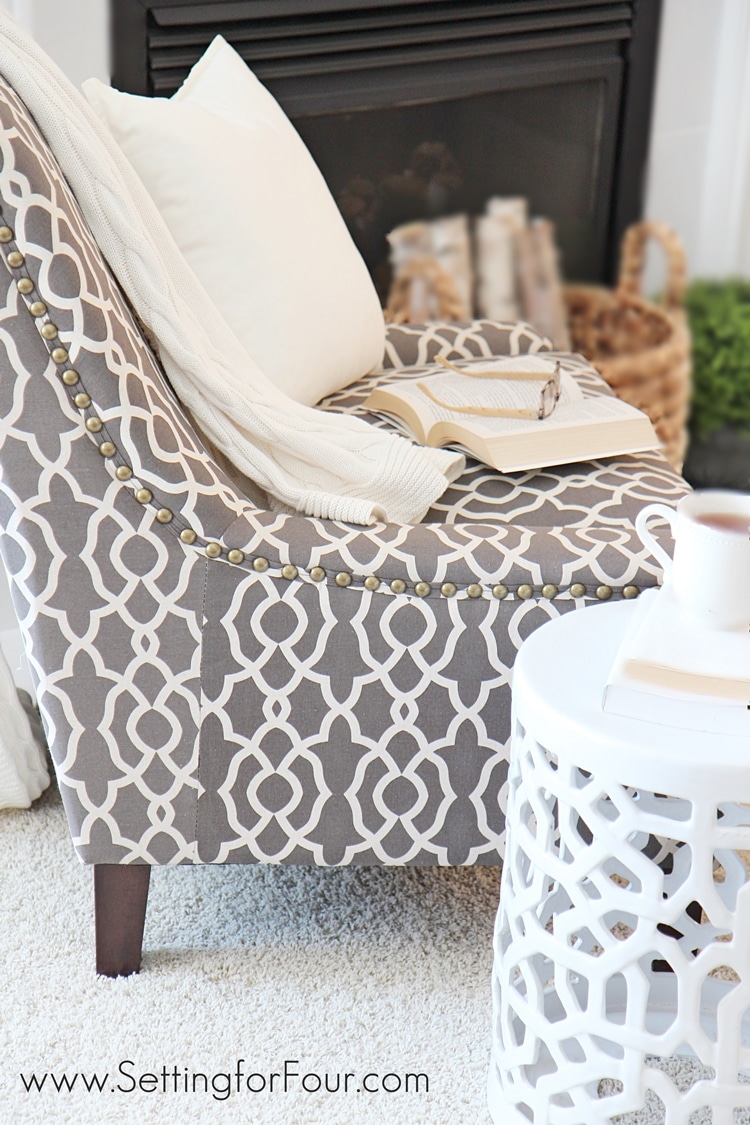 ….and it's so easy to change up my decor with this neutral grey and cream chair to create different looks for the seasons. I switched out the white linen pillow, added this soft aqua velvet one and added some aqua colored candles to my mantel for more of a summer, beachy, coastal look. A rope handled lantern adds some sparkle, shine and that rustic elegance style I love.
Design tip – mix your metals! It's okay to not be matchy-matchy! See how I mixed my metals with a chrome lantern and the burnished brass nail head trim on the chair? This creates the collected and interesting look that I love. The brass nail head trim does coordinate with the color of the basket and the rope on the lantern so think of using other decor items to make your various metallic finishes work in a room!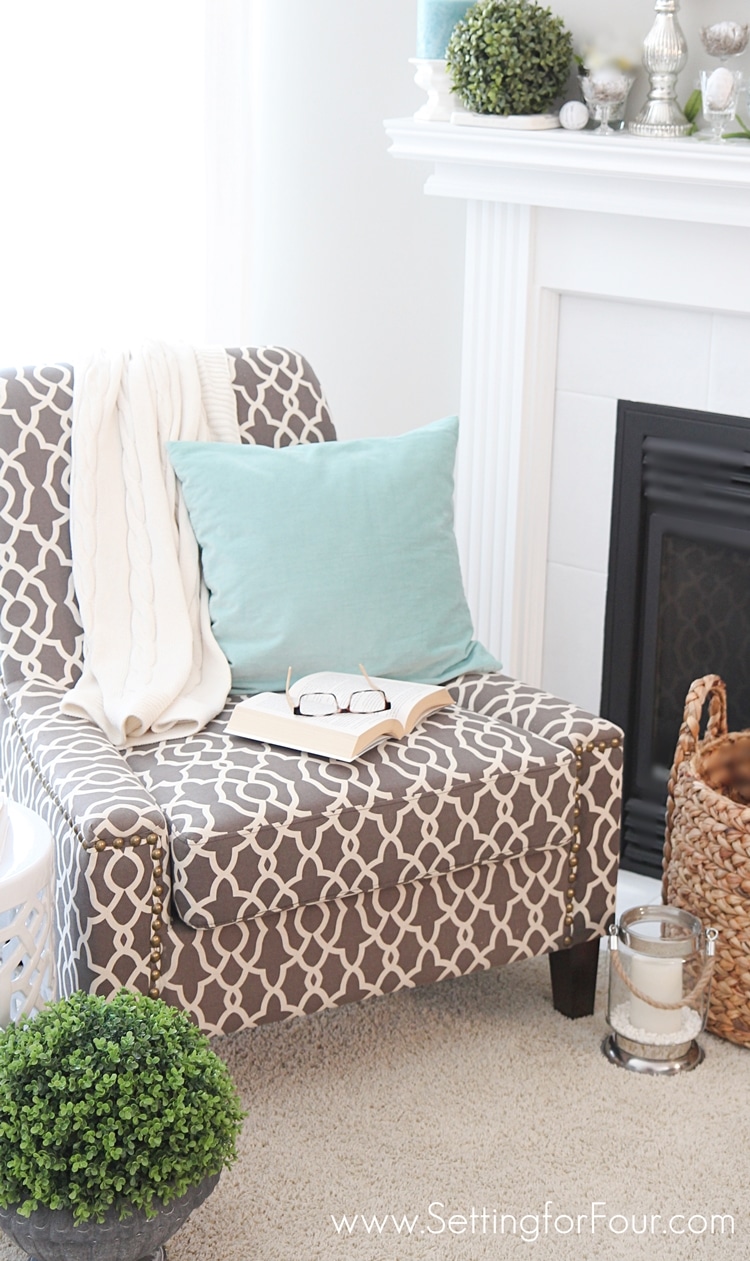 For a feminine look I added a pale pink fringed scarf to my reading nook (sometimes just a scarf to throw over my legs or wrap around my neck adds the perfect touch of coziness and warmth), a rosy pink candle to my garden stool and some pink flowers on my mantel. I've always loved a pink and grey color combo! I clipped one of my mom's vintage broaches to the pillow for this photo to show that you can use what you have to decorate! The pearls and flower shape of the vintage brooch add another touch of feminine style to my reading nook.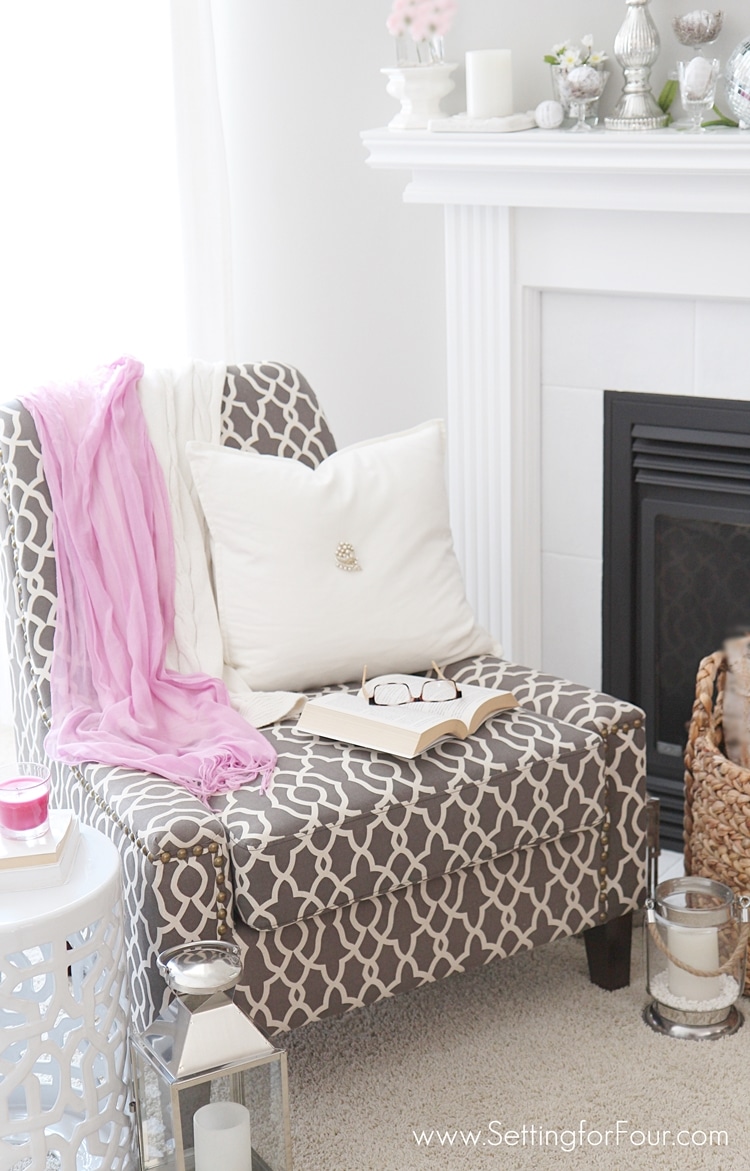 So if your style is vintage, eclectic, farmhouse, modern or industrial surround yourself with it and your collections that you love!
It's easy to put together your own unique style when you start off with gorgeous basic furniture pieces like this accent chair that you can style and make yours!