Love Free Printables! Here's one for all of you bird and nest lovers! Free Bird's Nest Printable, perfect to bring a touch of nature to your home decor!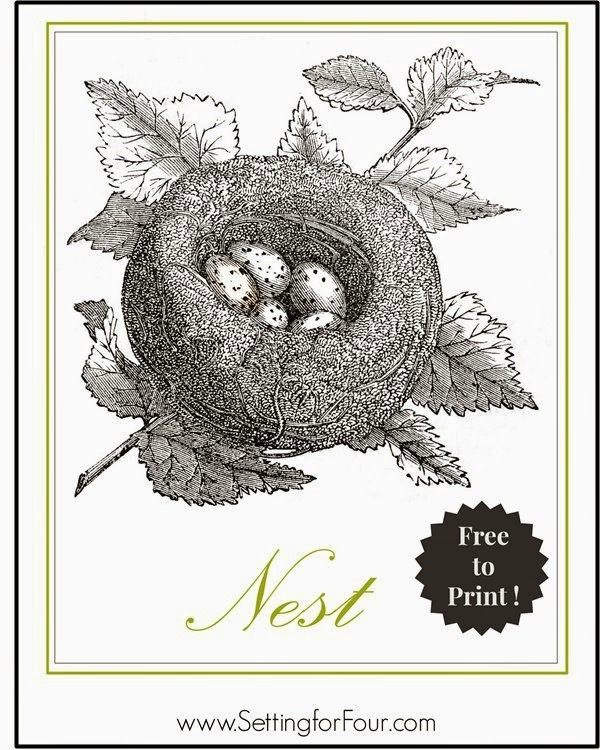 I used a nest vintage graphic from The Graphics Fairy, added the word 'Nest' in lime green Palace Script Font and outlined it in a matching black and green square.
I love the pop of lime green with the black – so fresh!
This is a printable perfect to frame for a gallery wall or a tabletop.
I'll show you in an upcoming post where I put mine! Stay tuned!
See all of my Free Printables here!
~ ~
(Thanks everyone for all of your well wishes on facebook as I've faced a challenging two weeks with a trauma injury to my leg – 2 weeks ago I wiped out on my mountain bike and have a huge amount of soft tissue damage to my upper thigh, as well as numerous scrapes and bruises on my right arm, elbow and knee. There was suspicion that I had fractured my pelvis – however x rays yesterday confirmed there is no fracture! Thank goodness! I'm so relieved. I'm currently in a physiotherapy program to reduce the swelling and bruising and hope to be back to 100% very soon! I'll keep you updated as I progress through my injury! Thank you again for all of your amazingly kind words of support – it means so much to me and has really uplifted me through the pain and recovery!)
~ ~ ~ ~
Sharing at: