Easy Mexican Lasagna with Crunchy Tortilla Chip Topping recipe! This is a delicious, chicken and cheese one dish meal perfect for busy weeknights! Your family will love this!
One dish meals are my favorite! During a busy week it's great to have easy recipes that don't require a lot of preparation or a lot of separate dishes to prepare and cook!
I made this for the first time on the weekend and my kids (one who is super picky!) and my hubby loved this dish! As a Mom who is always trying to make meals that everyone enjoys, when they give me the thumbs up on a recipe…. I say Yay !!….or should I say Olé??!!!!!
I'm so thrilled to share this flavorful and cheesy south of the border lasagna recipe as a General Mills Old El Paso Ambassador!
This cheesy chicken and tortilla recipe with a Mexican flair will be sure to become a family favorite !
The perfect busy night, one dish meal with a fiesta flair:
Easy Mexican Lasagna with Crunchy Tortilla Chip Topping!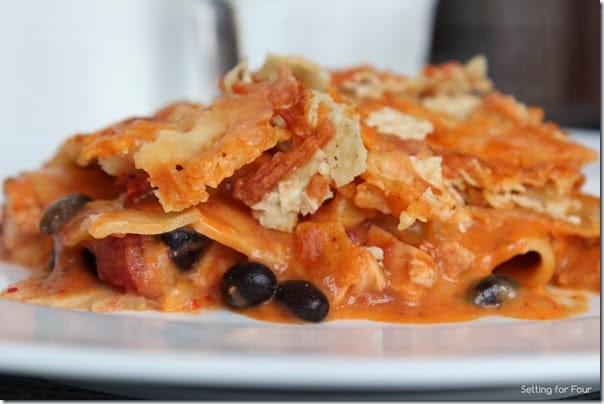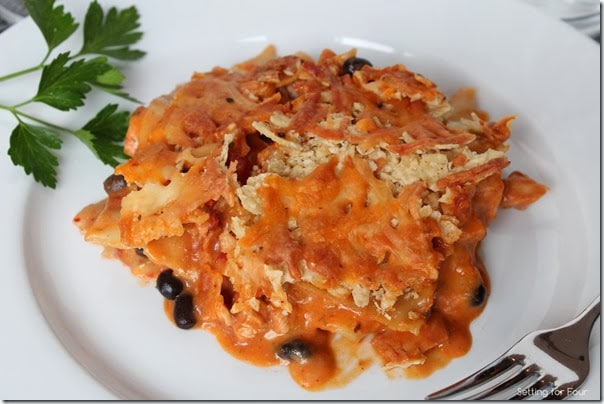 Ingredients:
3 cups chopped cooked chicken breast
2/3 cup canned diced tomatoes
1 (443 ml) can black beans, rinsed and drained
1 tsp garlic powder
1 tsp ground cumin
1 can cream of chicken soup
1 can cream of mushroom soup
1 can (295 ml) enchilada sauce
Cooking spray
12 lasagna noodles, cooked el dente
2 cups Tex Mex shredded cheese
3 cups of crushed tortilla chips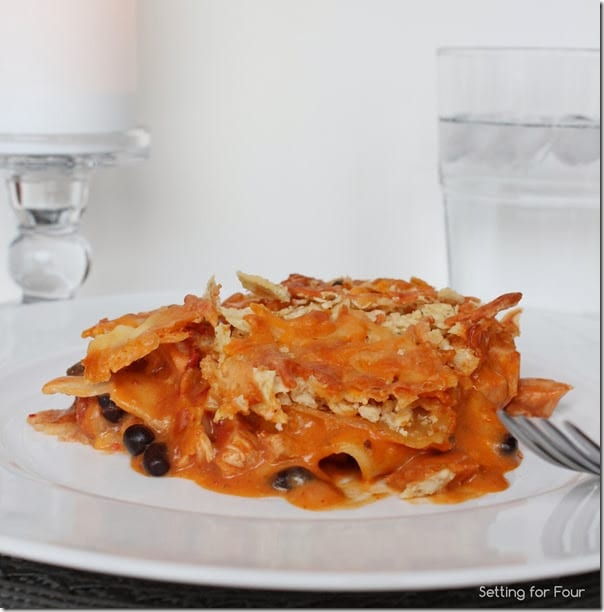 Directions:
1. Cook first 6 ingredients in a saucepan 10 minutes until thoroughly heated.
2. mix together chicken and mushroom soups and enchilada sauce and cook stirring often 10 minutes until thoroughly heated.
3. Spoon one third of sauce into a 13 x 9 inch baking dish coated with cooking spray. Top with 4 cooked lasagna noodles.
4. Spoon half of chicken mixture and one third of sauce over noodles.
5. Sprinkle with one third of the cheese.
6. Top with 4 noodles.
7. Add remaining chicken and one third sauce. Add last 4 noodles.
8. Add one third of cheese.
9. Top with crushed tortilla chips and cover with remaining cheese.
10. Bake at 350 F for 40 minutes or until lasagna is bubbly.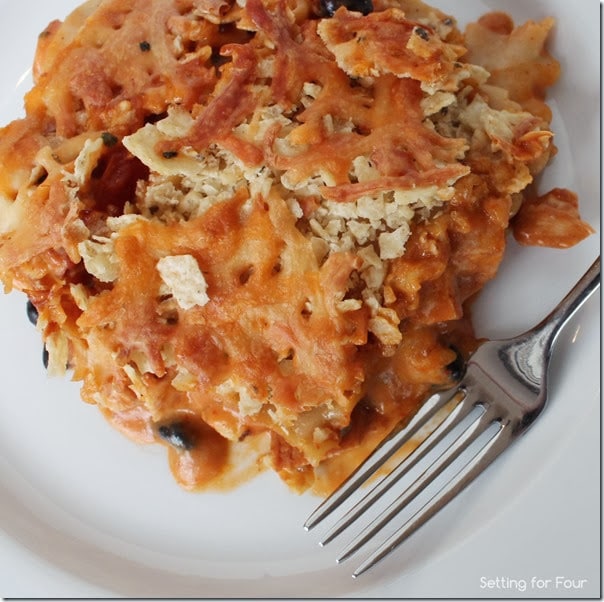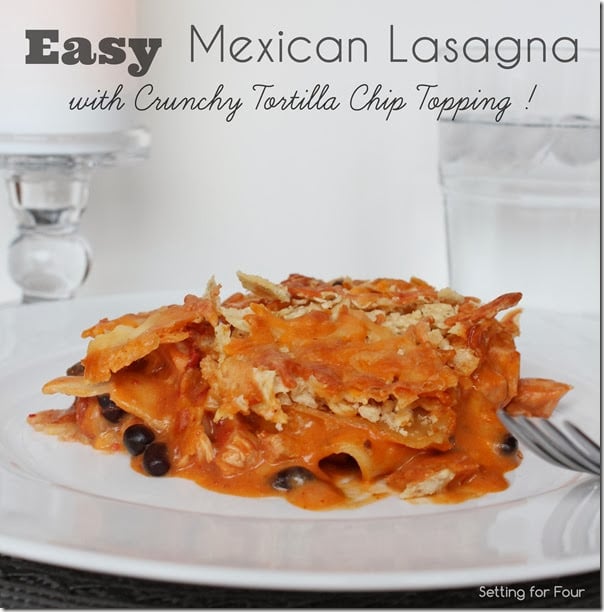 I hope you and your family will enjoy this Easy Cheesy Mexican Lasagna recipe!
Do you have any favorite easy to make one dish recipes?
See my other yummy Mexican recipes here!
Lime Chicken Fajitas with Mango Salsa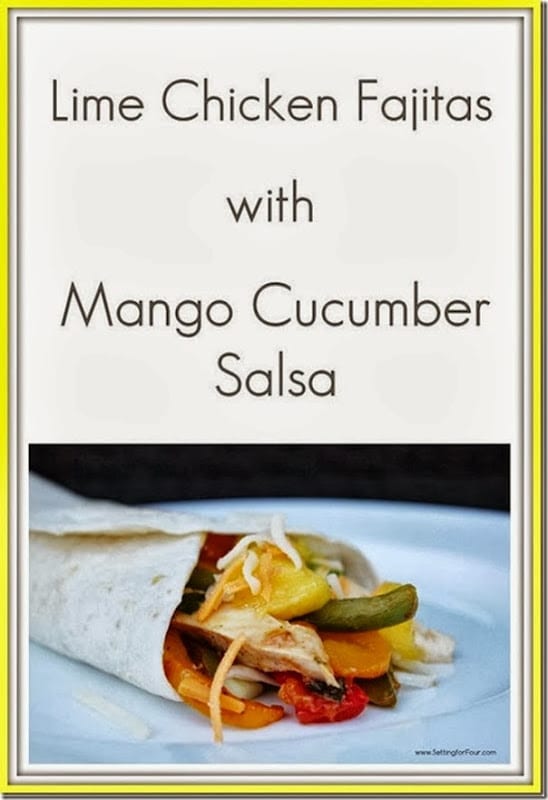 How to get out of the dinner time rut with Old El Paso!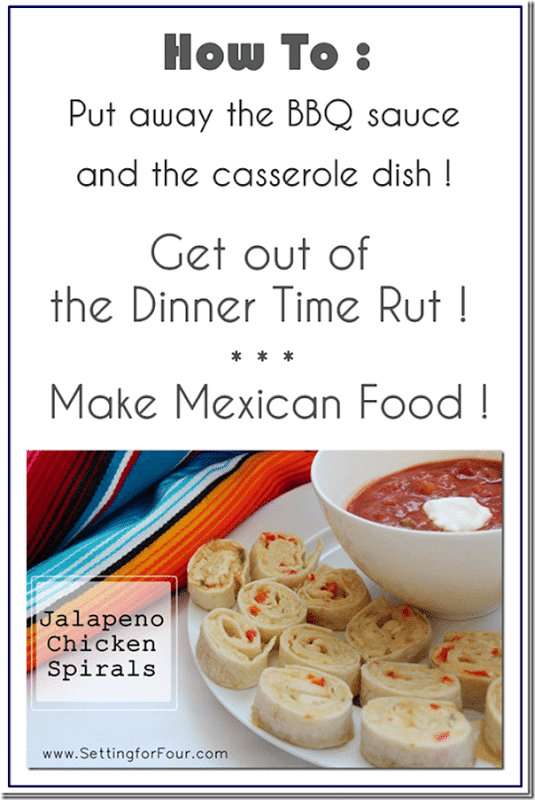 Disclosure – I am participating in the Old El Paso Blogger Campaign by Mom Central Canada on behalf of General Mills, and received compensation as a thank you for participating and for sharing my honest opinion. The opinions on this blog are my own.