Today I'm sharing a super quick, easy to make 'Chalkboard Art' hot pad to make in 15 minutes flat!
This DIY trivet has the look of 'real' Chalkboard art from the secret trick DIY 'hack' I used…. but it's washable (no need to worry about gravy drips!) and reusable too! The print won't disappear or fade away.
This is a great idea for last minute hostess gifts or teacher gifts too!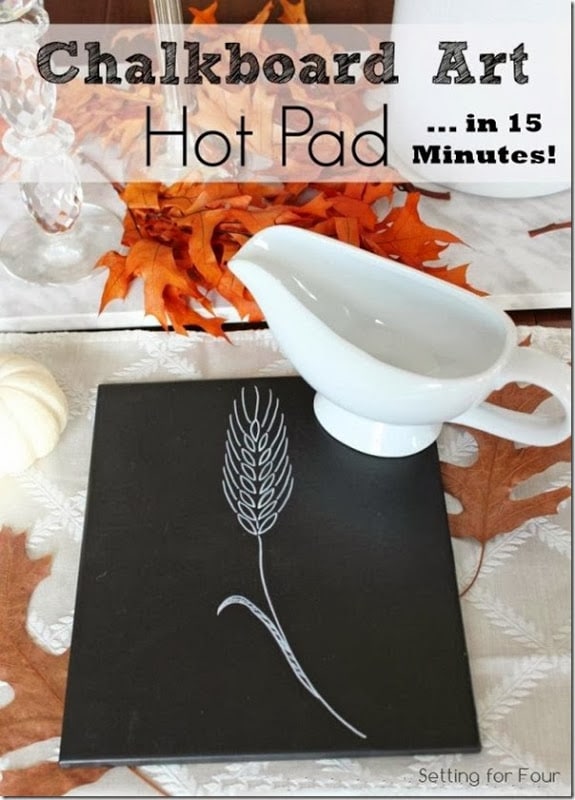 Chalkboard art and printables are all the rage right now. Here's a way to give your table settings an adorable chalkboard look PLUS protect your table when serving hot dishes! This would look fabulous at your holiday table!
15 Minute DIY 'Hack' Chalkboard Hot Pad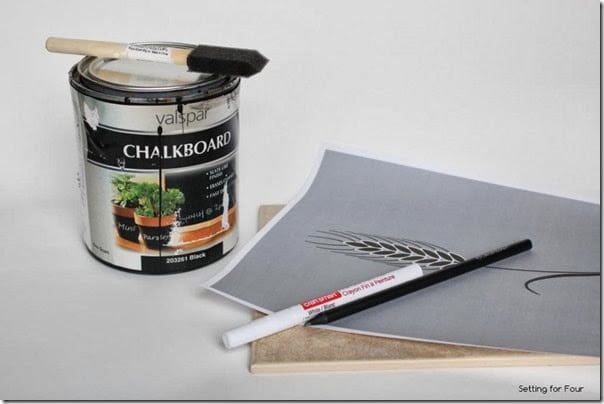 Supplies
– Tile: Use leftover tiles from a reno project or pick a few up at your hardware store. Local thrift shops and Habitat for Humanity might have them too!
– 4 small felt pads
– Pen
– Wheat graphic printed off a computer– google 'wheat graphic' to pick your favorite or use this wheat graphic.
DIY Hot Pad Tutorial
1. Paint tile with two coats of chalkboard paint. Let dry between coats.
2. I'm excited to show my secret little DIY Hack on how to transfer an image the easy way!: Rub pencil on back of print where the image is.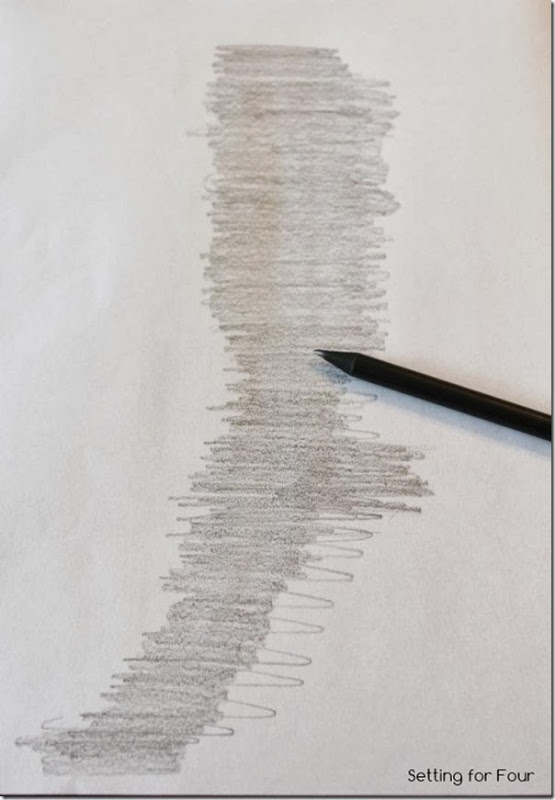 3. Center image on tile and outline the graphic with pen ink to transfer the pencil underneath onto the tile.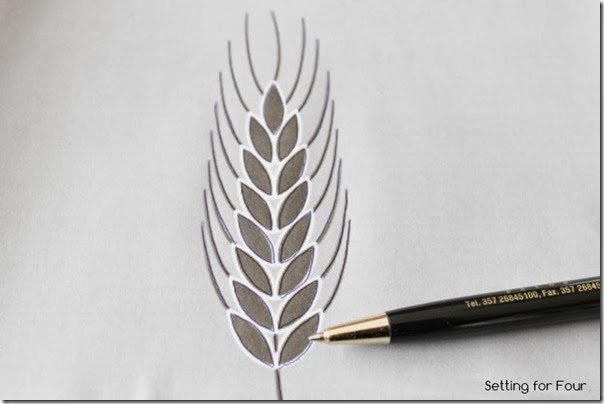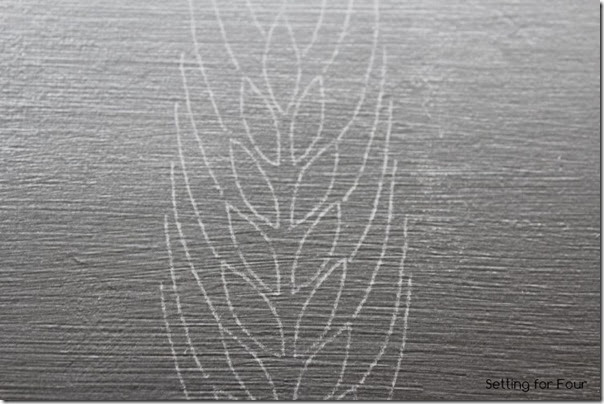 4. Trace the pencil marks with the white paint pen. Let dry.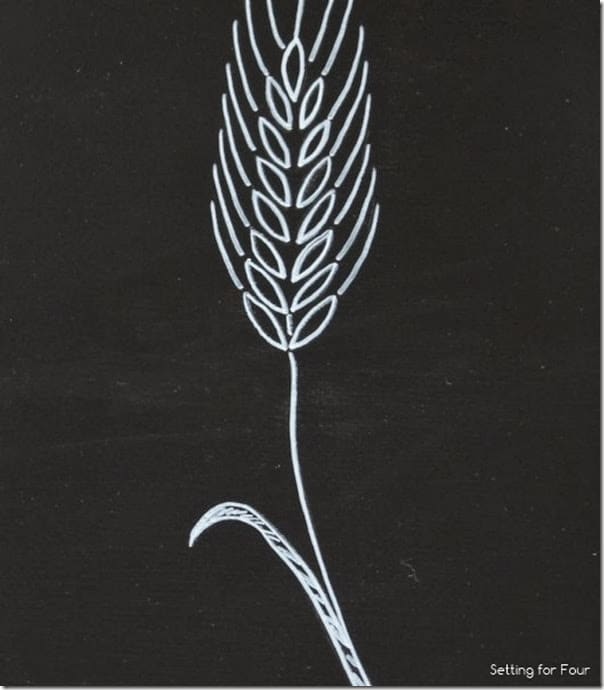 5. Add a felt pad to each corner of the bottom of the hot pad.
I love it – so pretty and functional! Doesn't it look like real chalkboard art? The black and white colors will go with any table setting color scheme too!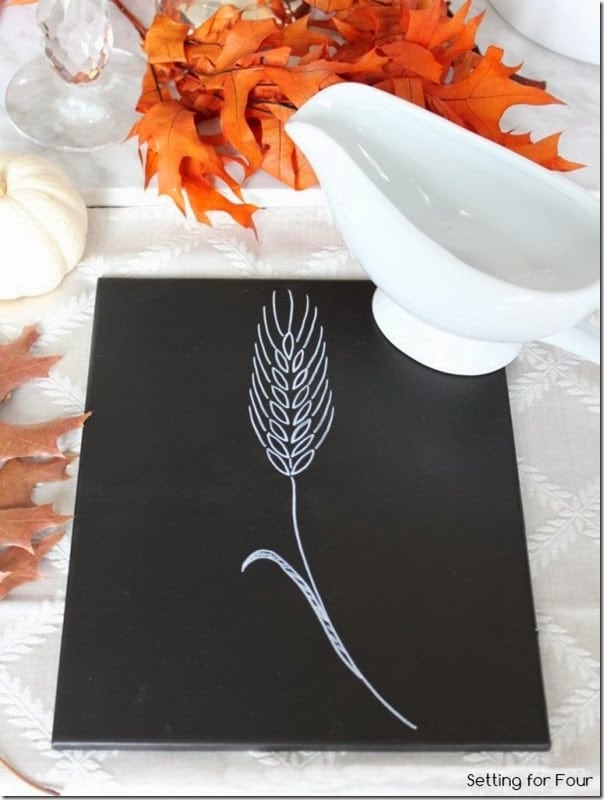 This Chalkboard Art Hot Pad can be quickly made in 15 minutes, excluding drying time of the paint.
If giving this as a gift: wrap it in a burlap ribbon and add some decorative DIY Metallic Leaves. Any hostess would enjoy receiving one of these trivets for her Fall and Thanksgiving table!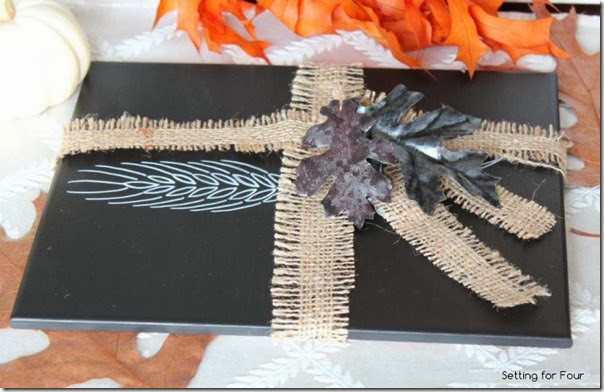 I hope you enjoyed this DIY Chalkboard Art Hot Pad tutorial!
Now I'm off to make some up for holiday gifts and a couple more to keep for myself!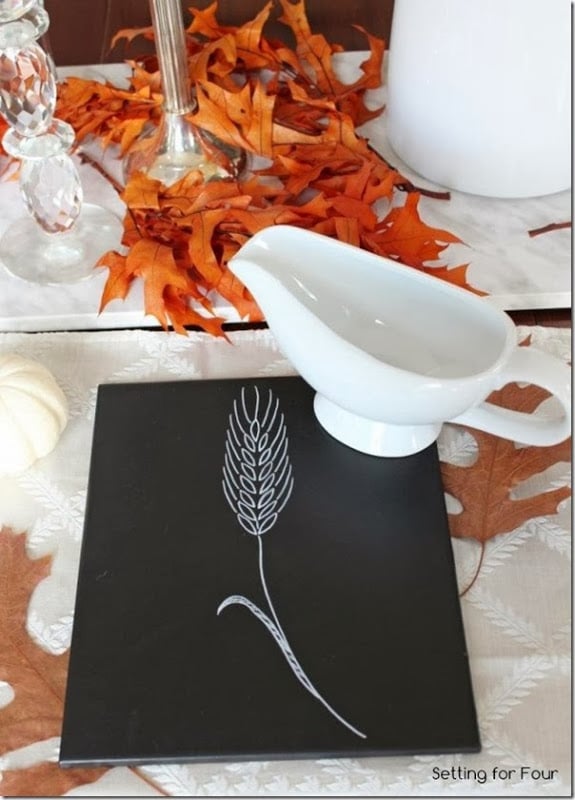 If you liked this DIY, check out these Monogram Chalkboard Coasters that I made using the same secret DIY hack! Another great idea for hostess gifts, teacher gifts or stocking stuffers.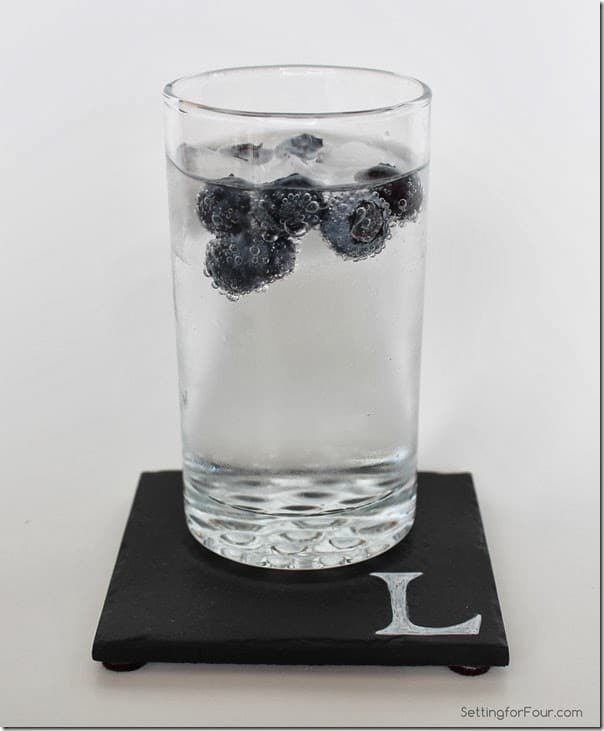 Here's another quick DIY for your table – a 5 minute DIY Place Card using mini pumpkins!