Christmas Decorating with festive candles – an easy way to set the holiday mood with beautiful fragrance, flickering candles and the smell of fresh pine needles!
The holidays are upon us which means decorating our homes with wreaths, ornaments and all the trimmings. Along with all of the festive sights of the holidays there is something special about the scents of Christmas to set the holiday mood and invoke cherished Christmas memories.

My favorite Christmas scent is fresh pine. The smell of fresh pine needles reminds me dearly of the home grown spruce trees my Dad grew on our lot and would put up each Christmas.
Growing up there was no walking through the woods to find a real tree…. no buying a real tree from a local store…. my Dad grew them for us!
I'll always remember the nail biting escapades of getting those Christmas trees in through the door – but wow what a beautiful aroma it gave our home once it was up!
Fresh pine also reminds me fondly of one of our past military postings to a northern part of the country filled with evergreen forests.
Even though my hubby was often deployed overseas on difficult missions during those years and we spent many Christmas's apart, when he was home we really cherished our time together!
We would go for many walks with our family through the pine forests and play with the kids in our back yard surrounded by pine trees…we made every minute of being together count.
This year I'm bringing the scent of fresh pine into my home. Thymes makes the most beautiful looking and delightfully aromatic fragrance items for the home including scented candles, cleaners, diffusers and fragrance mists!
As an Interior Decorator I love how quick and easy it is to set the holiday mood and decorate my home with Thymes Frasier Fir candles.
Frasier Fir is a beautiful combination of Siberian Fir needles, cedarwood and relaxing sandalwood blended to create a welcoming, woodsy feeling of comfort and joy!
Not only do I LOVE decorating my home with Thymes but they are great Holiday gift ideas too – teacher gifts, hostess gifts, stocking stuffers and holiday gift baskets!
This post contains some affiliate links for your convenience. Click here to read my full disclosure policy.
Here are 3 simple decor ideas for Easy Christmas Decorating with Thymes Holiday… that take only minutes:
You'll need:
For a Christmas gift basket idea you'll need:
sparkly Christmas greenery
1. Arrange a Frasier Fir ceramic candle on a tray and surround it with Christmas ornaments. I like to use white Christmas ornaments and blue Christmas ornaments that coordinate with the colors I decorate my white Christmas tree!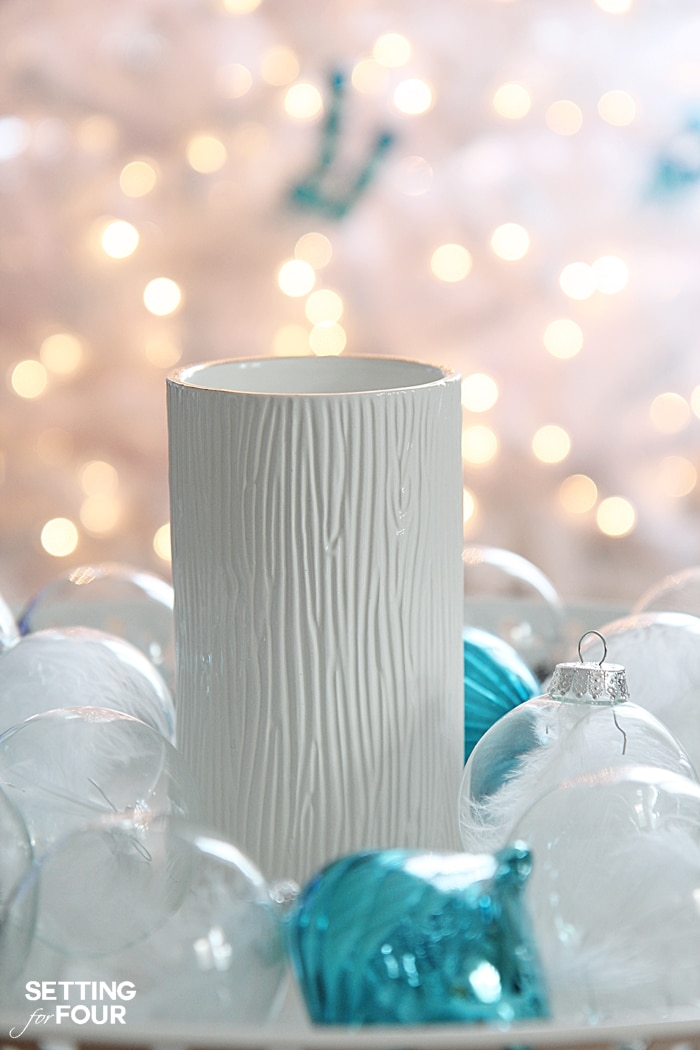 2. Add a Frasier Fir Sink Set to your kitchen countertop. This convenient set combines fresh woodland scented hand wash and hand lotion in a gorgeous glossy ceramic faux bois caddy. This makes the perfect hostess gift and teacher gift too!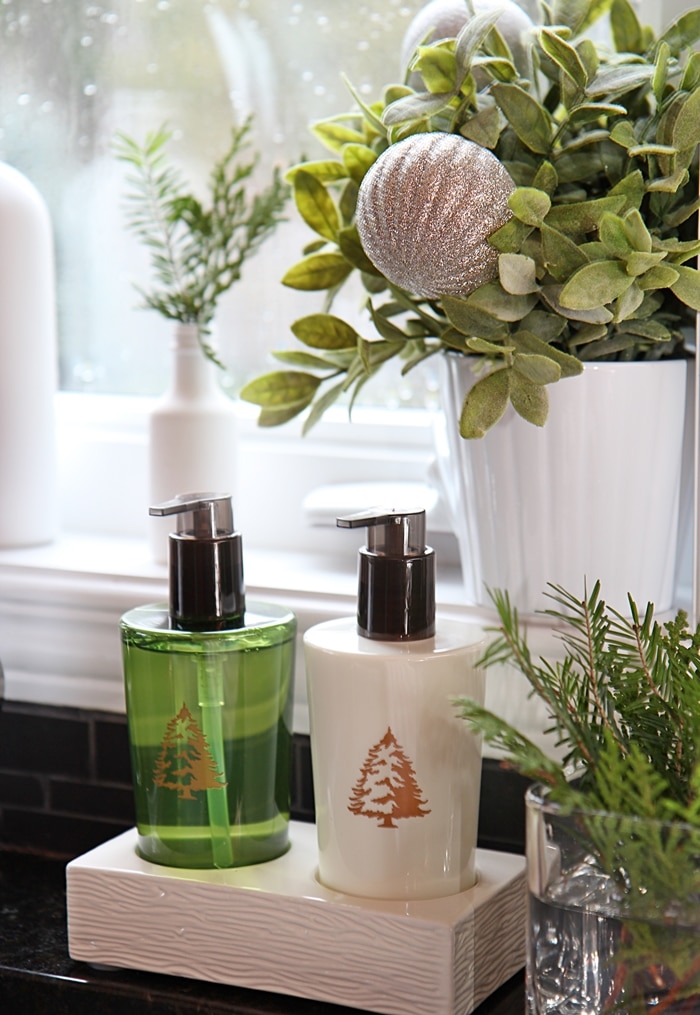 3. Decorate your mantel with Frasier Fir Votive Candles. The flickering candlelight and elegant pine bough patterned glass is a quick and easy way to set a relaxing holiday mood and stylish way to decorate your home for Christmas.
Here I've decorated my mantel with my Frasier Fir Votive Candle, antlers and my hubby's pewter military mug filled with fresh cedar for a pop of green.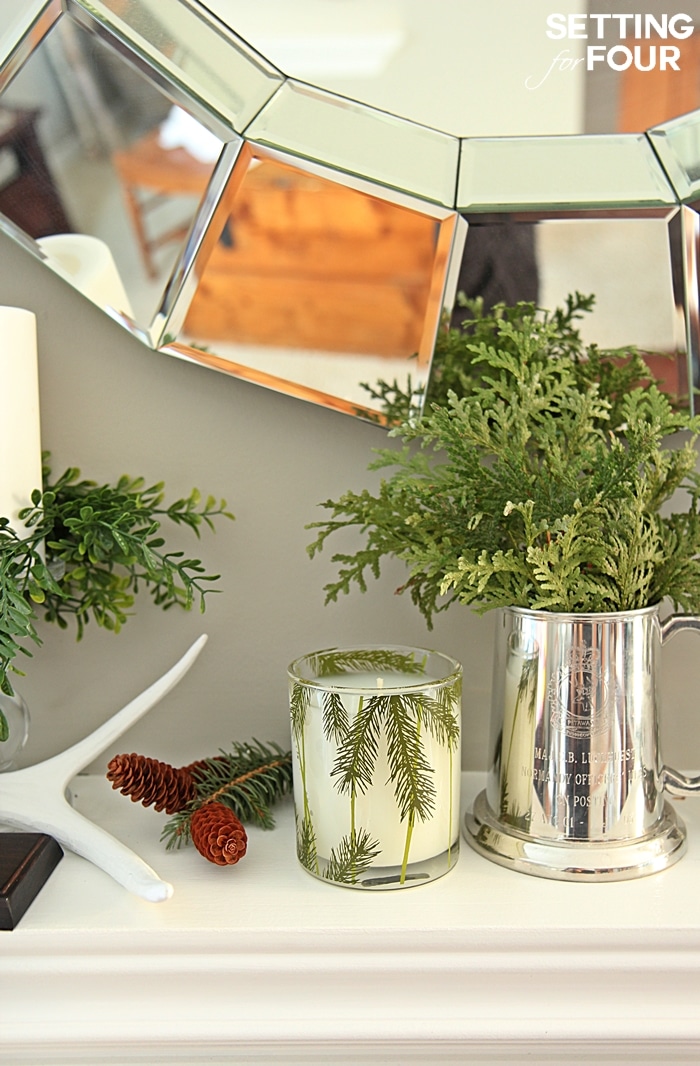 Gift basket idea: Add several of these gorgeous Frasier Fir fragrance items (candle, soap, cleaning spray and more!) to a decorative tray, add some sisal filler or crinkle cut paper shred and place in a clear cellophane gift bag. Tie with twine or ribbon and add sparkly Christmas greenery to the top. What a beautiful gift this will make!!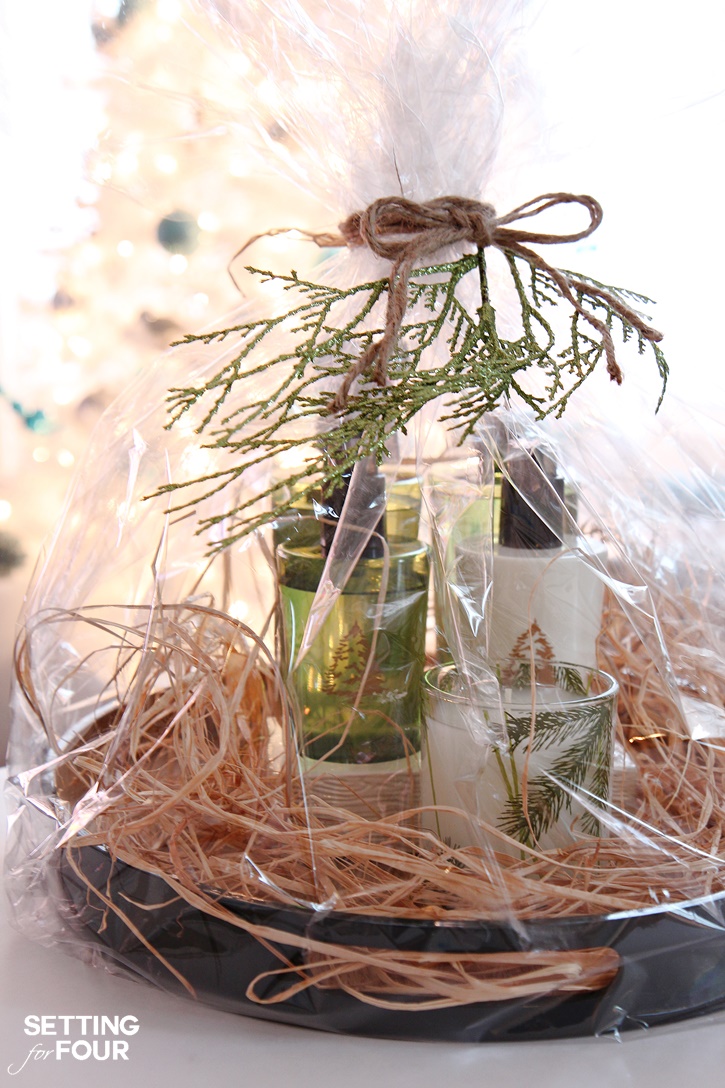 Discover a new holiday tradition with Thymes Frasier Fir and bring the fresh-cut forest fragrance into your home this season!
~~ What cherished holiday memories does the smell of fresh pine hold for you? ~~
You may also like these gift ideas!