DIY Fall Home Decor Idea: Make this easy painted DIY Faux Zinc Garland for your fireplace mantel, top of an armoire or drape it down the middle of a table for an easy centerpiece idea! See the tutorial and paint supply list.
Last year I wanted to make a quick fall wreath using a twig wreath base and a pretty faux leaf garland …except I couldn't find any faux leaf garland in a neutral color I liked!
…..the ones I saw in the stores were too bright orange and yellow for the metallic rustic glam look I was going for!
So as any handy DIY'er would do, I bought one of the bright orange garlands anyway, knowing that I could turn it into the stylish leaf garland of my dreams!
This tutorial is so easy and I love the beautiful results! You can paint a leaf garland any color you like using my tutorial – see how!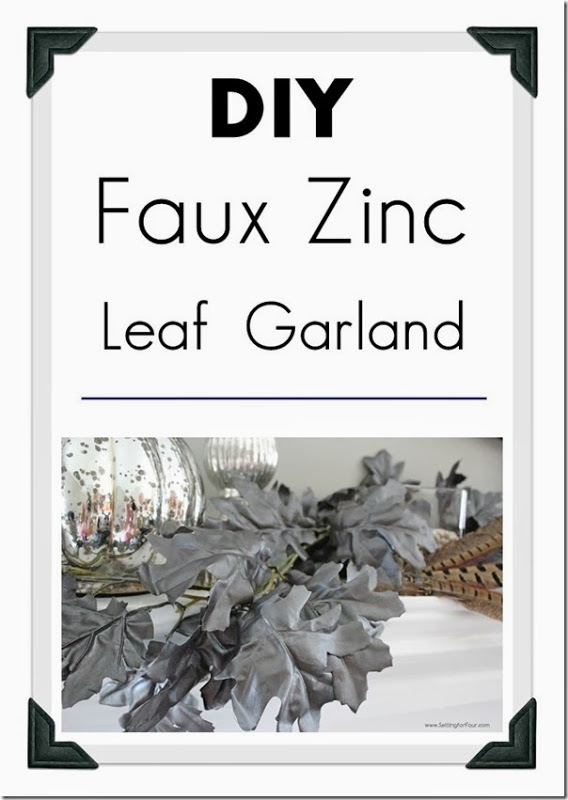 DIY Faux Zinc Garland Tutorial – Home Decor
Look at the subtle shine – it really looks like it's been dipped in silver metal!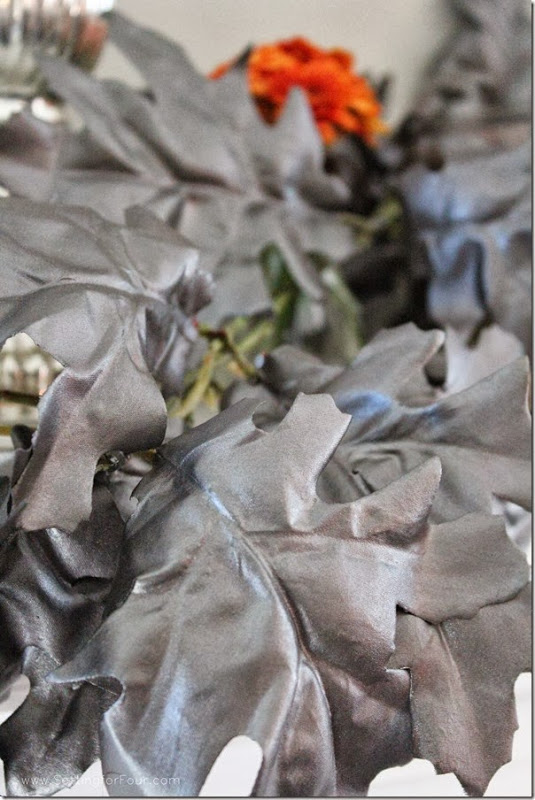 See the bright orange color this garland was?? I'm going to transform it into an elegant, metallic fall garland!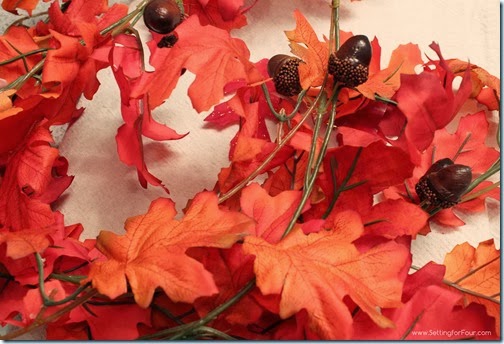 This post contains some affiliate links for your convenience (which means if you make a purchase after clicking a link I will earn a small commission which helps keep my blog up and running but it won't cost you a penny more)! Click here to read my full disclosure policy.
Supplies
Metallic Acrylic Craft Paint Gunmetal
This beautiful metallic paint comes in 11 other colors too! Rose Gold, Gold and Copper are some other colors I love!
_ _ _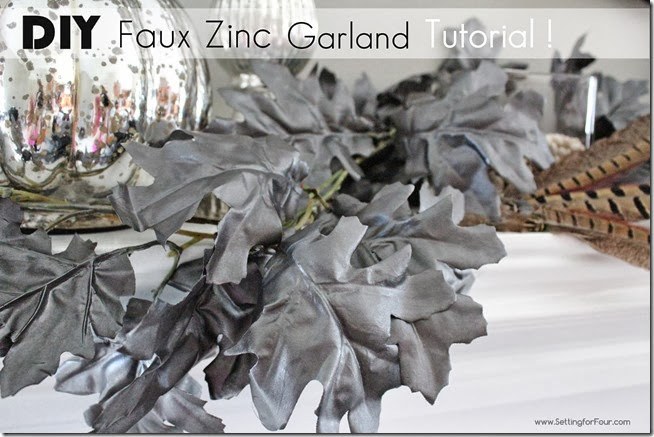 This is so easy to make! Just lay out the garland on the drop cloth and squirt on the metallic craft paint onto the leaves ….using the sponge brush apply a coat on each leaf, and the entire garland (the vine part too)…and let dry. This paint coats really well!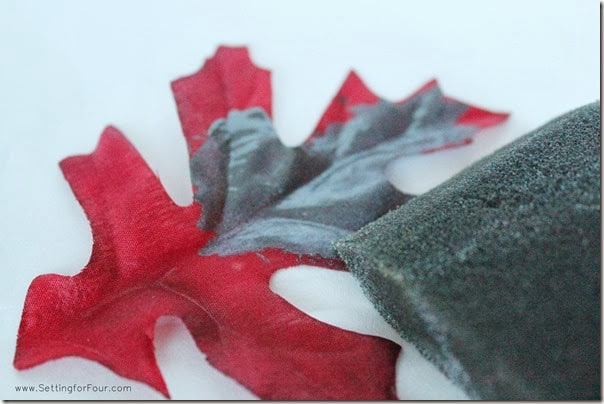 Flip the garland over, repeat the process and paint a layer on the other side! Let dry and you now have a gorgeous fall garland to decorate your mantel, wreath, table top or outdoor urn!
I added it to a grapevine wreath here: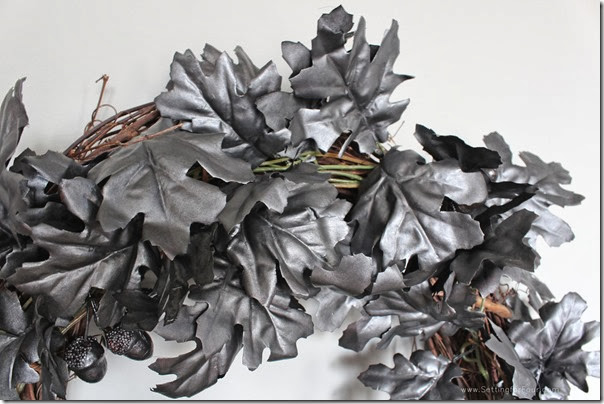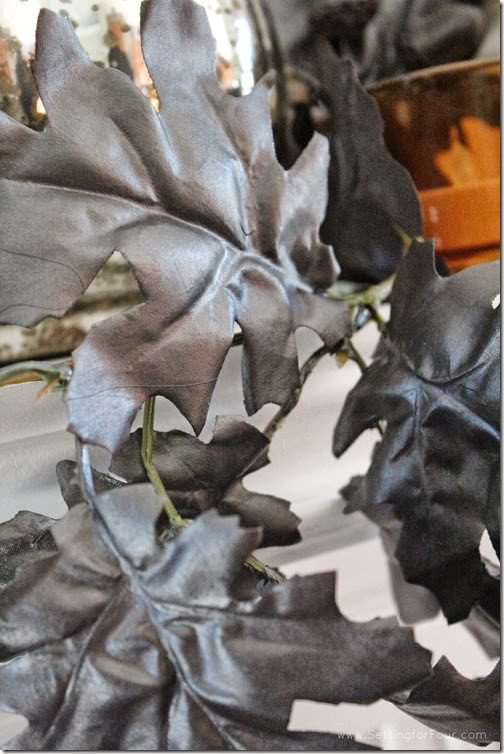 I love how it shines like melted metal! I'm amazed at how well this metallic paint covered the bright orange and yellow!
Look at how fabulous the acorns look all glammed up with hints of grey shimmer!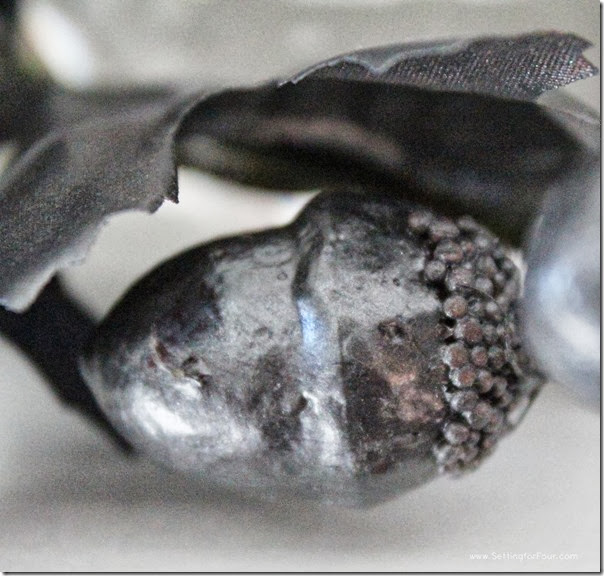 As you know, grey is a hot trend right now for home decor, and this zinc finish fits in perfectly with my decor. It's rich grey color looks fabulous paired with my living room wall color.
This zinc metal color is a fantastic neutral tone and any accent color will go beautifully with it!
I paired this DIY Faux Zinc Garland r with copper and orange for my fall mantel, but it would look stunning with yellow, lime, navy and teal as well as black and white too!
See my Rustic Glam Fall Mantel here!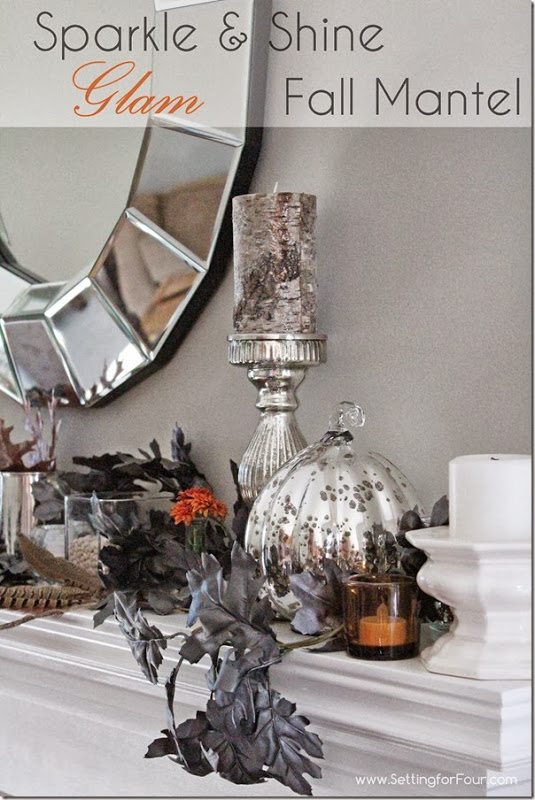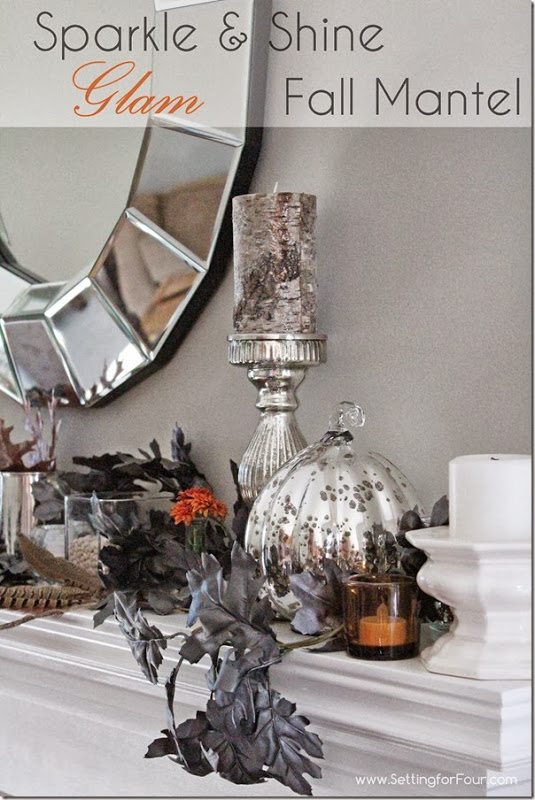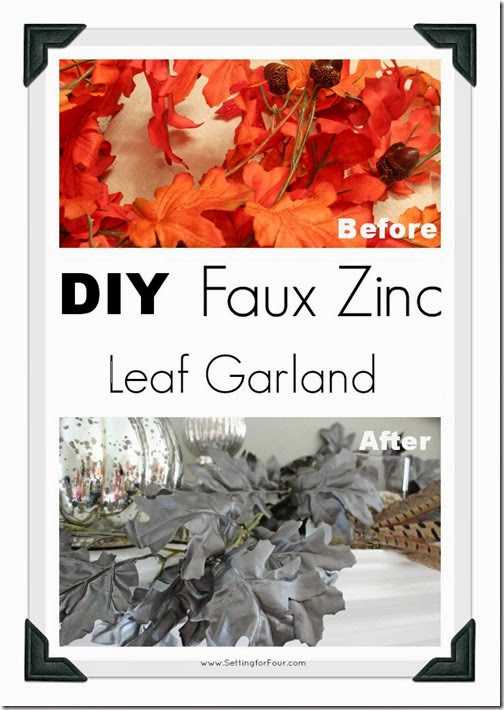 I hope you've enjoyed my DIY Zinc Leaf Garland tutorial!
Have you ever made something you were hoping to buy and loved the results? Please share!
You may also like:
The Best, Easy DIY Pillows for Autumn – Home Decor Ideas
Metallic Fall Wreath – Curb Appeal
Turn Kids Art Into Tea Towels – Easy Thanksgiving and Fall Craft Project