Hi everyone! I've been DIYing and painting up a storm lately giving some of our dated furniture a makeover and breathing new life into thrift store decor accessories to save some cashola! Today I'm sharing an inexpensive, easy DIY Decor idea – Painted Terracotta Tiles with a French Script Stencil accent. Aren't they pretty?
Two weeks ago I bought two square terracotta tiles at the thrift store for $3.99 – bargain! I think they were meant for terracotta pots to sit on outdoors – to help the water drain. But that's not how I'm going to use them! I'm using them as decorative display bases! For me decorating is all about simple details and layering. These tiles fit the bill perfectly! Check it out!
I love the raised Celtic design on these tiles:
Here's the steps to paint terracotta tiles: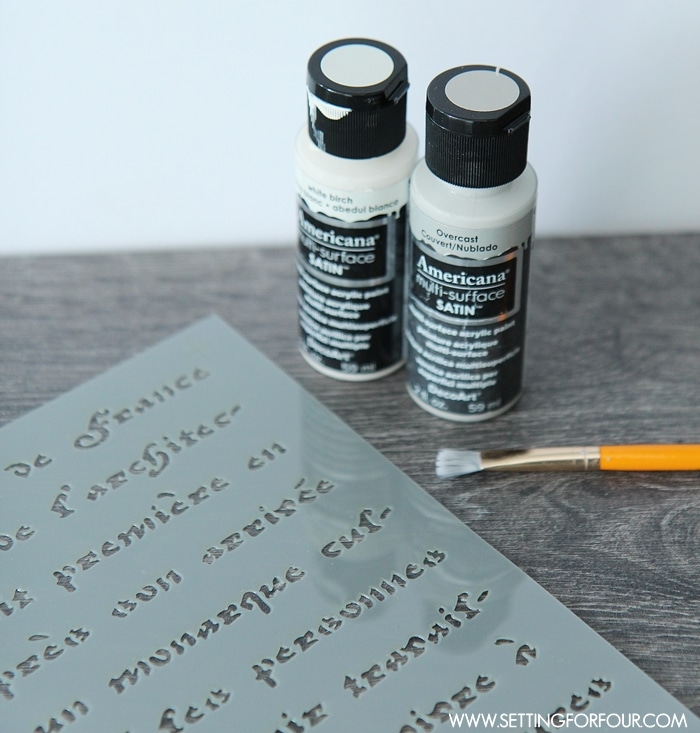 Supplies
Terracotta tiles
DecoArt Americana Multi-surface Satin Paint – White Birch
DecoArt Americana Multi-surface Satin Paint – Overcast
2 inch artist brush
Tutorial
Paint Terracotta tiles with 2 coats of White Birch paint letting each coat dry completely.
Hold stencil onto the edge of the tile and using a very dry brush, stencil with Overcast paint. Stenciling Tip – Blot most of the paint off the brush onto a paper towel before applying to the stencil. This helps prevent the paint from bleeding under the stencil. I usually tape my stencil onto the surface I'm working on, but I couldn't do that because the edge of the tile is too small… but holding onto it seemed to work fine!
Let stencil paint dry.
Done!
I love the faded look of the French script on the edges and the white birch paint!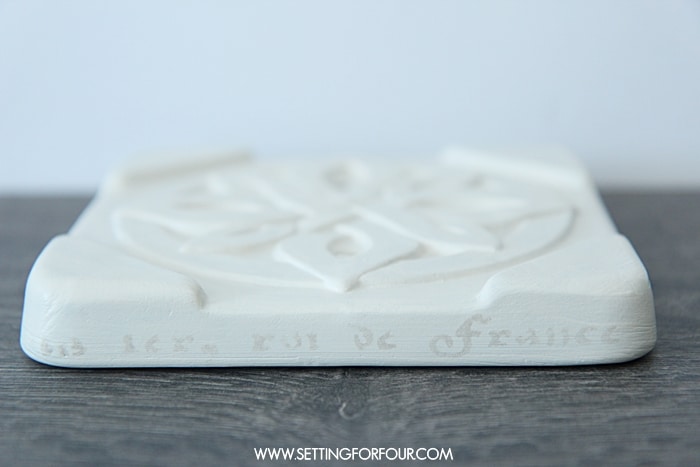 Here are a few ways I'll be using decorative tiles like these:
A display for my boxwood orbs.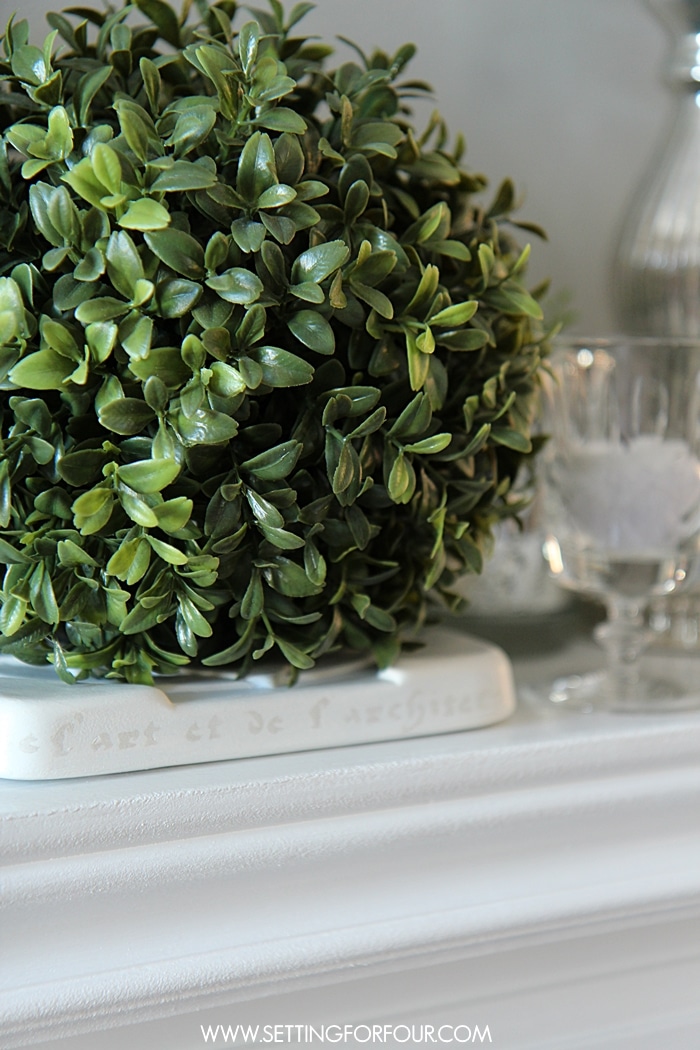 To display my hurricane lanterns: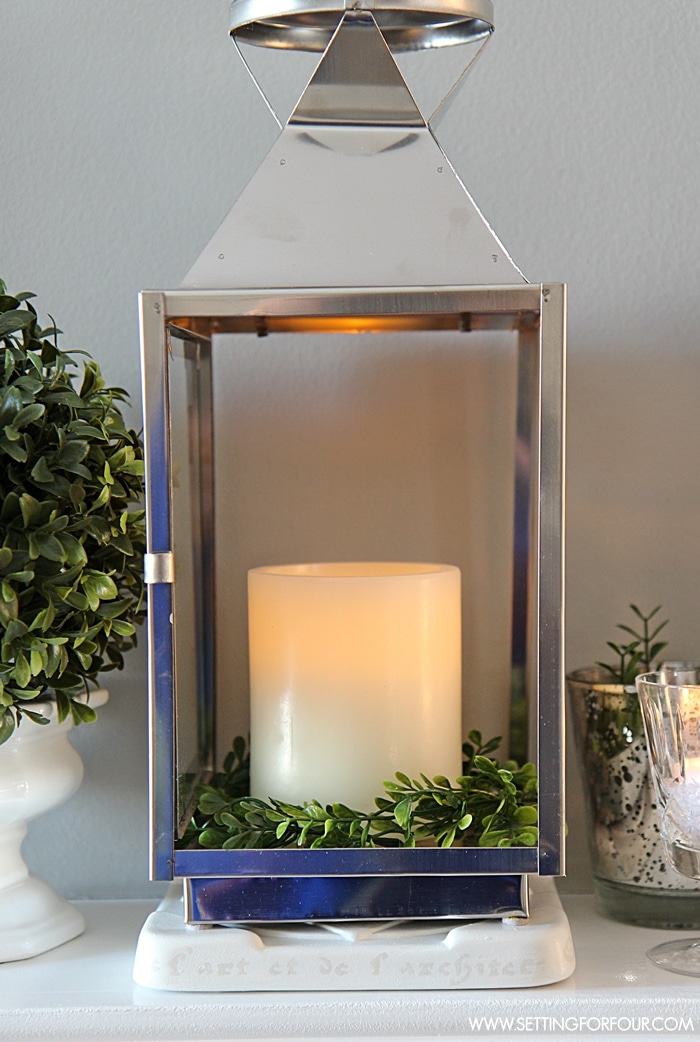 It adds some subtle decorative prettiness to this vase of white dipped branches: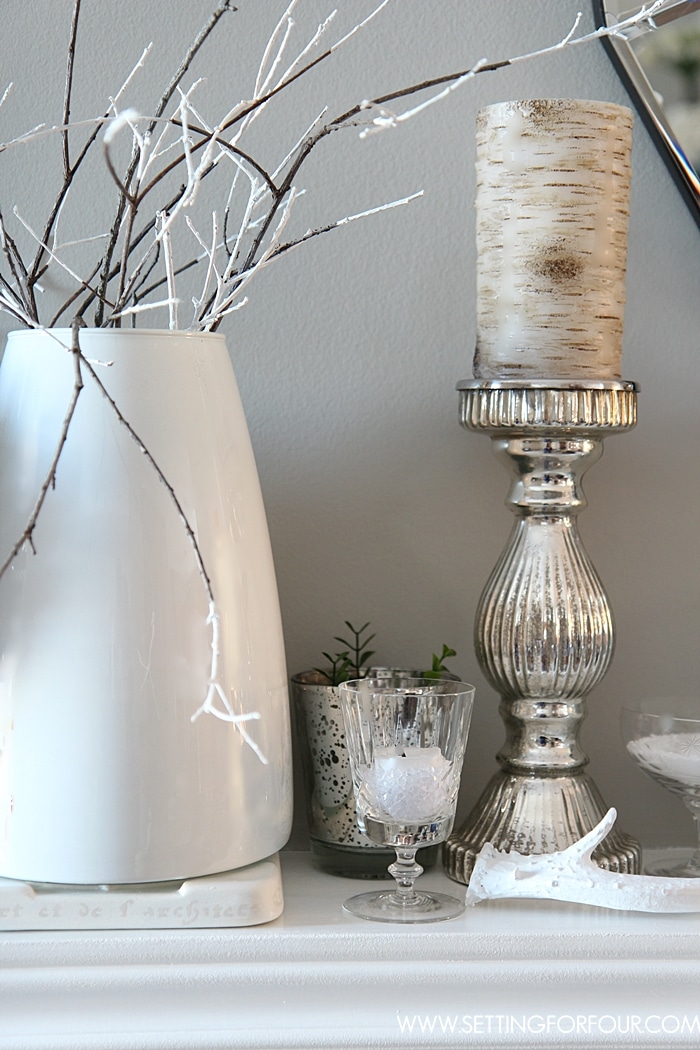 Do you love making over thrifted items as much as me? What's you latest thrift store makeover? I'd love to know!
Disclosure: This is a sponsored conversation with DecoArt however my love for decorating and saving money with painted thrift store makeovers is 100% my own!