How to make a patriotic America Flag painted tea tin! Great storage and DIY home decor idea! Painted with a beautiful American flag pattern.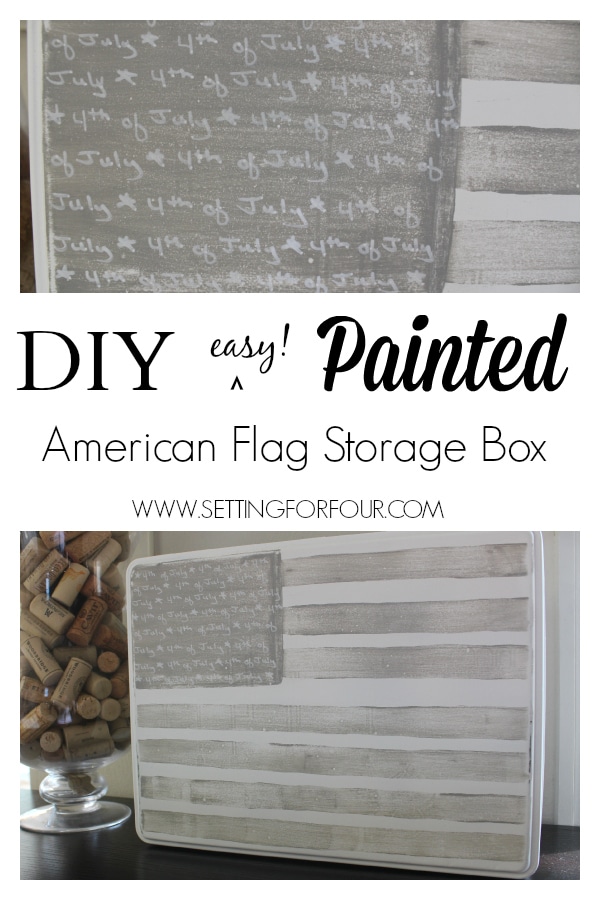 The Fourth of July is coming up and what better way than to celebrate with Patriotic Flag Decor?
Check out my easy DIY American Flag Painted Storage Box made from a Goodwill thrifted tea tin!
American Flag Painted Tea Tin
This DIY project started with a metal tea tin I purchased at Goodwill!!!
I thought it would be perfect painted in a Patriotic theme to celebrate the 4th of July.
I wanted to paint it in the spirit of the American flag – but not be too literal so instead of using red, white and blue I used white and grey!
This is how it looked before I painted it:
(ooops!! I was so excited to start this project I forgot to take a picture until I had already painted half of it….does ayone else do that???? Anyway you get the idea of what it looked like before….green with gold oriental scenery on it.)
Supplies:
Tutorial:
Wash tin and let dry.
Spray entire surface inside and out with primer spray paint. Let dry.
Spray inside and out with 2 coats of Bright White spray paint. Let dry.
Using paint brush and country grey paint, paint on rectangle in upper left hand corner and stripes on top of tin.
5. As you can see I didn't paint the stripes perfectly straight. I think it adds to the handmade look of this piece (and it ends up looking great after the distressing step).
6. Along all sides, paint 3 stripes with grey paint.
8. Lightly to distress grey paint.
9. Using the white paint pen write "4th of July" inside the grey triangle and add several stars.
I am so happy with how it turned out!
It's perfect for storing my summer napkins and napkin rings!
This painted tea tin would also be great to store your kiddos Lego, toy cars, Barbie or American Girl outfits in their bedroom or playroom.
Or place it on your coffee table to store remotes in your living room!
I hope you enjoyed this Painted Flag Tea Tin Storage Box idea!
You may also like:
32 AMAZING Patriotic DIY Ideas, Recipes and Fireworks Photography Tips
70 Plus Organization and Storage Ideas to Declutter Your Life