This post contains some affiliate links for your convenience. Click here to read my full disclosure policy.
One of my goals this year is to create a few accent gallery walls in our home – one for our upstairs hallway, our staircase, bedrooms and living room.
What Is A Gallery Wall?
A gallery wall is a planned arrangement of photos or prints to decorate a bare wall.
Are Gallery Walls A Good Idea?
Yes! Gallery walls are a great way to add interest, pattern and color into a room whether you use black and white photographs, landscape paintings, children's artwork or family photos!
They are a fabulous way to personalize your home decor!
From the entryway to the stairway, hallway to living room, there are many opportunities to add a bold focal point to your home.
Every home has a blank wall that would be perfect for a gallery wall!
Design tip: Height Measurements and How To Hang Pictures In A Bathroom
One of the most stylish wall decor ideas is to display artwork, photographs and prints together in unison to add interest to a bland looking space.
What Is The Correct Height To Hang A Picture?
Design Rule: The center of a gallery wall should be at eye level , approximately 66 inches off the ground.
Is there a gallery wall app?
I haven't found an app that works well to be honest.
Using pencil and grid paper or a photo editor like PicMonkey to create the layout is the best option.
How Do I Make A Picture Wall?
Choose the photos and prints you want to include.
Select the bare wall you want to decorate.
Use graph paper to space the pictures and art in a balanced collection.
Use the photo wall layout ideas below for ideas!
See these gorgeous gallery wall ideas in real spaces for inspiration!
Black and white photography and sketches in black frames look fabulous massed together to create this gallery wall: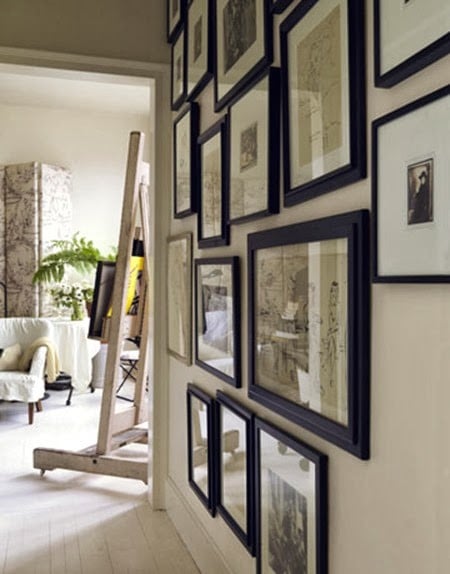 A collage of photos and prints using frames of varying shapes, sizes and colors works well to amplify the look of your entire room.
This dining nook showcases a gorgeous gallery wall of prints and photos!
Shades of black, white, amber and brown create a beautiful classic look.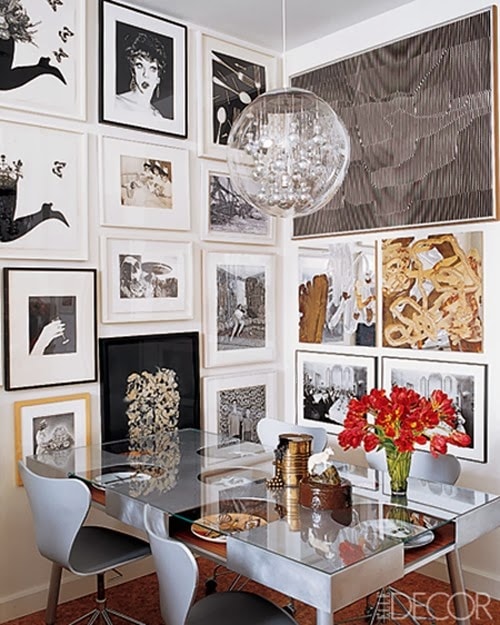 Use family photos to decorate the bare walls of a living room:
(I prefer black and white photos over color photos to create a timeless look)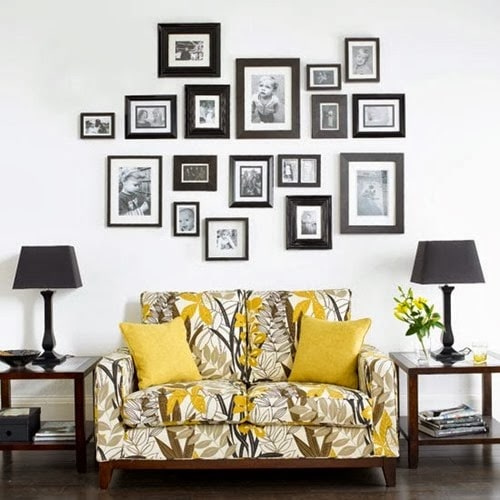 The Nester
Use these hanging tools and hooks to arrange your pictures easily!

Use the arrows below to view more!