By the end of the week my supper meal ideas are usually completely tapped out!
So my go to Friday night meal is usually 'Fajita Friday'!
My family loves starting the weekend with a little Mexican spice and south of the border flavour.
I'm thrilled to share one of my favorite Mexican marinade and salsa recipes as a General Mills Old El Paso Ambassador! Enjoy!
Lime Chicken Fajitas with Mango Cucumber Salsa: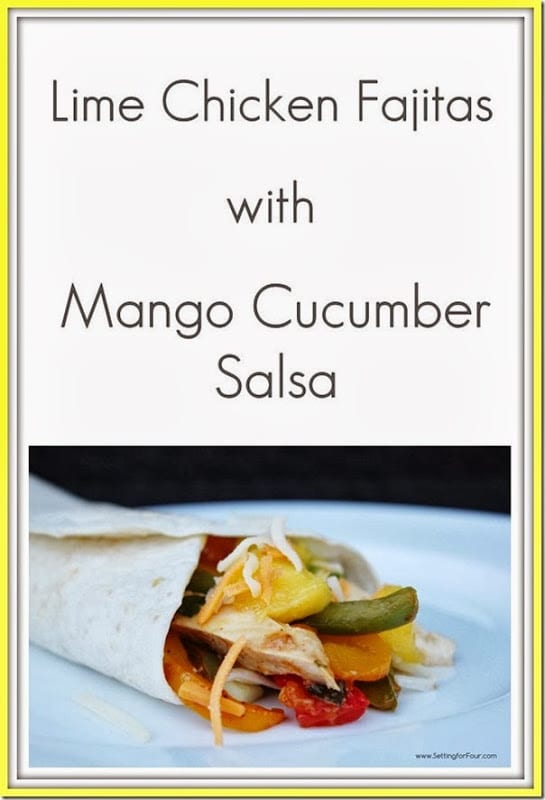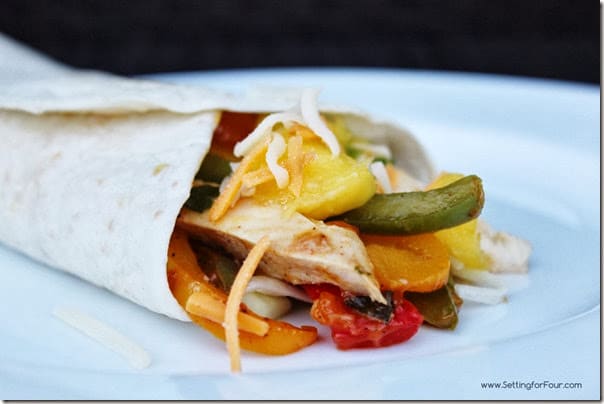 Lime Chicken Fajitas Recipe:
Ingredients:
1.5 pounds skinless boneless chicken breasts
2 Tbsp vegetable oil
1 onion sliced
3 bell peppers sliced (I used one green, one yellow and one orange)
1 Old El Paso Fajita Kit
Sour cream
Iceburg lettuce – sliced
Marinade:
3 Tbsp lime juice
3 Tbsp vegetable oil
1 garlic clove – minced
1/2 tsp cumin
1/2 tsp chili powder
1/2 jalapeno pepper – seeded and diced
1/4 cup cilantro – chopped
Mix Marinade ingredients in a plastic container. Add chicken mix well, cover and let marinate in refrigerator for 1 hour.
Remove chicken from marinade.
Add vegetable oil to frying pan dn heat on high heat 1 to 2 minutes.
Add chicken and sear on both sides. Cook through then remove from pan. When cooled slightly, cut into thin strips. Wrap in foil to keep warm.
Warm Old El Paso fajita shells in microwave or oven according to package instructions.
Cook onions and peppers in Old El Paso kit seasoning mix with water. Cook until tender.
Serve sliced chicken, onions and peppers on one large plate along with fajita shells.
Mango Cucumber Salsa Recipe:
Ingredients:
1 Mango – Peeled and diced
1 Cucumber – Peeled and Diced
1 red onion – Finley Diced
1 jalapeno pepper – Seeded and finely diced
1 clove garlic
1/4 cup chopped fresh cilantro
1.5 Tablespoon Lime Juice
Mix all ingredients in a bowl. Refrigerate 2 hours before serving to allow flavours to blend. Serve with Lime Chicken Fajitas.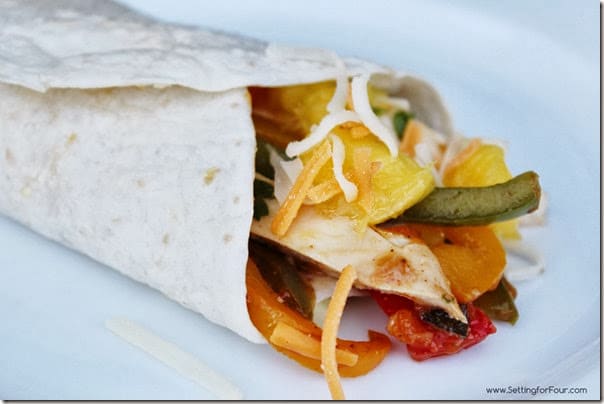 So break out of the dinner rut and throw a Fajita Friday party with Old El Paso!
Check out my other Old El Paso Mexican recipes!
How to get out of the dinner time rut with Old El Paso: Jalapeno Chicken Spirals! :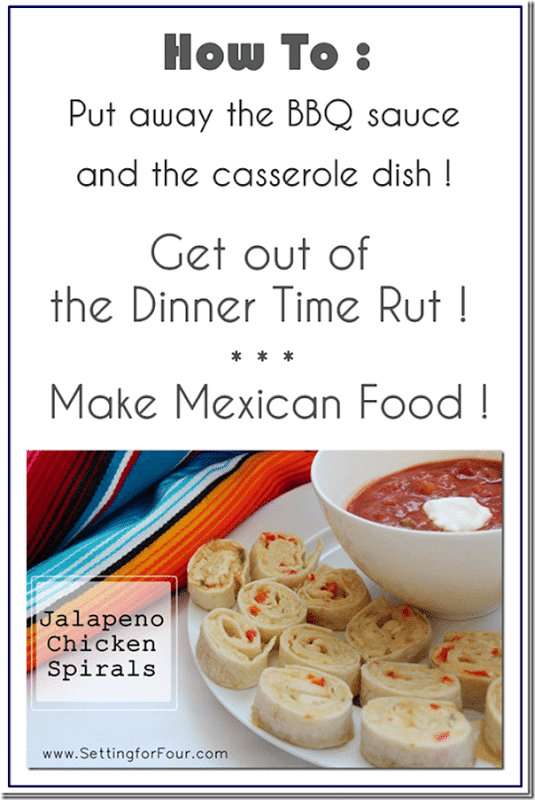 …and Easy Mexican Lasagna with Crunchy Tortilla Chip Topping:
Disclosure – I am participating in the sponsored Old El Paso Blogger Campaign on behalf of General Mills. The opinions on this blog are my own.