I love decorating for the holidays!
Even the kitchen!
Check out this easy Dollar Store Christmas Centerpiece I made for my kitchen table (see how I added limes to give it a 'kitchen' vibe!:
DIY Christmas Centerpiece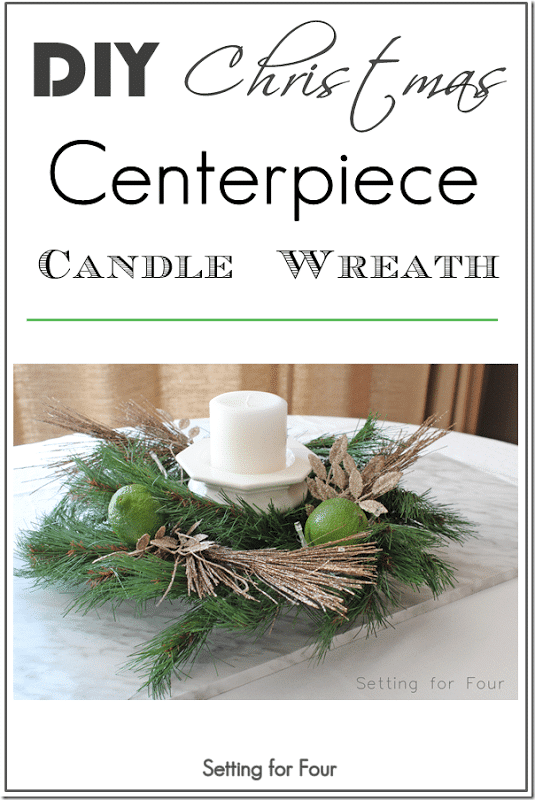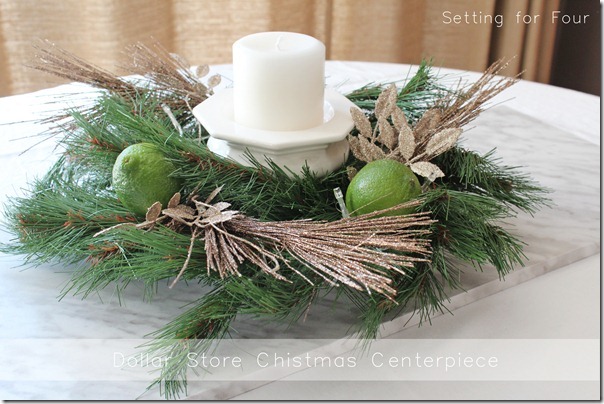 Here's the tutorial!
Materials: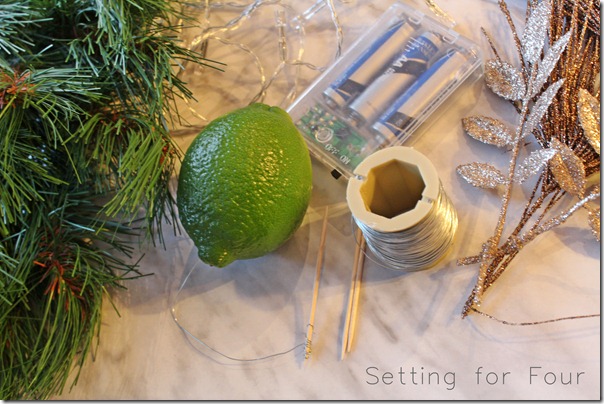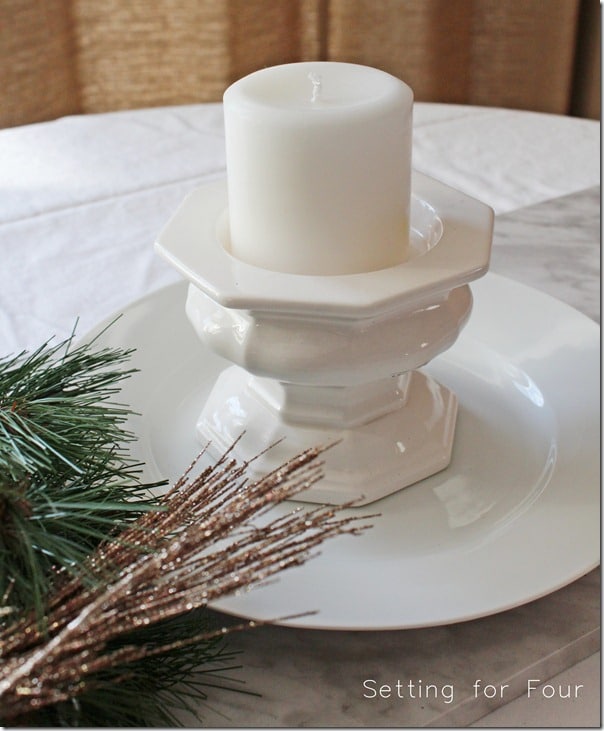 This post contains some affiliate links for your convenience.  Click here to read my full disclosure policy.
White plate (Dollar Store)
Battery operated miniature lights
Batteries (Dollar Store)
Sparkly Christmas décor picks (Dollar Store, I used two champagne colored picks; one is an sparkly pine 'branch' and one is a sparkly leaf 'branch')
Small Artificial Wreath
Toothpicks
3 limes
Pillar candle
Candle holder
Hot Glue Gun
Tutorial:
Insert batteries into lights.  Wrap lights evenly around wreath, hiding battery compartment at the back of the wreath.  Secure battery compartment onto wreath with wire:  Cut a 10 inch piece of wire and wrap around battery compartment and wreath to secure.

Cut each decorative pick into smaller pieces.

Glue ends of picks around wreath, using hot glue gun. I divided my artificial branches into 3 groups and glued them on evenly around the wreath.

Cut a 10 inch piece of wire for each lime and fold in half.  At the half way point wrap wire around end of toothpick leaving 4-5 inches of wire at ends.

Insert opposite end of toothpick into lime, securing firmly.

Wrap wire around wreath to secure toothpick and limes, hiding ends of the wire.

Set wreath on plate.Place pillar candle on candle holder and place on the plate in the middle of the wreath.
~ ~  ~
Love the champagne color of the sparkly leaves and pine!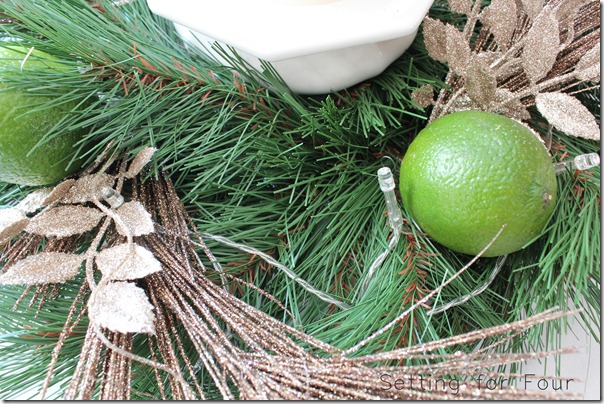 I love how using fresh fruit like limes ties this centerpiece into my kitchen!  If your wreath is larger you could even use pomegranates or apples…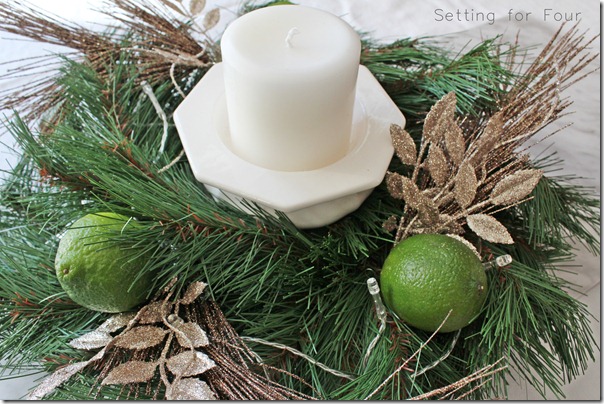 Here is my centerpiece with the miniature lights on…just flick the little switch on the battery pack!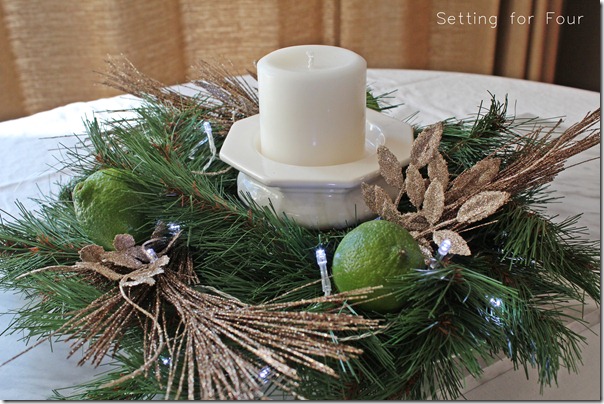 A close up shot of the miniature battery operated lights!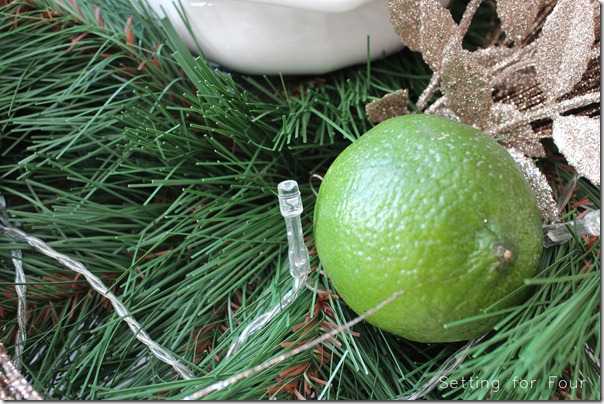 Sparkle and shine!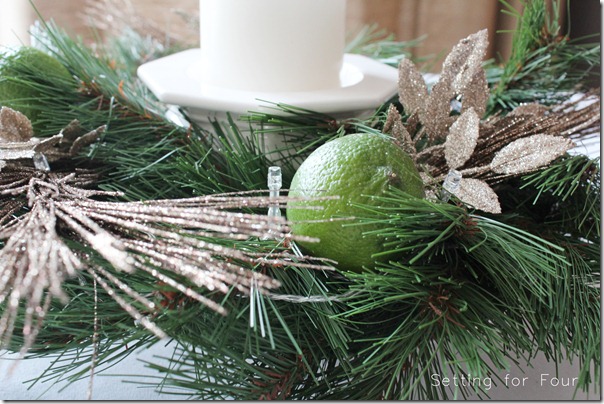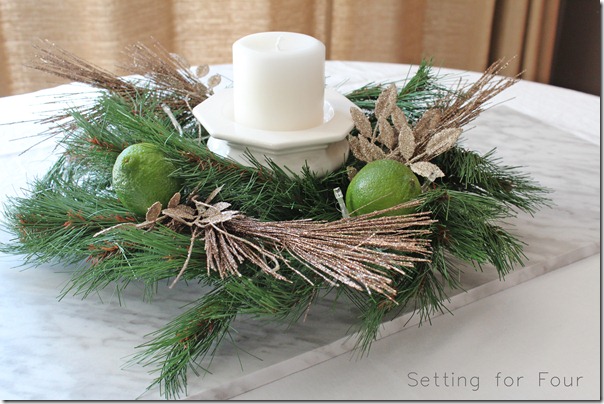 Do you decorate your kitchen for Christmas?