Supplies:
Directions:
First wash and dry your tote bag according to the instructions.
Lay the tote on a flat surface and insert a piece of wax paper or cardboard inside the tote to keep the paint from transfering to the other side.
Using painters tape create the design as shown in the photo. This is super easy to do – I just eyeballed where to start and stop the ends of the tape, no measuring is required, but you can if you want to!
Press all the edges of the tape down firmly with your fingers or a credit card.
Mix Fabric Painting Medium with gold paint according to the directions. The Fabric medium makes the gold acrylic permanent and allows your tote to be washable.
Paint one coat of the Gold Paint onto the tote. One coat is all you need!
Remove the painters tape while the paint is still wet, and let the paint dry.
To make the design permanent, heat set the gold paint by placing a cloth over dry painted area. Do not iron directly on the paint. Use a temperature setting appropriate for the particular fabric and heat set for 20-30 seconds per section. Heat set reverse side in the same manner.
Turn tote inside out and wash on gently cycle using mild unscented detergent.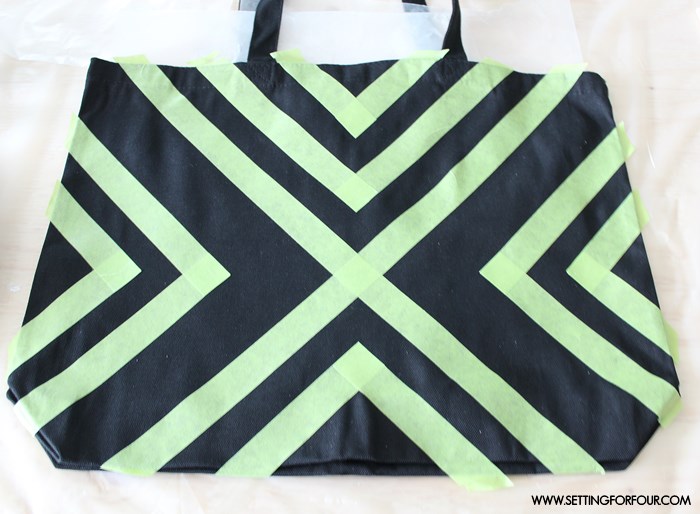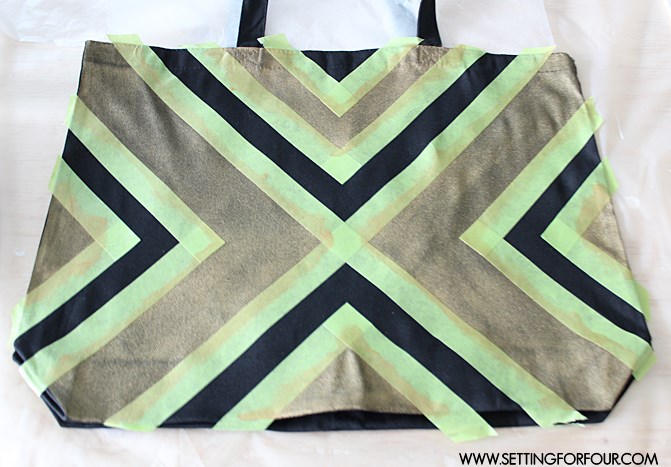 That's it – now go out and strut that stylish tote!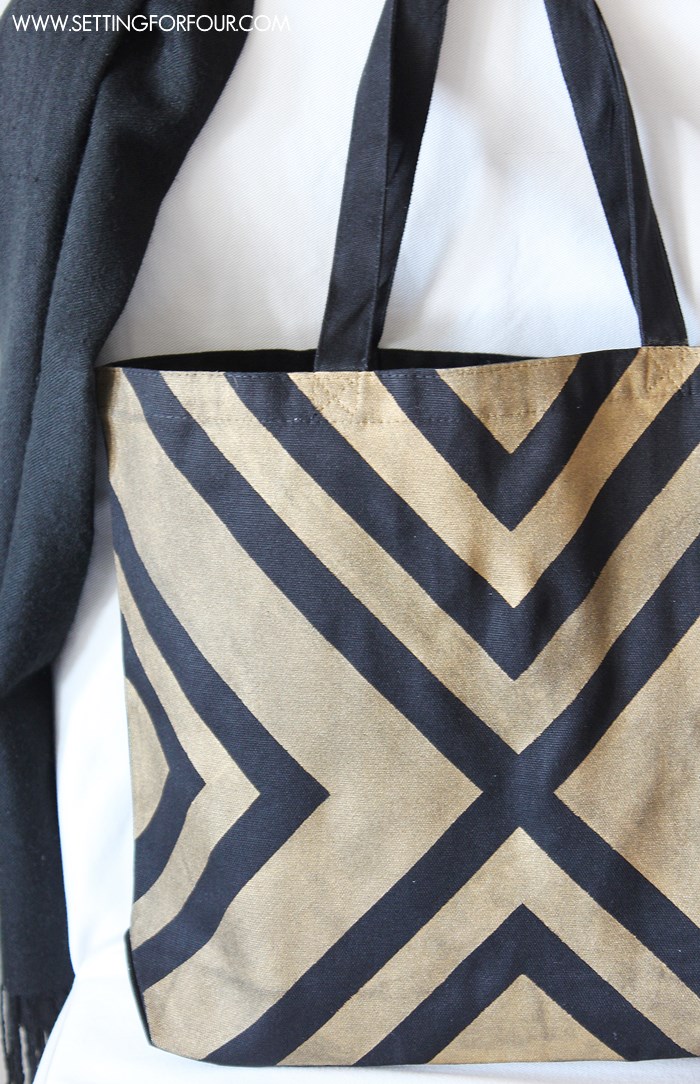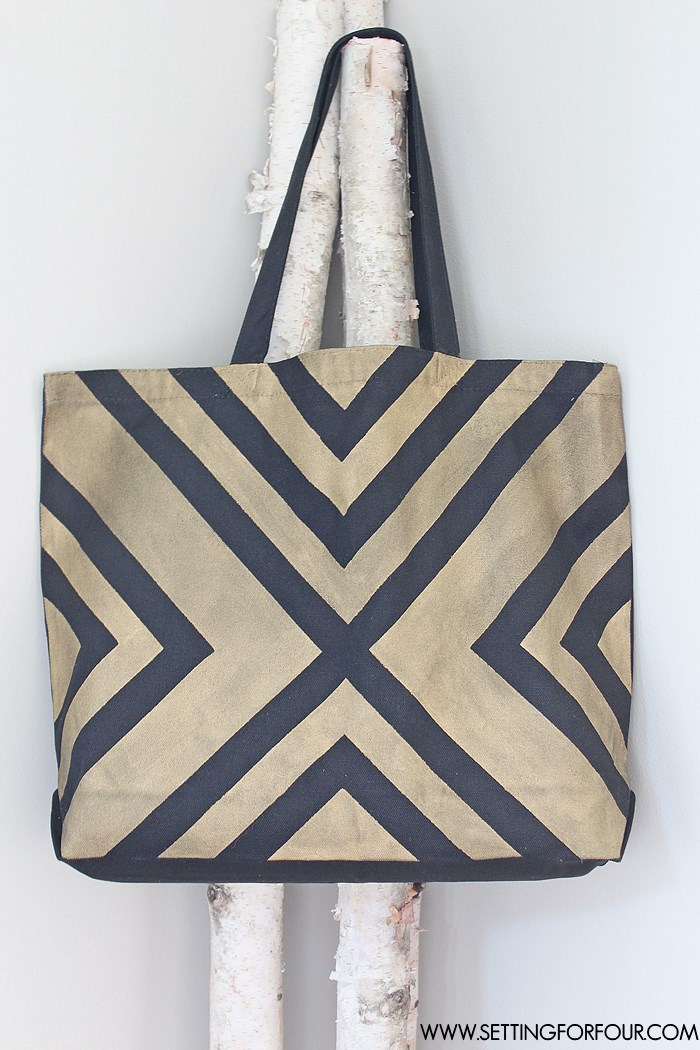 Make a few of these totes for holiday gifts, teacher gifts, birthday gifts…or how about as a gift bag to place the gift in? Double gifting!
…and these tote bags would also be a great Halloween trick or treat bag idea!
I hope you enjoyed my DIY Graphic Tote bag tutorial today!
~ ~ ~
Check out my other DIY projects, my DIY gift idea projects for her and Gift Ideas $20 Dollars and under for him!
…and my Gold DIY Projects!
5 Minute Gold Dot Holiday Ornament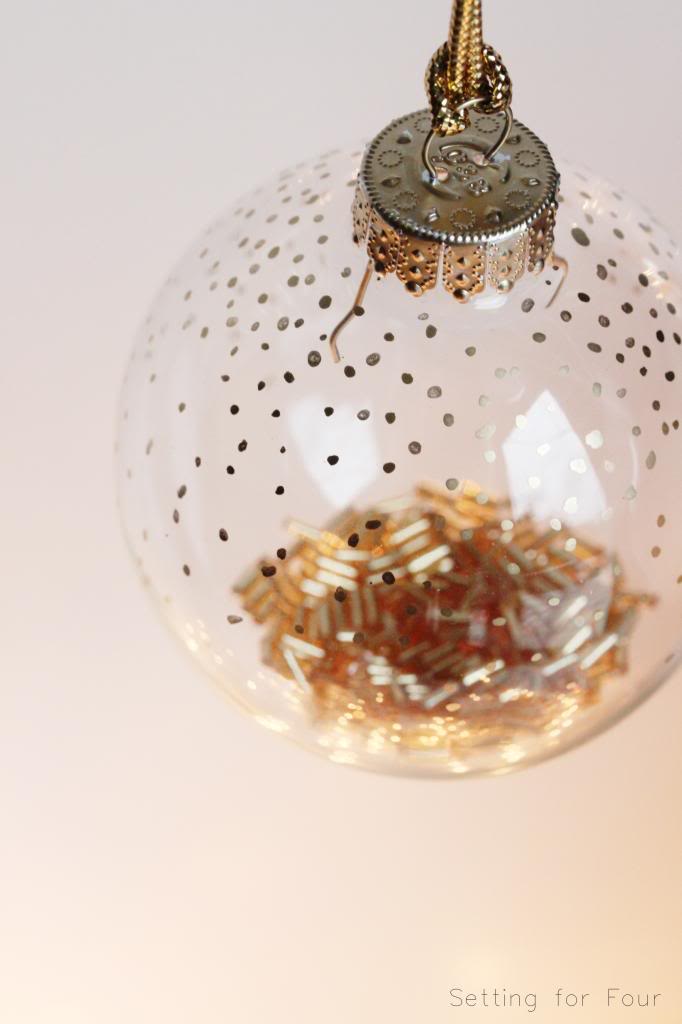 Gold Edged West Elm Knockoff Graphic Art
DIY Gold and Aqua Lacquer Box Set