Do you love potatoes?
Me too!
One of the best places that grows potatoes in North America is a tiny island off the East Coast called Prince Edward Island!
Not only is PEI beautiful and have pretty beaches but the rich red soil of PEI is also renowned for producing premium potatoes grown by Cavendish Farms.
I was recently selected to participate in the Cavendish Farms From the Farm Blog tour to show you how you can cook an amazing dinner recipe with their From the Farm potato products:
Recipe for Country Chicken Pot Pie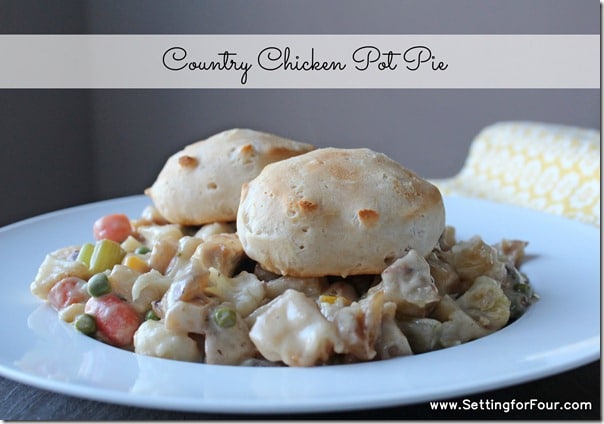 These From the Farm frozen potatoes offer homestyle taste made fresh From the Farm.

This From the Farm collection includes: Wedges, Rustic Reds and Straight Cuts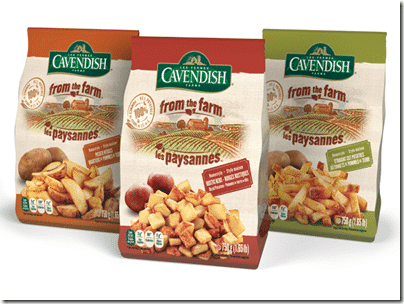 Cavendish Farms puts a lot of pride into their From the Farm frozen potatoes to ensure you are serving your family the very best!
I love that they start with premium, nutrient-rich PEI potatoes, leave the skin on and prepare them with 100% canola oil and lightly season them with sea salt….
…but what I love the most, as any busy Mom would agree, is that they are super convenient for cooking delicious meals! Keep them in your freezer to whip up healthy (low in saturated fat!) delicious breakfasts, lunches and dinners.
When you've had a long day they're also great for cooking up quick side dishes too, and substitute your regular vegetable sides!
I don't know about you, but sometimes I get into a dinner mealtime rut, serve the same meals over and over and find it hard to keep meals interesting for our family after a long day! When that happens I like to go online to find new recipes.
Thankfully the website at Cavendish Farms offers lots of yummy recipes to motivate my meal time repetoire!
Check out the Cavendish Farm website; it's full of delicious recipes cleverly called CavenDishesTM

Here is how I shook up a average week day dinner with From the Farm Rustic Reds to make this yummy one-dish Country Chicken Pot Pie recipe which I found on the Cavendish Farms site.
I adapted it a bit for our family to make this: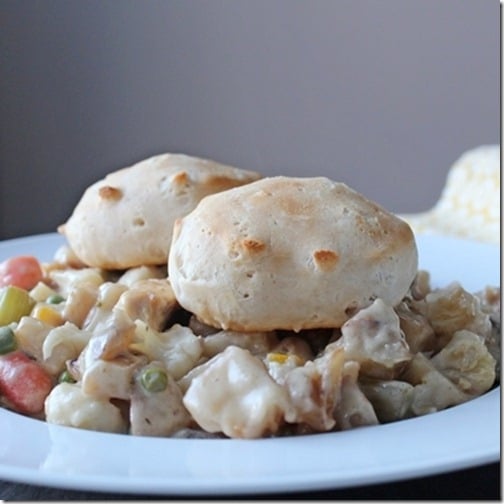 Ingredients:
¼ cup Butter
2 cups Chicken Breasts, boneless and skinless, cut into small pieces
½ cup Onion, chopped
½ cup Celery, rough chopped
½ pkg From the Farm Rustic Reds
½ cup Broccoli, small florets
½ cup Cauliflower, small florets
½ cup Carrots, chopped
¼ cup Peas
¼ cup Corn
¼ cup Butter
¼ cup All-Purpose Flour
1½ cup Chicken Broth
1 cup Cream, 18% or 35%
4 Tea Biscuits, cut in half
Directions:
Spray or grease shallow roasting pan or casserole dish with nonstick cooking spray or grease with butter; set aside. Heat oven to 400°F.
In a large non-stick skillet or frying pan melt ¼ cup butter. Add chicken, onion and celery. Cook over medium-high heat, stirring occasionally, until chicken is cooked (about 6 minutes). Add From the FarmTM Rustic Reds and vegetables. Cook 5 minutes, stirring occasionally.
In a medium non-stick skillet or frying pan melt remaining¼ cup butter. Stir in flour; cook on low heat for 60 seconds. Slowly add chicken broth, whisking until mixture is smooth. Add cream and cook, stirring occasionally, until mixture comes to a full boil. Pour over chicken mixture in other pan; mix well. Pour chicken mixture into prepared roasting pan or casserole dish.
Bake 25 to 35 minutes or until crust is golden brown and edges are bubbling. Cover crust with aluminum foil during baking if it browns too quickly.
Top with tea biscuits before serving.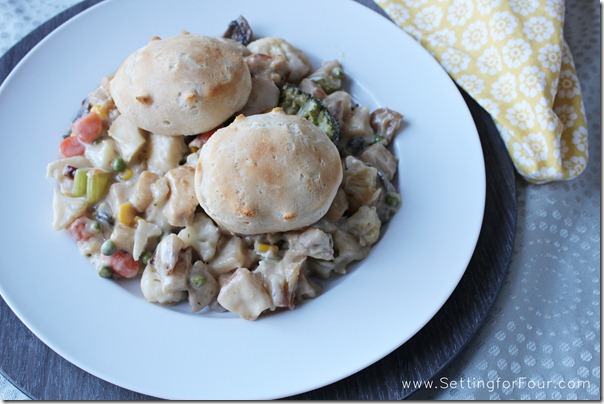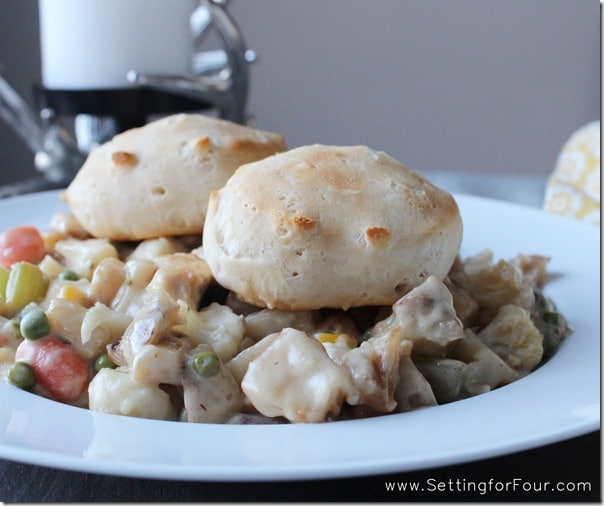 Do you love cooking convenient one dish meals like this one too?
"Disclosure – I am participating in the From the Farm blog tour by Mom Central Canada on behalf of Cavendish. I received compensation as a thank you for participating and for sharing my honest opinion. The opinions on this blog are my own."
~ ~ ~ ~
Want posts delivered to your inbox? Click here!
Or follow along with me here !:
~ ~ ~ ~
* Thank you SO much for coming by for a visit! I love to hear all of your comments! *
Heather
Written by Heather at Setting for Four
Setting for Four is a home design, décor and lifestyle blog. Focus is on home renovations, crafts, DIYs, tutorials, recipes, as well as family friendly design and decorating ideas that won't break the bank or sacrifice style.

You can find Setting for Four on Google+
Sharing here:
I heart Naptime Act Different Be Normal House of Hepworths Tatertots and Jello