Three cheese chicken lasagna – a delicious pasta casserole that's a yummy comfort food recipe! Perfect for a family weeknight meal and for company.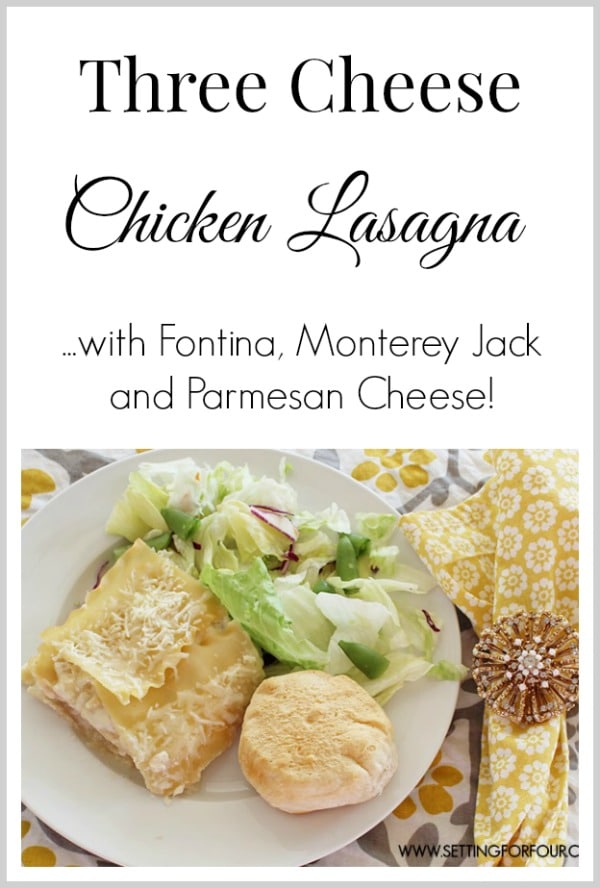 Hello everyone! I hope you had a great weekend! It was beautiful weather here – sunny and 60 degrees Fahrenheit. A very nice change!
Today I am sharing with you a very yummy recipe for Chicken Lasagna. This is so delicious! My family

really

loves it. I hope you will too!
Chicken Lasagna
Ingredients
2 medium onions finely chopped
1 x 15 oz (425 grams) carton Ricotta cheese
3 cups chopped cooked chicken. (I bake about 4-5 breasts, and use the extra for chicken salad sandwiches)
9 lasagna noodles cooked and drained
8 oz (227grams or 2 cups) Fontina or Monterey Jack cheese, shredded
½ cup grated Parmesan cheese
You'll need these Kitchen Supplies:
Directions
In large skillet cook onion and garlic in butter over low heat until onion is translucent.
Stir in milk.

Cook and stir until thickened and

bubbly.
Stir in ricotta cheese, cooked chicken and the 2 Tbsp milk.
Place 3 lasagna noodles in bottom of buttered 3 quart rectangular baking dish.
Pour ½ of chicken mixture evenly over the lasagna noodles.
Top with 1/3 of the Fontina or Monterey Jack cheese.
Add 3 more lasagna noodles.
Top with remaining chicken mixture.
Place ½ of remaining Fontina/Monterey Jack cheese on top.
Add last 3 lasagna noodles.
Baked at 350 °F, covered for 30 minutes.
Uncover and top with remaining Fontina/Monterey Jack cheese and the Parmesan cheese.
Bake uncovered 10 minutes more.
Remove from oven.

Lasagna should be lightly browned and bubbly.
Let stand 10 minutes and serve.
Cheese:
Onion, garlic, milk and flour mixture:
Assembled and ready for the oven!:
Cooked, browned and bubbly! Mmmmm!!!
Look at the melted cheese – Yum 🙂
Add a green salad:
and a warm roll and enjoy!!
I hope you like this recipe as much as my family does!