DIY Decorating – Chalk Paint Table Makeover. See how I turned a thrift store table into this stylish white painted table.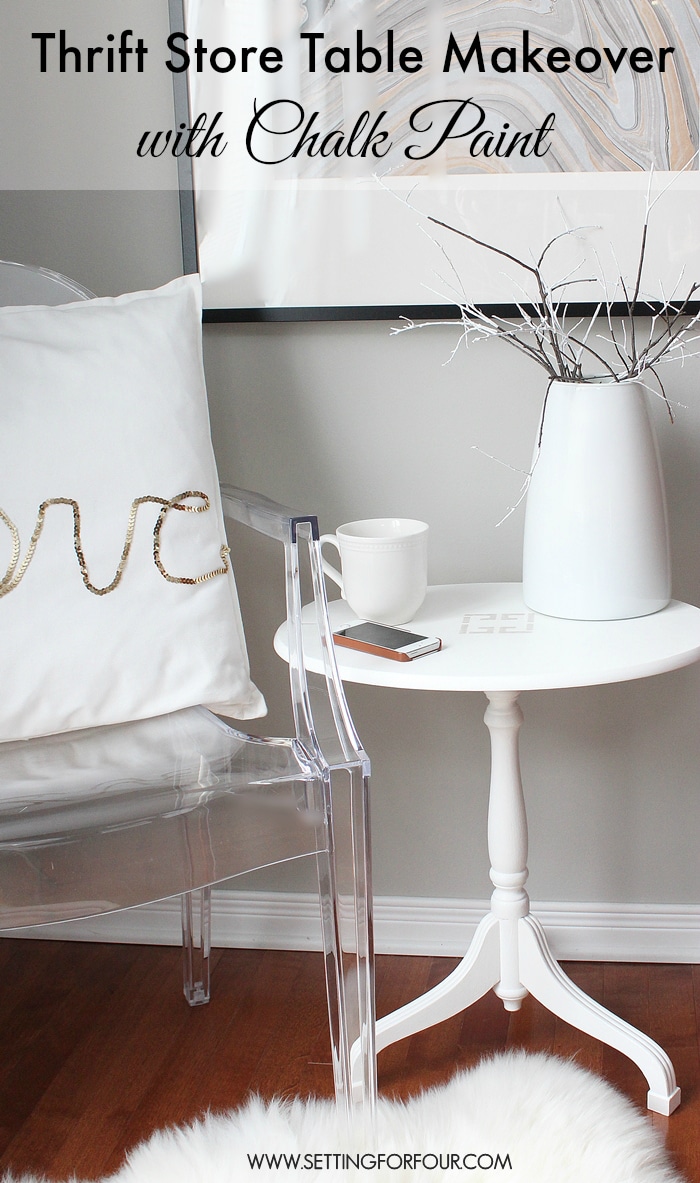 Hello everyone! I am kicking off the new year with a DIY bang, changing up my decor and sharing a fun thrift store transformation – a Chalk Paint Table makeover with Greek Key Stencil!
For me starting a new year is all about change… changing bad habits (for me that would be eating less chocolate!), changing up my decor, changing my normal routine to 'spread my wings' so to speak and grow personally and professionally.
I am so excited to partner with my friends at Porch.com and the Cheers for Change program! Porch.com and I are embracing change as a way to challenge ourselves, create beautiful things in our home, and inspire others to do the same….Cheers for Change!
This is my challenge: find a thriftstore item, change it's look with a stylish makeover and turn it into a beautiful piece to decorate my home. I decided on this furniture makeover:
I found this brown wooden pedestal end table at my local thriftstore. The stained finish on the top was watermarked and scratched but with the beautiful lines of the pedestal legs, it's gorgeous shape and $5.00 price tag– I knew it had great potential!
So I brought it home and gave it a Chalk Paint makeover turning it from brown and blah to refreshed and beautiful!
Chalk Paint Table Before and After:
– isn't this an amazing makeover?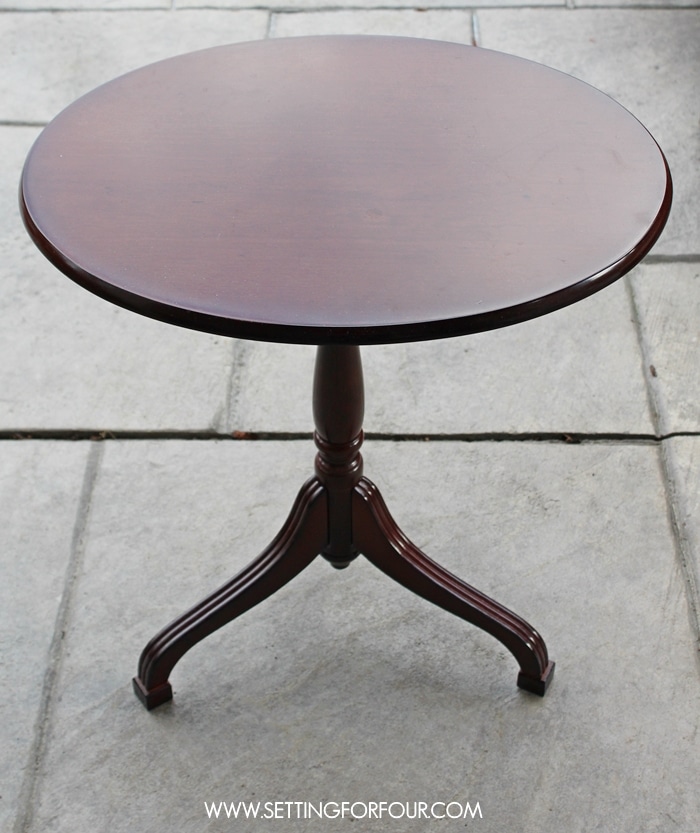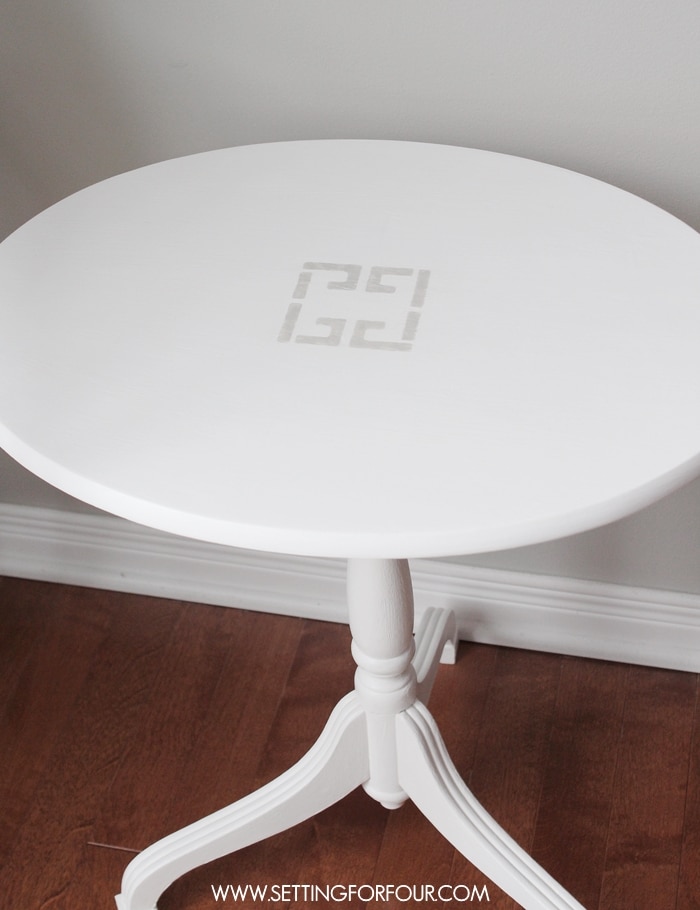 Here's how you can makeover a dated, damaged table with paint!
Supplies:
Table
Lint free cloth for buffing
Stencil – I love all things Greek Key patterned and used a Greek Key Stencil
Chalk Paint Table Tutorial:
I gave the table a light wash with soapy water to remove the dust. Let completely dry.
There were a few scratches on the top which I removed with a light sanding using the 220 grit sandpaper. I did not sand the entire piece since I'm using chalk paint!
Using the 2.5 inch paint brush paint the entire table with one coat of 'Everlasting' chalk paint. Let dry. Apply second coat and let dry.
Add the stencil: Position stencil in the middle of the table – I just eyeballed it. Tape it down with painters tape so it won't move when applying stencil paint.(test your painter's tape in an inconspicuous area to make sure it won't remove the paint from the surface!)
Apply 'Overcast' acrylic paint very lightly onto stencil area. Let dry completely.
This is how I make sure I don't get bleeding under the stencil: Add a small pea sized amount of paint onto a pie plate. Dab paint brush lightly into the paint. You don't need a lot! Dab off onto a paper towel so that your brush is almost 'dry'. In an up and down motion, pounce the stencil paint onto the stencil. I do not use foam pouncers since they load on too much paint which seeps under the stencil.
After stencil paint is dry take the 220 grit sandpaper and lightly sand the stenciled area to give it a faded, distressed look.
With 2.5 inch paint brush add one or two coats of clear wax as a protective top coat. Let dry completely.
Using lint free cloth, buff table.
Done!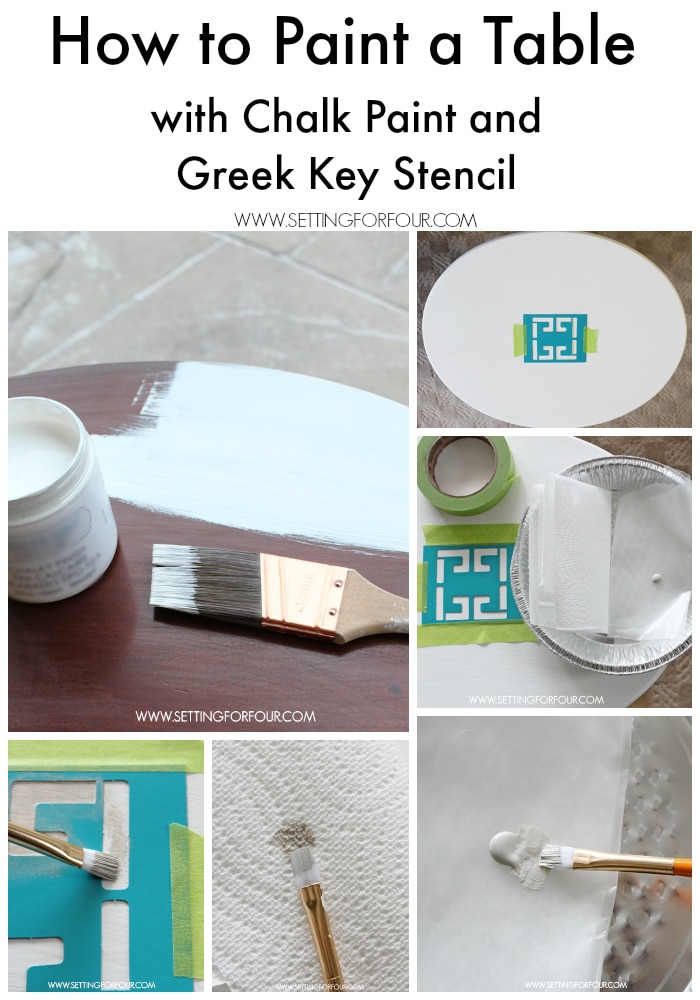 I love how fresh and updated it looks now! The Greek key pattern looks amazing and I love how subtle and faded the stencil looks with the distressed sanding I gave it.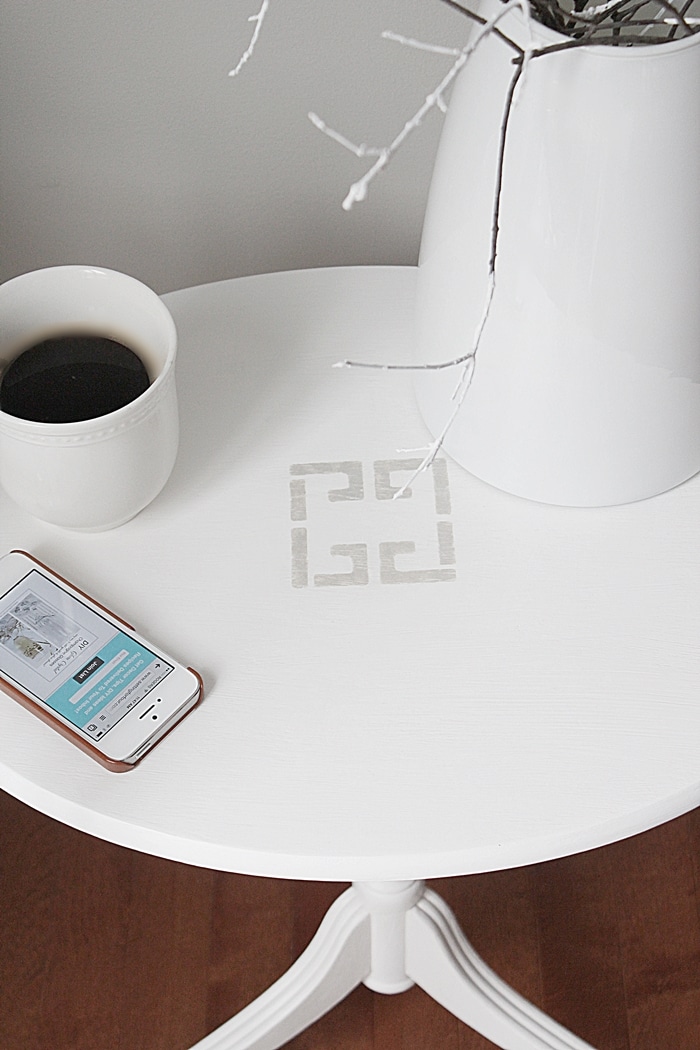 This little chalk paint table is the perfect size and height as an end table by my ghost chair! I love to sit here and check my messages on my phone with my go-to cup of coffee!
You can see my DIY sequin LOVE pillow on the chair.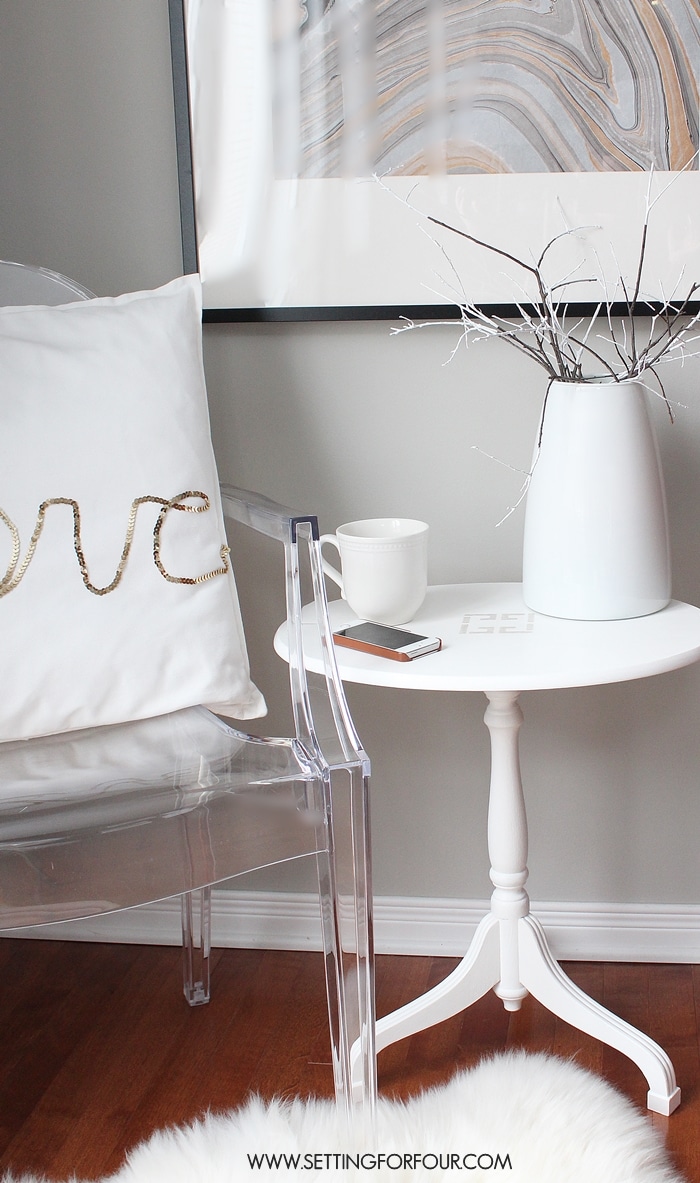 As a final decorating touch I added a white vase of dipped and painted twigs, another easy DIY I whipped up last week.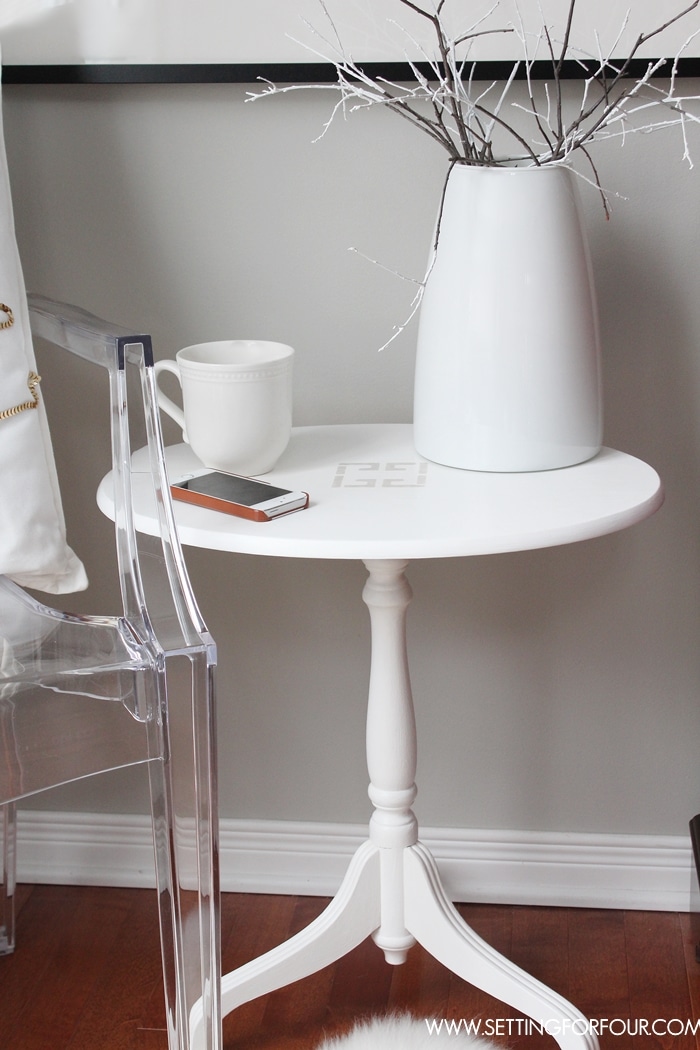 As an interior decorator I love changing up the decor for others and my own decor! This furniture makeover is a beautiful, budget friendly update to my home!
Have you updated any thrift store finds lately?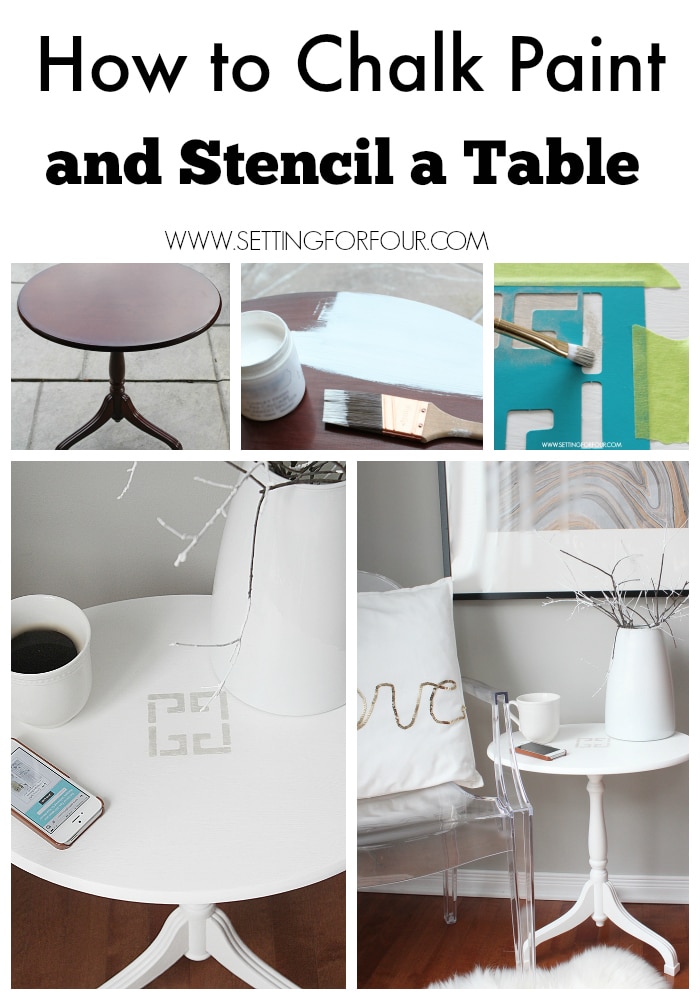 See my other furniture makeovers and Furniture DIY's: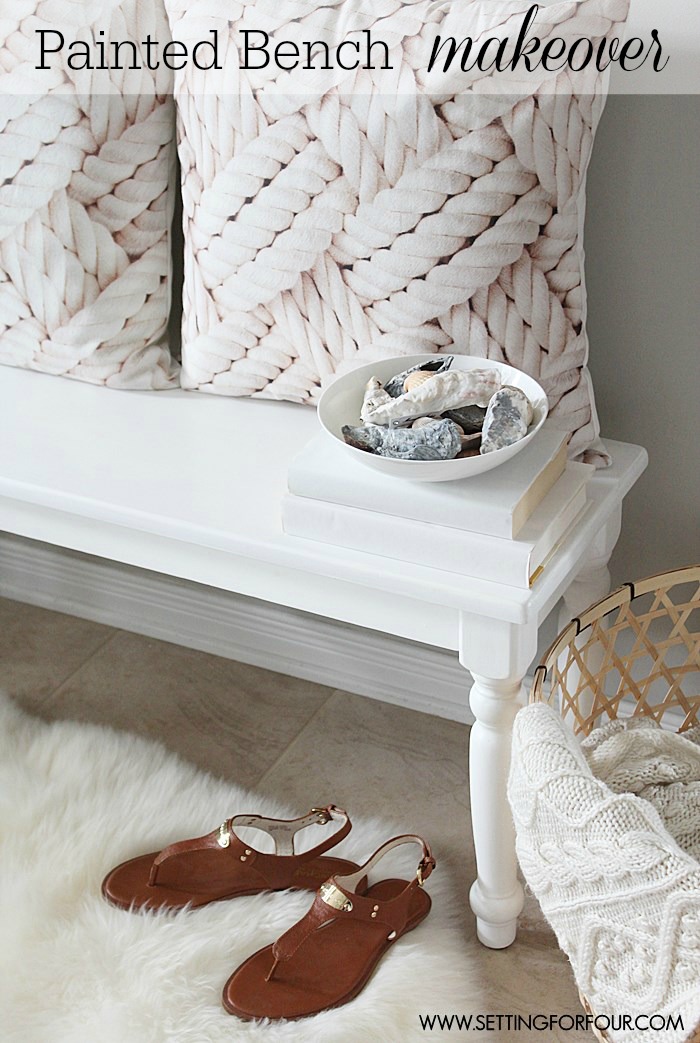 How to Make an Adirondack Chair the easy way!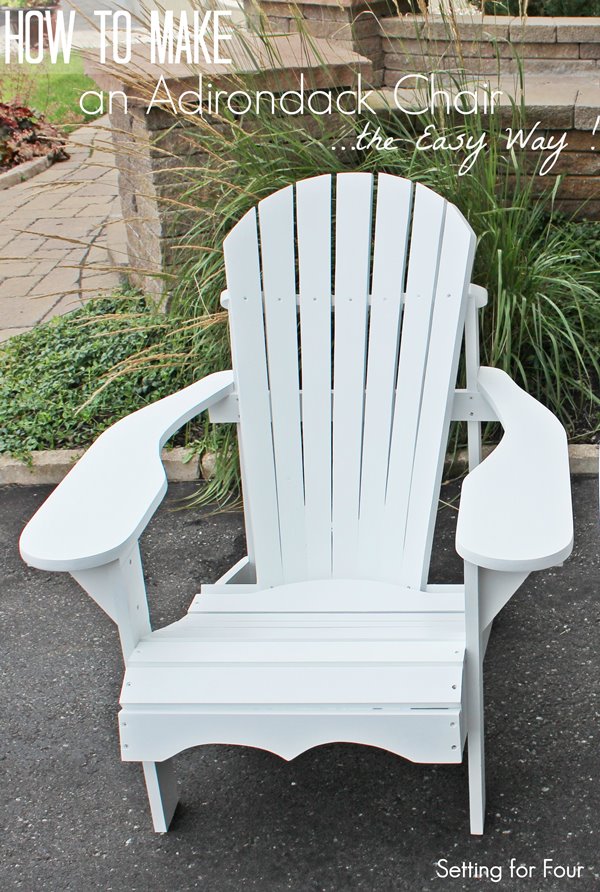 DIY Restoration Hardware Inspired Farmhouse Table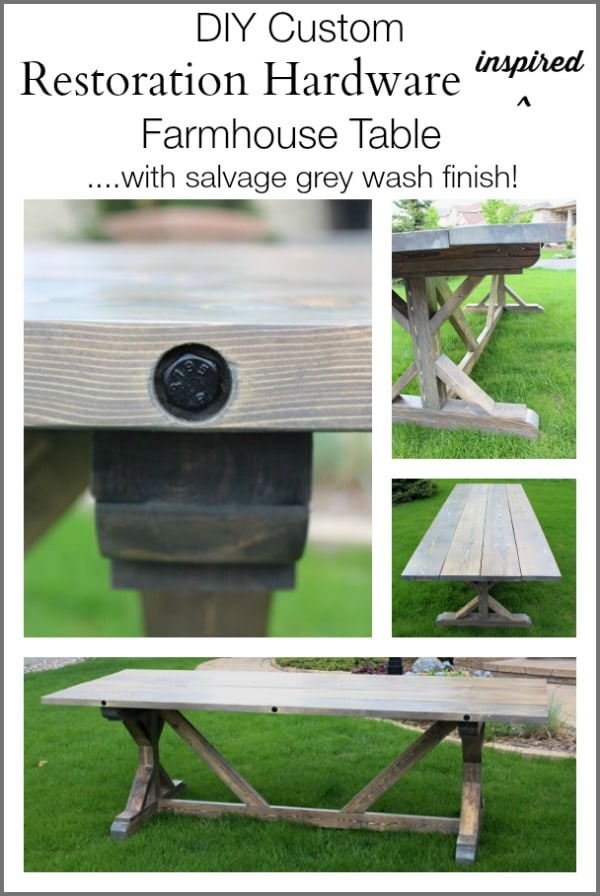 Navy and Gold Dipped Chevron Patterned Table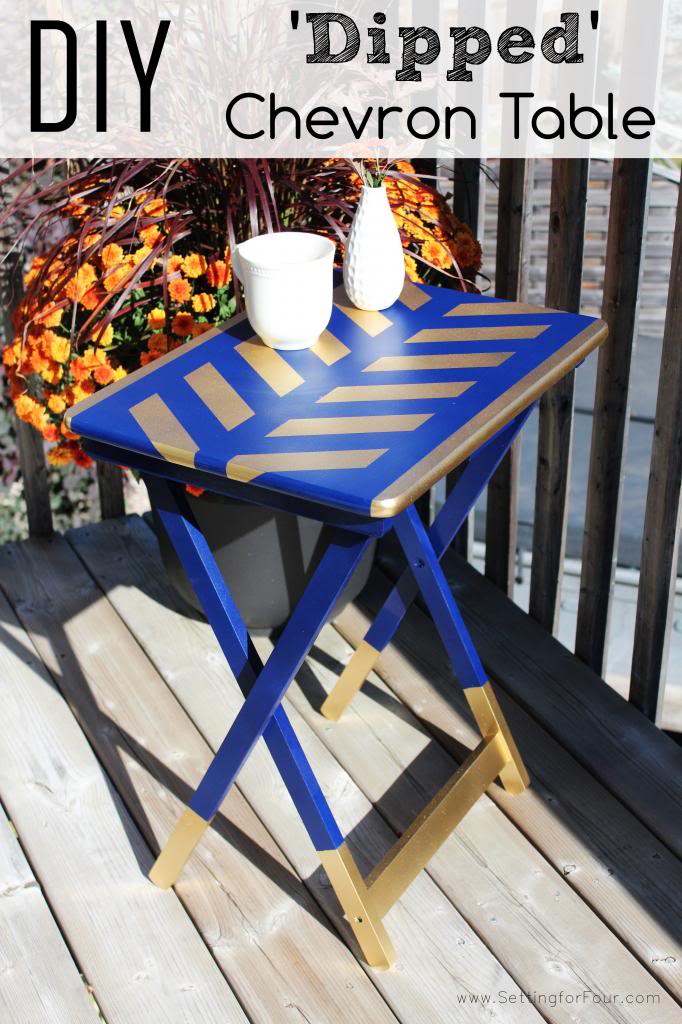 Fabric Lined Bookshelf Makeover