Today I'm sharing my winter entryway urns that I decorated to add a pop of greenery to the front of my home!
I love these tall black outdoor urns! They are lightweight and easy to move and I love their classic panelled style.
I decorate my entryway urns each season and holiday to greet my guests with a welcoming look.
Here are my decor ideas and tips to decorate a beautiful Winter Urn yourself!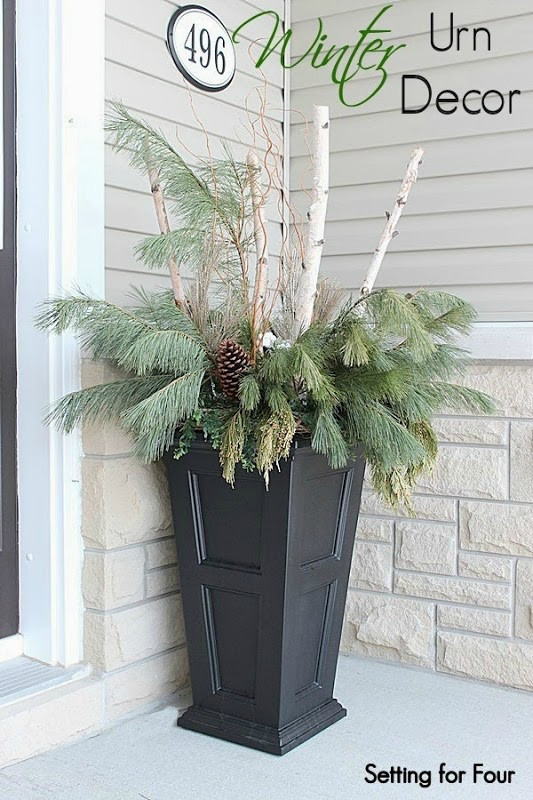 My urn decorating technique as I've mentioned before is based on the 'Thriller, Filler, Spiller' container gardening method.
The 'Thriller' items are the tallest pieces, the 'Filler' items are the parts that create the bulk of the container and the 'Spiller' are the items that spill over the container's edge!
Decor for Urns:
Urns
Grapevine wreath
Faux boxwood garland
Birch branches
Fresh white pine boughs
Incense Cedar Boughs
Curly willow
Large DIY Pinecone picks (tutorial coming soon!)
Faux white snowberry boughs
First I placed a grapevine wreath on top of the urn. Then I lay a faux boxwood garland on top of the grapevine wreath. This is part of the 'Spiller' effect.
Next I added 4 birch branches into the urn – 1 in each corner: the 'Thriller'
Then I added curly willow branches ('Filler') in the middle of the urn. I placed the pine and cedar boughs around the outer edge, draping some of the boughs over the edge of the urn ('Spiller').
Last step is to place faux white snowberry branches around the curly willow and tuck in 3 DIY Pinecone picks into the pine (more 'Filler').
Here is one of my urns in my decorated entryway!
My urns remind me of a winter wonderland!! I hope you've enjoyed my Winter Urn Decor DIY Tutorial today!
For more Porch and Entryway Curb Appeal Tips see my Spring Entryway too!
Sharing at:
Savvy Southern Style Stone Gable