Bring the rich colors and textures of Fall into your home with these seven GORGEOUS Early Fall Decorating Ideas! Includes Autumn DIY projects and decor ideas for your porch, table top and wreath projects too!
Hello sweet readers! Can you believe that I'm thinking about fall decorating right now? I know! Believe me, I'm still lapping up all that summer has to offer but I thought it would be fun to share some gorgeous Fall decorating inspiration today to get those creative juices brewing for fall decorating!
I've rounded from 7 beautiful Early Fall Decorating ideas from my talented blogger friends!

We are sharing them with you here to help get you ready for the change to come. Let's channel the cozy ambiance of fall pumpkins, crisp air, mums & vibrant colored leaves into our home!
1) Fall Porch Decor: Let's get started on the porch with Yvonne of Stone Gable…
Yvonne's porch evokes all that is fall ~ pumpkins, mums, a cozy plaid throw and more. Can't you just picture yourself sitting out there cider in hand? Pop over to Yvonne's fall porch for a closer look.
Even if you don't decorate your whole front porch or don't have front porch, adding a wreath welcomes fall and your guests.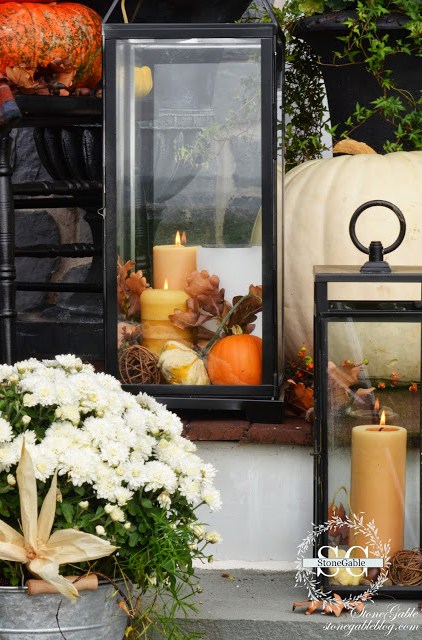 2) Fall Wreath Project: Julie of Lilacs & Longhorns has a stunning fall wreath created so inexpensively you'll want to click on over to get easy tutorial.
As Julie says, "Fall decor does not require a lot of money or expert DIY skills." Get Julie's wreath tutorial here.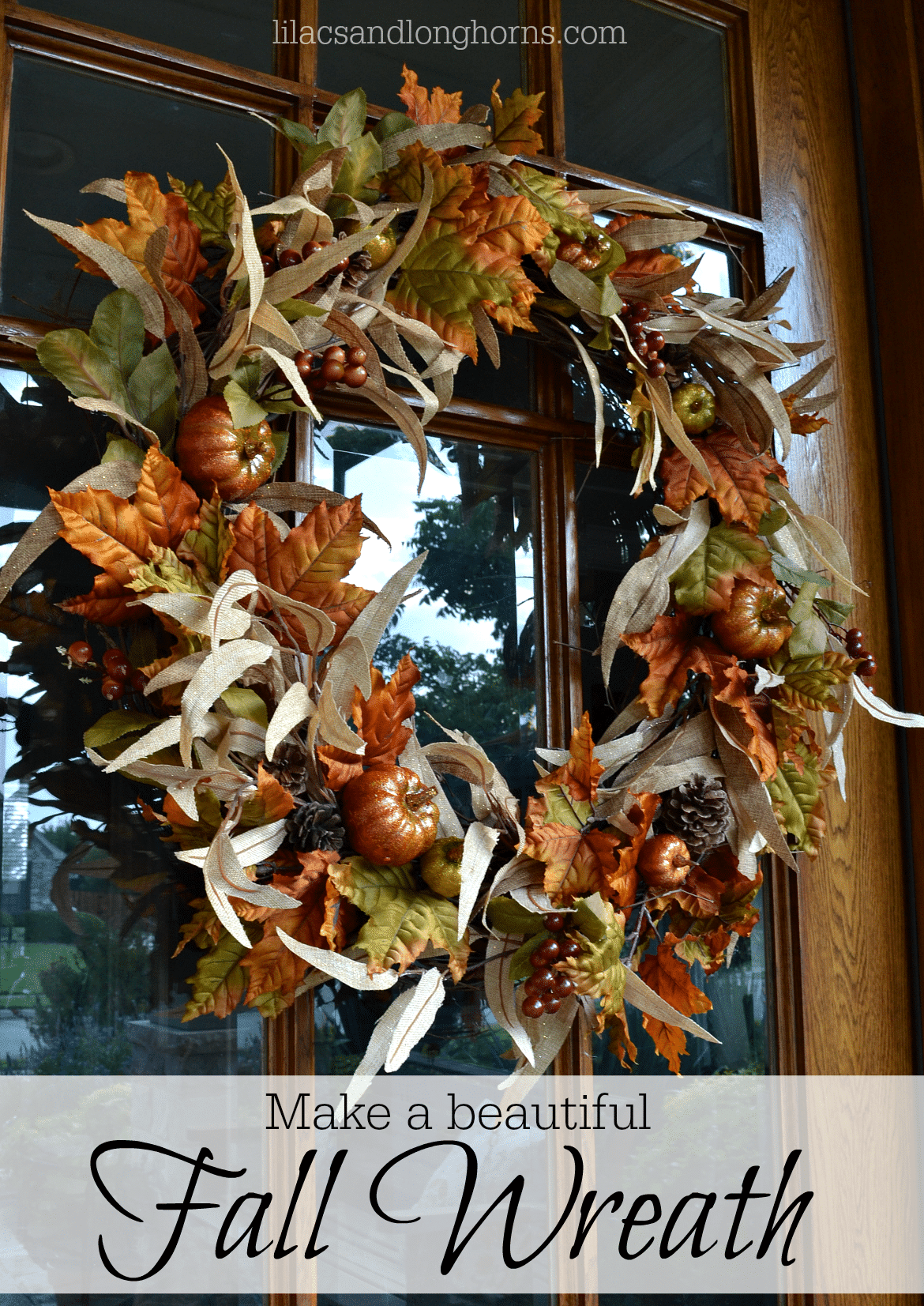 3) Fall Curb Appeal: We all agree, fall decor starts at our entry ways. Whether it is a DIY wreath or full on display.
Heather at Setting for Four shows how to do both with natural elements and bit of glam.
This picture is gives you the overall look. Click here to see all the details and get advice on how to re-create this look at your home.
4) Fall Pumpkin Topiaries: Nothing says fall decor like pumpkins!
Shirley of Housepitality Designs teaches us how to create pumpkins topiaries.
Think you don't have room for even one more mini pumpkin. Sure you do – stack them!
Click to learn how to create pumpkin topiaries.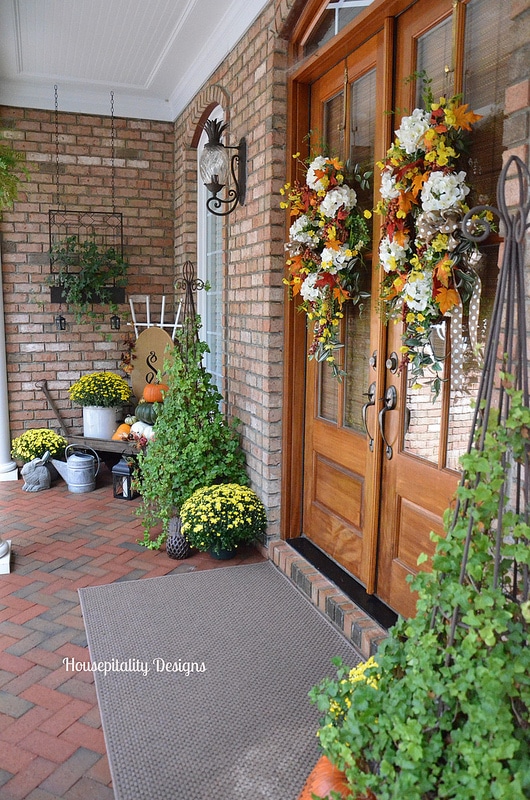 5) Fall Pumpkin Centerpiece Idea: More pumpkins in transitional colors from Christy at Confessions of a Serial Do-It-Yourselfer are absolutely perfect for early fall.
Even better Christy 's fall Ideas are thrifty!
Decorate for fall on a dime with Christy's help. Pop over and get her thrifty Fall decor ideas.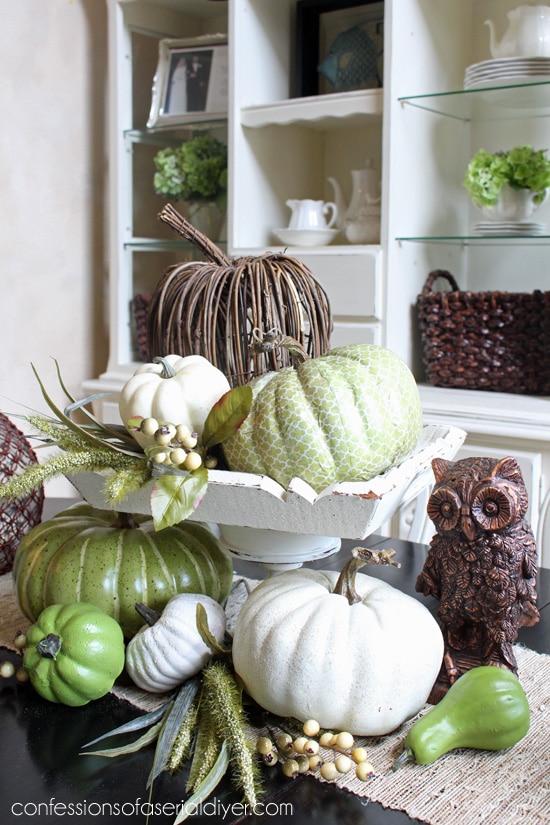 6) Fall Front Door Decor: At Top This Top That Laura shares wonderful fall ideas for your front door. Even if you are not ready to let go of summer, you can still get started on these wreaths. Let your fall decor start at your front door with Laura.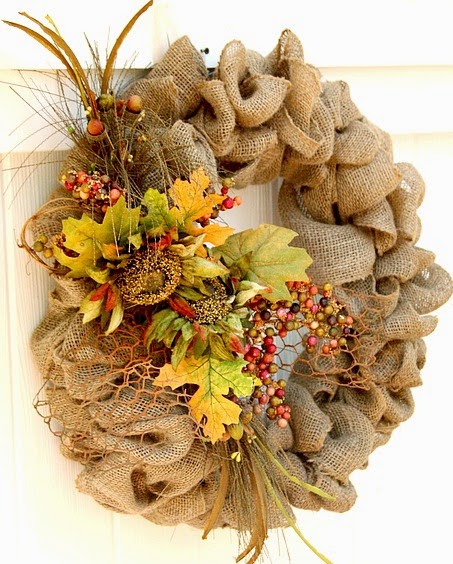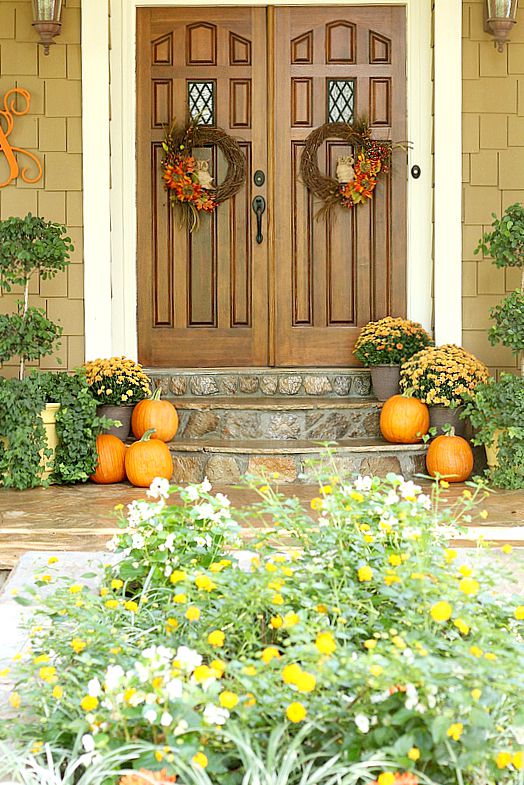 7) Fall Table Place Card Project: It is all is the details at My Soulful Home.
Kelly teaches you how to make your fall table really special with her cinnamon stick place cards.
These are so inexpensive & easy to make. As well as adaptable to any season or occasion.
Pick up some cinnamon sticks, head out to your yard & clip… head here for the tutorial!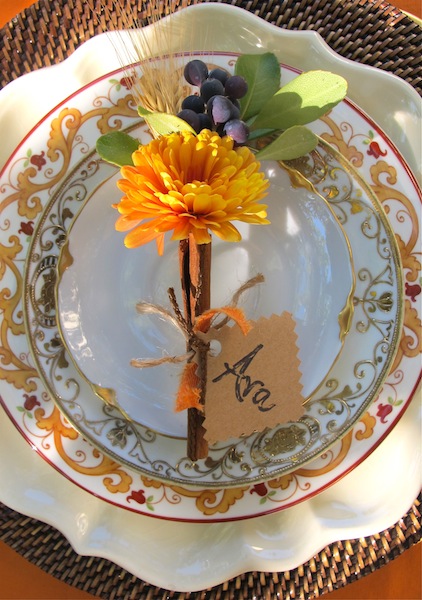 I hope you enjoyed these 7 gorgeous Fall decorating ideas!!
Don't forget to pin this to your Home Decor or Fall Pinterest Board!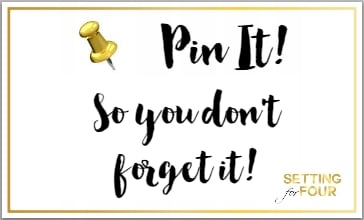 You may also like: