Hello everyone!! I hope you are all having a fantastic Valentine's Day!
Blue Mountain has just released this fun Infographic on Love Song's, just in time for Valentine's Day!
Do you and your sweetheart have a special song? What is it? How did you choose it?
My hubby and I have one: it's called 'Wonderful Tonight' by Eric Clapton and it was our wedding dance song! Ah memories!!
Have a look at this infographic- it's fun to read through the list of most popular love songs by the decade!! 'Endless Love'…remember that one?
Popular Love Songs and insight on just how those special songs come to be: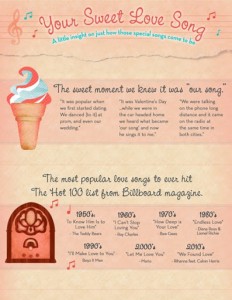 So share with me in the comments! What's your love song and how did you and your sweetie find it?